Amir Khan vs Zab Judah: Why This Fight Isn't Making the Headlines in the UK
July 19, 2011
Stephen Dunn/Getty Images
I originally wrote most of this article in a comment response to Briggs Seekins' article, "Where's the Union Jack, Yo? Do British Fans Even Like Amir Khan?"
In the article, he asked why Amir Khan seems to be less popular than other UK fighters despite his immense talent.
Why, when UK fans were so excited about the likes of Haye v. Klitschko, is there so little fuss about Khan v Judah?
Personally, I love Amir Khan! I have only seen him fight in the flesh once and that was the Salita fight, so I only got to see 76 seconds of sublime skill! I think he is a superbly talented boxer and really could become a pound-for-pound great over the next four or five years.
I think the problem for Khan is that he went to the US so early in his career!
When you look at the most popular recent British fighters like Ricky Hatton, 36 of his first 40 fights were in the UK, and a relatively large number were televised on Sky Sports (free to view). Khan had about 23 in the UK before he went to the states, and his fights also ended up on Pay Per View very early in his career, narrowing his UK audience.
A lot of fans who aren't as obsessed with boxing still remember the Breidis Prescott defeat and haven't really seen much of Amir since. For the real UK boxing fans who do love him, I think we all felt let down when he announced his homecoming with Paul McColskey. Fighting such a low quality opponent now that he is such an immense world talent stunk of a money making exercise - especially as they tried to sell it on PPV.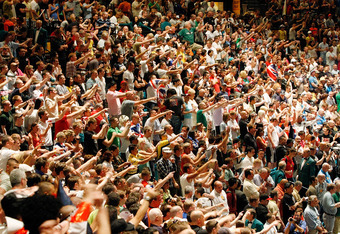 Ethan Miller/Getty Images
Unfortunately SkySports has in many ways become the be all and end all of boxing coverage in the UK. They offer superb coverage and build up programmes to all the big fights they cover.
Khan v. Judah is on Primetime PPV (if you mentioned this to most people in the UK they would never have heard of it), so is receiving relatively sparse TV and press coverage in the UK. SkySports didn't even have the fight listed in the boxing fixtures for this weekend when I checked earlier today (they do list Fury v. Chisora, which also isn't on Sky)!
US boxing trips for the likes of Ricky Hatton in the past have drawn huge numbers of UK fans, but the noisy and very visible presence is often made up largely from groups of young men who aren't necessarily huge boxing fans but who are taking the opportunity to have a trip away with their friends and take in a huge fight. Unfortunately for Khan, what constitutes a "huge fight" is largely dictated by the opinion of SkySports!
Also it was a relative novelty for Hatton to fight in the US. With Khan, it feels like that is where all his fights will be. That makes watching all or any of his fights in person an expensive business for UK fans, especially in these grim economic times.
Hatton did also have the advantage of his association with Manchester City Football Club, bringing many of their supporters into his fanbase and boosting numbers. In comparison, Amir Khan's association with Bolton Wanderers isn't as strong, and the relative size of the town reduces the influence.
Khan needs to bring a huge opponent, maybe Tim Bradley or Floyd Mayweather, to the UK. Fill out the O2 or the MEN Arena and have the fight on SkySports PPV. He needs to do a deal to show his US based fights (which are at 2 or 3am in the UK) on SkySports or a major terrestrial broadcaster for free if he wants to really build up his UK fanbase. These steps may hit him financially in the short term, but an increased fanbase in the long term will pay dividends!
In many ways, Carl Froch has suffered in the same way: he simply hasn't fought on SkySports enough. You ask most people in the UK who Carl Froch is and they wouldn't have a clue!