Preview, Predictions and More for the 300th Episode of IMPACT Wrestling
July 6, 2011
This Thursday will air the 300th episode of TNA's IMPACT Wrestling. It also happens to be the final show before Destination X this Sunday, July 10.
There are four matches currently announced for the 300th episode.
Velvet Sky vs. ODB and Jackie
If Velvet wins then ODB and Jackie will never show up to IMPACT again. I wouldn't be surprised if Velvet won because she has been booked almost like John Cena when it comes to handicap matches. Remember when she beat Angelina Love and Winter?
I'm guessing Velvet will win but ODB and Jackie won't go away, thus adding more to this feud.
BFG Series Match: Matt Morgan & James Storm vs. The Pope & Devon
Ah, a BFG Series match. Remember: Whoever scores a pin fall gets the seven points.
Morgan and Storm is a random pairing and I think they will lose. They both have a good amount of points going into this match (Both have 14).
Devon also has 14 points, so I'm looking for Pope to pick up the win in dirty fashion for two reasons.
1.) To finally let Pope get some points on the board and 2.) Further push this Pope/Devon angle that's been going on.
BFG Series Match: Crimson (24) vs. Bobby Roode (0)
As much as I like Crimson, I want him to lose this match. To keep his streak safe, have Samoa Joe attack him. Joe did tell Crimson that they would fight again after Slammiversary.
The sad truth, for me anyways, is that Crimson will win and have a strong lead of 31 points off the rest of the competition.
I want Roode to win for the sake of the ongoing BFG Series League that I run. C'mon Roode!
Crimson should pick up the win here and have a demanding lead in the Series. Not to mention his undefeated streak will continue. 
RVD vs. AJ Styles vs. Daniels vs. Jerry Lynn
I don't care who wins this match because I know it ought to be good.
All four guys are on the Destination X card and this match should be nothing short of amazing. These four X Division style wrestlers should blow the roof off the Impact Zone.
The audience is the real winner here.
Don't forget to order Destination X on pay-per-view and watch AJ Styles vs. Daniels, RVD vs. Jerry Lynn and many more X Division action!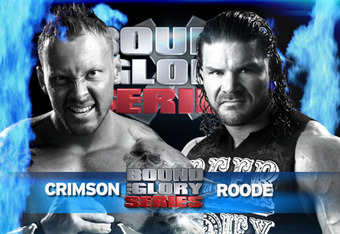 And More...
Last week we saw "The Monster" Abyss lost his infamous mask. Will he find it on the 300th episode? Was it misplaced or stolen? How will it affect his matchup with Brian Kendrick for the X Division title at Destination X?
Another match that is a guarantee for IMPACT is the final Destination X qualifying matchup. In the past three weeks we've witnessed Austin Aries, Zema Ion and Low Ki qualify. Who's next?
Tensions seem to be rising between Kazarian and Samoa Joe heading into their big match at Destination X. Will their feud finally boil down to a burning point?
Also advertised for IMPACT: Immortal offers World Heavyweight Champion, Mr. Anderson, an ultimatum. 
Will Anderson join Immortal? Or will he just use them to help destroy Sting like the jerk that he is?
What is next for the crazy Sting?
Also, there should be more build up to IMPACT's pay-per-view quality show on free TV. Expect more news, info and build up to the Mid-Summer Nightmare on the July 14 episode of IMPACT.
Set your DVR, call your friends, grab some popcorn, soda and whatever else because this special 300th episode of IMPACT looks like it will NOT upset.
All of this and more on the 300th episode of IMPACT.