Carl Edwards, Kevin Harvick, Kyle Busch and Jimmie Johnson: 2011 Cup Contenders
June 28, 2011
Matthew Stockman/Getty Images
With only ten races remaining before the NASCAR Chase for the Sprint Cup begins, four drivers have emerged as favorites to bring home the title in 2011.
Carl Edwards, Jimmie Johnson, Kevin Harvick and Kyle Busch all sit in the Top 5 in the Sprint Cup points standings. They've all won this year, arguably being the most consistent drivers on the circuit. All four have the chance to bring home the Sprint Cup championship.
It should also come as no surprise that they have all found themselves in this position in recent years, but only one has been able to finish the deal.
And he's done it five years straight.
A Proven Champion—Five Times Over
Jimmie Johnson continues to rewrite history every year.
In 2008, he joined Cale Yarborough as only the second driver to win three straight Cup series championships. Since then, he's tacked on two more titles for five straight Cup championships and is looking to add a sixth this year.
Johnson has accomplished this feat by being the most consistent driver in recent NASCAR history. In his nine full-time seasons, Johnson has never finished outside of the Top 5 in points. He has had the highest average race finish in six of the last seven seasons.
However, on-track performance hasn't been the only constant for Johnson. The real weapon when it comes to consistency has been his crew chief, Chad Knaus.
Knaus has been with Johnson since his rookie season at Hendrick Motorsports. The two are widely regarded as the best duo in NASCAR since Jeff Gordon and Ray Evernham were paired together in the mid-to-late 90s.
Knaus' steadiness on the pit box and the confidence Johnson has in his calls during a race give Johnson an edge other drivers envy. And that edge might be exactly what Johnson needs to grab his sixth consecutive title this season.
A Familiar Position—With Horsepower to Match
Carl Edwards had a chance in 2008 to dethrone Johnson. He, like many others, came up short. But there is a difference in Edwards' demeanor this season.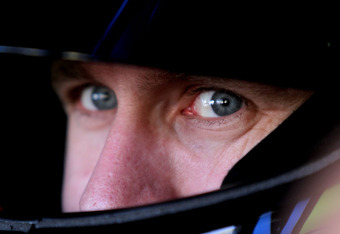 Jerry Markland/Getty Images
The 2008 Chase, for Edwards, could be summed up in one word: desperation. One needs to look no further than the attempted slide job on Johnson at Kansas to see that Edwards was desperate to win a championship that year.
In 2011, however, Edwards has a different theme: confidence.
The new Ford FR9 engine package has given the Roush-Fenway cars a much-needed boost in horsepower and fuel mileage this season, a fact that has been quoted often by Edwards and other drivers—even those not associated with the blue oval.
Edwards now has equipment to match—or beat—Johnson and the Hendrick power. Add Edwards' incredible talent, and it's easy to see why Edwards thinks he could be one to end Johnson's dynasty.
A Chance for Redemption
Since signing a contract extension with Richard Childress Racing near the end of 2009, Kevin Harvick has been a man on a mission.
After winning just once from 2007-2009, Harvick has rolled off six wins in the past 52 races and  was running away with the points standings last season before they reset at the start of the Chase.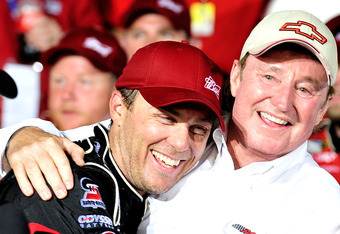 Jason Smith/Getty Images
The Chase was cruel to Harvick though.
After posting nine Top-10s in the 10 Chase races, he managed to finish just third in the final points standings. After leading for over half the season and running so well in the Chase, Harvick must feel like 2010 should have been his year to claim his first Sprint Cup title.
His chance at redemption may come in 2011.
Harvick leads the series in wins this season, with three so far. That would give him a 10-point lead in the Chase right now. With the revamped points system, that extra win could be the difference in bringing the title back to RCR for the first time since Dale Earnhardt won it in 1994.
A New Era Dawning
Fans are always looking for that next driver to come along and set the world on fire.
The thing about Kyle Busch is that he's been doing it for the past four seasons. Fans have been booing so much they've missed the dawning of greatness.
Like him or not, Busch is likely the face of NASCAR for the next 10 to 15 years. At 26, he's yet to really hit his stride in NASCAR. He has racked up 17 wins in the past four seasons—second only to Johnson's 21.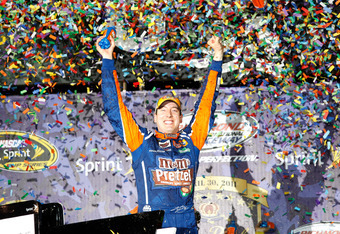 Todd Warshaw/Getty Images
From a pure talent standpoint, he might just be the most talented driver NASCAR has seen since David Pearson. Busch wins in anything he drives—much to the chagrin of fans.
His dominance of Nationwide Series and Camping World Truck Series races has brought on new championship restrictions. Some would even say his commitment to other series has hurt his chances at winning a Sprint Cup title in the past.
That could all change this year. Busch has two wins and eight Top-5s in just 16 starts in 2011. The only thing that has slowed him down is faulty engines and equipment from Joe Gibbs Racing.
If JGR can improve the reliability of their equipment to match the talent of Busch, expect a chorus of boos to rain down on Busch when the Sprint Cup trophy is presented to him at Homestead-Miami Speedway later this season.