Shane Warne's IPL Blows in the Wind: Smoke Gets in Our Eyes
May 14, 2011
Lucas Dawson/Getty Images
It was all going swimmingly well for Shane Warne until it all went terribly wrong.
The Royals began IPL 2011 reminding supporters of 2008 glory. Then, "Dame" Elizabeth Hurley flew in from London to join the champion bowler. RR lost not a game at home.
But then, alas, Liz left for London sweeping away with her Warney's luck.
Two losses followed and "Lady Luck"'s return could not restore winning ways.
Unwelcome changes to home pitches ruining well-nurtured home advantage led to a flurry of SMSes—no, no loving missives these— to an RCA officio,accusatory and threatening.
Sanjay Dixit next felt the full wrath of Warney's lash-like tongue. The damage was done.Shilpa Shetty rushed in to still ruffled feathers.
Apology due, apology given.
Next, golden-haired boy smokes like a truant in a public place—Indore airport. His accessories in crime—Indian policemen.
Lighting up in public places is a punishable offense in India.
Cricket's bad boy deserves a song to lighten his sombre mood.
Here's a modified version of "Smoke Gets In Your Eyes" by the Platters:
They asked me how I knew 
My true pitch was new 
Oh, I of course replied 
Something here cannot be denied 
They said someday you'll find 
All who play are blind 
Oh, when your heart's on fire 
You must realize 
Smoke gets in your eyes 
So I chaffed Dixit and I rarely laughed 
To think they could doubt my way 
Yet today my trophy has flown away 
I am without my love 
Now laughing fiends deride 
Tears I can not hide 
Oh, so I smile and say 
When a lovely dream dies 
Smoke gets in your eyes 
Smoke gets in your eyes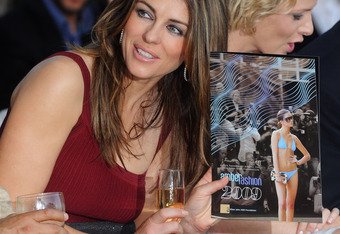 Pascal Le Segretain/Getty Images
Quote of the day:
What we anticipate seldom occurs; what we least expected generally happens. - Benjamin Disraeli