25 Most Disturbing Injuries in Football History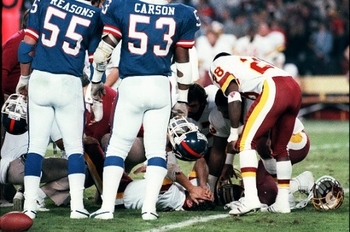 What you are about to see is something no person should ever have to go through.
Everyone should know that I sacrificed a lot for making this slideshow. I now have posttraumatic stress disorder and won't be able to sleep for a good month after seeing this brutal carnage for a whole day.
If I possessed the power of time travel, I would go back and plead with my editor to make someone else create this disgusting, filthy slideshow.
Having said all of that, you have to see these because they are awesome. A baby gets run over!
Honorable Mention: Brad Smith Decked by Patrick Willis
I made this an honorable mention because for a split second, you think that Brad Smith is concussed and they are going to have to call the ambulance on the field.
And then he pops up like nothing happened. Incredible.
No way he remembers those 20 seconds of his life. No 'effing way.
Ryan Clark Strongly Dislikes the Baltimore Ravens
The Pittsburgh Steelers and the Baltimore Ravens don't like each other very much.
Ryan Clark decided to take things to a whole other level when he decided he wanted to kill Willis McGahee.
Tremendous effort Ryan. Next time don't kill yourself in the process.
James Harrison Is a Bad Person
Not to be mistaken for the James Harrison who apparently saved two million babies with his "golden arm."
No, this is the James Harrison who probably hates babies because James Harrison hates anything and everything.
I am shocked he was arrested for allegedly beating up his girlfriend. Absolutely shocked.
DeShean Jackson, Dead Man Walking
I wonder how many people in the stands did the undertaker digging a grave move after this massive hit.
DeSean Jackson should not have the ability to play football anymore after this.
Anquan Boldin Between a Rock and a Hard Place
Many in the scientific community often debate what would happen if an unstoppable force met an immovable object.
But riddle me this: What happens if someone was in the middle of those two things colliding?
Answer: You lay on the ground writhing in pain for a really long time, get taken off in an ambulance, cause your quarterback to consider retirement and miraculously play three weeks later.
This hit was so hard, Eric Smith doesn't even recall what happened. If that's true, should he really be fined if he doesn't remember doing it?
Joe Paterno Disappears into Cloud of Bone Smoke
Joe Paterno is going to die on the football field. I am sure of it.
When I first saw this, I thought this was the moment it actually happened.
If you listen carefully, you can hear his old brittle bones going *poof*.
Baby Gets Domoed
Well, there you have it. It's decided.
The adults responsible for watching this small child are officially the worst parents on the face of the planet.
And another thing. What is everyone else doing while this kid is waddling around!?
No way in hell I am ever letting anyone from Fort Collins babysit my kid.
Unless it's a girl.
Tom Brady Used to Express Himself Through the Magic of Dance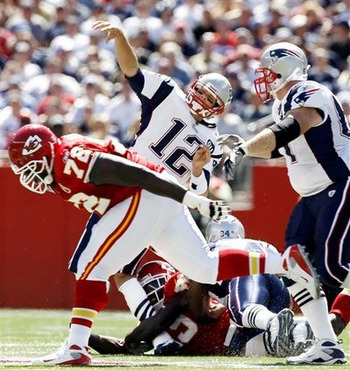 I wonder if before this nasty knee injury, Tom Brady was a good dancer.
Maybe he used to bust out a boom box and start break dancing on the corners for cash and was a neighborhood star with his vast collection of groovy moves.
But now he can barely look at a flat piece of card board without fondly remembering the glory days.
Now, he is only a shell of himself, though he still tries.
Sad Trombone for Carson Palmer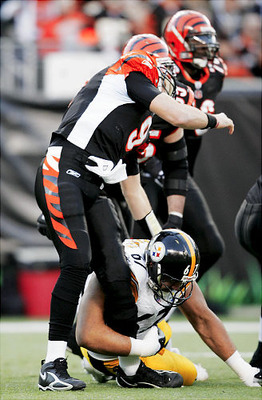 After several years of being the leagues doormat, the Cincinnati Bengals actually fielded a decent team with Carson Palmer leading the way in 2005.
And then they had to play the Pittsburgh Steelers, ultimate lovers of career-threatening injuries.
After Palmer left the game, Bengal's fans had to hear a sound all too familiar.
Eric Wood Causes Girly Screaming
For you metal haters out there, I apologize.
It was the only way I could pump myself up to see something this horrific.
I screamed for about as long as the lead singer in this song. Only the pitch was so high it shattered some windows in the library I was working at.
I'm not welcome there anymore.
Leonard Weaver Should Never Visit Las Vegas
"The Dream" began living a nightmare when his cleat decided to stay planted in the ground.
This was his very first carry of the 2010 season. I would never feel safe riding in a car with this guy in fear that his unlucky streak would continue.
David Holbert Doesn't Like What He Sees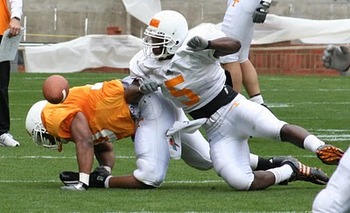 Things got bad for Tennessee fullback David Holbert when he got leveled by linebacker Rico McCoy.
Bad quickly went to worse once he was able to see the bottom of his cleats the way no man should ever be able to.
I've analyzed this picture for hours and still haven't come up with an explanation for how this is humanly possible.
Goo!!
When I saw the camera zoom in on Charles Gordon's ankle, I had the exact same reaction as Billy seeing Ernie.
Adrian Peterson's face at the end says it all.
Ed McCaffrey Is Bow Legged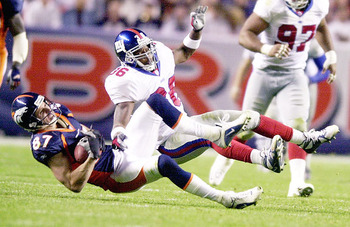 This photograph doesn't do this injury justice, although you can see McCaffery's leg bending in a spot it never should.
Despite all that he shouldn't have disrespected the game by lying there. Rub some dirt on it and walk it off big guy!
E.J. Henderson Is in an Awkward Position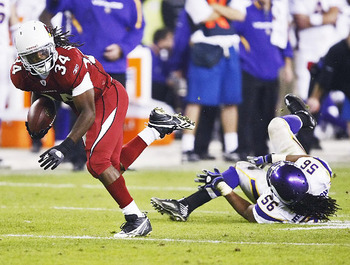 In this photo, it may appear that Minnesota Vikings linebacker E.J. Henderson is on the wrong side of the power driver position in prison.
Actually, he fractured his femur trying to tackle Tim Hightower.
That just sounds painful.
Michael Bush and Alcohol
Perhaps Michael Bush got his DUI because he had a flashback of this moment and decided to try and drink the memories away, which led to a bad decision.
I don't know. Just a wild stab in the dark.
James Rodgers... Wow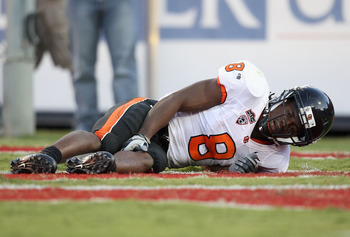 Pirates may change their well-known flag of a skull and crossbones with a picture of James Rodgers' terrifying leg injury.
Then again, I don't see him really being a jolly Rodger.
Bu dum tish. I'm here all night folks.
Jahvid Best Is a Show off
I remember being the only person in the room watching this game and loudly declaring to everyone I just saw someone die on the football field.
I can't believe he only got a concussion.
Darryl Stingley Tragic and Serious Injury
This one was so serious that I will just let you see the video. Awful and career ending. Fortunately Mr. Stingley lived through it, but was disabled for the rest of his life.
Someone Upstairs Hates Willis McGahee
For some reason, it is Willis McGahee's destiny to not be able to walk again.
Like the plot of Final Destination, I wonder if he avoided a terrible car accident after seeing a vision of the future and now lives the rest of his life in fear that Death will eventually get his.
Patrick Edwards Hates Mario Kart
The moron who is responsible for putting those carts at the back of the endzone should have hightailed it to Mexico as soon as he saw Patrick Edwards break his leg because of his mistake.
I would want to be forgotten too if people knew I was this stupid.
DeAndre Brown Is Double Jointed
After watching DeAndre Brown raise his leg and seeing it bend at his shin, I am seriously considering never watching football ever again.
My mind couldn't take the trauma of seeing something this graphic again.
Okay I am over it. Next slide.
Blaine Irby's Leg Sounds Like a Texas Shootout
I began vomiting uncontrollably after I saw this hit.
It is disgusting the way you can hear the crack from that far away.
The title of this YouTube might be the biggest understatement in history.
What Happened to Tyrone Prothro Made Me Begin to Question My Religion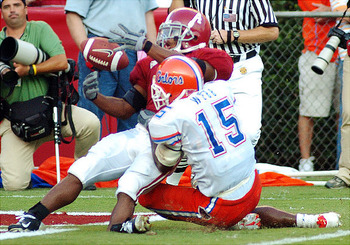 This was one of the saddest day's of my friend Luke's life the day this happened.
He had been raving about Prothro understandably for a good year. Between 2003-2005, he was the biggest bad ass in college football.
It's so unfair this happened to someone this cool and with this much talent. Anyone who is anyone remembers him for this catch, not for this injury.
This is one of those where you shake your fist in anger at the sky and scream "why?" for hours.
Even L.T. Feels Sorry for Joe Theismann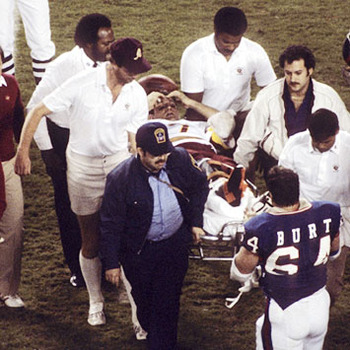 Napoleon McCallum Makes Me Throw Up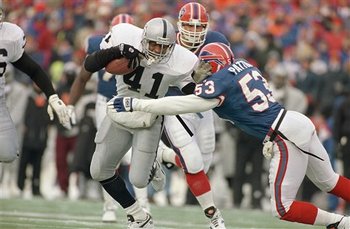 Ewie.
The producers of this game should be punished for crimes against humanity for showing this replay as many times as they did.
I felt my leg several times and took a quick jog just to make sure my leg was still there after watching this video.
Keep Reading