Getting in the WrestleMania Spirit! Part 3: WrestleMania Introductions!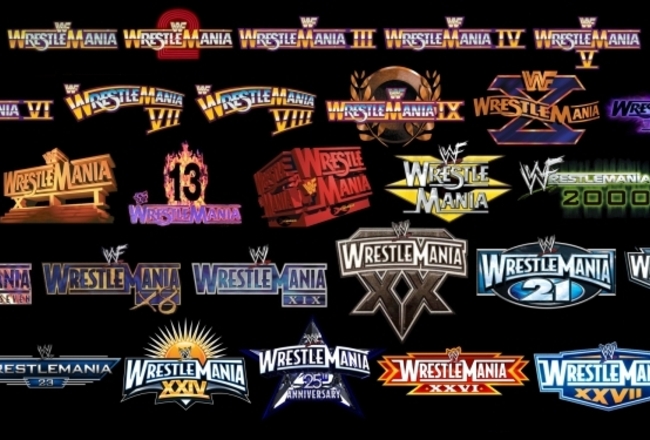 This is a multiple part slide-show series I will be writing here on Bleacher Report to get all of you Bleachers in the WrestleMania Spirit! I really just want to do something creative to get you guys flamed up once a month in anticipation for this year's WrestleMania.
Since there is roughly one month to go till WrestleMania XXVII in Atlanta, Georgia, I will be pumping out one to three slide shows a month, with the last of the installments out the day of WrestleMania. If you want to view the previous slideshow(s), please click on the links below. If not, keep on reading! Let's get started on this!
These are one of the first things a wrestling fan experiences while watching the Sport's Entertainment Extravaganza, WrestleMania. The show opens with a brief intro describing the feuds heading into WrestleMania, and in some cases, we get to hear the history of WrestleMania itself from the superstars, or the narrator.
These intros are perfection. They really are, and it really goes to show the extra mile WWE goes with WrestleMania. The amount of passion in WrestleMania is clearly displayed through the WrestleMania intro's for the most part, and they also manage to compose a very emotional three-minute video with some music that touches the heart.
I've always been a fan of Jim Johnston and WWE's video crew as they do an exceptional job with buildup videos, and in this case, WrestleMania intros. Say whatever you want about WWE's watered down storylines right now, but their video developing crew are really the best of the best.
Anyways, if you still haven't gotten the memo, in this slideshow I will be ranking my personal favorite WrestleMania intros from the past 10 WrestleManias. Obviously there isn't any criteria I can really mark it upon, so I'll just rank my personal top 10 favorites.
But it doesn't really matter which one is ranked first because in the end, you should be excited for WrestleMania! That's my goal in making this slide-show and series!
Let's rank the WrestleMania intros from the past 10 WrestleManias!
10. WrestleMania 21: "WrestleMania Goes Hollywood!"
This was an intro that got a me a little excited but got me thinking, "Hey that's cool that they're incorporating Hollywood into this, how are they going to fit this in with the feuds going on?" but then it just ended. It has to be the most theme based intro I've ever seen.
We saw clips of WWE Superstars acting as movie characters from famous films we've seen throughout our lives.
That being said, it fitted in nicely with the "WrestleMania goes Hollywood" theme and displayed feuds heading into WrestleMania in a minimal manner which is one of the reasons it's not as good as the ones I'm going to mention later on.
I still would have preferred WWE to have showed us clips from previous WrestleManias as that really pumps me up for WrestleMania. But hey, that's just me. It was different, and I liked it in a unique manner, however, it didn't really get me excited.
Again, that's just me. I'm sure people got excited when they heard Christy Hemme moan with Kurt Angle on the other side during the promo. The Steve Austin gladiator bit is also great during the end.
9. WrestleMania X-Seven: "A Celebration of Life"
Quite possibly one of the greatest PPVs of all time, WrestleMania X-Seven comes in penultimate to WrestleMania 21.
Don't get me wrong here, I loved this intro, but in my opinion, the other eight intros I'm going to list are just better in some ways.
This intro has become famous for giving WrestleMania the tagline of "The Showcase of the Immortals." It is also extremely well edited by the video crew and displays WrestleMania extremely well as an international phenomenon.
The music, the theme, the video, the narrators voice all blend in really nicely with each other. I also loved how the showcased video clips from previous WrestleManias as that definitely added a touch of class to the intro.
It went well out of its way to show how WrestleMania is something much more than people think it is. That WrestleMania is a celebration of life.
I personally loved the intro, but again I believe the ones I'm going to rate above this just bested this one in some ways.
8. WrestleMania X8: "WrestleMania, It's Fever Man."
Pretty great intro. On a side note, I loved it when the Undertaker said "Wrestlemania, it's fever man." That line still gives me the chills.
Other than that, it was an okay intro. It's not one of my favorites, but it was nice for the wrestlers to talk about WrestleMania and how special it is for them to be in the main-event.
There was also a nice rundown of the feuds towards the end. It was a pretty good promo, but it didn't really get me hyped up for 'Mania.
7. WrestleMania XIX: "It's Like That Olympic Games, the Gold Medal Match."
This was the exact same thing as the year before it, but just with different perspective and Brock Lesnar added in the mix. However, I did like that part where Angle called WrestleMania the "Gold Medal Match" for some reason.
It was a good promo to watch, but not one that excited me up. It just made me feel how special WrestleMania is, but didn't get me hyped for it like last year.
Still, it was nice to see WWE make an intro where they let the superstars talk about WrestleMania, even if it was repetitive.
6. WrestleMania XX: "And Tonight Is Where It All Begins, Again."
Madison Square Garden truly is the Mecca of Wrestling. And this intro proves why it's so special for everyone.
Everything was great in this promo, particularly the moments after they show Shawn Michaels on his knees. I love the music that plays on during the second half of the intro, and I also love the change in pace after Hunter spits out the water.
It was a great promo also giving us a basic WrestleMania history lesson in the beginning.
5. WrestleMania 23: "I'm All Grown Up."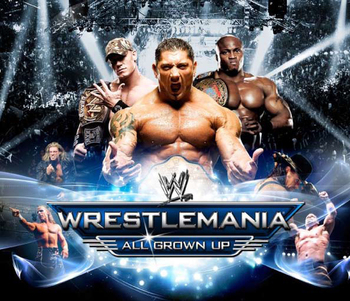 I personally only like this promo because of the background music. It became quite popular due to this promo.
Basically, this promo was a run down of how the superstars witnessed WrestleMania 23, and are now "grown up" and have the pleasure to perform at the same place that Hogan vs. Andre happened (technically).
Also, it tells us how much hard work they've done to get to this very platform they are at right now.
It was a nice promo to watch, especially if your like me and witnessed 'Mania 3 live.
(On a side note, I couldn't find the pay-per-view version of this intro ANYWHERE on YouTube, so I'll just drop a link here for DailyMotion.)
4. WrestleMania XXVI: "Their WrestleMania Moment."
Just like this year's is probably going to be, last year's intro was primarily based on creating a WrestleMania moment.
It was a really great promo, but I really hate that there was only the narrator talking as I prefer that wrestlers talking themselves. Even if it is probably scripted, it would still be better to hear out of the superstar's themselves, then a narrator.
It still meshed in nicely with the music and the video clips. It gave us a quick rundown of the feuds, and it was just great overall!
3. WrestleMania 22: "I've Made a Living out of Proving People Wrong."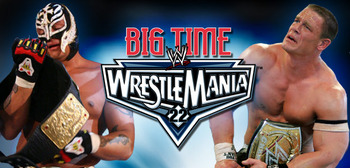 The Underdog WrestleMania as I like to call it. It was nice seeing that evolution of WrestleMania shown through the videos at first. Also, the evolution shown of Kurt Angle and Triple H was nice as well.
It was a decently long promo, and it had everything that you would need. Good music, change in pace, good clips, superstars talking and stuff like that. It was an amazing promo in my books!
(Just on a side note, like-wise the WrestleMania 23 intro, I couldn't find a video on YouTube of the promo without the audio disabled anywhere. So I'll just provide a Dailymotion video link here since it can't be embed)
2. WrestleMania XXIV: "Alot Can Happen in a Year."
A lot can indeed change in one year.
This intro was more focused on the present then the past, and really it worked. It was the superstars talking, and I always love when we get to hear from the superstars voice themselves, even if it is scripted.
Oh, and by the way, I love how the music intensifies with the video leading up to a big bang and almost revelation at the end of the video. It's incredible.
Overall, I loved it. It did what it was supposed to and got me excited for Mania!
1. WrestleMania XXV: "There's Also...there's Tonight."
Man, WrestleMania XXV wins it again. They won the award for best Pyrotechnics as well. Decent WrestleMania, but great effects and videos.
This is everything that a WrestleMania intro needs. Superstars talking, clips from the past, good background music, and reeling down of the feuds heading into WrestleMania.
I love the beginning of the intro where the superstars sit down out of character and just start talking about their favorite WrestleMania moment in history. Obviously Vince would want Cena, his biggest star, to say Andre the Giant vs. Hulk Hogan.
Still, it was a great promo. The music was perfect, likewise that black and white shots. So were the camera angles. All of the matches were also skimmed through and hyped up in a great manner! Good job WWE video and sound editing crew for making this masterpiece!
Wasn't That Promo-Tastic!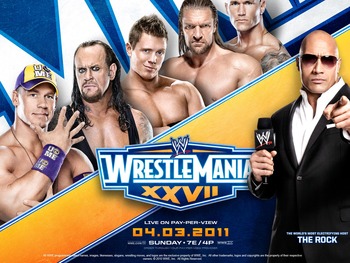 Well, here is the end of this slideshow my fellow wrestling lovers! The WrestleMania intros really are something special, there is no doubt about it.
It's always nice to recall memories in the video that they show from decades ago. I can't wait to see what Jim Johnston and the crew have in store for us this WrestleMania!
So, I hope you enjoyed my slideshow! It took a bit of time to make, but it was worth it! I hope you can at least somewhat feel the WrestleMania excitement in your veins watching the videos, cause that's basically why I made this slide-show.
It was for you Bleachers to get into the WrestleMania spirit! Anywho, look out for my next installment in this series. I have a big surprise out for the last one that will come out the day of WrestleMania XXVII!
Until further notice, this is Ray Samuels signing off!
Keep Reading