10 Hilarious Rugby Tales That Will Have You In Stitches From Wales To Australia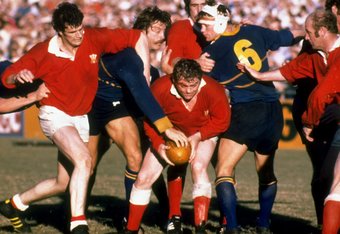 Call guy: Charlie Faulkner (with ball) in action for Wales in the '70s
Getty Images/Getty Images
I picked up these amusing tales from top rugby players and journalists over many years — and dedicate them to my old friend Tony 'Charlie' Faulkner, subject of the first anecdote. Whether the story is apocryphal rather than factual is your call, Charlie.
DON'T CALL US: During their 1978 tour of Australia, the great Welsh team of that era tried all sorts of devious methods to get freebie phone calls through to their wives and loved ones back home. The players resorted to tricks like asking restaurant proprietors if they could use the phone — and then calling the other side of the world when the proprietor thought they were ringing a local number. Prop forward Charlie Faulkner — a not-so-bright member of the legendary Pontypool front row — opted for a different tactic at the reception that followed the first Test match in Brisbane.
He picked up the house phone, got through to the hotel switchboard and barked out his home number in Newport. ''To whom do I charge the call?'' asked the operator. ''Err…Mr Dawes. John Dawes,'' mumbled Charlie, figuring he could get the tour coach to pick up the tab. ''Please remain by the phone for a moment, Mr Dawes, and I'll call you back,'' came the reply. Charlie replaced the receiver and got back to the business of drowning his sorrows after a rare defeat. By the time the call came through a few minutes later, he was in another world. ''Ullo,'' said Charlie. ''I have a call to South Wales for Mr John Dawes,'' confirmed the operator. Charlie took a quick look around. ''He's not here,'' he barked – and hung up.
Billy Stickland/Getty Images
GUM-ETH THE HOUR: Cliff Morgan, the rugby maestro who later became a commentator and eventually head of BBC TV sport, vividly recalls his first broadcasting experience. Wales had just beaten Ireland 14-3 in Dublin on their way to the Triple Crown and Grand Slam when BBC radio commentator Sammy Walker asked the great man what he remembered about the match.
''My father losing his teeth,'' said Cliff. ''When Ken Jones scored our second try, dad was so excited that his dentures flew out of his mouth into the crowd and he hasn't seen them since.'' Some years later, Morgan was recounting the tale to Tony O'Reilly, who played 29 times for his country before becoming a mega-rich international businessman and head of the Heinz empire. O'Reilly, who was renowned for his great wit, feigned surprise at the news. ''Your father's, were they?'' he said.
"'That's amazing. I know the guy in Cork who's still wearing them.'' On another occasion, O'Reilly had to make a brief trip to a Dublin hospital after being involved in a minor traffic accident. With medical treatment in Ireland charged on a sliding scale according to income, the nurse who was filling in the details on his behalf asked: ''Mr O'Reilly, do you earn more than 10,000 punts (pounds)?'' Quipped Tony: ''Now that depends on whether you are talking about the hour or the day.''
HEADS WE WIN: Wales coach Clive Rowlands was giving his customary pre-match talk before an all-important international at Cardiff Arms Park. As usual, the players were locked into Room 338 at the nearby Angel Hotel – and the emotive Rowlands was pounding them with reasons why they had to grind the opposition into the dust. By the time he had finished working on their emotions, the wound-up stars were ready to die for their country – literally. ''What are you going to do?'' Rowlands bellowed as the electric atmosphere reached fever pitch. ''WIN!'' yelled the players. ''What are we going to do?'' echoed Clive. ''Win, win …WIN!'' It was all too much for second-row forward Geoff Wheel. The big man from Swansea worked himself into a frenzy and, screaming ''Kill, KILL!'', he charged at the door to Room 338 – and butted a hole clean through it.
After his England debut agony, more pain for innocent victim Paul Ackford against Argentina
A FATE WORSE THAN BREATH: After four years in the England team, veteran prop Paul Rendall had seen it all. So it was only natural he should want to put new boy Paul Ackford's mind at ease as they prepared to face Australia at Twickenham. ''Don't worry,'' Rendall assured police inspector Ackford in the changing room before the match. ''The game will fly by. You'll find the first half seems like three minutes and the second half four minutes.'' England went on to produce a dazzling performance and were within five minutes of a memorable victory when Ackford staggered up to Rendall during an injury stoppage. ''You're a f***ing liar!'' gasped the 6ft 6in second row. ''I've been out here for four-and-a-half hours and the game's still not over.''
LATE MOMENTS IN SPORT: The British Lions were given a fearful runaround by the Orange Free State outside half during a particularly traumatic 1980 tour match. In the end, Lions centre Ray Gravell could stand no more. As the South African danger man made yet another break, the Welsh tough guy hit him with a fearful tackle long after he had parted with the ball. The referee angrily called the Llanelli star over and proceeded to dish out the severest of reprimands. ''That was the latest tackle I've ever seen!'' he stormed. Replied wisecracking Gravell: ''Sorry ref, I got there as quickly as I could.''
STICKY WAGER: It certainly wasn't the weather that took York Rugby League coach Bill Reilly and Aussie scout Arthur Clues to Batley. The Mount Pleasant ground was anything but pleasant as the wind howled, the rain sheeted down – and the teams made a forlorn attempt to play rugby in a mudbath. With scarcely a minute left to play, neither side had scored a single point.
Then Batley, playing up the hill and into the gale, won a penalty way out on the touchline. As their fullback lined up an ambitious pot at goal, Yorkshireman Reilly turned to Clues and wagered: ''I bet you a dollar he kicks it.'' ''You're on,'' replied Clues. The kicker squelched through his run-up, only to slip in the quagmire at the moment of contact – and the ball trickled just a few inches forward as he plunged onto his back in the mud. ''I told you he'd kick it,'' said Reilly, holding out his hand for his winnings.
ARMS AND THE MAN: There was no question of injured Tommy Martin making his own way off the field. The Leigh and Great Britain second row needed a stretcher after taking a bad knock on his ankle — but the one and only St John Ambulance stretcher was already occupied by another player. As Martin lay writhing on the ground and the fans bayed for the action to restart, desperate officials grabbed an office chair from the clubhouse and dashed on to the pitch with it. Martin was lifted gingerly into the seat, and with one embarrassed committee man either side, the chair was hoisted into the air by its arms. With the crowd roaring their approval, Martin was steered tentatively towards the dressing room . Five seconds later, there was a huge crack and the committee men were left holding a chair arm each as the seat and legs tipped Martin out – straight onto his damaged ankle.
GRIN AT THE DEEP END: To celebrate Leigh's feat in avoiding relegation, coach Tom Grainey took his strugglers on holiday to Majorca. Some months later, his assistant Colin Clarke was reflecting on the break in the changing room at Hilton Park. ''Remember it, lads?'' he mused. ''All that sun and San Miguel…and old Grainey up on the top diving board doing a double somersault with pike?'' With that, prop forward Derek Pyke chirped up: ''Hey, it weren't me. I were out on a training run.''
WIGAN'S BIG 'UN: The groupie girl outside Wigan's Riverside Club eyed up the town's new Rugby League hero – and liked what she saw. ''Hiya, big boy,'' she said to burly South African Nick Du Toit, her eyes settling on the most personal part of the 6ft 3in forward's anatomy. ''Tell me, are you built in proportion all over?'' ''Listen, lady,'' replied Du Toit in his clipped Afrikaans tones. ''If I was built in proportion, I'd be 12 foot ten!''
AN ED FULL OF NOTHING: Tough-guy Eddie Szymala was in the wars again. And after the beefy but intellectually-challenged Barrow forward broke his jaw in a match against Oldham, coach Frank Foster was quick to pay tribute to the wounded hero. ''Eddie doesn't know the meaning of the word fear,'' Foster told the assembled press. ''Mind you, there are a million other words he doesn't know the meaning of, either.''
This article is
What is the duplicate article?
Why is this article offensive?
Where is this article plagiarized from?
Why is this article poorly edited?