Start Your Engines: 2011 Begins Major Changes to Izod IndyCar Series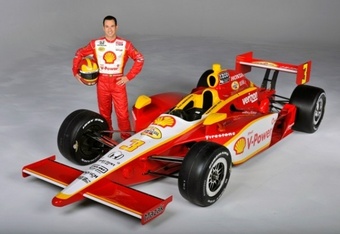 The Greatest Spectacle in Racing began 100 years ago this May, with Ray Harroun, and the Marmon "Wasp". This year, the Izod IndyCar Series will begin to make major changes to the sport.

Perhaps the greatest changes of all will not be seen until next year, when the new engines and new chassis are on display for all of the fans to see. They will take to the track, and nobody really knows what to expect. We could see faster speeds, more intense crashes, better side-by-side racing and who knows what else.
The cars will look drastically different, and the engines, equipment, teams, and drivers will all be different as well. Most of the popular drivers will probably be with the same teams, but two years from now, the series will have a completely different look.

One thing that Randy Bernard will have going for him at the start of this year is momentum. There will be more young American drivers in the series, the centennial era has reached its peak, and NBC-Comcast could produce something great for the future of this sport. With the popularity of NASCAR on the decline, the sport will look to make a significant jump into the eyes of new fans around the world.

With so many changes going on at virtually the same time, many people are optimistic that a new track record could be set at this year's Indianapolis 500. Bernard seems to believe that the Honda engine will be able to power these cars over 230 mph this coming May at IMS. Whether he truly believes this or not, it will definitely have people watching.

Though almost all of the changes will take place on the track itself, many fans are excited for what they won't see on it anymore. Milka Duno has pretended to be a race car driver for long enough, and it appears this fairy tale has come to an end.

Despite the devastating loss of Duno's talents out on the track, the Series will find a way to replace her. In fact, there will be even more young American drivers in the sport this season. The additions of J.R. Hildebrand and Charlie Kimball are just a taste of what is to come.
Graham Rahal is once again a full-time driver, and Ed Carpenter will be back for plenty of races as well. While the nationality of the drivers really doesn't matter to some people like myself, it will certainly help with the fans that only tend to follow the American drivers.

There will be many interesting driver changes to watch this upcoming season, beginning with Tony Kanaan racing for Gil De Ferran's team. J.R. Hildebrand comes up from the IndyLights Series to race with the big boys. He will be taking over Panther Racing's National Guard sponsored car for Dan Wheldon, who we are still waiting to see where he ends up.
It is possible he could land back with Andretti's team, if only for the Indy 500. Graham Rahal racing for the next generation of Ganassi will certainly be one of the big headlines for the upcoming season as well.

It looks like we could have a higher car count for a lot of the races in the 2011 season. Curt Cavin has compiled a list of possible cars for each team this year, though it is still very early in January. Here is his list:
Penske: 3
Ganassi: 4
Andretti: Likely 4
Foyt: 1
Dreyer & Reinbold: Likely 2
Panther: Likely 1
FAZZT: Perhaps 2
Conquest: Likely 2
Dale Coyne: Likely 2
HVM: 1
KV: Likely 3
de Ferran: 1
Newman/Haas: Maybe 2
Sarah Fisher Racing: 1
That is roughly 29 cars, and you have to think about the guys that will likely run part-time as well. Guys like Davey Hamilton, Paul Tracy, Ed Carpenter, etc. We could have a jam packed bump day at Indy this year.
The schedule this year will be interesting, with no oval race taking place before the Indy 500 in May. There will be new courses such as the one in Baltimore, but the teams really won't get to test the speed and handling of the ovals until they get to the grandest one of all, IMS. This could give the stronger teams like Penske, Ganassi and Andretti even more of an advantage on the lesser competition.
If the same were to happen in 2012 though, I would think everyone would be pretty even across the board, with the new cars, engines, etc. While I truly love the ovals, I think this will make things very interesting this year when the "Month of May" begins here in Speedway.
The very first Indianapolis 500 was hosted in 1911, and now 100 years later, the cars return with so many story lines coming into this season. Helio Castroneves will come in looking to make history in the race, and will do so in a particularly interesting paint scheme with Penske.
While most of the focus is on the one race, I believe the rest of the season will be more popular beginning now, than it has been in the past decade. With all of the exciting new changes and popularity growth, this year could begin something special for the sport, for many many years to come.
This article is
What is the duplicate article?
Why is this article offensive?
Where is this article plagiarized from?
Why is this article poorly edited?