Detroit Lions 2010 Preseason 2.0 Version; The Questions Mayhew Needs Answers Too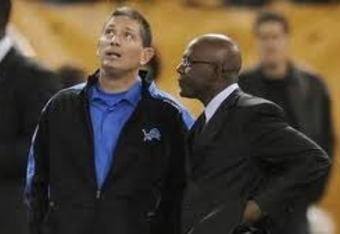 Two and Six.
Whether that's a disappointing or expected record, it adds up the same. These last eight games have all the meaning of a preseason schedule.
The cold hard fact is that in the NFL, if you are not in playoff contention, you are in rebuilding mode. Think that's tough? Wait until the Lions get good. Just ask New England or Pittsburgh fans what happened last year; good teams are either winning Super Bowls or rebuilding.
The Super Bowl was not in the discussion for the 2010 Detroit Lions, but making the playoffs was certainly a goal this team had at the start of the year. However, after two wins over eight games and now the apparent season ending injury for Matt Stafford, their playoff chances can best be summed up by the famous Jim Mora Sr quote.
So where does that leave the Lions right now?
Eight games left to play and other than a miracle finish or a complete tank job by the team, the record over those eight games really has little meaning. The only real difference between a 4-12 or 6-10 record is draft positioning and Lions fans have played that game to death over the years. I'm sure I will watch the scores coming from places like San Fransisco and Carolina, but I'm not ready to pull for a Lions loss just yet.
That may paint a very bleak picture for your next eight Sunday afternoons; okay, seven Sundays and a big Turkey day against the Patriots. But I may have understated the value of wins for this team because the single greatest accomplishment the Lions can achieve this year is learning how to win. The talent level has risen to near playoff contender status, but it doesn't mean anything if they can't get over the hump, so to speak, so maybe winning a few games would be a nice way to go into the 2011 season.
What would be the Lions record if Stafford stays healthy?
You disagree with that "talent risen to near playoff contender status" statement?
Consider that if Stafford finishes out the Bears and Jets games, the Lions are probably 4-4. Now consider the Lions play toe to toe with the Eagles and Packers with Shaun Hill at QB and lose to everybody's best team in the NFC New York Giants by eight lousy points on the road, with Stanton quarterbacking the team in the second half.
This team is loaded with elite young talent from Suh and Delmas to Calvin and Best. Throw in players like Levy, Alphonso Smith, Houston, Sammie Hill, Pettigrew and Sims to mention just a few young players who all look like real NFL starting quality players that should be around for a while and this team needs tweaks, not overhauling.
But what are those tweaks?
That's what these next eight games can answer and you can bet Martin Mayhew will be watching closely with these questions in mind.
Coaching
It always starts with coaching. You have to have the talent, but it means little if it's not being developed and used in the right way. See Minnesota, Dallas and San Diego for examples of what talent with poor coaching will get you.
Head coach Jim Schwartz has come under a lot of criticism over some of his game management decisions lately and there are some very legitimate questions as Schwartz himself has questioned the 3rd down pass last week. Before we get carried away here, we should remember there is a learning curve in life and head coaching in the NFL is not an easy task. At this point in his career, the question Mayhew should have for Jim Schwartz is what did you learn from that decision?
Game time management is only one part of the job for a head coach and it's the one area that any new coach has the least experience dealing with. Perhaps the number one necessary trait of a great head coach and his staff is the ability to recognize and develop talent and in this area Schwartz and his coaches have done an excellent job. Whether it's the coaches teaching the right techniques or finding the right way to motivate them, no one can deny that the young players seem to be improving in each and every game.
The next qualification of a great coaching staff is can they put a game plan together and for the most part the answer is yes, this coaching staff has had them in position to win just about every week. This is especially true of the defense. Gunther Cunningham has taken what many considered to be sub par talent and molded them into a tough, opportunistic defense despite suffering a multitude of injury issues, especially among the linebackers who should be setting the tone. This 4-3 defense Gun and Schwartz like is heavily dependent on the LBs not only having the athletic skill but the instincts to make the right play. The fact that only one LB has played in all eight games makes the improvement by the defense all the more impressive.
I do have some questions about the offensive game plans at times but the QB situation makes it hard to judge. The bottom line is this team has put up points with Stafford or Hill playing QB so it's hard to say the offensive game plans are bad. If I am Mayhew, I have one eye on Scott Linehan for the rest of the season, but at this point I am willing to bring the coaching staff back intact.
Quarterback
If it starts with the coaches, it won't get past the QB position in this league. Obviously the number one question for this team is the health of Matt Stafford. As far as the next eight games and really the 2011 season goes, the path is laid out. Stafford is the QB whenever healthy and that won't change for a while. We won't go into what the injuries mean long term or should he sit out the year; that's a decision that must be made by the doctors and there are plenty of opinion articles out there on the subject. For this article, I will assume that Stafford is either sitting out the year with or without surgery and it's expected he will be ready for the 2011 season.
That means Shaun Hill is our number one guy for 2010 and a very valuable insurance policy in 2011. Many of us have lauded Mayhew's decision to sign Hill for the 2011 season, but it was a mutually beneficial signing. With the uncertainty of the next CBA and the expected short offseason for signing free agents (plus it appears that Vick and McNabb will be available), it was a smart decision for Hill and his agent to wait another year before hitting the open market. It's possible that Hill will be a heavily sought commodity by the 2012 free agency period and that opens up the next question for Mayhew.
The question is not should the Lions try to sign Hill to a long term contract; that's a no brainer to me. I don't believe Hill and his agent will want to play along though. The question is who is the number three QB in 2011 and the number 2 QB in 2012. In a glass half full world, the Lions have an opportunity to judge Drew Stanton over these last eight weeks. Basically it's down to do the Lions want to resign Stanton to a long term back-up QB contract after the end of the year or draft a QB in the late rounds to develop, in case Stafford's career does implode over injuries and Hill moves on.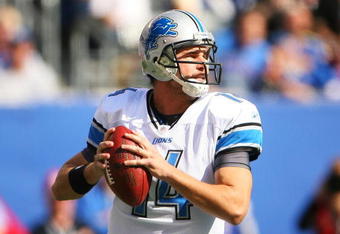 How about a three year extension Shaun?
Andrew Burton/Getty Images
The running game
In some ways, this is the most disappointing aspect of the season so far. Going into the season, the belief was that with Jahvid Best at RB and Rob Sims at LG, plus a year of having the system under the belt for the rest of the OL, we should expect to see an improvement in the running game. Now I do not expect to see the Lions turn into the '72 Dolphins, but they do need to run the ball better than they have so far this year and at this point, I'm not sure we know the answer as to why they haven't.
I know the overwhelming opinion among Lions fans is dump Raiola and Peterson, maybe the whole OL, but it's never quite that easy. Some very knowledgeable football people, namely Schwartz and Mayhew, have deemed the whole offensive line capable of getting the job done and put their money where their mouth is by signing the entire interior OL to some pretty big contracts. Sure, the tackles are not signed past 2012 for Backus and 2013 for Cherilus, but run blocking is supposed to be their strong suit and the coaches say both are doing an excellent job.
We do know that Best has suffered from two turf toe injuries which has to hamper any running back, especially one who depends on his speed and cutting abilities. We also know that Kevin Smith was not 100 percent to start the year and he is just now rounding into shape, so health of the RBs has to be a contributing factor. Might as well throw in the health of the QBs because there is no doubt that opposing defenses are stacking the line of scrimmage and daring the Lions to throw with Stafford out.
Careful stretching that toe.
Leon Halip/Getty Images
But at this point, I am not willing to write off the problems in the running game to just health of the RBs. I have to wonder if it's a deeper problem and either the Lions need a change in scheme or coaches or reconsidering those long term contracts they gave Peterman and Raiola. Maybe the running game does improve over these eight games, maybe a healthy Best shows a more consistent explosion and maybe the OL is still in the process of gelling, but at this point, if I am Martin Mayhew, I would need a lot of explaining why I shouldn't be looking real hard at an interior lineman in the second round of the draft or wondering if a coaching change isn't in order. I don't like to shake things up all the time, but it worked for Special Teams and maybe OL coach Yarno isn't the right fit.
Secondary
This was by far the biggest question mark going into the season and by and large we have some very encouraging answers so far, but that doesn't mean the work is done. Front and center is Chris Houston because he will be a free agent after this season and getting him signed has to be a priority. The question is for how much and when do we know what he is worth? It's easy to say after the first half of the season to pay the man, but how much do Chris Houston and his agent want and how sure are we that he will continue to perform at this level? To me, Chris Houston is a solid starting cornerback and if he wants a contract that reflects that assessment, I would make the deal before the season was over. Hopefully, this is what happens because if he wants to check out free agency, it's possible the Lions could be looking for another starting cornerback to team with Alphonso Smith.
Just imagine how good we will be next year if Chris comes back.
Leon Halip/Getty Images
The other questions with the secondary concern the safety spot next to Louis Delmas and depth. Amari Spivey has eight games to prove he should be the starter next year and a handful of players like the recently picked up McDonald have an opportunity to earn a spot for the 2011 season. This half a season should tell us if the Lions still need a major infusion of talent in the secondary or if a veteran free agent or two will suffice. At this point, I would hate to use the first round pick on a corner unless there is a truly shutdown type available. My fear is the two CB prospects who might fit that description will be gone before the Lions pick and the Lions should not settle for simply the next best CB.
Linebackers
It might seem like this is the positional group with the most questions, but to me, things are pretty cut and dried; the Lions need help at the linebacker position. We can say maybe Carpenter is the answer or Follett and Dizon will be back and that's fine, if you want to say that's the plan for one starting spot, okay by me. I have no concerns about DeAndre Levy, I feel like he will be an excellent MLB for years to come. My concern is with the OLBs and if we figure on holding out one spot for open competition in training camp, that still leaves Julian Peterson and to me, Peterson has slowed a little.
I still believe Peterson can play in this league, just not at the high level he used to play at and at the level this defense needs him to be at. When we consider his contract and the fact that it's only another year or two we can hope to get out of him, it's clear to me that this is the last year we see Peterson in a Lions uniform.
Unfortunetly we have seen Peterson a step late too many times this season
Jonathan Daniel/Getty Images
Considering the stellar play and relative youth of the defensive line and the way the secondary seems to be building the biggest bang for the buck, I would consider adding a stud OLB to the defense. This defense expects a lot out of their OLBs and not every player is a fit. For example, as good as James Harrison is, he couldn't play OLB for Schwartz and Cunningham. They need a player who can not only stuff the run, but get downfield and cover the top TEs in the league one on one. It's a skill set that normally isn't readily available in the free agency market and pretty hard to find late in the draft. Most of the Mayo's or Keith Bullocks (when he was young) were high draft picks and Detroit should be in a position to get a top OLB in this draft.
If the Lions can find answers to those questions, the rest, like who is the 3rd WR or do they need to replace Jason Hanson, becomes minor. These are questions that can easily be addressed as they develop and have little bearing on the future of this team.
If the goal from this point on is the Super Bowl in 2011, the answers the Lions need to see out of these last eight games are:
Finding a way to get this running game going. We're not looking for a smash mouth, down your throat attack. This team simply was not built that way and we are talking major changes if that's what you expect, but they have to find a way to make the opposing teams respect the threat.
What will it take to finish off the secondary? If they do sign Houston, it's Smith, Houston, Delmas and Spivey proves himself, plus they bring back CC Brown. Do the Lions have to go high in the draft for another DB or can adding a decent free agent to some of the holdovers do the job?
Picture Jim Schwartz in the same spot next year
What are the options at linebacker? It's not a question to me if they need a big time stud to run with Levy, it's more a question of do they need to add two LBs? Follett, even when healthy, was a little bit of a disappointment and it wasn't his play in space that has me wondering. His pass coverage was approaching adequate, but he wasn't making enough of a difference in the running game. Carpenter and Palmer get their shot now and if neither steps up, the Lions will need a veteran free agent to fill that spot.
Of course, they also need to see some positive medical reports on Stafford but really, there is little the Lions can do at this point. Unless the doctors say it's over for Stafford, the Lions can't look for a replacement other than some late round developmental guy. The only course of action the Lions have right now is no action other than waiting to see how it plays out.
Now the best answer we could hope to see over these last eight games is the Lions continuing to play with the same fire they had in the first eight games. It would be easy to say the Lions have fallen behind Tampa Bay and their five wins or St Louis and their four wins, but take a look at who those teams have beaten. Those nine total wins were at the expense of Carolina twice, Arizona, Seattle, Washington, Cleveland, Cincinnati, San Diego and the Bucs beat the Rams. Give the Lions a chance at those nine games and what do you think their record would be?
What we really want to see is the Lions pulling out some wins over some quality teams so they get the feel of what it takes. I know I said these last eight games are meaningless in the grand scheme of things but they could be very important. If the Lions can put together three or four wins down the stretch, it can carry over like the four out of six games Jimmy Johnson and the Cowboys won down the stretch in 1990 to finish 7-9, or the three out of five games Bill Walsh won down the stretch of 1980 to finish 6-10. In both cases, those teams carried that momentum into the Super Bowl the next year.
Think about that a moment. Through the first 24 games of the Johnson era, his record was 4-20 while Walsh went 5-19. Two Hall of Fame coaches leading two teams of the decades. Maybe there is hope after all.
This article is
What is the duplicate article?
Why is this article offensive?
Where is this article plagiarized from?
Why is this article poorly edited?

Detroit Lions: Like this team?