Buffalo Bills Close Out Preseason and Await Final Roster Cuts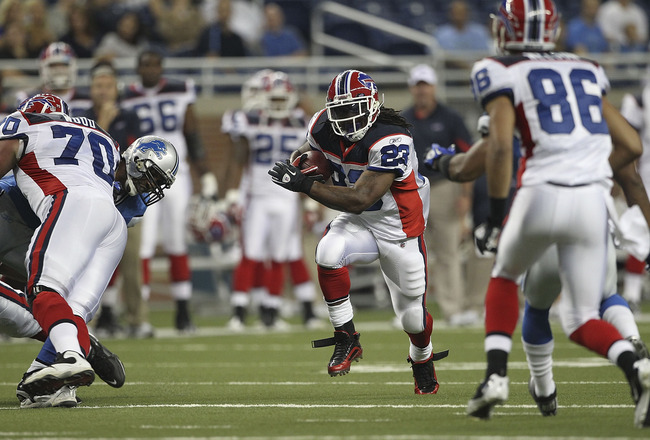 Leon Halip/Getty Images
The Buffalo Bills ended their preseason schedule Thursday night by losing at Detroit 28-23. The game dropped the Bills to a .500 record, as they finished exhibition play at 2-2.
The Bills coaching staff, led by head coach Chan Gailey and GM Buddy Nix, will now sit down and review game footage, compare notes with all the position coaches and come up with 22 players that they have to drop to waivers by the 6:00 p.m. deadline on Saturday.
Then, the Bills will determine which eight players from that group (or possibly other NFL waiver victims) they would like to add on their practice squad. That announcement should come out on Sunday.
In addition, Buddy Nix and his staff will be busy scanning the waiver wire to see if there is some help out there that they can bring in to shore up the offensive line, the special teams unit, and the kick return game, which are still areas of concern, based on the results witnessed over the preseason.
How Did The Three Quarterbacks Play?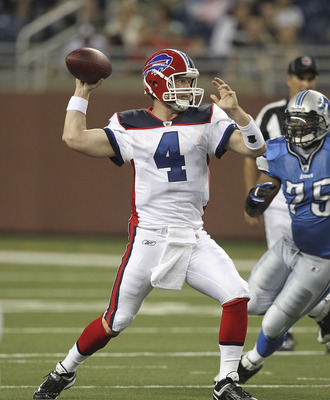 Leon Halip/Getty Images
From a quarterback standpoint, Trent Edwards played the first quarter, (which amounted to one drive), while Brian Brohm and Levi Brown split the final three quarters.
Edwards finished with a perfect 4-for-4 in his pass attempts for 66 yards and converted on a one yard rush on a fourth down and one scenario to keep his drive alive.
He also converted on a third-down pass to David Nelson, showing an increasing amount of confidence and faith in the rookie.
Edwards also hit Lee Evans on a beautiful 50-yard pass, which Evans made a supreme effort to bring in.
With each passing week, Edwards appears to be more confident in his ability to throw the ball downfield and avoid the little checkdown throws.
Will that confidence continue when the regular season starts on Sept. 12? That will be one of the bigger issues that Bills fans will want an answer to.
For his part, Brian Brohm did okay, but nothing great. His supporting cast was much different, as he had the likes of Chad Jackson, J.P Foschi, Donald Jones, and Rodney Ferguson as receiver targets and Chad Simpson, Andre Anderson and Joique Bell to run the ball behind him.
I am sure that Chan Gailey will take all that in to consideration as he evaluates Brohm's performance.
Brohm wound up being the Bills leading rusher with 34 yards, as he was able to detect room to run and showed some decent mobility in picking up a key first down on a third-and-long play.
Out of his various possessions, he was never able to lead the Bills on a touchdown drive, and that has to be somewhat of a concern as he was not playing against the Lions first-string defense.
Levi Brown did have one touchdown drive in garbage time, but also had a highlight touchdown pass to James Hardy called back due to a holding penalty on Jason Watkins.
It would have been good for a 74-yard score and would have easily been the highlight of Hardy's preseason, but it wasn't meant to be.
Brown also had the Bills in position to score another touchdown, but he made a terrible pass in the red zone and Paul Pratt intercepted and ran it back 102 yards for a Lions touchdown.
There were enough positives from Brown that the Bills would be pressing their luck if they tried to put him on waivers with the thought of putting him on the practice squad.
It looks like the rookie has made the 53-man final roster.
Defense Has Now Scored In Three Straight Games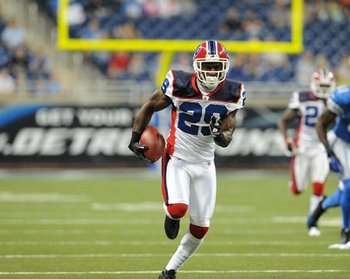 The Bills secondary is on a roll. Drayton Florence stepped in front of a Matthew Stafford pass and ran it back for a 40-yard touchdown in the first series of the game.
That makes it three straight games that the Bills defense has turned in a touchdown of its own.
Florence, Reggie Corner and Terrence McGee are the cornerbacks that have pulled off the feat.
What is nice is that these are against the likes of Peyton Manning and Matthew Stafford. Not exactly slouches.
The secondary is doing this without Jairus Byrd, so when he is healthy they look to be operating on all cylinders already.
Florence probably took another step towards securing his starting job with the play.
Offensive Line Still Has Some Major Issues To Work Out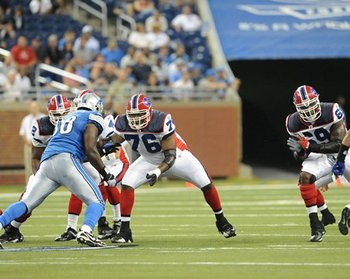 The Bills offensive line still has to be considered something of a mystery because of how little playing time Eric Wood, Demetrius Bell, and Cornell Green received during the preseason.
For the Lions game specifically, all three quarterbacks for the Bills were sacked once each. The Bills did not pick up a single sack for what it is worth.
The Bills had more crippling penalties in the game, as they lost 96 yards in penalties, not to mention the yardage lost from Hardy's touchdown catch that was wiped out.
Holding penalties were across the board, as Andre Ramsey, Kirk Chambers, JP Foschi, and Jason Watkins were all hit with flags.
The Bills running game appeared to take a step backwards.
The Bills rushed for 97 yards, which compares well to the Lions' 103 yards, but the Bills averaged only 2.7 yards per carry, while the Lions were at 4 yards per carry. That is a big difference.
Of course, the Bills did not opt to play C.J. Spiller, as they thought it best to keep him rested and ready for the season opener against Miami.
As we have already witnessed, Spiller doesn't need a ton of blocks to be open. He just needs the ball.
Safe to say some of the Bills offensive linemen probably blew their chance to make the final roster with the results from the Lions game.
Bills Won The Statistical Battle, Which Bodes Well For Future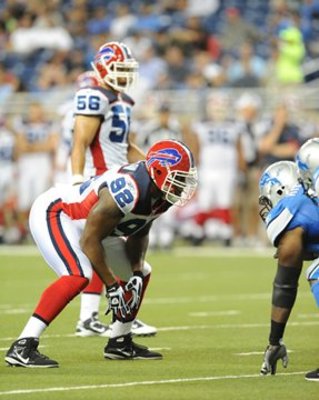 With the offense playing a better brand of overall football this year, it appears that this is having rippling effects on the team overall.
The Bills offense only had two drives of three-and-out against Detroit. By staying on the field longer, the defense is rested and they can then play more efficiently.
As an example, the Bills defense was able to force Detroit in to six drives that resulted in three-and-out. That is a winning formula.
In addition, the Bills ran 76 plays compared to 51 for Detroit, and the Bills kept the ball for 38:24, while the Lions held it for only 21:36.
The Bills had 20 first downs to the Lions 13, and the Bills outgained Detroit 313 to 239.
So given all of the above evidence, how did the Bills lose? Most obvious reason to me was the Levi Brown pass that resulted in the 102-yard return and the play in the red zone.
The Lions converted all three red zone chances for touchdowns, while the Bills went one for two. That ratio on both sides of the ball has to improve for the Bills to win.
Special Teams Unit Did Not Give Up Any Long Kick Returns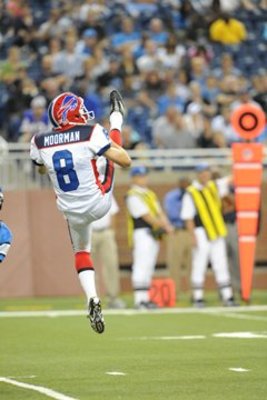 The Bills special teams unit had been giving up huge amounts of yardage in the two prior games against the Bengals and the Colts.
There was a marked level of improved play against Detroit, as the Lions were unable to spring one long return all night.
Maybe that is a reflection on the Lions return game, but it had to be somewhat gratifying for Bruce DeHaven to see some hard work turn into improved play.
On the flip side, the Bills return game is not doing anything at all to speak of either.
The Bills did not break off any long runs of their own, so it will be interesting to see if the Bills dip in to their vast bag of experienced kick returners on the team (Fred Jackson, Leodis McKelvin, Chad Simpson, and Terrence McGee) or if they opt to go with C.J. Spiller, once Fred Jackson is ready to take on the major load at running back.
Either way, it is not in the Bills best interest to be starting every drive from between their own 20- to 30-yard line.
Having to drive a long field keeps the defense off of the field, but failing to convert will mean the other team has good field position and your back will always be up against the wall.
How Healthy Will The Bills Be For The Season Opener?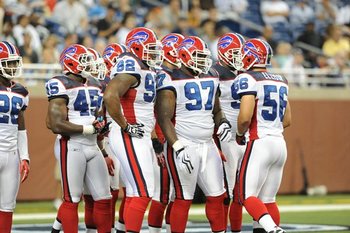 Most of the Bills got to see some action against Detroit. Paul Posluszny played, as did Marshawn Lynch. None of the starters appeared to come out of the contest with any major injuries.
The next 10 days will be crucial for some specific Bills players to get healthy fast.
I am referring to guys who have been nursing various ailments, or coming off of recent operations, with the thought that they would be ready for the start of the regular season.
The list that falls in to the above category is pretty long, which includes: Fred Jackson, Marshawn Lynch, Demetrius Bell, Eric Wood, Cornell Green, Derek Schouman, James Hardy and Ed Wang on offense.
On defense, the health concerns are with: Jairus Byrd, Leodis McKelvin, Kawika Mitchell, and Reggie Torbor.
Don't forget the Bills are also dealing with the Shawn Nelson suspension for four games as well.
Other Bills Who Stepped Up Against Detroit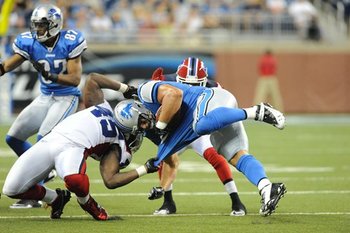 Arthur Moats and Keith Ellison led the Bills with six tackles. Moats seemed lost in coverage on one of the Lions touchdowns when he missed an open field tackle on DeDe Dorsey.
Speaking of Ellison, he came up with a fumble recovery and also saw action on special teams. That might be what saves Ellison's job in the final analysis.
Chad Jackson was the Bills leading receiver with five catches for 59 yards.
A number of Bills were missing on the stat sheet like Roscoe Parrish and Steve Johnson.
They are being saved for the regular season, but Johnson really didn't do very much in the preseason to begin with.
Rian Lindell Looks To Be In Mid-Season Form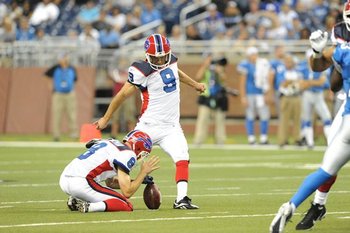 Rian Lindell was asked to kick three field goals in the contest, and nailed all three of them.
The fact that all of them were from at least 40 yards out, has to be a good sign for the Bills and their kicker. The field goals came from 41, 47, and 50 yards out.
Most kickers would enjoy kicking in a dome stadium, but they present their own unique challenges. Lindell is continuing to show that he is one of the best kickers in Bills history.
Did Some Bills Save Their Roster Spot Against Detroit?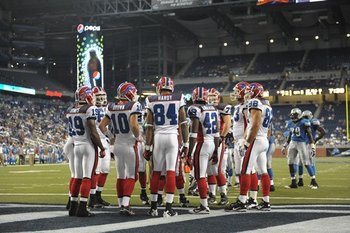 One play in particular, the Levi Brown pass to James Hardy for the 74-yard touchdown that was nullified by the penalty, may have been all the proof the Bills needed to keep both Brown and Hardy on the final roster.
For the guys that were trying to make that final impression, there didn't seem to be that many other players who stood out.
This will force Gailey to go back with the entire front office staff and review the entire body of work they have available to them for evaluation purposes: OTAs, summer camp, and the preseason.
There will be some surprises to make the team, as there are every year.
What might be more surprising, is who else is available that hits the unemployment line across the NFL, and would be deemed to be an improvement for the Bills team.
Stay Tuned For The Bills Final Roster Announcement On Saturday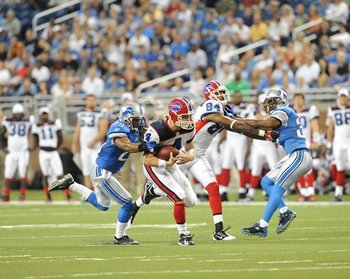 I think most Bills fans are interested to see which quarterbacks are kept and which one is cut. Local product Naaman Roosevelt will be of interest, in addition to the battles for the final running back and wide receiver slot.
Also curious will be to see if Buddy Nix is able to trade away the one quarterback they don't keep to another team, or if they simply have to waive him.
Getting a sixth- or seventh-round pick seems like it could work for Fitzpatrick, but would the Bills net something of value if Brohm was the one on his way out. Should prove to be a very interesting weekend.
Keep Reading

Buffalo Bills: Like this team?