Chicago Bears Versus Cleveland Browns Game Preview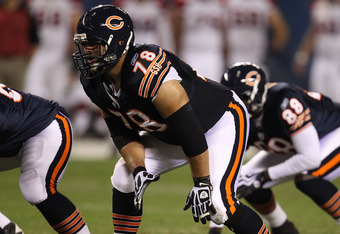 Jonathan Daniel/Getty Images
If people think that preseason games are meaningless, they need to ask the players that play in them. For those guys who are sitting on the fence in terms of making the final roster the preseason is very important and the last game of the preseason is perhaps the most important.
The Bears will travel to Cleveland to take on the Browns in their final game of the preseason this Thursday night. The fourth game of the preseason is generally reserved to let the second and third stringers play to allow the coaching staff some time to evaluate those players and see who they feel should stay with the team through final cuts (coming on September 4th).
The Bears roster, for all intents and purposes is pretty much set as they head into this game. There are some fringe players that the Bears will want to take a look at and see if they feel that these players would be able to stay on the final roster and contribute during the season. That is why this game is important.
We won't have to worry about too many fancy plays or gimmicks in this game. Everything should be pretty "vanilla". The starters will play one series and then give way to the second stringers.
Here are some things to look for in this game.
Hanie Returns
Quarterback Caleb Hanie has been out of action since injuring his shoulder in the Bears first preseason game against the Chargers and will return to play in this game. It's important that Hanie show something to the coaching staff because rookie quarterback Dan LeFevour has slowly been improving and the Bears may feel that they have much more upside with him than Hanie.
Also look for newly signed quarterback Todd Collins to get some reps as he's been labeled the number two quarterback now. So the battle will rage between LeFevour and Hanie and whoever does better should be the Bears third string quarterback.
Safety First
The Bears will evaluate their talent at the safety position (with the backups) during this game and make sure that they have the proper talent to being the new season. It looks like Danieal Manning, Major Wright, Craig Steltz, Chris Harris and quite possibly Al Afalava are safe but there is other talent that they have to evaluate.
Perhaps the biggest question here is whether or not Josh Bullocks will make the team. Bullocks has been injured for most of training camp and has a lot to prove.
Tackling the Tackles on Defense
Jarron Gilbert hasn't had that good of a training camp after having spent some time injured and living under the shadow of Marcus Harrison. Last year's third round pick (and the first for the Bears) has been a disappointment to some and may not make the final roster when cuts come shortly. This will be Gilbert's chance to shine and make a name for himself. If he doesn't have a good game he may end up being gone.
Tackling the Tackles on Offense
You can say that the starters have been decided upon. Both Frank Omiyale (on the right) and Chris Williams (on the left) will start the season but who will back them up? Kevin Shaffer is a lock but who else is there? Both James Martens and J'Marcus Webb have had decent preseasons but which guy do the Bears keep? We will find out who has the edge Wednesday.
Wide Receiver Watch
The safe guys in this bunch are Devin Hester, Devin Aromashodu, Johnny Knox and Juaquin Iglesias. Everyone else can be considered "up in the air." Rashied Davis will probably make it. So will Earl Bennett despite the fact he hasn't played a lot during the preseason.This leaves Greg Matthews and Freddie Barnes on the outside looking in and it's likely that neither of them will make the roster, but you never know.
Who's in at Tight End?
The Bears haven't really targeted their tight ends much during the preseason games but they did target them successfully in practice so it's hard to tell what the Bears are thinking with this group. It appears as if Desmond Clark, Greg Olsen and Brandon Manumaleuna are locks to make the roster but who else stands a chance? What about Kellen Davis? This could be a make or break game for him.
So, as mentioned, don't expect a lot of fancy things in this game. The Bears will run the basics in this game but may try a few things to exhibit what they may want to see out of some of these second and third string players have so look for special packages that might feature some individual players.
Who's the Back
Finally, the battle between Kahlil Bell and Garrett Wolfe will take center stage as both of them battle for the third running back spot behind Matt Forte and Chester Taylor. If you have watched the preseason games closely, you might agree that Wolfe has had a better preseason than Bell has but is Wolfe going to be effective in certain situations during the regular season? Will Wolfe's play on special teams guarantee him a job?
Prediction
This is the only game of the year I won't try to predict. I do predict this to be a somewhat sloppy game as the Bears and the Browns will be trying to evaluate players in certain situations and the goal of the game isn't really to win so much as it is to find out who can help you and who can't. If you are interested in finding out what the future of the Bears is going to look like, this is the game for you.

This article is
What is the duplicate article?
Why is this article offensive?
Where is this article plagiarized from?
Why is this article poorly edited?

Chicago Bears: Like this team?