College Football Eye Candy: The NCAA's 15 Hottest Coaches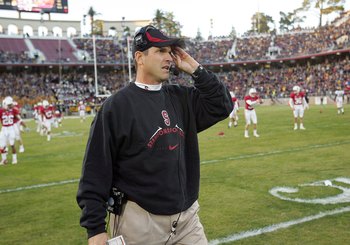 It's hard to avoid—the web is covered in articles about hot sports wives and girlfriends, but there's a bitter void in female sports fans weighing in on which guys are the most attractive.
Wouldn't it be nice to be able to gawk at some of the best looking alpha males in America?
Now, you can.
For women sports fans everywhere, I have compiled a list of the hottest 15 college football coaches in all of the sport, from the cute young things to the more aged, "fine wine" types.
They're from all over the country, and hopefully, in a town near you.
No. 15: Danny Hope, Purdue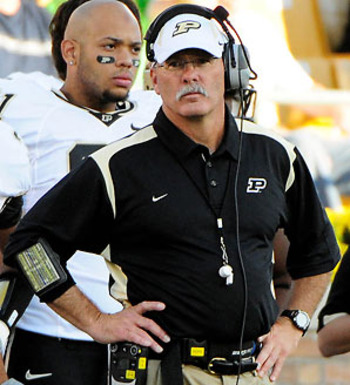 Danny Hope is hot because he's all business. He's fit, and football-focused, and that's why he stands at No. 15 on the list.
Women of mustache fervor—indulge.
No. 14: Paul Rhoads, Iowa State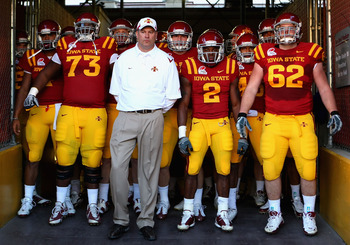 There's nothing hotter than seeing a guy at the helm of an entire football squad, and that's what Paul Rhoads does for a living.
The Iowa State football coach is not only a salt-and-pepper haired cutie—he's smart too.
Rhoads graduated from Western State University in 1989 with a bachelor's degree in economics, and won the Chris Faros scholarship for the top senior student-athlete.
Rhoads then earned a master's degree from Utah State University in 1991.
No. 13: Jim Harbaugh, Stanford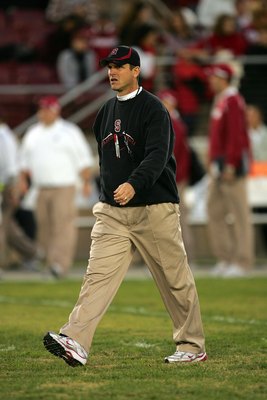 Jim Harbaugh is not only a great-looking head coach, he's attractive because of his experience.
Harbaugh has been working since 1994 as a coach, and has been the head coach of both Stanford (current) and San Diego. Harbaugh was also the quarterbacks coach of the Oakland Raiders from 2002-03.
No. 12: Turner Gill, Kansas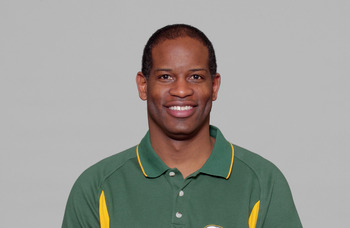 Turner Gill has an awesome smile and set of dimples, putting him at No. 13 on the list.
Gill is also a jack of all trades, making him extremely attractive.
A highly successful Nebraska Husker, Gill bypassed the NFL and signed a "lucrative" contract with the Canadian Football League's Montreal Concordes in 1984.
Gill is also a skilled baseball player. As a gifted shortstop, Gill was drafted into the MLB by the Chicago White Sox at age 17 and again by the New York Yankees at age 21.
No. 11: Joker Phillips, Kentucky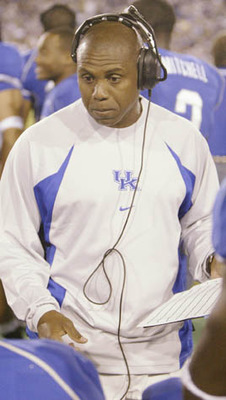 Joker Phillips sits at No. 12 on our list, and rightfully so. Who doesn't love someone as clean-cut as Joker?
Ladies, he's also loyal. Phillips not only played for Kentucky in college, he returned to his alma mater to be the coach of multiple offensive positions before becoming head coach.
No. 10: Charlie Strong, Louisville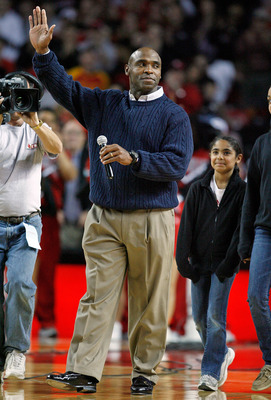 Charlie Strong is not only really hot, he's a history-maker.
Strong became the first African American coordinator in SEC history in 1999 for the South Carolina Gamecocks.
No. 9: Greg Schiano, Rutgers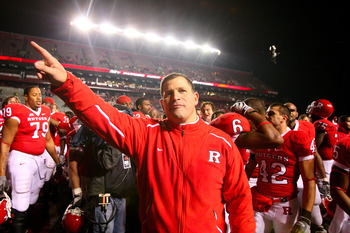 Greg Schiano of Rutgers is a hot head coach, and he's committed to his best.
Schiano has won a slew of awards, including the 2006 Eddie Robinson Coach of the Year, the 2006 Walter Camp Coach of the Year, and the 2006 Home Depot Coach of the Year.
What's not hot about an award winner?
No. 8: Kyle Whittingham, Utah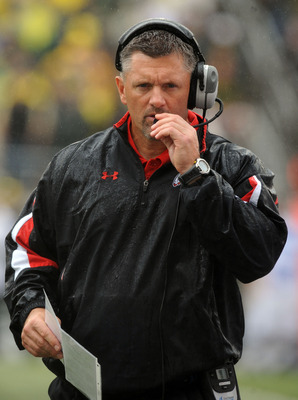 I promised you some aged perfection, right? Kyle Whittingham is it.
The Utah coach is not only fine, he's been honored as the National Coach of the Year, averaged over nine wins a season, and is undefeated in bowl games.
Perfection indeed.
No. 7: Rich Rodriguez, Michigan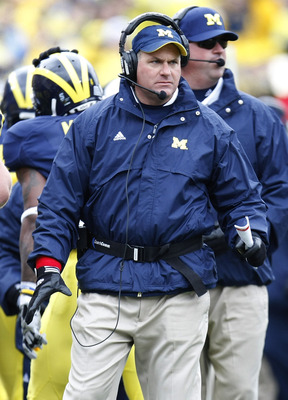 Rich Rodriguez is hot, but he's also super famous, making his appeal even greater.
He's known for going to Michigan after leaving West Virginia (and promises to the Mountaineers), behind.
Isn't a bad boy so good, though?
No. 6: Bronco Mendenhall, BYU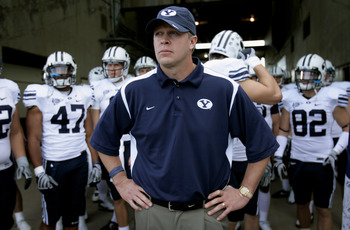 What's not to love in a guy named Bronco?
The guy is tall, fit, and handsome, and has an extremely good track record at Brigham Young. Going 11-2 in 2009, with a bowl win in Las Vegas, with him, you're in for a winning ride.
No. 5: Pat Fitzgerald, Northwestern
Pat Fitzgerald, the head coach of Northwestern, has gorgeous eyes. He's also well-liked in the Chicago community, and makes appearances annually with professional Chicago sports teams.
What's not to love?
No. 4: Mario Cristobal, FIU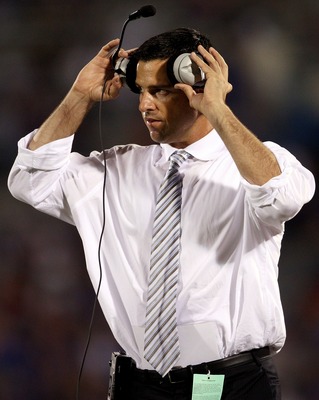 Mario Cristobal stands at No. 4 on our list, because he is H-O-T.
One of the best-looking head coaches in all of college football, Cristobal was born in Miami, played in Miami, and was Miami's assistant coach from 2004-2006.
No. 3: Steve Sarkisian, Washington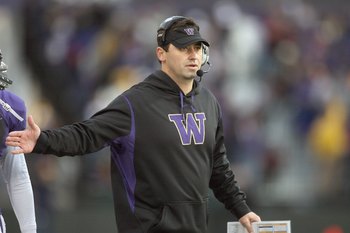 Steve Sarkisian is gorgeous, and comes in at No. 3 on the hottest college coaches list.
He's exotic, too—Sarkisian is Armenian and Irish.
No. 2: Lane Kiffin, USC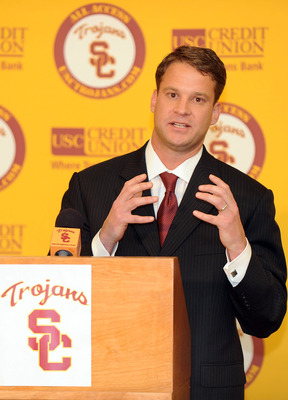 Lane Kiffin is really, really good looking, and one of the most famous college football coaches of our age.
For that, he stands at No. 2.
He also has made the No. 2 slot because of his pro experience, which is hot too. In 2000, Kiffin was the Jacksonville Jaguars' assistant coach, and in 2007-2008, Kiffin head-coached the Oakland Raiders.
No. 1: Urban Meyer, Florida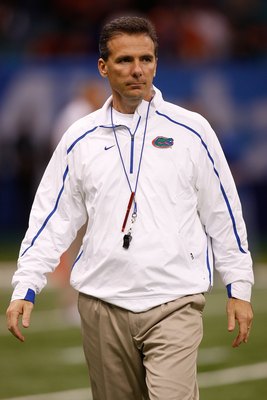 Because of the man's boyish good looks, his charm, and his champion record and attitude (not to mention that we might be able to get to Tim Tebow through Urban Meyer), Urban Meyer reigns supreme in the hottest college football coaches list.
The Toledo, Ohio, native has two BCS National Championships, two SEC Championships, and three SEC Eastern Division Titles.
Winning is hot. You can't deny it.
Hope You Enjoyed the List!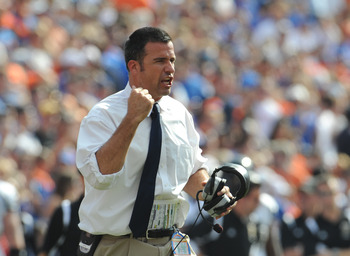 And here is another shameless picture of Mario Cristobal for your viewing pleasure.
Hope you enjoyed the list of hottest NCAA football coaches!
Keep Reading