New York Rangers, Please Don't Tank the Rest of the Season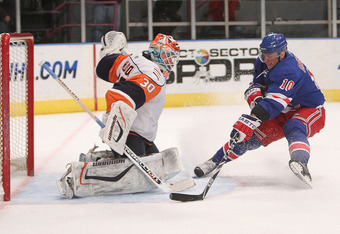 Nick Laham/Getty Images
That's right, I said it: Don't tank to finish the season. Think about what I'm saying here for a minute.
What is tanking? It's when a team totally blows it, and fails to succeed. They falter when they need to perform most, and ultimately lose the goal they set out to achieve.
For most teams, tanking would be blowing the last stretch of the season and slipping out of a playoff spot and watching the postseason from the nearest golf course.
For the Rangers, it's the exact opposite. If the Rangers tank the final games nine games of the season, it means they've put together a long win streak to close out the year, thus screwing themselves out of a good draft pick.
Going into last night's game with the Islanders, the Rangers sat in 23rd place. Just a mere three points out of third worse, which the Isles currently occupy.
If they were to finish in third place, well, third from last, I would be ecstatic. That would ultimately mean they would get one of the three top players in this draft: Taylor Hall, Tyler Seguin, or Cam Fowler.
Any one of those three names would be NHL-ready next year. I mean, this is the Rangers we're talking about who would probably have Alex Ovechkin still playing for Hartford if they drafted him, so it's anybody's guess if they would make the team next year.
The Rangers already started tanking, with their 5-0 shellacking of the Isles last night, so a decent win streak to close out the season seems inevitable.
The Blueshirts close out this final stretch of the season with games against: New Jersey, Toronto, the Isles, Tampa, Florida, Buffalo, the Leafs again, and a home-and-home with the Flyers to close out the season.
For any team looking to slip into the playoffs that schedule is a blessing, but for the Rangers, it's disastrous.
The Rangers could easily finish these nine games gaining 15 of 18 available points. Like I said, if this happens, it's a disaster. Once again, the Rangers will be in the middle of the pack and get a so-so draft position.
What I wish they would do, but wont, is allow Henrik to rest and call up some kids.
I would like to see what a line of Marian Gaborik, Artem Anisimov, and Evgeny Grachev could do together over an extended period of time. By extended, I mean at least five games, not eight minutes, which is an eternity for a line to be together under John Tortorella.
Wade Redden should also get a "rest" and a guy like Bobby Sanguinetti should be allowed to show us what he's truly got.
But, this is the Rangers we're talking about here. Odds are, they'll make Lundqvist play the nine remaining games in a last-ditch effort to overtake the Bruins for the final playoff spot.
Let the tanking begin!
This article is
What is the duplicate article?
Why is this article offensive?
Where is this article plagiarized from?
Why is this article poorly edited?

New York Rangers: Like this team?