The Two Hidden Messages in Commissioner Goodell's Anti-Colts Statements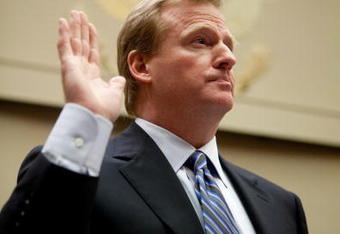 Brendan Hoffman/Getty Images
NFL Commissioner Roger Goodell has suddenly found himself between the proverbial rock and a hard place concerning the Indianapolis Colts' unwillingness to attempt to finish the season with a perfect 16-0 record.
Too many football pundits and fans have voiced their displeasure towards the situation for Goodell and the NFL to remain silent. The problem for the league is that there is nothing they can say or do to prevent a similar situation from occurring in the future.
Recently, Goodell has made some silly comments regarding this affair, suggesting that the NFL's competition committee would review it. Without coming close to suggesting how it would be possible, Goodell opined that perhaps teams could be rewarded with draft picks for their pursuit for perfection. He also thought it was possible for teams to inform the public when a team's starters would be rested, using a system much like the league's injury report.
Why all of this is suddenly a hot topic really has nothing to do with the Colts' decision to pull Manning and company off the field in their game against the Jets. Goodell's action has to do with two unspoken subjects: gambling and game tanking.
Why would any NFL team need to publicize who they are or aren't starting? Well, why does the NFL have an injury report in the first place? It has nothing to do with informing the opposing team who is in or out, but everything to do with the public's awareness—specifically the gambling public.
The NFL has often repeated its hard-line anti-gambling stance. But the league isn't comprised of fools. They know full well that the league's success is based in part on how heavily it is bet upon. Some estimates place this at over $1 billion per week (both legal and illegal).
The NFL has a direct pipeline to most Las Vegas gambling establishments and monitors their games' betting lines weekly. The problem Vegas bookmakers run into late in the season is that they cannot be certain of which playoff teams are going to play to win and which aren't. If Goodell can get these teams to announce their plans regarding their starters, then Vegas can better set their lines. It does both the NFL and Vegas a favor.
It would also benefit the quasi-gambling endeavor that's recently pumped up the NFL's popularity known as fantasy football. Many fantasy owners whose leagues span the entire season were likely upset over certain teams' unwillingness to play their stars. The league is not blind to these fans needs either. Statements regarding starters made early in the week would benefit this subsection of fans just as it would the gambling establishment that helps fuel the league.
But perhaps the bigger reason why Goodell needed to make a statement about the Colts' situation was that what the Colts did reeked of game tanking.
Had the New York Jets faced Peyton Manning for four quarters as opposed to the two-and-a-half they did, it might have been the Pittsburgh Steelers in the playoffs instead of the Jets. The Colts did the Jets a huge favor by essentially taking it easy on them. The result was a Jets' playoff berth.
Similar accusations of game tanking have plagued the NBA where it is almost seen as a right of passage at each season's conclusion. NBA teams often participate in this "against-the-rules" activity in order to secure a better draft pick. The institution of the NBA's draft lottery has not stopped the practice.
The NFL can ill afford to have similar claims made against its franchises for fear of tarnishing its credibility. While it would be nearly impossible to prove a team lost on purpose, when teams like the Colts, Saints, and others pulled their starters early in games in Week 17, it was clear that their coaches (often as directed by team GMs or owners) had no real drive to win.
And if you're not trying to win, what else is there?
Goodell and the NFL doesn't want a situation to arise where good teams aren't trying to win. While there is little doubt second string players are giving it their all out on the field and not flat-out tanking it, the chances of those players beating a weaker team's starters is slim. 
As was played out around the NFL in Week 17, at least five games featuring the league's premiere teams became meaningless affairs well before halftime. This affected not just game play, but TV ratings and the money associated with them. It was a rare negative situation for the NFL.
Of course, the ultimate fear is that fans may one day come away with the notion that if teams are just "resting starters" with a "meaningless" loss attached to that action, then perhaps a team could be directed to lose at any time, given the right set of circumstances.
This may seem farfetched, but what was a meaningless game to the Colts in Week 16 was in fact monumental to the Jets. Without the Colts basically intentional loss, the Jets would be sitting at home this weekend rather than playing in the playoffs.
What Roger Goodell and the NFL wants fans to know is that the result of the Colts-Jets game was completely unintentional. But in some fans' minds, the question will remain, was it? This line of thinking is exactly what the NFL wants to head off before it gains momentum, for it is very dangerous.
For more, visit:  www.thefixisin.net
This article is
What is the duplicate article?
Why is this article offensive?
Where is this article plagiarized from?
Why is this article poorly edited?

Indianapolis Colts: Like this team?