Manhattan-Fordham: Jaspers Annihilate Rams in Blowout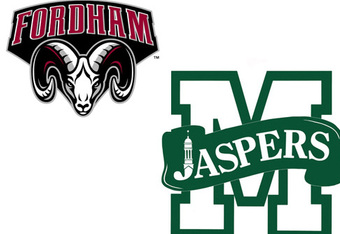 The Battle of the Bronx turned into the Massacre of the Bronx. From the opening tip until the final buzzer, the Jaspers were in control.
Manhattan (4-2) jumped out to an 11-2 lead four minutes into the game. The Jaspers were forcing turnovers and running the floor. Fordham knew this was going to be a long night.
Fordham (1-4) fought their way back into the game, an Alberto Estwick layup cutting the lead to 14-8.
Then it was Manhattan's turn to turn on the gas. Manhattan had Fordham doubled up in score as the final seconds ticked away in the first half. Antoine Pearson brought the ball up the court. After a quick crossover brought him over the timeline, Pearson chucked up a half-hearted three-point shot that banked, in giving the Jaspers a 39-18 lead entering halftime. 
In the second half, Manhattan was unable to score as much as in the first half. Luckily for them, Fordham remained unable to hit any shots. 
Fordham did not make one three-pointer the whole game (0-of-11). Fordham has struggled from the stripe this whole season, and it continued last night. They only hit 18 of their 37 free throws, leading to an atrocious 48.6 percent—their worst free throw percentage this season.
Jio Fontan and Brenton Butler were held to nearly nothing. Fontan had only four points, while Butler tallied up four. The two of them combined made two of 21 shots. 
The only player that Fordham could count on for scoring was Chris Gaston. He was the only Ram in double digits. In addition to his scoring, he added 16 rebounds and four steals.
On the other side, Manhattan had everything clicking. Rico Pickett made his first appearance at Draddy since his two-game suspension. Rico had 14 points off the bench.
Darryl Crawford got the Jaspers going early by scoring the first five points of the game. Crawford finished with 15 points and nine rebounds.
Kevin Laue played four minutes in Saturday night's game. He showed everybody watching the disadvantage to having only one arm. Whenever a missed shot came to Laue, he had to attempt to tip the ball to another teammate. The Jaspers have got to figure out a way to solve this problem if they want Laue to become a stronger presence.
Finally, Barry Rohrssen realized that Djibril Coulibaly is not good! Coulibaly played only seven minutes and got one point on a free throw. If Djibril wants more playing time, he has to bulk up and learn how to finish lay-ups and rebound.
Andrew Gabriel and Brandon Adams both fouled out, but both had contributions to the Jasper scoring.
Gabriel scored six points on 2-of-4 shooting. He also had four rebounds and three blocks.
Adams had eight points and six rebounds.
Freshman George Beamon showed Jasper fans that he has the potential to grow into a good player. However, Beamon's anxiety showed.
Beamon had the ball on the left wing and made a nice move to create some room. Beamon threw up an awkward shot and missed completely. Looks of "What the heck was that?" appeared on the faces of the crowd. 
Later in the game, Beamon made a nice move down low for an and-1. Beamon converted the free throw and finished with three points.
Last, but certainly not least, was the MVP of the 102nd Battle of the Bronx—Antoine Pearson. Pearson led the Jaspers throughout the game and was aggressive finding ways to the hoop. 
Antoine had 16 points on 6-of-8 shooting along with three rebounds and five steals. 
Manhattan now starts a five-week, seven-game road trip including games against Niagara, Morgan State, and Vanderbilt. They will finally come home on Jan. 4 to face the Rider Broncs.
They will play next on Friday Dec. 4 at Niagara.
This article is
What is the duplicate article?
Why is this article offensive?
Where is this article plagiarized from?
Why is this article poorly edited?