France Cheats Its Way Past Heroic Ireland To South Africa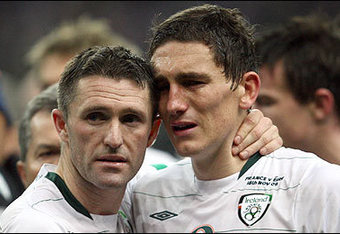 France cheated their way to South Africa tonight after Ireland succumbed to a travesty of justice as Thierry Henry handled the ball twice in the build up to William Gallas' winning goal.
It was an outrageous way to win the match after Ireland had taken the game to their "mighty" opponents and put in the kind of performance that the players will remember for years.
Going into the game all eyes were on Paris as Irish fans descended on the city in their thousands. The French Football Federation only supplied the FAI with 8,000 tickets but almost 20,000 fans defied the recession to support the boys in green.
Ireland were expected to play the game as tight as possible but they caught Raymond Domenech and the French team off guard as they tore into their illustrious opponents right from the start.
The manner of the Irish performance was a joy to see. Giovani Trappatoni seemed to have encouraged his side to be as adventurous as possible and their ambition was there for all to see.
Ireland's midfield was immense, with Damien Duff and Liam Lawrence standing out as they inflicted their game upon the French and Patrice Evra and Sagna in particular.
All the omens were against Ireland going into this match. The Irish had not beaten a team seeded higher than them away from home since 1987, under Domenech France had only ever lost one on home soil, and no team to ever take the lead in an away leg had ever lost a UEFA playoff.
But Ireland have never lost when Robbie Keane scored.
And score he did.
The Tallaght man was immense all night, his work-rate was phenomenal, his touch exquisite, and his radar for goal on full alert.
If you had just turned the match on you would have been forgiven for thinking that it was the French who were dictating play, such was Ireland's dominance.
And their goal was a thing of beauty.
Having gone close through Doyle and Keane in the minutes leading into the opening strike. Ireland twisted the knife and cut the French defence apart as they moved the ball from one side of the pitch to the other before Damien Duff raced onto Kilbane's perfectly weighted through ball. The boy from Ballyboden then picked out Tottenham Hotspur's Keane, who had pulled out to the penalty spot, and he twisted his body to suit the path of the ball and simply passed it past the superb Lloris to give Ireland a well deserved lead.
Ireland continued their dominance until half time, and it was just one of those days when France were literally saved by the bell.
France were expected to come out and take the game to the superior Irish, but again Ireland were the better side.
Time after time they cut France apart, and Shay Given was a forelorn figure in the Irish goal as none of the much celebrated French strikers troubled him at all.
Liam Lawrence was the chief architect for Ireland's best chances in the second half, as his beautiful through ball found Damien Duff clear on goal with on Lloris to beat.
The young Lyon 'keeper spread himself well to block Duff's effort, but the Fulham wingers strike was straight at his foil and barely tested him.
Minutes later, Lawrence wriggled his way past two defenders before prodding the ball to Keane who skipped past Gallas and into a one-on-one with Lloris. He sold him a beautiful dummy to leave the goal open, but his initial touch was too heavy and the ball ran agonizingly wide as the Spurs man held his head in wonder.
The misses were to prove costly as the game moved into extra time. The Irish, beginning to wilt after their phenomenal effort made a couple of changes to spice thing up, but their bench is their Achilles heel, and without the likes of Steven Reid, Andy Reid, Stephen Ireland, Chris McCann, Stephen Kelly, and Steve Finnan, Ireland were always going to struggle as their team got pushed to it's limit.
Even still, the French failed to make any chances of note and Thierry Henry was only a peripheral figure as the game moved towards extra time.
With Ireland tiring, France gained more possession, but heroic defending from the men in green denied them time and space, and whoever scored the next goal would almost certainly win the game.
The knockout blow came from a set-piece that Ireland failed to deal with, but on closer examination, the goal should never have been allowed.
Martin Hansson had a very good game and made right decisions throughout the night, most notably Nicolas Anelka's dive when moving past Given.
But he and his assistants made grave errors as France had two men in an offside position as the free kick was taken, then Richard Dunne was pulled over as he attempted to clear the ball, and then Thierry Henry handled the ball twice to keep in it play and then picked out Gallas on the line to head home France's winner.
It was the cruelest of blows for the heroic Irish, as France had barely threatened the Irish goal all evening.  To lose to blatant cheating from one of the games great players is one thing but for the referee to miss key decisions in the build up to the goal is unforgivable.
Liam Brady, Ireland's assistant manager, ahd called for stern refereeing in the playoffs after UEFA President, Michel Platini, had decided to seed the playoffs to aid the higher seeded teams progress to South Africa.
It is a bitter pill for Ireland to swallow. When a player of Thierry Henry's calibre cheats to win, it leaves a stain on the game.
And now UEFA and FIFA will most probably do their best to sweep this ugly incident under the carpet.
Kevin Doyle spoke magnanimously about Henry after the match, saying that "any player would probably do the same. It's a natural instinct. But for the referee to miss it, and for the linesman not to call it after he had a clear view...well...."
The incident will further the calls for video evidence, but it is hard to see Michel Platini backing away from his extra two referee experiment which is due to start next season.
Marco Tardelli said the game had "diminished" after Henry's foul.
And he does have a point.
Diving and cheating have the ability to ruin the game, and it is hard to imagine the likes of an elite sportsman in any other code cheating to win.
Tiger Woods has owned up to fouls when he could take advantage of a situation, as has Roger Federer.
Henry is in that league of sportsman, and tonight he will hold his head in shame.
This article is
What is the duplicate article?
Why is this article offensive?
Where is this article plagiarized from?
Why is this article poorly edited?