Dustin Pedroia and Bronson Arroyo: A Tale of Two Red Sox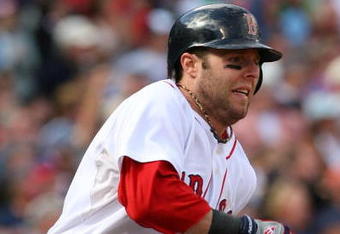 Jim Rogash/Getty Images
One of these men IS a Red Sox. The other WAS a Red Sox, having been made available by the Pittsburgh Pirates who failed to protect him off waivers, and then having been traded to the Cincinnati Reds for Willy Mo Pena.
One was a league MVP in 2008. The other has, at times, been kind of a marginal player in the game.
One of these men might unkindly, but reasonably accurately, be described as "pint sized." The other is a "hunk," over half a foot taller than the first.
The first set of attributes belongs to Dustin Pedroia; the second, to Bronson Arroyo.
If you met Pedroia out of uniform, you would not take him for a baseball player, let alone an MVP. Many scouts would pass him up, and many did.
He was drafted with Boston's first pick toward the end of the second round, because Boston had given up its first-round pick to Oakland to sign Keith Foulke.
Arroyo is an obvious athlete. The only real question would be which is his game. A person might reasonably mistake him for a basketball or hockey player; perhaps he plays football. But if he said, "I pitch Major League Baseball," no one would doubt him.
Pedroia was once described by a coach as "the best player in baseball relative to his natural ability." Few players are better than him. The handful that are—Alex Rodriguez, perhaps—are obviously "better endowed."
Arroyo is considered a multi-tool player with considerable promise. Nevertheless, he has not been able to rise above the "pack," except for short periods of time.
This example shows that appearance, either of the athlete, or of his tools, is not always a reliable guide to his playing abilities. Maybe "intangible" qualities like Pedroia's "character" are more important than, say, Arroyo's "build." A more reliable guide is his record.
At Arizona State University, Pedroia beat out Texas Rangers' Ian Kinsler for the shortstop position and posted a batting average in the high .300s. He also generously relinquished two years of his scholarship so that ASU could offer them to other players, all of which says something.
Boston is now a "record" team, being among the first to recognize the new (baseball) science of "sabermetrics," and placing its founder, Bill James, on retainer as a consultant. They also have on staff Voros McCracken, who designed the sabermetric formula now used to evaluate pitchers.
Arroyo was drafted by Pittsburgh (where I come from), right out of high school. This means that Pittsburgh, still very much a "tools" team, didn't have much of record on him to go by.
Among the few people outside Boston that understands these things is Oakland's Billly Beane (whom the Red Sox almost signed as general manager late in 2002). With J.P. Ricciardi and Paul DePodesta gone as general managers, Beane is probably the only GM who practices "Moneyball" other than Theo Epstein.
In 2002, Beane (and DePodesta) drafted an overweight catcher, Jeremy Brown, who "owned the Southeast Conference record books," against the advice of their scouts, in the "compensation" portion of the first round.
He was a star in AAA, but petered out in the majors, thereby becoming "4A." Scouts sometimes cite this as a "failed" signing. But the fact is that 60 percent of first-round draft choices do not make it to the majors, so Brown's success in AAA implies that he was in that 10 percent sliver between "above average" and "made it."
Brown was perhaps second in girth that year to Prince Fielder, whom the Milwaukee Brewers signed successfully, in part because of the exploits of his similarly weight-challenged father, Cecil.
"Father" is part of the "record," at least in otherwise borderline situations. Ditto for Nick Swisher, son of Steve, or Kyle Drabek, son of Doug. Even an older brother is meaningful in this regard; think of the LaRoches or the Uptons. DNA counts.
So don't judge by appearances. It's unlikely that Hollywood would cast Pedroia as a baseball player; unless, perhaps, he were playing himself. On the other hand, Arroyo would be central casting's dream of a World Series pitcher.
Yet the one that is more likely to go to the next World Series would not be the screenmakers' choice.
Any given thing could happen on any given day. It's possible that Pedroia will go 0-for-4, with an error, in his next game. And it's possible that Arroyo pitches a shutout in his next game.
But the record suggests that the one will be at or close to the top of his league, and the other will be perhaps "league average," over the course of a whole year. And these would not be the ones that most people would expect.
This article is
What is the duplicate article?
Why is this article offensive?
Where is this article plagiarized from?
Why is this article poorly edited?

Boston Red Sox: Like this team?