Super Bowl 50 promises to be a tight contest between the Carolina Panthers and Denver Broncos, the No. 1 seeds in their respective conferences.
It's Cam Newton and his otherworldly dual-threat abilities against Von Miller and the Broncos' pulverizing defense. It's a potential last game for Peyton Manning, who could be looking to go out on top with a second Lombardi Trophy win.
The Super Bowl, however, is more than just the game—to the delight of some and the irritation of purists. From Lady Gaga singing the national anthem to Beyonce, Coldplay and others at halftime to the commercials, there are more than enough reasons to catch at least some of the big game.
While the best way to consume the Super Bowl remains parking yourself and your friends on a comfy couch in front of a big-screen TV, the digital age allows for so many other ways to watch the biggest sporting spectacle in the United States of America. Here's a rundown of the basic viewing info for Sunday's contest.
Super Bowl 50 Schedule, Viewing Info
When: Sunday, Feb. 7 at 6:30 p.m. ET
Where: Levi's Stadium in Santa Clara, California
TV: CBS, ESPN Deportes (Spanish-language only)
Live Stream: CBS Sports (supported on multiple devices, more info in link)

Online Schedule, Stream Info
If you're going to stream the game, there are two things to keep in mind. First, per CBS Sports' Matt Tabeek, online coverage starts way before kickoff. You can stream The Super Bowl Today pregame show starting at 2 p.m. ET. A more complete rundown of the pre-game coverage can be found here.
Second, for those watchers who might be casual football fans—or perhaps not fans at all—and are parked in front of your preferred device to see the advertisements that will undoubtedly become a major part of the water-cooler discussion, fear not, the live stream has you covered.
According to USA Today's Mike Snider, "Every national Super Bowl commercial can be viewed via the live stream." That makes complete sense. More and more people are consuming television on devices other than the big screen. Putting up an incomplete live-stream product would likely only turn off viewers.
Odds, X-Factor Players to Watch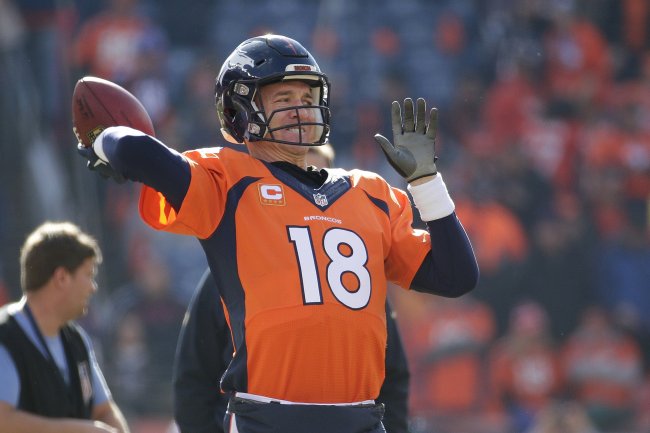 Charlie Riedel/Associated Press
The game itself is still, of course, the centerpiece of the action, the reason all the hoopla exists in the first place. Per Odds Shark, the Panthers are 5.5-point favorites, no doubt a reflection of their strong 17-1 overall record this season and the fact they've been simply brilliant in six of the eight quarters of postseason football they've played.
While most of the storylines in this game have surrounded the likes of Newton, Manning, Miller and Panthers cornerback Josh Norman, there are players getting a bit less press who have the potential to change the course of the game on Sunday.
Broncos safety T.J. Ward is one such player. Newton's favorite target, by a wide margin, is tight end Greg Olsen. The 30-year-old caught 77 passes for 1,104 yards and seven touchdowns in the regular season and has added another 12 receptions, 190 yards and a score in the playoffs. Wide receiver Ted Ginn is the home run threat, but Olsen is the foundation in the passing game.
Ward did a decent job of harassing New England Patriots tight end Rob Gronkowski in the AFC Championship Game, but he left the contest in the fourth quarter, allowing Gronk to cobble together a nice box-score total.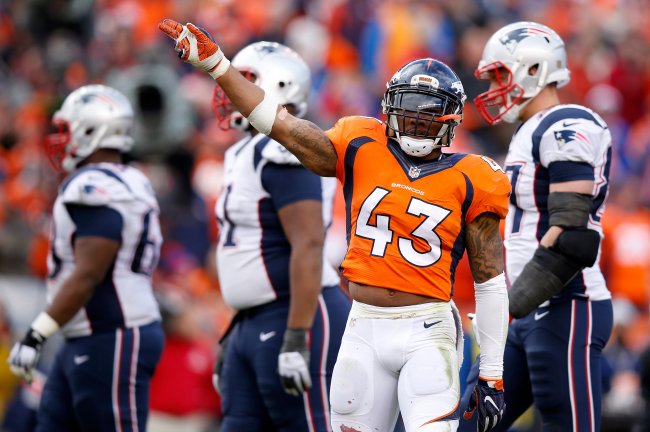 Ezra Shaw/Getty Images
Though he's been limited in some practices, reported by NFL Network's Albert Breer, the Denver Post (h/t CBS Sports) said Ward is probable for Sunday so should be good to go. The two-time Pro Bowler has the speed to keep up with tight ends and the toughness to rattle them with bone-jarring hits.
"We're nasty dudes that love to play football, love to hit, love to be aggressive and smart too," Ward said, referring to himself and fellow safety Darian Stewart, per the Denver Post's Cameron Wolfe.
If Ward can throw off the timing between Olsen and Newton, Carolina's passing attack could struggle. Broncos cornerbacks Chris Harris Jr. and Aqib Talib are going to be tough for the likes of Ginn, Philly Brown and Devin Funchess to beat.

Another way the Broncos could throw off Newton's timing is with an effective pass rush. Miller and DeMarcus Ware were brilliant in putting constant pressure on Tom Brady on Jan. 24. If they can do the same on Sunday, a defensive struggle seems likely.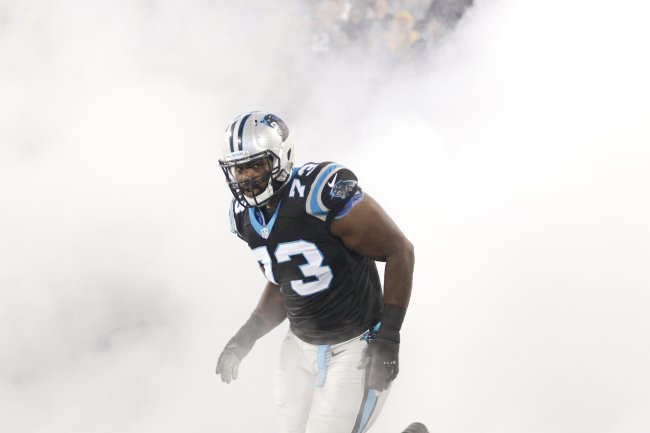 Bob Leverone/Associated Press
Left tackle Michael Oher will be tasked with thwarting the Broncos' edge rush. He and fellow tackle Mike Remmers have been excellent in the postseason, per Pro Football Focus:
Both @Panthers OTs Mike Remmers & Michael Oher have yet to allow a sack, hit or hurry this postseason

— Pro Football Focus (@PFF) January 28, 2016
Oher has been a model of consistency for Carolina after a trying season with the Tennessee Titans. He's started all 18 games the Panthers have played this year and generally allowed Newton the time and space to make his frozen-rope throws.
However, SB Nation's Stephen White noted his technique could be ill-suited to dealing with Denver's pass-rushers:
It's almost comical how top heavy Panthers left tackle Michael Oher gets at times while taking his pass set at this point. I say comical because against good edge-rushers who can beat you outside, offensive tackles are usually taught to keep their weight back when they punch. If they should happen to miss with their punch while keeping their weight back they can still recover against a good speed rush if they have good footwork. However, if they don't sit back and instead lean forward into their punch, good edge rushers will knock their hands down and leave them in their dust.

Against the Patriots, Miller and Ware weren't doing much stunting toward the inside. They were flying off the edge like a pair of Tasmanian devils. Oher and the rest of the Panthers offensive line will have to be sound in their technique and take what the Broncos pass rush gives them.
If they look too much to the inside, Newton might not see blitzers coming free off the edge, and that's when turnovers happen.
Oher is a veteran tackle who has seen all the techniques in his seven-year career. He's played both right and left tackle to varying degrees of success. However, he hasn't seen many guys with Miller's level of talent.
The Broncos linebacker is coming off a Herculean performance in the AFC Championship Game. Whether Oher can bring him back down to the level of mere mortals will be key to how this Super Bowl plays out.