Updates from Tuesday, Aug. 26
Thomas Vermaelen is closing in on his Barcelona debut after he worked at the club's training ground on Tuesday.
Barca's official website gave the following update on Vermaelen's hamstring problem:
The FC Barcelona senior squad were back in action today after taking a day off following the 3-0 defeat of Elche. Manager Luis Enrique Martínez took charge of today's session with a group of 23 players.

Ter Stegen, Neymar and Vermaelen made a welcome appearance on the training grounds but worked out separately from the main group.
Updates from Monday, Aug. 18
Thomas Vermaelen is officially out of Monday's Gamper Trophy clash with Leon as he continues to recover from a hamstring issue.
Barcelona's official website confirmed:
The squad will be presented to the fans at about half past seven, with new boss Luis Enrique just one more new face for the fans to greet, along with summer signings. Bravo, Masip, Ter Stegen, Mathieu, Vermaelen, Rafinha, Rakitic and Luis Suárez, who will be making his first appearance in a Barça shirt after re-joining the squad for training last Friday.

Five of those new players -Bravo, Masip, Mathieu, Rakitic and Luis Suárez-, could make their Camp Nou debuts as Barça players against Leon, whilst the injured Ter Stegen and Vermaelen will have to wait.
Updates from Friday, Aug. 15
Thomas Vermaelen is expected to be sidelined for the next two weeks, according to Spanish publication AS.
A timeline had not been given for Vermaelen's recovery from a hamstring problem, but AS briefly reports:
New boy Thomas Vermaelen also trained away from the group (on Friday), and will be out for around two weeks.
Updates from Thursday, Aug. 14
Thoma Vermaelen continues to struggle with the hamstring injury that has so far prevented him from training with his new Barcelona team-mates.
Barca's official website reports:
Xavi Hernández and Marc-André ter Stegen once again trained apart as they worked on their recoveries, whilst Thomas Vermaelen was treated by the physios and Adriano Correia joined in with the rest of the squad for part of the session.
Original Text
Barcelona have confirmed new signing Thomas Vermaelen continues to suffer with the hamstring injury that ended his World Cup with Belgium, an occurrence that will have many wondering whether he was the smartest summer investment.
The Calatan club's official website confirmed the news just one day after Vermaelen was presented to fans, as tweeted by Dermot Corrigan of ESPN FC:
Barca statement says Vermaelen currently injured... out for unknown period with hamstring issue from WC: http://t.co/KT7Fy6J3g7

— Dermot Corrigan (@dermotmcorrigan) August 11, 2014
Vermaelen set the Blaugrana back a considerable £15 million, according to Jack De Menezes of The Independent. Despite his quality as a centre-back, the 28-year-old's chances of forging a successful career at Arsenal were heavily limited by his consistent injury problems.
The news he will now receive physiotherapy certainly won't calm those who indicated his acquisition was something of a risk. "His presence in training will depend on how the injury develops," reads Barca's official statement.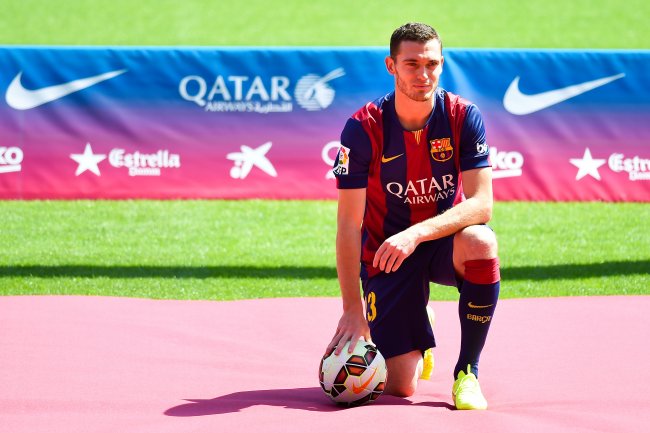 David Ramos/Getty Images
Arsene Wenger valued Vermaelen's contribution enough to make him club captain after Robin van Persie departed for Manchester United in 2012, but the player's confidence appeared to shrink with the added pressure. His niggling fitness problems also hampered progress, while the emergence of Laurent Koscielny and Per Mertesacker's dominant partnership ensured a route back into the starting line-up became unlikely.
Vermaelen made just seven starts in the Premier League last season, per WhoScored.com. He managed over 30 in only one of his five seasons with the north London club, a number that already appears to be under threat during his opening campaign with Barca.
Sky Sports writer Daniel Storey sums up the situation with a humorous prod:
Who had two days on Thomas Vermaelen's first Barcelona injury? Right hamstring.

— Daniel Storey (@danielstorey85) August 11, 2014
More seriously, Corrigan indicates Barcelona overlooked an obvious problem during the player's medical:
Just 2 days ago "The player [Vermaelen] took the routine checks on Saturday and no complications were observed" http://t.co/6TfsivjM2Z

— Dermot Corrigan (@dermotmcorrigan) August 11, 2014
Vermaelen was signed to add stability and competition to a Barcelona defence that became too casual last year. He does neither while injured. Luis Enrique will be hoping Jeremy Mathieu, his other defensive summer signing, can make up for any slack.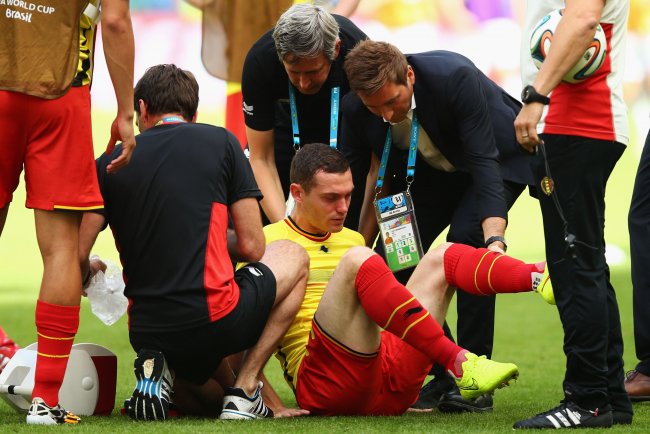 Clive Rose/Getty Images
Manchester United fans will certainly breathe a sigh of relief. Vermaelen was heavily linked with a move to Old Trafford, per Matt Barlow of the Daily Mail. Louis van Gaal also needs to strengthen his defensive ranks, especially if he opts to continue playing a 3-5-2, but he will feel vindicated after missing out on the player.
Was Thomas Vermaelen a smart signing by Barcelona?
Vermaelen offers a calm, ball-playing presence when fully fit. He reads the game well and is dominant in the tackle, often putting his body on the line for the team's cause. That said, like Gerard Pique and Dani Alves at Barcelona, he hasn't been able to consistently replicate his best form over the past year.
The Belgian's latest injury may turn out to be nothing serious, but given his history, it hints at deeper fitness problems. Vermaelen has the ability to be a key player for Barcelona and needs to quickly establish himself if he is to avoid a repeat of his Arsenal scenario.
Questions will be asked of Barcelona's decision to sign an injured player, especially as he appeared to pass the medical without any risks showing up. The club haven't put a date on his return yet, an oversight that will certainly lead many to believe Vermaelen remains on the brink of sitting out for a significant period of time.