The Los Angeles Clippers spent the summer tweaking and improving the roster and were finally able to address one of their longstanding needs, a third big. Although the offseason has been limited due to a lack of financial flexibility, Doc Rivers and his staff have done a pretty solid job addressing areas of need.
Rivers has placed a premium on shooting and floor spacing, and the offseason acquisitions of Spencer Hawes, Jordan Farmar and C.J. Wilcox fit that niche perfectly. All three players are above-average shooters from three but are also versatile enough to play two positions.
Rivers' goal since arriving in Los Angeles has been to provide floor spacing for Chris Paul and Blake Griffin to work their two-man game. Rivers now has shooters at every position and enough depth and versatility to create diverse rotations and lineups.
Predicting the roles of each of the newcomers seems pretty straightforward, but Rivers and his staff will surely create a few unforeseen twists throughout the season in order to combat how opposing defenses defend Griffin, Paul and the shooters that surround them. Until then, let's break down what each new addition should provide.
C.J. Wilcox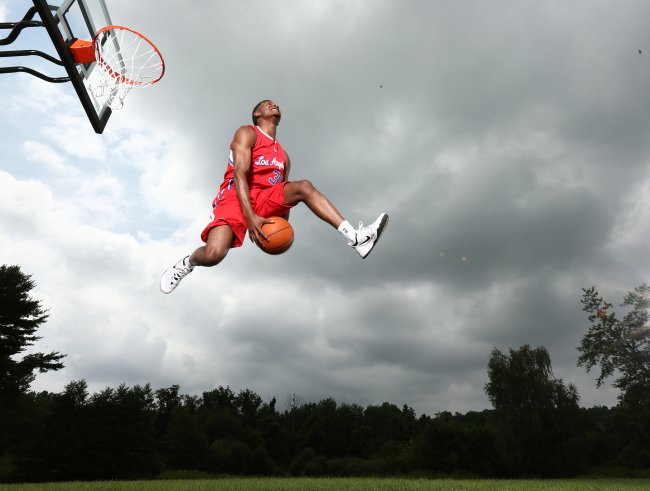 Nathaniel S. Butler/Getty Images
One of the better players in the Pac-12 conference for the past few seasons, C.J. Wilcox developed into one of the most lethal shooters in the nation, making 39.1 percent of his threes and recording a remarkable 59.8 true shooting percentage, according to Sports-Reference.com.
Clips Nation's Lucas Hahn mentioned that Rivers loves Wilcox's shooting. "I thought he may have been the best shooter in the draft. I think shooting is a premium in this league, and the more you have it, the better it is for us."
Measuring 6'5" with a 6'9.75" wingspan at the NBA Combine, Wilcox looks the part of a prototypical shooting guard. He can play J.J. Redick's role off the bench in some ways. Not only is he a very good shooter with his feet set, but he excelled coming off screens at the University of Washington, something Redick is exceptional at, despite being quite difficult.
Even more impressive is how efficient he was during his senior season, despite being the primary offensive threat on a team that lacked talent. Wilcox was tasked with creating for himself off the dribble more this season and managed to limit his turnovers while using nearly 25 percent of his team's possessions, according to Sports-Reference.com.
Although his role will be limited throughout the season, Wilcox fits Rivers' system quite well. The real question is: What role will he play as a rookie, and does this selection signal a trade on the horizon?
Wilcox is third on the depth chart at shooting guard and is somewhat similar to last season's first-round pick, Reggie Bullock. The team is missing a piece at small forward, and it is conceivable that Rivers elects to package multiple players to improve on the wing.
Jordan Farmar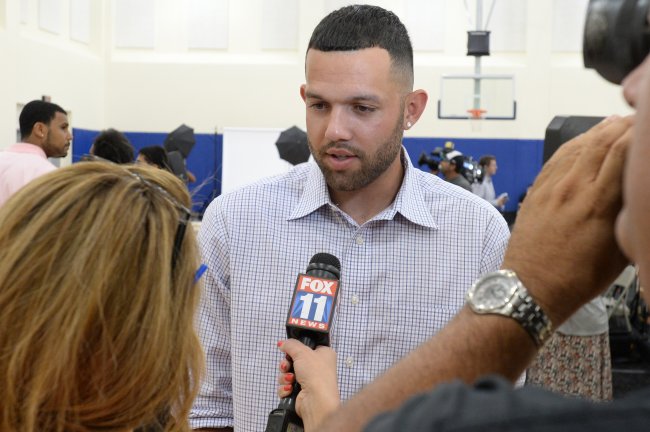 Andrew D. Bernstein/Getty Images
Backup point guard was one of the most important positions on the team last year, especially considering that Paul missed a month with a separated shoulder. While Jordan Farmar will be tasked with replacing Darren Collison, his role will be a bit different.
Collison was more of an attacking guard who did not impact the game much off the ball. However, his speed and quickness allowed him to penetrate and get to the rim.
Farmar is bigger and more athletic, but he does a better job distributing the ball and shooting from three. Farmar shot 43.8 percent from three last season, making him an ideal reserve guard who can play next to Jamal Crawford and keep the floor spread.
The added defense and versatility he provides will allow Rivers to play multiple lineups with the UCLA product inserted. He can play shooting guard next to Chris Paul, or he can run the point with Redick or Crawford off the ball.
Unfortunately, injuries have been a problem for Farmar recently, as he only played 41 games for the Los Angeles Lakers last season and 39 in 2011-12 with the New Jersey Nets. Other than Farmar, the Clippers do not have another point guard on the roster. Jamal Crawford and J.J. Redick can handle those duties in small spurts, but the team would be a Chris Paul injury away from a meltdown.
Spencer Hawes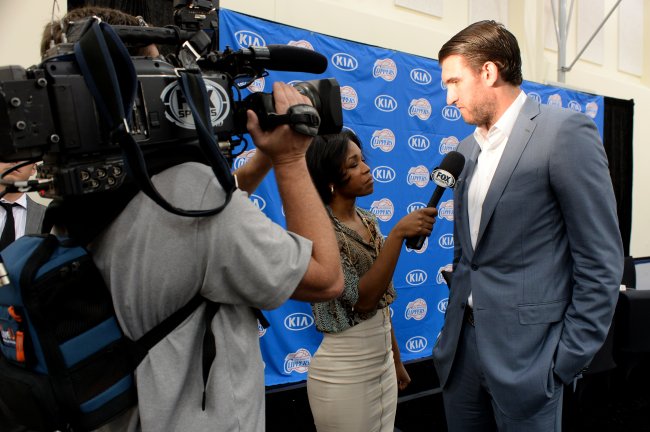 Andrew D. Bernstein/Getty Images
After years of frustration and lack of production from the bigs on the Clippers bench, help has finally arrived. Hawes is such an upgrade over the likes of Ryan Hollins, Hedo Turkoglu, Byron Mullens and Danny Granger that fans should no longer cringe when Rivers summons anyone over 6'8" off the end of the bench.
Although this will be his fourth team in nine seasons, Hawes looks to have found a home. He is a lethal shooter from three, knocking down 128 last season at a 41.6 percent mark. Hawes should see plenty of open looks via pick-and-pop actions with Paul and Crawford, not to mention playing high-low with Griffin.
Not only can Hawes spread the floor, but he is a solid rebounder and a good passer as well. According to Basketball-Reference.com, Hawes grabbed 9.6 rebounds and dished 3.5 assists per 36 minutes last season.
Perhaps most importantly, Hawes compliments Jordan extremely well and is a pairing that might be going overlooked. Hawes will not see near 36 minutes a night with the Clippers, but a rebounding tandem of Jordan and Hawes would be impressive for the second unit.
Considering how much Jordan improved last season, playing next to another good passing big will only open up more opportunities for him to score. Imagine teams defending a Crawford and Hawes high screen-and-pop and also have to cover Jordan under the basket. Hawes is fully capable of pump faking, dribble-driving and throwing a lob to Jordan at the rim.