Updates from Tuesday, Aug. 26
Soccer expert Rubert Fryer reports on the latest with Ronaldinho and a possible transfer:
Palmeiras have confirmed their negotiations with Ronaldinho have come to an end, no agreement could be reached.

— Rupert Fryer (@Rupert_Fryer) August 26, 2014
Original Text
The New York Red Bulls aren't among the clubs hoping to sign Brazil legend and recently turned free agent Ronaldinho, following his departure from Atletico Mineiro.
That's according to the franchise's sporting director, Andy Roxburgh, who spoke to Big Apple Soccer (h/t official Major League Soccer website) after watching his side defeat the New England Revolution 2-1 on Saturday:
"Nobody has ever approached us. We haven't been approached by anybody mentioning Ronaldinho. And the name suddenly came at us and the answer is no."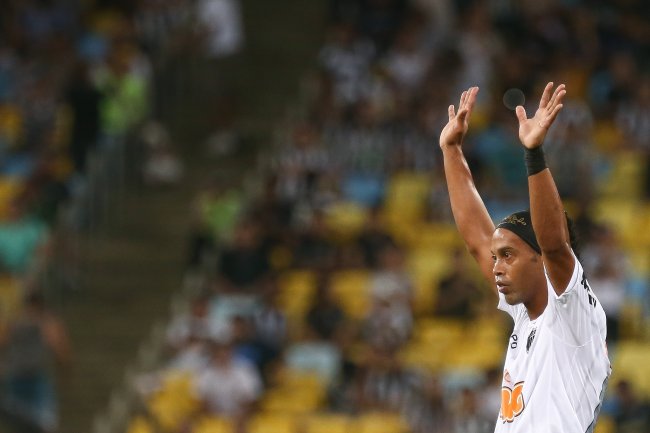 Buda Mendes/Getty Images
He may be 34 years of age and past his playing peak, but Ronaldinho has proved that he still retains some worth at the elite level, even as he prepares to leave his native Brazil.
Sky Sports' South American correspondent Paulo Freitas says an MLS move is most likely for the veteran trickster, although he may put pen to paper on another short-term deal in his homeland:
Ronaldinho's brother/agent Assis reportedly wants Ronaldinho to move to MLS, but he might stay in Brazilian football until December.

— Paulo Freitas (@Cynegeticus) July 31, 2014
So impressive was Ronaldinho's 2013-14 form that he became a surprise contender for the 2014 World Cup Squad under former Selecao coach Luiz Felipe Scolari, with whom he won the 2002 edition of the competition.
The ex-Gremio and Flamengo forward helped Atletico Mineiro win the 2013 Copa Libertadores, the first such title of his 16-year professional career.
Ronaldinho missed the World Cup cut as the tournament hosts finished fourth overall, and Jack Lang of WhoScored.com argues that Atletico Mineiro will have a hard time filling the void he's soon to leave behind:
Replacing Ronaldinho: No easy task for Atlético Mineiro http://t.co/svompA3oAK (for @WhoScored)

— Jack Lang (@snap_kaka_pop) August 2, 2014
Now on the lookout for a seventh professional club of his career, Ronaldinho has been linked with options in just about every corner of the globe, with clubs from around the world eager to sign his talents.
However, it's arguably the marketability Ronaldinho possesses that's most enticing to potential suitors. Queens Park Rangers, now back among the Premier League big guns, are said by Metro's James Phillips to be interested.
WhoScored.com breaks down the strengths and weaknesses that Ronaldinho still brings to the table, his attack-orientated style having not changed a lot down the years:
Ronaldinho: Characteristics - strengths, weaknesses, style of play pic.twitter.com/Mo5peQrNwq

— WhoScored.com (@WhoScored) August 1, 2014
Moving to the United States would assuredly offer some of the best financial prospects, but MLS sides only have so many designated slots on their rosters for such signings and are in the middle of their 2014 campaign.
As such, it may be easier to negotiate a European switch, with the continent currently in the heat of its summer transfer window, which has a month left to run.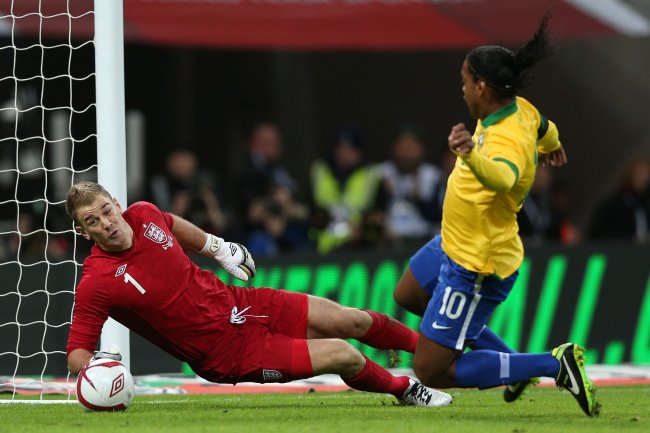 Clive Brunskill/Getty Images
As a free signing, Ronaldinho offers an intriguing commodity, his value off the pitch perhaps as good if not greater than that which he can offer on the pitch.
The puppeteer has already played in France, Spain and Italy outside of Brazil, but there remains no firm indicators of what next lies in store for his journey.