Let's Make a Deal: The Chicago Cubs' 20 Best Transactions Since 1990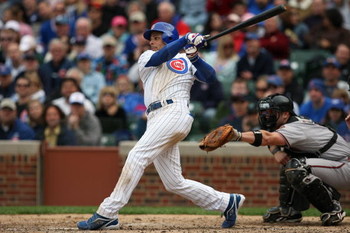 I'll give the Cubs one thing, they are not afraid to pull the trigger on a big trade or sign a big name player, if they think it will help the team.
With the recent flop signing of Milton Bradley and seemingly unwise trade of Mark DeRosa, I decided to look back at some of the moves that went right dating back to 1990.
Before we begin with the list, I just want to say thank you to the Pittsburgh Pirates, as three of your bonehead trades managed to make this list, two of them even cracked the top five.
As you can tell, this list just screams for a sequel, and have no worries, The 20 Worst...is already in progress.
No. 20: Lance Johnson, Mark Clark, and Manny Alexander from the Mets for Brian McRae, Mel Rojas, and Turk Wendell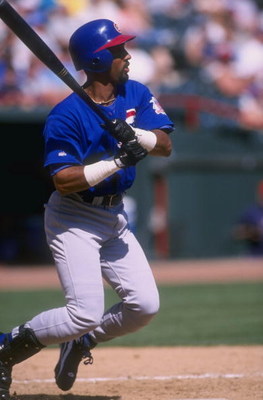 Date: Aug. 8, 1997
This move signaled the end of the Cubs in 1997, as it was largely seen as a throw-in-the-towel, cost-cutting sort of move.
However, it really worked out in the Cubs favor. McRae was largely unproductive in his time with the Cubs, and while Lance Johnson was only with the Cubs for a brief time, he was a catalyst on the 1998 team.
Wendell was always a solid reliever and it hurt to see him go, but Rojas was a sorry excuse for a closer, and that move opened the door for the Rod Beck signing.
Clark started 42 games in his one and a half seasons with the team, including 33 in 1998 when he pitched much better than his 9-14 record showed. In fact, he had a better ERA than Kevin Tapani who went 19-9 that season.
Alexander was the definition of a light hitting utility player, and he was more or less useless in his time with the club.
While it is close, I think the Cubs came out ahead on this one, as this was the first move toward building the 1998 playoff team.
No. 19: Randall Simon from the Pirates for Ray Sadler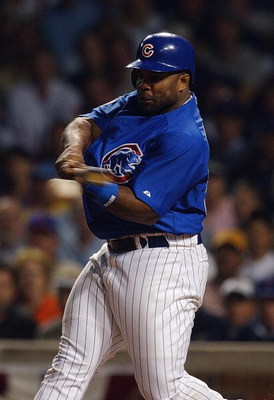 Date: Aug. 17, 2003
Ah, the good old Pirates, we really robbed them in 2003, didn't we?
Simon and Eric Karros formed a solid platoon at first base following this trade, and Simon put up great numbers in the final two months of the season.
He put up a line of .282 BA, 6 HR, 21 RBI in 33 games. That success carried over into the playoffs, as he hit .333 BA, 1 HR, 6 RBI in ten games.
Ray Sadler, now 28, has a grand total of eight career at-bats, all coming in 2005 with the Pirates.
No. 18: Rich Harden and Chad Gaudin from the A's for Sean Gallagher, Matt Murton, Eric Patterson, and Josh Donaldson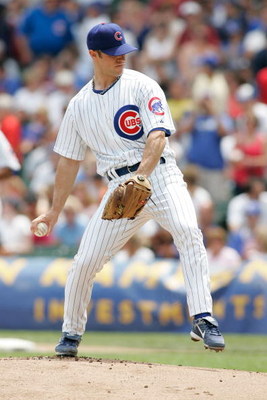 Date: July 8, 2008
While this trade still has some time before we see it's full effects, so far it looks like a good one.
Gallagher still has a lot of potential to be a front-line starter and Donaldson and Patterson are both very young. In my mind, Murton will never develop the power stroke everyone has been waiting for.
Harden was fantastic last season after the Cubs acquired him, as he went 5-1 with a 1.77 ERA. He also struck out a whopping 89 guys in just 71 IP.
If the Cubs can re-sign Harden this offseason, this deal will look even better, but if they lose him and one or more of those guys turn into solid big leaguers this deal might fall off this list.
No. 17: Jerome Williams and David Aardsma from the Giants for LaTroy Hawkins and cash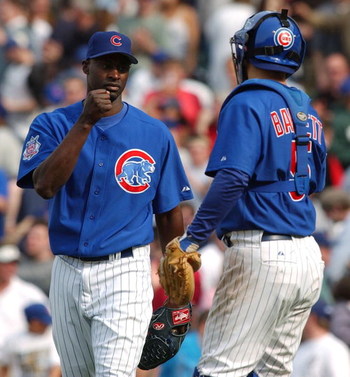 Date: May 28, 2005
Any deal that marks the day that LaTroy Hawkins packed his save-blowing bags and left Chicago is a day that can only be remembered fondly.
Here is my most vivid memory of LaTroy Hawkins:
Mark Prior, who was 100-plus pitches into another great start, was clinging to a 2-1 lead in the ninth inning. With runners on first and third, Dusty made the move to bring in Hawkins.
Before he even threw a pitch, Hawkins attempted to pick off the runner at first. The off-line throw hit the runner in the helmet, shot into the air, and into the stands. The run scores, and Prior's great effort gets a no-decision.
That is why this trade makes the list. Forget anything Williams and Aardsma contributed, I would have been just fine with Hawkins and cash to the Giants. Here is some money Giants, for the love of God take him.
No. 16: Jim Edmonds Signs for a Prorated $290,000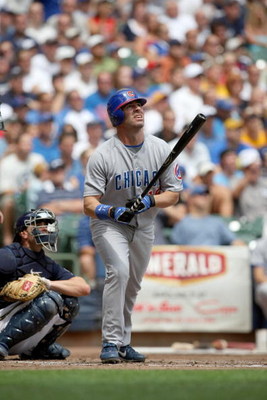 Date: May 14, 2008
Five days after the Padres released the struggling Edmonds, who was hitting .178 through 26 games, the Cubs signed the one-time division rival hoping he still had something left.
He did not disappoint, as he finished the season with a .256 BA, 19 HR, 49 RBI, and formed an incredibly successful platoon with Reed Johnson.
The best part of the deal was the fact that the Padres and Cardinals were paying the bulk of his $8 million salary, so the Cubs basically got him for free.
No. 15: Reed Johnson Signs for One Year, $1.3 Million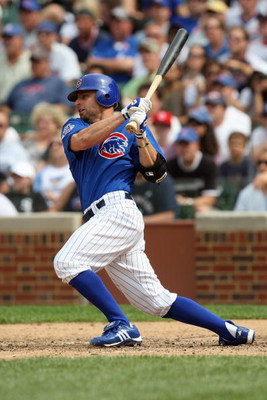 Date: March 25, 2008
Two days after he was released by the Blue Jays, the Cubs signed Johnson as a backup and a proven veteran behind rookie Felix Pie. Good thing they did, as Pie flopped and Johnson ended up being better than expected.
He hit .303 BA, 6 HR, 50 RBI last season, while playing great defense and winning over fans with his old school approach.
He re-signed in the offseason and is the Cubs' top outfielder off the bench again this season.
No. 14: Gary Gaetti Signs for a Prorated $170,000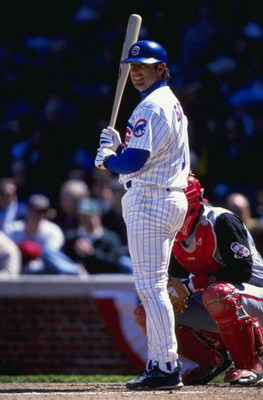 Date: Aug. 19, 1998
After struggling in St. Louis for much of the 1998 season, the Cards finally released Gaetti on Aug. 14.
Five days later, on his 40th birthday, the Cubs took a chance on the aging slugger, as they needed a better option at third than Kevin Orie for their stretch run.
Gaetti far exceeded the Cubs expectations, hitting .320 BA, 8 HR, 27 RBI in just 37 games, as he solidified the hot corner long enough for the Cubs to make the playoffs.
The Cubs brought him back the next season, and he struggled to a .204 BA through 113 games before being released, but he more than made his mark on the franchise.
No. 13: Randy Myers Signs for Three Years, $11.7 Million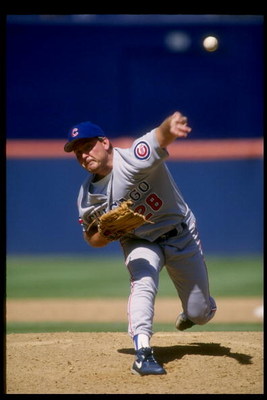 Date: Dec. 9, 1992
Myers is right up there with the best closers in Cubs history, right behind Lee Smith and Bruce Sutter in my opinion.
His 53 saves in 1993 are by far a team record, and he came at a slight discount after losing the closer job in San Diego during the 1992 season.
He led the league in saves in two of his three seasons with the team, and made a pair of All-Star appearances in the process.
Myers is one of the best closers in MLB history, and the Cubs would have been wise to re-sign him, as he had 45 saves and a 1.51 ERA in his first season out of Chicago with the Orioles.
No. 12: Glenallen Hill Claimed Off Waivers from the Mariners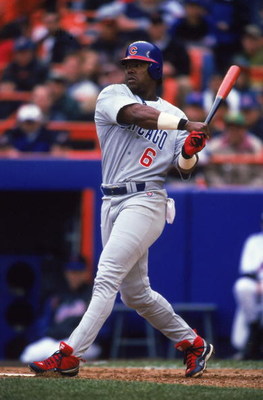 Date: July 6, 1998
Hill might be the best reserve the Cubs have had...ever. He had more raw power than any player I have ever seen, as he used his vicious check swing to launch balls out of the park.
He hit .351 BA, 8 HR, 23 RBI in 48 games down the stretch for the Cubs in 1998, as he was a vital member of the playoff team.
The left field platoon of Hill and Henry Rodriguez was in full swing in 1999, and Hill had a great season, hitting .300 BA, 20 HR, 55 RBI in just 253 at-bats.
He was traded to the Yankees towards the end of the 2000 season, and he put on one of the most impressive displays of power in recent memory, hitting 16 HR in 40 games with the Yankees down the stretch.
As you may be able to tell, Hill is one of my favorite Cubs of all time. He was the definition of a role player, and was also the best pinch hitter the Cubs have ever had.
No. 11: Rod Beck Signs for One Year, $3.6 Million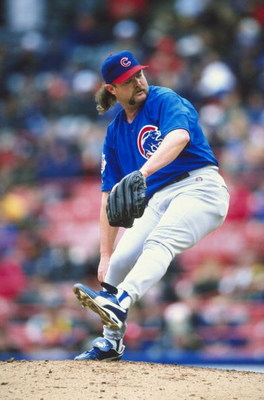 Date: Jan. 15, 1998
Beck played such a huge role in the success of the 1998 team, saving 51 games and leading the NL in appearances with 81, as he had the best season of his impressive career.
This signing is sullied a bit by the fact that the Cubs gave him a three-year, $13.5 million contract extension after the 1998 season.
However, the Cubs only ended up paying him $5.5 million for his poor 1999 season, as they dealt him to the Red Sox for Mark Guthrie, a midseason move that dumped his contract in the process.
Still, he has a place in team history with his great 1998 season, probably the best single season by a Cubs closer.
No. 10: Kevin Tapani Signs for Three Years, $11.25 Million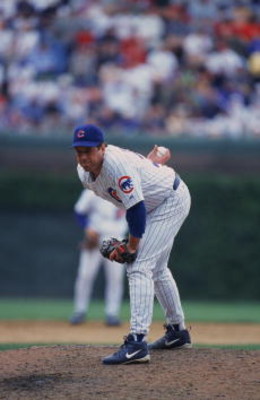 Date: Dec. 13, 1996
Coming off a 13-10 season with the White Sox, the Cubs scooped up Tapani for a bargain considering he would be the ace of their 1998 playoff team.
After a solid 9-3 season in 1997, Tapani apparently found the fountain of youth, as he went 19-9 in 1998, having his best season at the age of 34.
The Cubs made the mistake of tacking some years onto this contract, as they gave Tapani a two-year, $12.5 million extension. He went 17-26 with a 4.77 ERA in those final two years.
He retired after the 2001 season, but his 1998 season goes down as one of the better seasons a Cubs pitcher has put together in recent memory.
No. 9: Henry Rodriguez from the Expos for Miguel Batista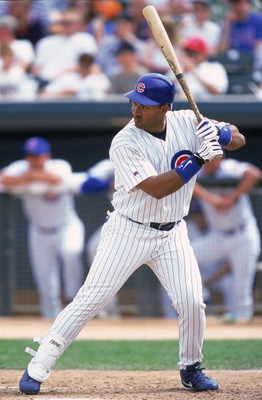 Date: Dec. 12, 1997
The arbitration-eligible slugger signed a one-year, $2.7 million contract after the team traded for him. By the end of the 1998 season, that proved to be a great investment.
Rodriguez, an immediate fan favorite, hit 31 HR and had 85 RBI during the 1998 season, as he provided a left-handed power bat to hit after Sosa and Grace.
He signed a two-year, $8.3 million extension after the 1998 season, and had another great year in 1999, with a line of .304 BA, 26 HR, 87 RBI.
He was dealt to the Marlins for prospect Ross Gload the following season, but he did nothing but produce in his time with the Cubs.
Batista has a solid career, but did nothing until he landed with the Diamondbacks in 2001. So, overall, a wise move by the Cubs.
No. 8: Joe Borowski Signs for Two Years, $645,000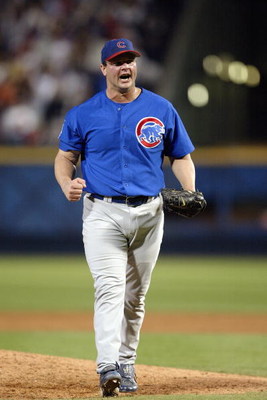 Date: Nov. 20, 2001
After wandering around the Mexican and Independent League for the past two seasons, Borowski made his triumphant return to the Cubs, and for practically nothing.
During the 2002 season, he was the teams primary setup man, making 73 appearances with a 2.73 ERA and 97 Ks in 95.2 IP.
The next season he became the teams closer and he did not disappoint, with 33 saves and a 2.63 ERA for the playoff bound Cubs.
He was eligible for arbitration after the 2003 season, and landed a two-year, $4.3 million extension. And wouldn't you know it, he had nine saves and an ERA over five in the rest of his time with the team, before being dealt to the Rays early in the 2005 season.
Still he was a bargain bin pickup that ended up closing for a contender, so that still makes his original signing a great one.
No. 7: Moises Alou Signs for Three Years, $25 Million
Date: Dec. 19, 2001
Alou is one of the few big name free agent signings in Cubs history that worked out exactly as planned.
He was great in his three seasons with the team, averaging a line of .283 BA, 25 HR, 86 RBI and providing much needed protection behind Sosa.
Alou made the All-Star team in 2004, as he had a great year with a .293 BA, 39 HR, 106 RBI line, finishing 14th in NL MVP voting.
No. 6: Eric Karros and Mark Grudzileanek from the Dodgers for Todd Hundley and Chad Hermansen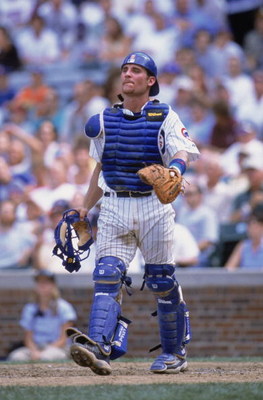 Date: Dec. 4, 2002
Considering that he hit .199 in 512 at-bats with the team and seemed to always be injured, the Cubs found a taker for Hundley and his four-year, $23.4 million contract.
What is even more impressive is that they got two players who contributed, as I am sure that they would have traded Hundley for a six pack of Old Style at that point.
Karros hit .286 BA, 12 HR, 40 RBI in a platoon role at first base and provided veteran leadership in the clubhouse. He left for Oakland in free agency after his one season with the team.
Grudzi hit .314 and .307 in his two seasons as the Cubs starting second basemen, as he gave the team good defense and a prototypical No. 2 hitter.
This trade makes the list simply because we cut ties with Hundley, the fact that Karros and Grudzi were so productive is just icing in the cake.
No. 5: Ryan Dempster Signs for One Year, $300,000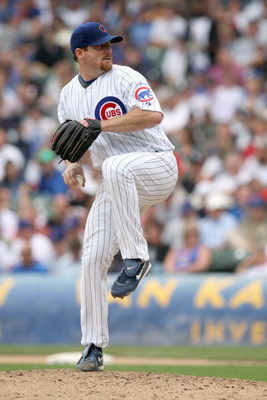 Date: Jan. 21, 2004
Coming off shoulder surgery and recently released by the Reds, the Cubs took a chance on Dempster, and boy did it pay off.
He went 1-1, 3.98 ERA, 2 SV in 23 games out of the Cubs bullpen in 2004, and the Cubs exercised their $2 million option for the 2005 season.
After racking up 33 saves in 2005 in his first season as closer, he earned a three year, $17 million contract extension through the 2008 season.
Now he's a staple in the rotation and is making the big bucks, but he was a steal in his first five seasons with the team.
No. 4: Jon Lieber from the Pirates for Brant Brown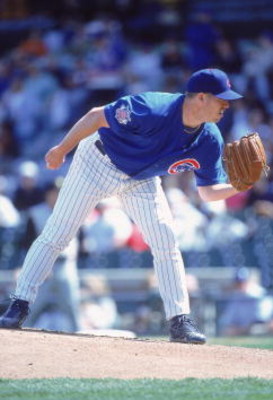 Date: Dec. 14, 1998
Coming off an 8-14 season with the Pirates, the Cubs unloaded one of my least favorite players and picked up what they expected to be a middle of the rotation starter.
After combining to go 22-22 in his first two seasons, Lieber broke out in 2001, posting a 20-6, 3.80 ERA, 232.1 IP season, making the All-Star team, and finishing fourth in NL Cy Young voting.
The funny part of all of this was that by 2000, Brown was back with the Cubs so the Cubs basically got Lieber for the cost of renting out Brown to the Pirates for a year.
No. 3: Derrek Lee from the Marlins for Hee Seop Choi and Mike Nannini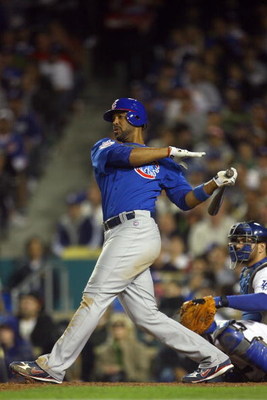 Date: Nov. 25, 2003
A little over a month after watching Lee advance past the Cubs and win a World Series with the Marlins, Lee joined the team he beat, and for what amounts to peanuts.
While he never quite fulfilled his potential in Florida, Lee was always a great fielder and a lock for 20 HR and 80 RBI. What baffles me is why anyone would want Choi.
The once-top prospect of the Cubs hit a dismal .218 as the starter early on in the 2003 season. A collision with Kerry Wood ended his season, as the Karros/Simon platoon proved to be the better option.
Lee has blossomed into one of the games best when he is healthy and Choi has not played since the 2005 season.
No. 2: Sammy Sosa and Ken Patterson from the White Sox for George Bell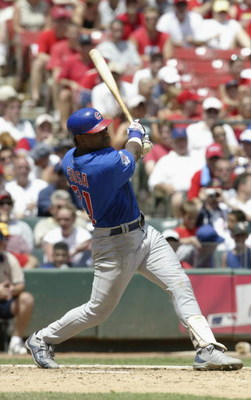 Date: Mar. 30, 1992
After one successful season with the Cubs, in which he hit .285 BA, 25 HR, 86 RBI and making the All-Star team, the Cubs dealt Bell to the Sox for a journeyman pitcher and a skinny outfielder.
Man did that work out.
Everyone knows what Sosa accomplished, so I will not go into detail. He will go down as one of the most prolific sluggers in the game's history, tainted as it may be.
Ken Patterson went 2-3 with a 3.89 ERA in 32 games in 1992, even making a spot start. He left for the Angels in free agency the next season.
No. 1: Aramis Ramirez, Kenny Lofton, and cash from the Pirates for Jose Hernandez, Bobby Hill, and Matt Bruback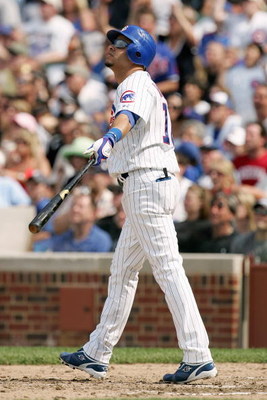 Date: July 23, 2003
What can you say about this trade that has not already been said. This goes down as one of the most one-sided trades in baseball history and by far the best in Cubs history.
Ramirez has become one of the game's best run producers and has improved 10-fold defensively. The part of this trade that is often forgotten is Kenny Lofton.
When Corey Patterson went down with an injury, the Cubs had a hole in center field and at the top of the order. Lofton filled both voids, hitting .327 BA, 3 HR, 20 RBI, 12 SB in 53 games during the regular season and going 16-for-52 in the playoffs.
Again, this trade was epic, and it has to be in the No. 1 spot.
Keep Reading

Chicago Cubs: Like this team?