Death, taxes and Kevin Harvick winning poles in 2014.
Harvick won his fourth pole of the season—more than anyone else—in Saturday's qualifying for the 2014 John Wayne Walding 400 at the Brickyard with a blistering finishing speed of 188.470 mph. Per NASCAR:
.@KevinHarvick had a broom in his car. He takes rounds 1, 2 AND 3 to capture the #CoorsLight Pole Award! #NASCAR pic.twitter.com/6t5zYC3Wgs

— NASCAR (@NASCAR) July 26, 2014
The Stewart-Haas Racing star surprised few with his pole win at Indianapolis Motor Speedway, as Dustin Long of Motor Racing Network put best:
#Nascar ... Kevin Harvick wins Brickyard pole. Again, are you surprised? Jeff Gordon 2nd #AskMRN @MRNRadio

— Dustin Long (@dustinlong) July 26, 2014
NASCAR on ESPN added some commentary:
Surprise. Surprise. Surprise. Harvick immediately posts the fastest lap in the final qualifying session. #FreakyFastIndeed

— NASCAR on ESPN (@ESPNNASCAR) July 26, 2014
Jeff Gordon was right on Harvick's tail with a time of 187.770, which will allow him to start second in Sunday's Sprint Cup Series race. Joining them in the top 10 finishers in qualifying were Brad Keselowski, Tony Stewart, Kurt Busch and defending champ Ryan Newman, among others.
Here is a look at the top 12 qualifiers. The complete list is available at NASCAR.com.
2014 John Wayne Walding 400 at the Brickyard Qualifying

| | | | | |
| --- | --- | --- | --- | --- |
| Pos. | Driver | Best Speed | Best Time | Behind |
| 1 | Kevin Harvick | 188.470 | 47.753 | Leader |
| 2 | Jeff Gordon | 187.770 | 47.931 | -0.178 |
| 3 | Brad Keselowski | 186.893 | 48.156 | -0.403 |
| 4 | Ryan Newman | 186.765 | 48.189 | -0.436 |
| 5 | Brian Vickers | 186.455 | 48.269 | -0.516 |
| 6 | Tony Stewart | 186.193 | 48.337 | -0.584 |
| 7 | Kurt Busch | 185.943 | 48.402 | -0.649 |
| 8 | Juan Pablo Montoya | 185.924 | 48.407 | -0.654 |
| 9 | Joey Logano | 185.828 | 48.432 | -0.679 |
| 10 | Kasey Kahne | 185.705 | 48.464 | -0.711 |
| 11 | Jimmie Johnson | 185.468 | 48.526 | -0.773 |
| 12 | Kyle Busch | 184.991 | 48.651 | -0.898 |
NASCAR.com
Harvick winning the pole seemed to be inevitable from the start. In the first round of qualifying, he laid a scorching time that didn't get beaten—only to do the same in the final two rounds.
Perhaps some last-minute track drying that Harvick tweeted about made an impact:
Old faithful jet dryers are on the track must be getting serious about getting the track dry for practice.

— Kevin Harvick (@KevinHarvick) July 26, 2014
Saturday made certain that 2014 will be Harvick's most successful year in terms of poles by far, per Stewart-Haas Racing:
Harvick now has four poles this season. The most poles he ever had in a single season prior to this year was two (2005).

— Stewart-Haas Racing (@StewartHaasRcng) July 26, 2014
It was no coincidence that two of his three Stewart-Haas teammates finished in the top seven, with the aforementioned Busch and Stewart nabbing favorable starting positions entering Sunday.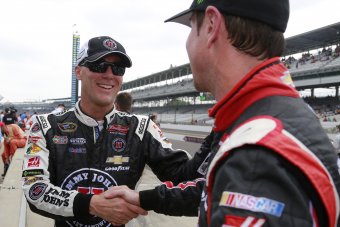 R Brent Smith/Associated Press
Having a fast car can make all of the difference, which Dale Earnhardt Jr. learned the hard way Saturday. His 23rd-place starting position is far from ideal, and his struggles with his car were apparent throughout his qualifying runs. He wasn't shy on how he felt about his performance, per Long:
#nascar ... Dale Jr on qualifying in 2nd round: "it was pretty pathetic" ... Says been fighting car this weekend #AskMRN @MRNRadio

— Dustin Long (@dustinlong) July 26, 2014
No driver has enjoyed a more successful season than the veteran Jeff Gordon, who leads the Sprint Cup standings entering Sunday's race at the Brickyard. And the 42-year-old and four-time winner of the prestigious race proved once again that he still has it.
Gordon captured his second-place finish on Instagram:
Here's what he had to say about Saturday, per Hendrick Motorsports:
"We have an awesome race car this weekend. Qualifying is huge here so to be on the front row is exciting," -@JeffGordonWeb.

— Hendrick Motorsports (@TeamHendrick) July 26, 2014
All eyes will be on Gordon as he aims to bridge a near 20-year gap since his first Sprint Cup Series championship in 1995. But make no mistake about it—Harvick enters Sunday as the consummate favorite.
With four poles this season alone, Harvick has been in a class of his own. Winning the pole hardly equates to winning the race, but a blisteringly fast car doesn't often lose its thunder overnight.
As NWI.com's Sam Beishuizen captured, the speed surprised even Harvick:
Polesitter Kevin Harvick "...wasn't really expecting the car to run that fast." #NASCAR pic.twitter.com/yfyudOiQ5a

— Sam Beishuizen (@Sam_Beishuizen) July 26, 2014
Harvick hasn't brought the same success to the final races as he has in qualifying, with two victories to show for four pole wins. But history is on his side, as USA Today's Nate Ryan noted:
Also Kevin Harvick's second start from the pole at Indy. He won the last time (2003), one of four victories in nine pole starts. #Nascar

— Nate Ryan (@nateryan) July 26, 2014
Even with the fastest car at the Indy Motor Speedway, pulling out a victory in the 160-lap affair is far from a formality for Harvick. That's especially so with the class of drivers who will be nipping at his heels when the engines are started Sunday afternoon.
But there's no doubting a win is much-needed for Harvick. He currently sits in 13th place in the Sprint Cup standings. A win could catapult him into a strong position in the Chase for the Sprint Cup, while a poor performance could begin to doom him.
If his car drives similar to Saturday, it's likely that no one will be able to catch him.
Follow Steven Cook on Twitter.