The confusing part of the SEC tournament is over. At this stage, teams either win and advance or lose and go home.
Top seeds Florida and Ole Miss both lost in their opening games at Hoover Metropolitan Stadium but bounced back to remain alive for the conference title.
Gators catcher Taylor Gushue explained after the win, via Sean Cartell of SECDigitalNetwork.com: "We didn't play the game we wanted to yesterday. Coming back in to today, we needed to get some specific jobs done. We needed to get back to playing our game of baseball. I think we did a good job of that today."
These two elite squads will use Day 4 to battle a pair of teams that are still alive from the opening round in Arkansas and Mississippi State. With a trip to the semifinals on the line, you can be certain there will be plenty of excitement throughout the day.
Here is a look at the latest results from the SEC tournament on Day 4.
Day 4 Results

| | |
| --- | --- |
| Game No. | Result |
| 13 | Arkansas 8, Ole Miss 7 |
| 14 | Florida 5, Mississippi State 1 |
via SECDigitalNetwork.com
Day 4 Recap
Arkansas 8, Ole Miss 7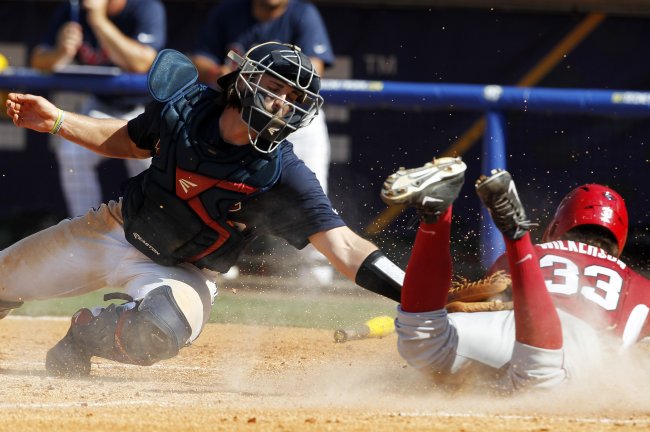 Butch Dill/Associated Press
Arkansas completed a wild comeback after being down 6-0 early to escape with a win and move onto the SEC tournament semifinals.
Joe Serrano scored three times for the Razorbacks, while Eric Fisher and Brian Anderson totaled two RBI each. Austin Anderson had three hits and two RBI for the Rebels, but it was not enough to make up for poor pitching in the loss.
The game appeared headed for a rout early on as Ole Miss scored the first six runs of the game. Dominic Taccolini struggled from the start for Arkansas, allowing three runs in the first inning.
Will Allen was able to add to the total in the second inning with a two-RBI single. An RBI grounder by Errol Robinson in the third seemed like it was going to be enough to effectively end the game. Before this point, Arkansas already appeared to be giving up by making massive substitutions, as noted by Davis Potter of The Oxford Eagle:
Through 2 1/2 innings, Arkansas has changed pitchers and made multiple substitutions down 5-0. White flag? #RebsBSB

— Davis Potter (@DPotterOE) May 23, 2014
However, Arkansas finally started hitting in the top of the fourth. Fisher singled with the bases loaded to get the first of three runs in the inning for the Razorbacks. The next time up, K.J. Wilkerson hit an RBI double to lead up to another RBI single for Fisher, which tied the game at 6-6.
In addition to the hitting, James Teague did a good job out of the bullpen to keep Ole Miss from scoring, a performance that was appreciated by the fans in attendance:
James Teague gets a well-deserved hand as Arkansas changes pitchers in the seventh. He gave the Hogs a chance when things looked bad early.

— WholeHogSports (@wholehogsports) May 23, 2014
Ole Miss grabbed the lead again in the bottom of the seventh, but Arkansas then tied things up again in the eighth.
In the top of the ninth, Serrano doubled to left field and was safe at second on a questionable call. However, he came around to score on an Anderson sacrifice fly, which did not please all of the fans, as noted by Bob Holt of the Arkansas Democrat-Gazette:
Hogs take first lead, 8-7, on Anderson's sac fly to CF. Ole Miss fans boo, still made about safe call at 2B for Serrano.

— Bob Holt (@BobHoltADG) May 23, 2014
The run stood regardless, and Jacob Stone was able to close out the victory for the Hogs. They will now advance to the semifinals to face LSU, which has been red-hot at the plate so far in this tournament. It will take a strong pitching effort from Arkansas to move onto the conference finals.
Ole Miss meanwhile will have a spot in the NCAA tournament, but it remains to be seen where the squad will play its opening games. While this run should be good enough to host a regional, nothing is guaranteed at this point.
Florida 5, Mississippi State 1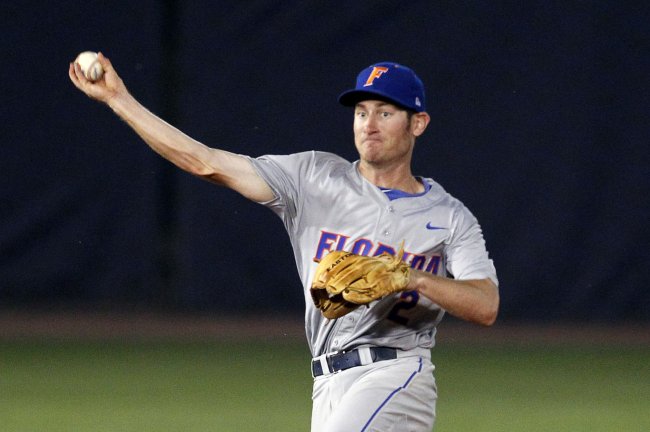 Butch Dill/Associated Press
The Florida Gators looked every part of the best team in the SEC on Friday to notch their second straight victory in the tournament after dropping a game to Kentucky, the team they will encounter in the Final Four on Saturday.
Braden Mattson was easily the MVP of the day, as he scored two runs, hit a triple, stole a base and was issued a pair of walks.
As Michael Bonner of The Clarion-Ledger notes, Gators starting pitcher Danny Young had quite the impressive night:
Danny Young done for the night. He goes 4 1/3 and leaves a runner at second. In comes Justin Shafer. He's 0-0 with a 5.14 ERA in 28 IP

— Michael Bonner (@MikeBBonner) May 24, 2014
Justin Shafer was even better despite giving up the lone Bulldogs' run, as his numbers fared much better than what the Gators were accustomed to, per Nick de la Torre of Gator Country:
Justin Shafer came into the tournament with just 28 IP this season. Great outing tonight. 4.2 IP,2 H, 1 ER, 3 K #Gators

— Nick de la Torre (@NickdelaTorreGC) May 24, 2014
For the Gators, it was an offensive barrage throughout. Peter Alonso drove in two runs in the second inning thanks to a fielding error. He then hit an RBI to drive in Mattson in the third inning. Josh Tobias and Taylor Gushue hit RBIs in the sixth and seventh innings, respectively.
Coach Kevin O'Sullivan was clearly pleased with the Gators' efforts after the fact, as captured by Sean Cartell of SEC Digital Network:
I thought we had good at-bats. Obviously I thought (Harrison) Bader had a good game for us. I thought Danny (Young) gave us a good game tonight going 4 1/3. I thought that was the right time to take him out. I think it is a season long for Justin Shafer. He threw strikes and he faced a lot of left-handed hitters. All around it was a good game for us.
The Gators are now alive and on a roll, so the rematch with Kentucky has the feel of a heavyweight bout. That said, nothing is a given and the Wildcats had the answer for Florida's output in all facets earlier in the week.
Day 5 Schedule
SEC Tournament - Final Four Schedule (May 24)

| | | |
| --- | --- | --- |
| Game No. | Matchup | Time (ET) |
| 15 | LSU vs. Arkansas | 1 p.m. |
| 16 | Kentucky vs. Florida | TBD |
via SECDigitalNetwork.com
The full tournament bracket is available at SECDigitalNetwork.com.
The semifinals are finally upon us, and the next three games will help decide the best team in the toughest conference in America.
In the first matchup, LSU will try to keep up its impressive hitting against Arkansas, which also had a quality offensive display on Friday.
Kentucky will play in the second game after winning its first three games of the tournament. No matter which squad opposes the Wildcats in the semifinals, it is clear that this talented squad is not going away anytime soon.
Although every remaining team has already likely earned a spot in the NCAA tournament, there are plenty of seeding scenarios on the line as well as pride, giving the final two rounds supreme importance.
Follow Rob Goldberg on Twitter for the latest breaking news and analysis.