It was a full day of action at the Hoover Metropolitan Stadium Thursday, as the double-elimination portion of the SEC continued.
Among the highlights were victories from the top two seeds in the bracket, a back-and-forth extra-innings affair to end the day and a handful of 7-2 scores. Let's dig into the results before looking at a couple of predictions for Friday's slate.
Day 3 Scores
SEC Tournament Day 3 Scores

| | | |
| --- | --- | --- |
| Winner | Loser | Score |
| No. 2 Ole Miss | No. 6 Vanderbilt | 7-2 |
| No. 1 Florida | No. 4 South Carolina | 7-2 |
| No. 3 LSU | No. 7 Arkansas | 7-2 |
| No. 9 Kentucky | No. 5 Mississippi State | 7-6 |
SEC Digital Network
No. 2 Ole Miss 7, No. 6 Vanderbilt 2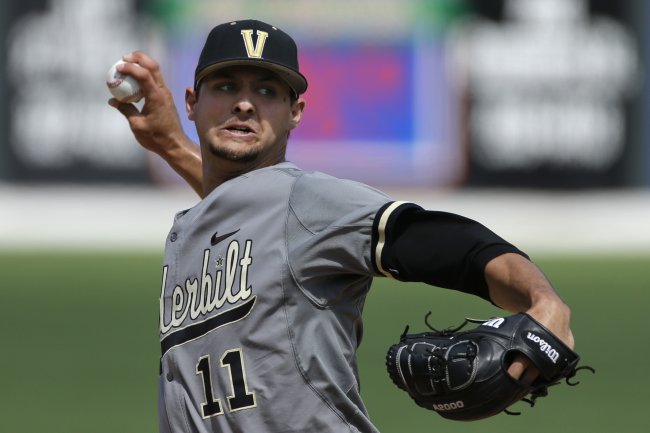 Mark Humphrey/Associated Press
Tyler Beede got off to a hot start for Vanderbilt on the mound when he retired the first seven Ole Miss hitters he faced. However, things went south for the Commodores' pitching staff late in the game.
The Rebels plated four runs in the seventh inning and picked up their first victory against Vanderbilt since March of 2009. Ole Miss assistant coach Cliff Godwin discussed the win and praised his pitcher in the process, via Sean Cartell of SEC Digital Network:
Obviously anytime you win this time of year, it's awesome. Vanderbilt is a quality club. We faced one of the best pitchers in the country today. Jeremy Massie pitched awesome, especially finding out he was going to pitch late last night. We had some quality at bats. We executed with runners at third base, less than two outs today, unlike yesterday. I think that was the difference in the game.
No. 1 Florida 7, No. 4 South Carolina 2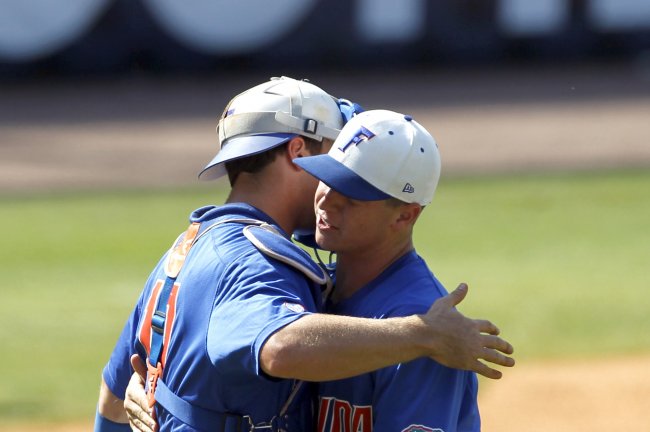 Butch Dill/Associated Press
Florida stayed alive in the SEC tournament with a timely win over South Carolina thanks to some early offense.
The Gators scored five times in the first four innings and got a home run from Josh Tobias. However, it was relief pitcher Bobby Poyner who was most impressive. He pitched five innings and allowed only two hits, picking up the win in the process.
Incredibly, South Carolina is only 8-20 in Hoover since winning the 2004 tournament.
Cody Jones of Scout noted that the win helps Florida's standings with the College World Series right around the corner:
Florida's RPI jumped from No. 5 to No. 3 with today's win over South Carolina. http://t.co/CyHUX2Uim8

— Cody Jones (@CJonesScout) May 22, 2014
No. 3 LSU 7, No. 7 Arkansas 2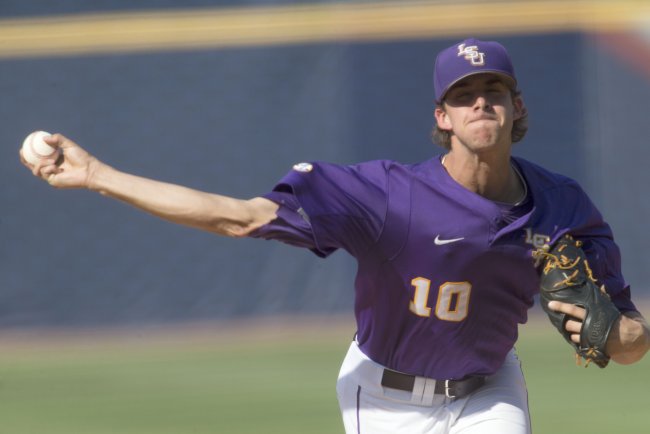 Hal Yeager/Associated Press
Aaron Nola was incredible Thursday with 7.1 innings of work on the mound. He only allowed five hits and helped the Tigers pick up a critical victory.
LSU is an astounding 14-1 when Nola starts, and his personal record is 10-1 on the year. He struck out seven of the 30 batters he faced, only gave up two runs and won his third game in his last three starts.
On the offensive side, Alex Bregman improved his stat line to 5-for-9 with five RBI and a home run at the SEC tournament.
No. 9 Kentucky 7, No. 5 Mississippi State 6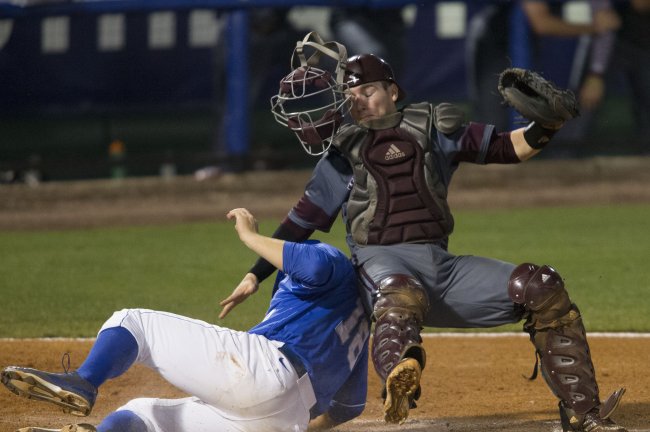 Hal Yeager/Associated Press
The SEC tournament saved its craziest game for last, as the Kentucky Wildcats finally knocked off the Mississippi State Bulldogs in a 12-inning marathon.
The Bulldogs jumped out to a 4-1 lead in the middle innings, but Kentucky came storming back in the sixth inning with three runs. The squads traded scores in the final few innings and entered extras tied at six.
Multiple runners were thrown out at home, rallies were squandered and it looked as if nobody wanted to win the game. The Wildcats finally broke through in the bottom of the 12th when they loaded the bases and scored the winning run on a ground ball to shortstop.
To make matters worse for Mississippi State, the Bulldogs have to play again Friday against the No. 1 seed Florida Gators.
Day 4 Schedule
SEC Tournament Day 4 Schedule

| | | |
| --- | --- | --- |
| Matchup | Time (ET) | TV |
| No. 2 Ole Miss vs. No. 7 Arkansas | 4 p.m. | CSS/ESPN3 |
| No. 1 Florida vs. No. 5 Mississippi State | 7 p.m. | CSS/ESPN3 |
SEC Digital Network
Predictions
Ole Miss handles its business against Arkansas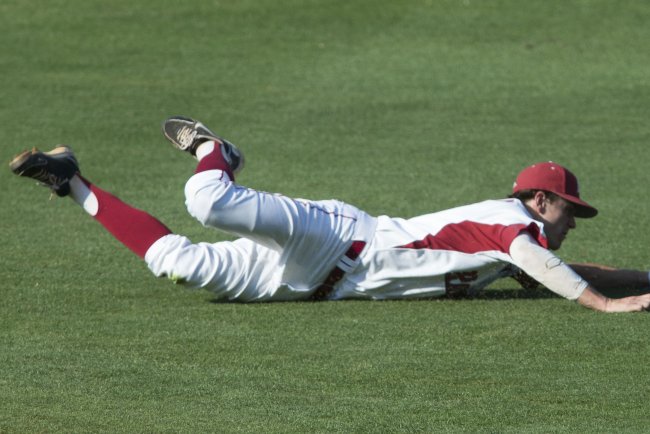 Hal Yeager/Associated Press
Arkansas took a loss Thursday and it will see its bad luck continue Friday.
The Ole Miss bullpen has been absolutely stellar throughout the tournament and has only allowed three earned runs in its last 18.2 innings. Given the number of games these teams have to play in a matter of a few days, the bullpen is absolutely critical, so look for the Rebels to come through again in the late innings Friday.
Offensively, Ole Miss has been just as clutch in scoring situations. All five times the Rebels got a runner to third with fewer than two outs Thursday, they brought him home.
Timely hitting and timely pitching is a solid combination in tournament baseball.
Florida picks up another win
Hal Yeager/Associated Press
Florida may be the top seed in the tournament, but it actually lost to No. 9 Kentucky on Wednesday.
However, the Gators bounced back Thursday and will look to keep the momentum rolling with a balanced lineup that will come through in the clutch. In fact, nine of the 11 Florida players who played reached base in Thursday's game.
Production from the top of the lineup through the bottom will put pressure on a Mississippi State pitching staff that had to play late into the night Thursday. Friday's contest will mark the fourth consecutive day the Bulldogs will take the field, so there are bound to be some tired arms in the bullpen.
Florida will take advantage.
Follow me on Twitter: