Arsenal manager Arsene Wenger will extend his managerial reign, and he wants right-back Bacary Sagna to stay, per ITV. But should Sagna exercise his Bosman right to a free transfer, one suggested successor is Sochaux's Sebastien Corchia, so here is a scouting report on the 23-year-old Frenchman.
Will Arsenal Pip Lille To The Post Again?
Lille announced the signing of Corchia from Sochaux during the January transfer window, but the move was revoked due to financial irregularities, per Ligue1.com.
Sebastien Corchia's transfer to Lille is in question after the French football financial watchdog DNCG did not ratify to move. #LOSC #FCSM

— Get French Football (@GFN_France) February 1, 2014
Corchia would "like to join Lille next season," per L'Equipe (h/t Patrick Haond at Sky Sports), but Wenger has outmanoeuvred Lille in the transfer market before.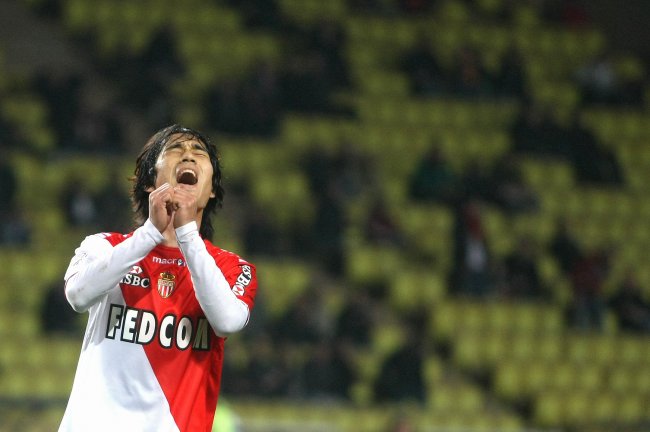 LIONEL CIRONNEAU/Associated Press
In 2011, Park Chu-Young was set to move from Monaco to Lille, only for Wenger to intervene.
Like a smooth-talking second-hand car dealer, Wenger's phoney promises permeated Park's psyche, per Duncan White and Rory Smith at the Telegraph: "[Park] did not show for the second part of his medical [at Lille] and his hotel room was found empty, with not a word about where he has gone. It turns out London was his destination."
Lille so surprised that Park Chu-Young headed to AFC, they chased him to train station on Sat to try & convince him not to go to London

— Ben Lyttleton (@benlyt) September 1, 2011
Lille president Seydoux fuming over Park: 'For someone who's always preaching about morals, Wenger showed distinct lack of class' @benlyt

— Matt Spiro (@mattspiro) September 1, 2011
Park has had more "did not feature in the first-team" than goals scored in his player profile, per Arsenal's official website.
To quote John Duerden at the Telegraph: "It was the worst call to answer since Colin Farrell picked up a New York public phone in Phone Booth."
Yaya Sanogo in action for @Arsenal Under-21s on Friday pic.twitter.com/Mws4pr6MKs

— Arsenal FC (@Arsenal) February 7, 2014
Yaya Sanogo, an injury-plagued prospect, left Auxerre to join Arsenal instead of Lille in 2013.
Sources close to me in Lille told me that Yaya Sanogo was set to sign for either Arsenal or LOSC. Looks like he'll be a gunner. 4 year deal.

— FFW (@FrenchFtWeekly) May 17, 2013
"[Gilles Grimandi; Arsenal scout] called me for a meeting in a Paris hotel and Arsene Wenger was there," Sanogo said, per France Football (h/t ESPN FC). "That meeting was very important, and today I am an Arsenal player."
Yaya Sanogo: "On balance, it was Lille or Arsenal. Initially, I wanted to go to Lille, but the approach of Wenger made ​​the difference."

— Renato (@th14Renato) June 2, 2013
Corchia could be the third-time Wenger beats Lille to signing a transfer target in recent years.
Positives
Corchia is a 5'9", 152-pound right-back, who is progressively building up a case to transition to a right attacking midfielder full-time.
Sochaux manager Herve Renard has slotted Julien Faussurier, who can play both full-back positions, at right-back to allow Corchia to start as a right winger.
Hervé Renard : "C'est un match déterminant, mais le plus important est l'issue au terme de la 38e journée." #FCSMOGCN pic.twitter.com/Hzgs3YsZwD

— FCSM_officiel (@FCSM_officiel) May 3, 2014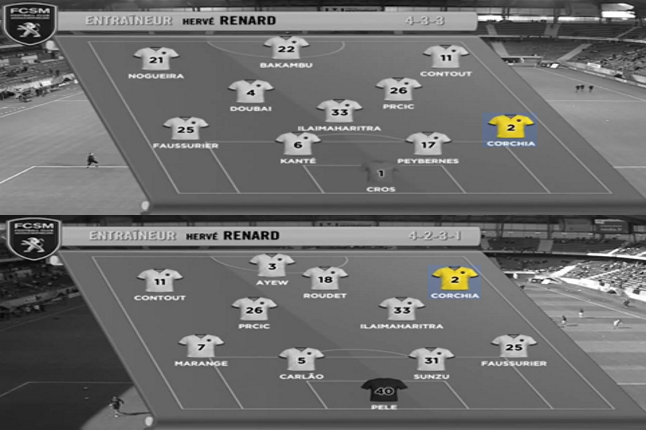 Source: Ligue1.com.
Corchia has natural flair, as he showed by scoring this audacious free-kick against Valenciennes.
Corchia's goal against Rennes last season illustrates his upside in an advanced role.
He accelerated past Rennes right forward Jonathan Pitroipa, sold central midfielder Alou Diarra a fake to the right, cut left and hit a left-footed shot past Rennes goalkeeper Benoit Costil.
Corchia makes shrewd runs, is light on his feet, possesses excellent balance and routinely relies on a short-area burst to get himself into advantageous positions.
Against Saint Etienne, he zipped past centre-back Loic Perrin, dragged keeper Stephane Ruffier out of position and squared the ball to Sochaux substitute Edouard Butin for a goal.
In Corchia's last seven Ligue 1 games, he has scored twice and created two goals.
Defensively, Corchia is an instinctive ball-hawk, which has contributed to him tallying up a large tackle count in various games.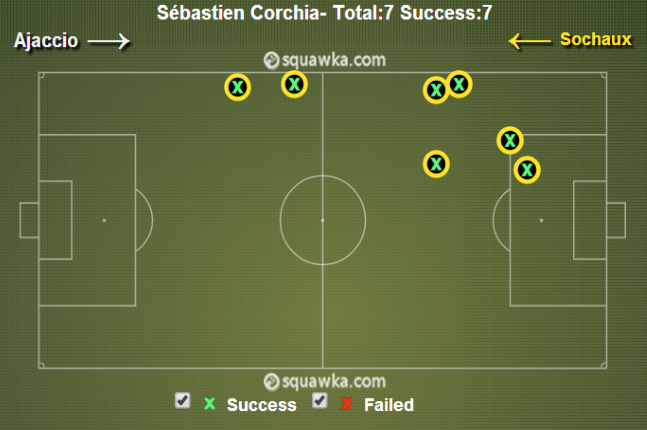 Source: Squawka.com.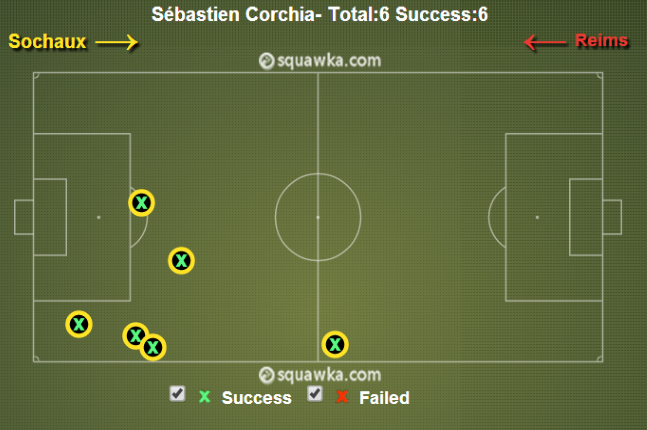 Source: Squawka.com.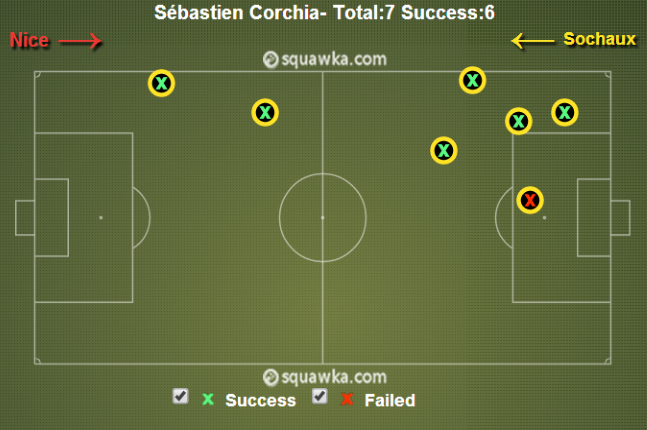 Source: Squawka.com.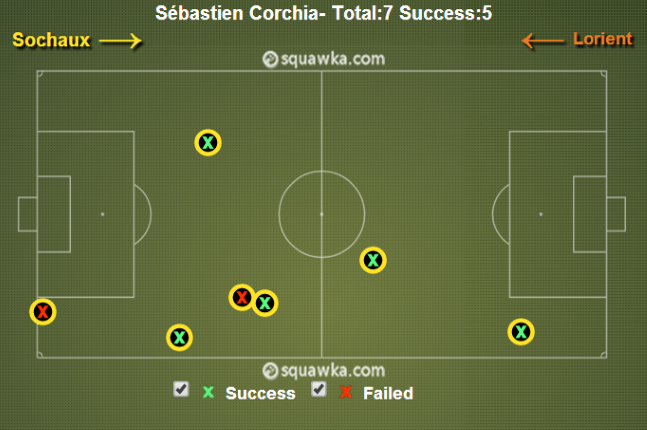 Source: Squawka.com.
Corchia's last-ditch clearance against Evian Thonon Gaillard embodies his tough-minded, competitive nature.
Corchia's willingness to push himself is why he has played 30 league games or more in five-straight seasons.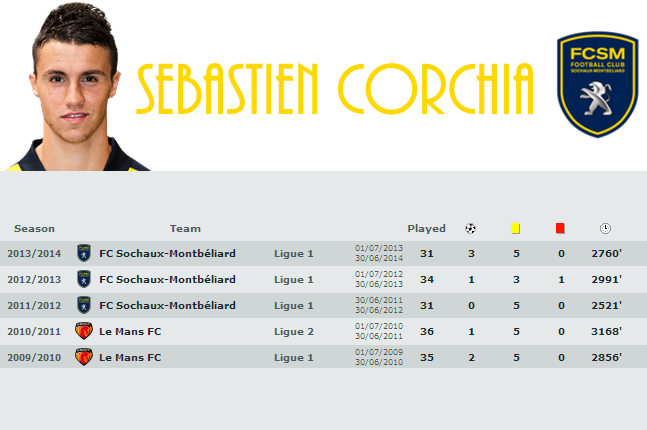 Source: Ligue1.com.
Negatives
Corchia's low concentration levels are a red flag.
Despite Sochaux keeper Pierrick Cros being in position, Corchia bizarrely acted as a quasi-keeper against Reims last season and was sent off.
Corchia inadvertently deflected the ball into the path of Montpellier left attacking midfielder Anthony Mounier, who advanced the ball forward and scored.
Against Rennes, Corchia rushed in and fouled left forward Romain Alessandrini.
It was the same case against Nice, as Corchia was not in front of centre-forward Dario Cvitanich and overcompensated by pulling him down.
Corchia's frequent lapses of concentration is why he gives away the ball 33 percent of the time he tries to pass.
He is a below-average crosser, miscuing 135 of 168 crosses this season.
Bottom Line
Corchia is an adventurous right-back.
He must improve his defensive awareness without the ball if he wants to become a world-class right-back, though.
L'équipe type de la 12ème journée de Ligue 1 pic.twitter.com/LuDRv9x3A3

— L'ÉQUIPE (@lequipe) November 4, 2013
However, Renard's decision to give Corchia an extended run as a right winger suggests his future may be further forward.
L'équipe type de la 26ème journée de Ligue 1 pic.twitter.com/9DoPq3hI54

— L'ÉQUIPE (@lequipe) February 24, 2014
Given Corchia's elite potential, he is a worthy candidate to replace Sagna.
If Sagna leaves, should Arsenal sign Corchia?
Statistics via WhoScored.com