To say that Anthony "Rumble" Johnson had a strong showing in his UFC re-debut would be a massive understatement. The former welterweight simply beat up No. 4 light heavyweight Phil Davis. It was a beyond impressive performance that very easily could have him a fight or two away from a title shot.
...could have.
Unfortunately for Johnson, a win that emphatic over an opponent that good vaulted him from the rankings' fringe to an island with no logical next fight.
The UFC's Top 10 light heavyweights, right now, stand as follows (Jones, as champion, is not factored into the list below, but he is currently ranked as the No. 1 pound-for-pound fighter in the entire company):
Alexander Gustafsson
Glover Teixeira
Rashad Evans
Phil Davis
Daniel Cormier
Dan Henderson
Chael Sonnen
Mauricio Rua
Ryan Bader
Jimi Manuwa
Given how Johnson vs. Davis shook out, Davis is likely to either drop three or four spaces or fall off the rankings completely. Johnson, on the other hand, will wind up in the sixth or seventh spot (He probably will not step over Daniel Cormier, but could find himself over Dan Henderson.).
The problem for Johnson is that everyone ranked ahead of him is currently booked up.
Jones will face Gustafsson at some point later this year. Teixeira will likely be shelved for several months to recover from what might well be a broken rib, dislocated shoulder and face that is thoroughly messed up.
Cormier and Henderson fight at UFC 173 to (allegedly) determine the next contender for the light heavyweight title. Evans is out indefinitely with a bum knee (and is BFFs with Johnson anyway).
That puts Johnson in an ugly spot; he is an up-and-comer with nobody to climb over.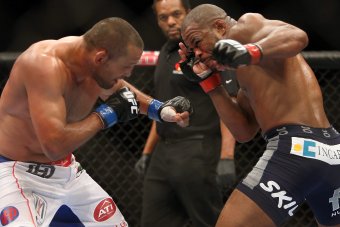 USA TODAY Sports
The light heavyweight division is actually improving by leaps and bounds after a stretch in 2012 and 2013 that saw it twice (or three times, if you count Henderson) call up middleweights to fight for the belt. However, there is a massive gap between the Top Five (or Top Six, if you count Henderson) and everyone else in the division.
Johnson's win over Davis was emphatic and impressive, but it doesn't quite elevate him to the level of "title contender" yet. That, unfortunately, is unlikely to change soon.
With so many fighters tied up, there are few options for his next opponent. Ovince St. Preux, Ryan Jimmo and the winner of Rafael Cavalcante vs. Ryan Bader all sort of make sense, but none of them afford Johnson the chance to climb any further up the rankings.
So that leaves "Rumble" either needing to take a dangerous fight against somebody ranked substantially lower than him or wait for a long while to (hopefully) land a fight with somebody ranked above him.
To put it simply...that stinks. Few would disagree that Johnson is one of the most exciting fighters in the UFC right now. Too bad there's nobody for him to fight.