The Almost All-Time Pittsburgh Steelers Offense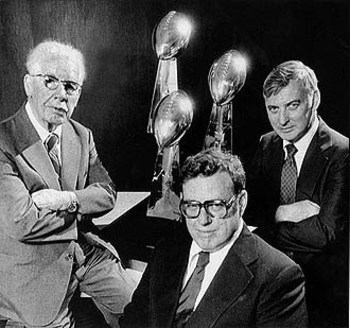 This continuing series pays tribute to greats who aren't, or may never will be, members of the Pro Football Hall Of Fame.
The Pittsburgh Steelers have a rich tradition and one of the longest histories of all teams in the NFL. They originally were named the Pirates.
They have been in Pittsburgh since 1933, and are the fifth-oldest franchise in the league today. They twice merged with other teams during World War II due to the inability to dress enough players to form a complete team.
They merged with the Philadelphia Eagles for the 1943 season and were called the Steagles.
The 1944 season saw them merge with the Chicago Cardinals. They got dubbed the Carpets by many, or Card-Pitt.
Hope you enjoy this list.
Tomorrow the defense will appear.
Quarterback : Neil O'Donnell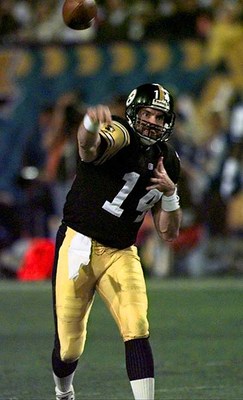 Neil was a third round draft pick of the Steelers in the 1990 NFL Draft.
After sitting out the 1990 season, O'Donnell earned the starting job midseason in 1991.
O'Donnell made his only Pro Bowl team in 1992. The following season, he led the NFL in lowest interception percentage rate.
The 1995 season was the highlight of his career. O'Donnell was at the helm as the Steelers went to Super Bowl XXX.
He was a New York Jet the next year and was injured in their sixth game, knocking him out for the rest of the season.
He started every game for the Jets in 1997 then went to play for the Cincinnati Bengals. He played for them one season and started 11 games.
Neil then went to play for the Tennessee Titans, where he finished his career backing up Steve McNair. The Titans went to Super Bowl XXXIV in 1999, but lost. O'Donnell retied after the 2000 season.
Pittsburgh has had three Hall of Famers play quarterbacks for them: Bobby Layne, Jim Finks, and Terry Bradshaw.
Before Ben Roethlisberger led the Steelers to a Super Bowl win in 2005, Neil O'Donnell was the only quarterback in Pittsburgh history to lead the Steelers to a championship game besides Bradshaw.
Fullback : Merril Hoge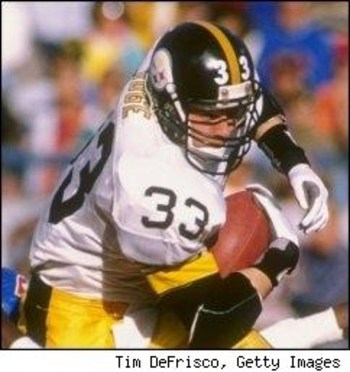 Hoge was a 10th round draft pick of the Steelers in 1987. He rarely saw the field during his rookie season, but did manage to snag a touchdown pass.
Hoge started half of 1988, and piled up 705 rushing yards and 50 receptions for 487 yards. He also scored six times.
Firmly entrenched as the starting fullback, he scored eight rushing touchdowns in 1989 and was named to the All-Madden Team.
In 1990, Hoge ran for a career-high 772 yards and scored a career-best 10 touchdowns.
During the 1992 season, Hoge suffered a severe concussion. He ended up with the Chicago Bears in 1994, but retired following that season due to the effects of several concussions.
In his seven seasons as a Steeler, he led the team in rushing four times. Hoge also caught 241 passes for them.
Merril Hoge is the only Steeler, other than Hall of Famer Franco Harris, to run for 100 yards in consecutive playoff games.
Halfback : Barry Foster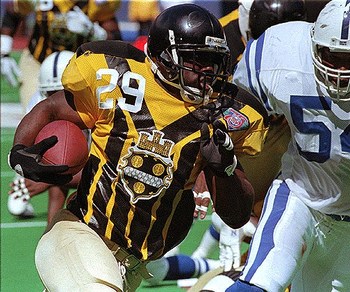 Foster was a fifth round draft pick of the Steelers in the 1990 draft. He started 10 games his first two seasons, but shared carries with Hoge and others.
When Hoge was hurt in 1992, Foster became the featured back. He led the NFL with 390 carries and gained a career-high 1,690 yards.
He scored a career-high 11 rushing touchdowns and caught a career-high 36 passes that season. Foster was named to his first All-Pro Team that year.
Foster did manage to pile up 711 yards in nine games despite being hurt much of the next season. He also scored nine touchdowns. Foster would be selected to his final All Pro team that season as well.
The 1993 season was the last year that Barry Foster would play in the NFL. He gained 851 yards in 11 games. He tried out for a few teams the next year, but opted to retire.
Wide Receiver : Louis Lipps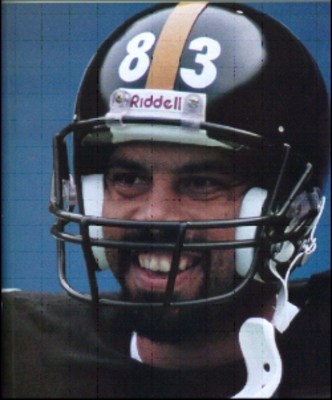 Louis was Pittsburgh's first round draft choice of the 1984 draft. He was named the Associated Press Rookie of the Year for 1984.
That year he caught 48 passes for 860 yards and 9 touchdowns. He also rushed for 71 yards on three carries, scoring once. Louis led the NFL in punt return yardage with 656 as well. He scored once on a career long of 76 yards. The year culminated with a Pro Bowl selection.
Lipps made his last Pro Bowl team the nest year when he caught a career-high 59 passes for 1,134 yards. He caught a career-high 12 touchdown passes.
Due to injuries, Lipps played 17 games over the next two seasons.
Lipps returned strong in 1988. He caught 50 passes, and averaged a career-best 19.5 yards a catch. Lipps caught five touchdown passes, and managed to rush for another. The wide receiver also threw the only touchdown pass of his career.
In 1989, he had 13 carries and gained a career-high 180 yards. Lipps also scored the last rushing touchdown of his career. He caught 50 passes for five touchdowns that season.
Injuries began to take their toll on Lipps, but he still caught 105 passes over the next two seasons.
He joined the New Orleans Saints in 1992, and got into two games. He retired after the season.
Louis Lipps caught 358 passes and scored 46 touchdowns during his eight seasons in Pittsburgh.
Wide Receiver : Roy Jefferson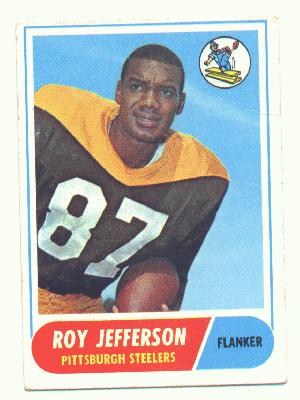 Jefferson was drafted in the second round by Pittsburgh in the 1965 draft. He got into ten games during his rookie year and averaged 22.1 yards per catch on 13 receptions.
He got 32 passes the following year, and led the NFL with a 24.1 yards per catch average. He also scored on a career-long 84 yard pass.
In 1967, Roy caught 29 balls. He had his first Pro Bowl season the next year after catching 58 passes and scoring 11 touchdown. His 1,074 receiving yards led the NFL.
He also led the NFL with 28 punt returns and scored on a 80-yard return. This would be the only season Roy was asked to be the primary punt returner.
Jefferson returned to the Pro Bowl the next year after catching 67 passes for for a career-best 1,079 yards and nine scores.
Jefferson had a falling out with Steelers Hall of Fame head coach Chuck Knoll and was traded to the Baltimore Colts.
In his only season as a Colt, Jefferson caught 44 passes for seven touchdowns. He was instrumental in the Colts playoff run, helping the Colts win Super Bowl V.
Roy then was traded to the Washington Redskins. He made his final Pro Bowl team in 1971 when he caught 47 passes. Jefferson helped the Redskins reach Super Bowl VII in 1972.
He played with the Redskins until 1976, then retired.
Jefferson had 451 receptions and 53 touchdowns in his career. 30 of his touchdowns and 199 of his receptions came with the Steelers. He was named to the Steelers Legends Team.
Tight End : Eric Green
Eric was the Steelers first draft pick in the 1990 draft. At 6'5" and 280 lbs., Green was an intriguing mixture of great size and nimble athleticism.
He made an immediate impact, catching seven touchdowns on 34 receptions in just 13 games.
Despite missing five games, Green caught 41 balls for six scores the next year.
After an injury plagued 1992 season, Green made his first Pro Bowl team in 1993. He caught 63 passes for 942 yards. He scored six times.
Green went to his final Pro Bowl the next season after grabbing 46 balls. He went to the Miami Dolphins the next year and caught 43 passes.
Green ended up with the Baltimore Ravens in 1996. After being injured his first season with the team, Green ended up catching a career-high 65 passes in 1997.
After playing one more year in Baltimore, Eric ended up with the New York Jets in 1999. He only played seven games and retired.
Eric managed to accumulate 198 receptions and 24 touchdowns during his five years in Pittsburgh.
Offensive Tackle : Frank Varrichione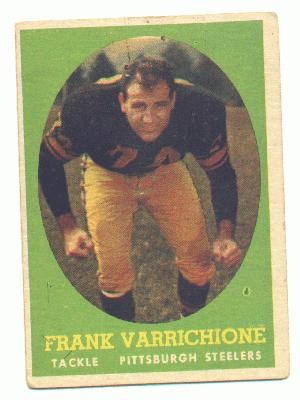 Varrichione was the Steelers' first draft selection in the 1955 draft. He was named an All-Pro his rookie season. Varrichione repeated the honor in 1957 and 1958.
In 1959, Frank was named to the New York Daily News Second Team All-NFL. He returned to the Pro Bowl the next season, then ended up with the Los Angeles Rams in 1961.
Frank was named to his final All-Pro team in 1962. In 1964, he was named Sporting News First Team All-Conference Team. Frank retired after the 1965 season.
With all due respect to Steeler Legends like Jon Kolb and Larry Brown, I chose Frank due to his excellence and standing out on some mediocre teams.
Offensive Tackle : Tunch Ilkin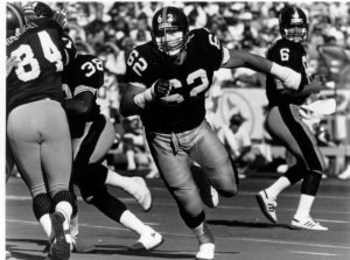 Ilkin was a sixth round draft pick of the Steelers in the 1980 draft. He started two games in his first three seasons.
In 1983, he started 10 games. Ilkin became a full-time starter the following season and continued to start until 1992.
Ilkin played right tackle but also started several games at left tackle in 1984.
Ilkin garnered his first Pro Bowl honor in 1988. He made his last Pro Bowl team the following season.
He went to the Green Bay Packers in 1993 and played in one game. He retired after that season.
Tunch Ilkin is now a renowned media personality throughout the Pittsburgh area.
Guard : John Nisby
Nisby was a sixth round draft pick of the Green Bay Packers in the 1957 draft. He ended up on the Steelers roster that season and was starting soon after.
He made his first Pro Bowl team in 1959. John repeated that honor in 1961.
Nisby then became the first African American to play for the Washington Redskins, the last team to integrate in the NFL, in 1962.
He made his final All-Pro team that year with the Redskins. He retired after the 1964 season.
Guard : Byron Gentry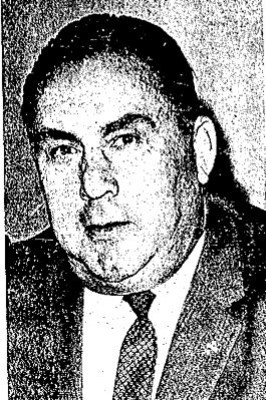 Gentry was undrafted, but signed with the Pittsburgh Pirates in 1937. He played in just three games his rookie year, starting two of them.
He became a full-time starter the next season and was named an All-Pro.
Gentry was again an All-Pro the year and was on the International News Service First Team All-NFL.
Gentry had to give up the NFL after 1939 to join the Army during World War II. He was a decorated soldier, earning six battle stars as a combat intelligence officer.
After the war, Byron was a commander of the Veterans of Foreign Wars. He became an attorney for the city of Pasadena in California, and was a noted author and poet.
Center : Dermontti Dawson
Dawson was a second round pick of the Steelers in the 1988 draft.
He played guard his rookie year, starting in five of the eight games he appeared in.
Dawson started at center the next year, and would do so in every game he played until 2000.
The 1992 season was the first year Dawson was named an All-Pro and he achieved that award for seven straight seasons until 1998.
His blocking in 1995 helped lead the Steelers to Super Bowl XXX.
Dawson had injury issues in both 1999 and 2000. The Steelers had to release him because of salary cap issue. Dawson then decided to retire.
He is one of the most well-liked Steelers of his era. He was given the nickname "Ned Flanders" due to his cheerful personality.
One could certainly make a very strong case for Dermontti Dawson to be inducted into Canton.
Kicker : Roy Gerela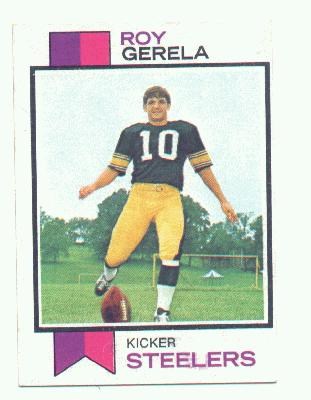 Gerela was a fourth round draft pick of the Houston Oilers in the 1969 AFL draft. He was used as both a kicker and a punter his rookie year, averaging 40.4 yards per punt on 41 attempts, to go with 86 points scored. He scored 77 the next season, and was let go.
The Steelers signed Roy, and he quickly became a fan favorite. The Steeler fans had clubs like "Franco's Army" and "Gerela's Gorillas."
He earned his first All-Pro honor in 1972, when he scored 119 points. Gerela led the AFC in scoring with a career best 123 points in 1973, as the Steelers went on to win Super Bowl IX.
He then was named to his final All Pro team in 1974, when he led the AFC in scoring with 93 points. The Steelers repeated as Super Bowl Champions that year, and would win again in 1978.
Gerela stayed with the Steelers until 1978, then went to play with the San Diego Chargers in 1979. He was hurt the third game into the season, then retired.
Though many Steeler fans may say Gary Anderson deserves this spot, I am sure Gary will be in Canton one day.
Roy Gerela was not only part of three Super Bowl winners, and popular, but he also scored 731 points in eight seasons with Pittsburgh.
Punter : Bobby Walden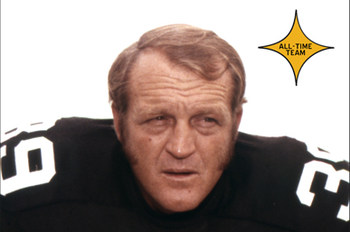 Walden was a fourth round draft choice of the Houston Oilers in the 1961 AFL Draft. Bobby opted to play in the Canadian Football League for the Edmonton Eskimos.
Up north, he led the CFL in rushing, receiving, and punting. He left the Eskimos after 1962 and joined the Minnesota Vikings.
Walden led the NFL in punting average as a rookie with a 46.4 average on 72 attempts. In 1966, he booted an NFL-long punt of 70 yards. He had a career long of 76 yards the following season.
Walden ended up with the Steelers in 1968. He made his only All-Pro team in 1969. He punted for Pittsburgh until 1977.
He had the longest punt of the NFL in 1972 when he hit one 72 yards. He was part of two Super Bowl Champions in Pittsburgh.
When Bobby Walden retired, he had a career average of 41.6 yards per punt on 974 attempts. He completed four of seven passes for the Steelers, gaining 69 yards.
Walden had 126 rushing yards on 14 attempts, with a long of 45 yards, in his career.
Kick Returner : Lynn Chandnois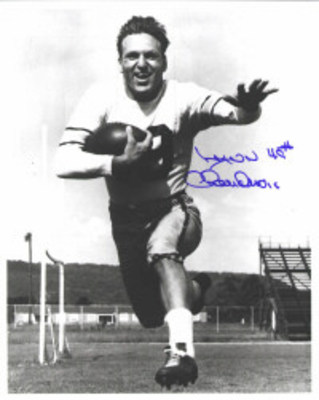 Chandnois was the Steelers first draft pick of the 1950 draft.
Lynn did catch 162 passes for 2012 yards and seven touchdowns to go with 1,934 yards rushing and 16 touchdowns in his seven year NFL career with Pittsburgh.
He also completed 19 passes on 59 attempts for two touchdowns, and had 66 punt returns.
He made his major mark, however, as a kickoff return specialist. He averaged 29.3 yards per kick return as a rookie. Lynn then led the NFL the next year with a 32.5 yard average.
In 1952, Chandnois led the NFL again with a career best 35.3 average. He also scored two touchdowns, including a career best 93 yard return.
He was named to his first All-Pro team, and was the 1952 NFL Player Of The Year.
Lynn was named to his final All-Pro team the next year, when he averaged 29 yards per return. He almost matched his career best of 93 yards, when he scored the last kickoff return of his career.
He retired after the 1956 season. Lynn Chandnois ranks second in NFL history with a career average of 29.6 yards per kick return. Hall of Famer Gale Sayers is first with a 30.6 average.
Keep Reading

Pittsburgh Steelers: Like this team?