Cubs Spring Training 2014: Daily Updates, Scores, News and Analysis
Use your ← → (arrow) keys to browse more stories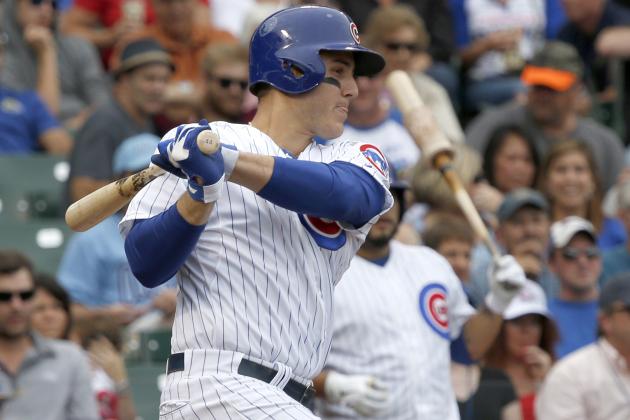 Charles Rex Arbogast/Associated Press

Following a 66-96 season, the Chicago Cubs are in desperate need of a turnaround season.
But in the middle of a deep division that includes the St. Louis Cardinals, Pittsburgh Pirates and Cincinnati Reds, the Cubs have a ridiculously tough road to hoe.
Chicago has a plethora of young talent like Anthony Rizzo, Darwin Barney and Starlin Castro hoping to erase the memories of last year's failure. For that reason in particular, the Cubs have a glimmer of hope heading into spring training.
Though Jeff Samardzija avoided arbitration during the offseason, the 29-year-old ace for the Cubs knows his time might be limited, according to Gordon Wittenmyer of the Chicago Sun-Times:
All I can do is increase my value as much as possible, and I think in the end it's going to help the organization no matter what. Either it helps the organization by keeping me here and proving to them that I'm that guy, or I increase my value and it helps them get prospects in return.

[...] But it's all speculation, and you've got to start playing on the field before you get a better answer, a better feel for that. [...] Sometimes you're just a product of the situation. I think that's where I'm at.
Heading into the spring season, the Cubs will hopefully be working toward retaining Samardzija rather than looking to move him. With the team putting together a successful season, the starter might be able to stick around on the roster through the trade deadline.
Armed with a brand new manager in Rick Renteria and a young core, the Cubs could make a splash this season, which will start with figuring out the roster in the spring.
The Cubs got their spring season underway on Thursday. Here's a look at their recent results following each game, followed by a pre-spring training season prediction.
Cubs Spring Training Schedule

| | | | |
| --- | --- | --- | --- |
| Date | Opponent | Time (ET) | Score |
| Thurs., Feb. 27 | Arizona Diamondbacks | 3:05 p.m. | L, 5-2 |
| Fri., Feb. 28 | Los Angeles Angels | 3:05 p.m. | L, 15-3 |
| Sat., March 1 | San Francisco Giants (SS) | 3:05 p.m. | Rain |
| Sat., March 1 | Arizona Diamondbacks (SS) | 9:10 p.m. | Rain |
| Sun., March 2 | Kansas City Royals | 3:05 p.m. | L, 5-3 |
| Mon., March 3 | Milwaukee Brewers | 3:05 p.m. | W, 4-2 |
| Tues., March 4 | Oakland Athletics | 3:05 p.m. | W, 6-4 |
| Wed., March 5 | Colorado Rockies | 3:05 p.m. | L, 7-5 |
| Thurs., March 6 | Cleveland Indians | 3:05 p.m. | L, 1-0 |
| Fri., March 7 | Los Angeles Angels (SS) | 3:05 p.m. | W, 3-2 |
| Fri., March 7 | Cleveland Indians (SS) | 3:05 p.m. | L, 7-2 |
| Sat., March 8 | Cincinnati Reds | 3:05 p.m. | W, 9-0 |
| Sun., March 9 | Milwaukee Brewers | 3:05 p.m. | W, 3-2 |
| Mon., March 10 | San Francisco Giants | 3:05 p.m. | W, 3-2 |
| Tues., March 11 | Colorado Rockies | 3:05 p.m. | L, 13-0 |
| Wed., March 12 | Seattle Mariners | 3:05 p.m. | L, 8-7 |
| Fri., March 14 | Los Angeles Dodgers | 3:05 p.m. | |
| Sat., March 15 | Kansas City Royals (SS) | 3:05 p.m. | |
| Sat., March 15 | New York Mets (SS) | 3:05 p.m. | |
| Sun., March 16 | Cleveland Indians (SS) | 3:05 p.m. | |
| Sun., March 16 | New York Mets (SS) | 3:05 p.m. | |
| Mon., March 17 | Oakland Athletics | 3:05 p.m. | |
| Mon., March 17 | Los Angeles Angels | 3:05 p.m. | |
| Tues., March 18 | Texas Rangers | 9:05 p.m. | |
| Wed., March 19 | Colorado Rockies | 8:40 p.m. | |
| Thurs., March 20 | Seattle Mariners | 3:05 p.m. | |
| Fri., March 21 | Chicago White Sox | 3:05 p.m. | |
| Sat., March 22 | Cincinnati Reds | 3:05 p.m. | |
| Sun., March 23 | Oakland Athletics (SS) | 3:05 p.m. | |
| Mon., March 24 | San Diego Padres | 9:05 p.m. | |
| Tues., March 25 | Los Angeles Angels (SS) | 3:05 p.m. | |
| Tues., March 25 | San Diego Padres (SS) | 9:05 p.m. | |
| Wed., March 26 | Arizona Diamondbacks | 3:10 p.m. | |
| Thurs., March 27 | Chicago White Sox | 2:05 p.m. | |
| Fri., March 28 | Arizona Diamondbacks | 8:40 p.m. | |
| Sat., March 29 | Arizona Diamondbacks | 2:40 p.m. | |
MLB.com
March 13: Cubs Fall 8-7 to Rockies in Extra Innings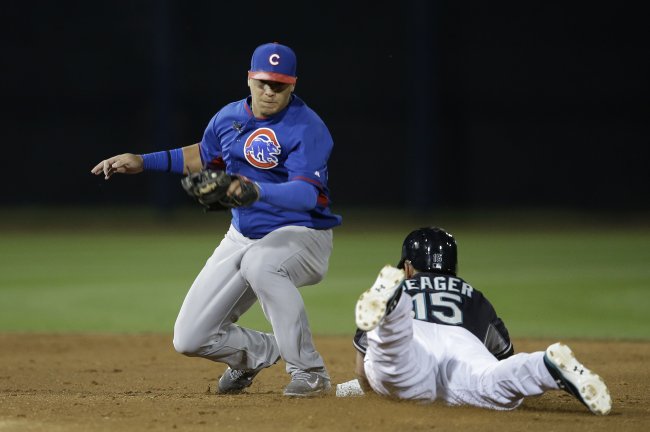 Darron Cummings/Associated Press
Ty Kelly singled in a game-winning run in the 10th inning and the Cubs' pitching foibles reared their ugly heads as the Mariners scored an 8-7 victory over Chicago in a late-night nailbiter.
At multiple points, the Cubs' offense put them ahead and in position to win. Mike Olt hit two home runs and Javier Baez had another, as Chicago's four-run sixth inning helped give it a 7-4 lead going into the ninth inning. But a two-RBI single from Mariners catcher John Buck capped off a three-run ninth inning and send the game to extras.
Kelly's single in the bottom frame an inning later ended the game, scoring Abraham Almonte. The Mariners have showed a propensity for late-game heroics thus far in the spring, and they're now 12-4 during a time when records mean very little. With a massive spending spree this winter, they expect to compete for an AL West title.
At the very least, outcomes like this can give management confidence going into the season.
The Cubs, meanwhile, couldn't really care less about the result—only development. Seeing Olt and Baez, two of their most prized offensive weapons, hitting the ball over the fence in the game game is probably worth a win in and of itself. Olt, 25, needs to find a way onto the Cubs' roster this season if the team really plans on developing him more.
With three home runs already this week, though, Olt should be back on the right track after some early struggles.
March 11: Cubs Fall to Rockies, 13-0, On Mistake-Filled Day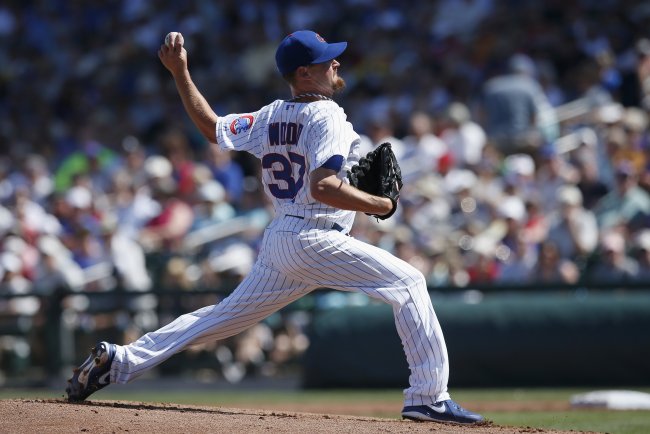 Ross D. Franklin/Associated Press
Starting Cubs southpaw Travis Wood didn't have his best stuff on Tuesday, but his defense didn't help either in the 13-0 loss to the Colorado Rockies.
Wood looked shaky in giving up a couple of early singles in the first frame before a hit to shortstop Darwin Barney scored another run. According to Mark Gonzales of the Chicago Tribune, Barney made a questionable decision to throw the ball to third base after making a nice diving grab, allowing Corey Dickerson to score.
The defense stung Wood again in the third, when center fielder Junior Lake lost a ball in the sun and it let it fall for a Nolan Arenado triple.
That set the stage for Wood's downfall, as he allowed a home run to Kyle Parker on the next at-bat, before allowing four more straight hits and getting the hook. In all, Wood pitched 2.2 innings, giving up five earned runs on nine hits and a walk.
After his outing, Wood spoke to Gonzales about his hard luck.
It's going to happen. It's part of baseball. You're going to see it every year several times on balls getting lost in the sun. I got to be able to come back and help him out and get out of the inning. I felt I made some good pitches. They just put some good swings on them. I said it's just one of those days. Luckily, it happened in spring, so we can move forward from that and get ready for the next one.
It was a stark contrast to a three shutout inning performance that Wood had earlier in spring training, as the 27-year-old prepares to be another major part of the starting rotation.
The bullpen didn't fare much better once Wood left the game, as the Rockies pushed across three more in the sixth, three in the seventh and two in the eighth.
#Rockies now with a baker's dozen after Ryan Wheeler connects on a 2-run shot to right field in the 8th. Rox up 13-0

— Colorado Rockies (@Rockies) March 11, 2014
Reliever Hector Rondon was charged with six earned runs on five hits and one walk in 1.1 innings of work after being hit hard on the afternoon.
March 10: Late Runs Pick Up Samardzija, 3-2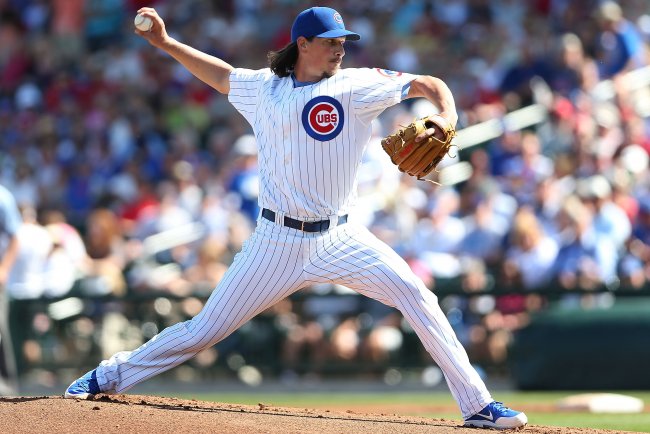 Christian Petersen/Getty Images
Jeff Samardzija was nearly flawless through the first three innings against the San Francisco Giants on Monday afternoon, but the final frame was a different story for the righthander.
The 29-year-old gave up two runs and five total hits during the four-inning start, but had the Giants scuffling through the first three rounds. Samardzija spoke about his outing following the start, citing the Giants patience at the plate, per Chris Haft of MLB.com:
They're a great team to work against, a former world championship team. They come with a plan, a lot of smart players who have played together for a long time. You really get tested on days like this. I thought it went excellent. I gave up a couple runs, and singles that score runs, you can live with that.
While the last inning wasn't as successful for Samardzija, Mark Gonzales of the Chicago Tribune points out a statistic that shows just how brilliant he was through the first three:
Michael Duca informs us that Samardzija threw 17 consecutive strikes from Blanco AB in 1st to Sanchez AB in 3rd.

— Mark Gonzales (@MDGonzales) March 10, 2014
But late in the game Mike Olt scored the game-tying run in the seventh and Christian Villanueva would plate another run on throwing errors by the Giants to pull ahead 3-2.
The bullpen was strong for the Cubbies after Samardzija's departure as they were able to hold on to get the win. Chris Rusin threw three scoreless innings to pick up the win as Jonathan Sanchez shut the door against his former team to pick up the save.
The outing for Rusin followed up a few rough ones in which he went 0-2 with a 13.50 ERA during his first 4.2 innings pitched. The ERA is only lowered to 8.22 at this point, but it could be a turning point for the lefty this spring.
As for other notables from the game, Emilio Bonifacio finished the game with a 1-for-3 performance with a RBI single to improve his spring batting average to .278.
March 9: Big 7th Inning Fuels Cubs to 10-8 Victory over Brewers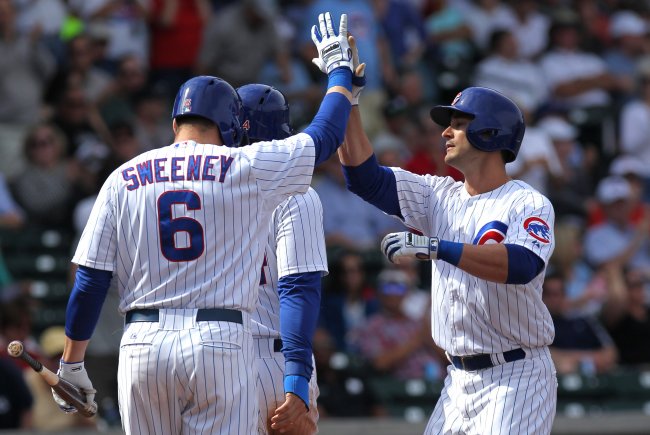 Lance Iversen-USA TODAY Sports
Drawing a Cactus League record in attendance, as Yahoo's Tim Brown points out, the Cubs and Brewers did not disappoint the fans:
New Cactus League attendance record today at Cubs Park: 14,770. Great place to see a ballgame.

— Tim Brown (@TBrownYahoo) March 9, 2014
This was a back-and-forth game.
Tyler Thornburg started for the Brewers and he went four innings. The Cubs got to him for two in the bottom of the first with a two-run blast from Justin Ruggiano. This gave them a 2-0 lead.
The Brewers answered right back with two runs of their own in the second. Those runs came off of Cubs starter Kyle Hendricks.
Hendricks wound up going three innings and allowed just those two runs.
Armando Rivero was roughed up in this one for the Cubs. He allowed four runs and recorded just one out. That helped the Brewers to a five-run seventh and a 7-6 lead.
The Cubs, however, came right back with four runs in the bottom of the inning, as they took the lead for good.
The Cubs tweeted the news:
#Cubs answer Brewers rally with 4 runs in the 7th to take the lead! Going to the bottom of the 8th, its #Cubs 10, Brewers 8. #SpringTraining

— Chicago Cubs (@Cubs) March 9, 2014
Ruggiano was the big star on the day. He added a third RBI and went 3-for-3 at the plate to raise his spring average to .583.
No other Cubs batter had more than a hit on the day.
March 8: Bats Awaken as Cubs Defeat Reds 9-0
Mark Duncan/Associated Press
For the first time in an otherwise disappointing spring session, the Cubs put all facets of the game together on Saturday. Jason Hammel threw three sterling innings of shutout baseball, Emilio Bonifacio had a day to remember and Nate Schierholtz hit a two-run homer as the Cubs thrashed the Reds, 9-0.
Hammel, making his spring debut for Chicago, made quite the impression. The 31-year-old righty struck out four and allowed just two hits in three innings, though he did struggle a bit with his command—a natural phenomenon for any pitcher at this point in the year. In the first inning, he loaded the bases and had to pitch his way out.
Overall, five Cubs pitchers combined for the shutout. Eric Jokisch matched Hammel with three shutout innings, striking out four and allowing three hits.
But the star of the show was the offense, which was the best it's been all spring. The Cubs opened the first with Schierholtz's two-run bomb and were up 4-0 by the end of the second thanks to an RBI triple from Bonifacio. Another underrated offseason pickup, Bonifacio has been playing his way to a final roster spot. He also drove in another run in the seventh inning on a sacrifice fly.

Bonifacio is one of the more random Player of the Month winners in recent MLB history, but he can help a team as a utility player off the bench. Schierholtz finished 2-for-3 with two runs scored and was the only Cub with more than one hit.
As for the Reds, Alfredo Simon isn't doing himself any favors. Simon was pummeled for five runs in four innings, negating what had otherwise been a nice start to the spring.
Also of note, Joey Votto finished the game 2-for-2. Overall, though, it was a miserable afternoon for Cincinnati and a dream for Chicago. Something tells me these roles will switch once the bright lights of the regular season start shining.
March 7: Cubs Beat Angels 3-2, Lose to Indians 7-2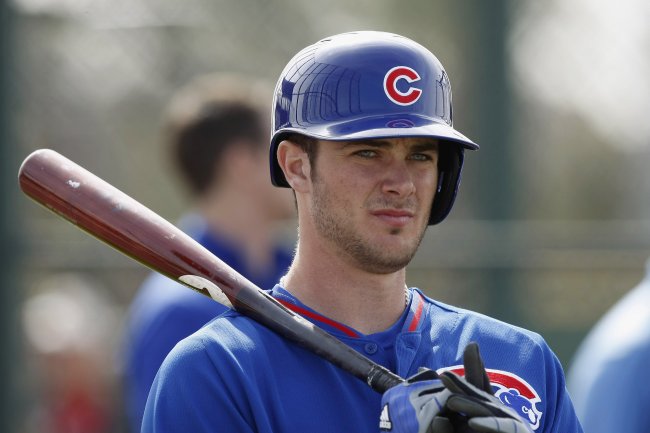 Rick Scuteri/Associated Press
Chris Valaika had a key RBI single to tie the game against the Angels in the seventh inning. He came back with an RBI double in the ninth inning to even the game after the Angels took the lead in the eighth.
Prized Cuban prospect Jorge Soler came up with the go-ahead RBI triple to bring Valaika home.
The Cubs got strong performances from the pitching staff. James McDonald went two scoreless innings and only allowed one hit. Jonathan Sanchez picked up his first save of the spring when he worked a scorless ninth to close out the first game.
In the second game, the pitching wasn't quite as sharp.
Edwin Jackson struggled mightily against the Indians. He allowed four hits and three earned runs in three innings. The outing raised his spring ERA to 7.20.
Kris Bryant did hit his second home run of the spring, but it clearly wasn't enough.
March 6: Cubs Suffer Shutout Defeat, Fall 1-0 to Indians
Offense was awfully hard to come by for the Cubs on Thursday as Chicago fell 1-0 to the Cleveland Indians.
The #Cubs fall to the Indians in Goodyear, 1-0. #SpringTraining

— Chicago Cubs (@Cubs) March 6, 2014
Despite finishing with nine hits, five more than Cleveland, Chicago was unable to capitalize.
Although the Cubs' bats were cold for the most part, they can be encouraged by their overall performance on the mound, where they allowed just a single run in the bottom of the fourth inning.
Right-hander Justin Grimm, who allowed two hits and the lone run in one inning pitched, was given the loss for Chicago. Aaron Harang was awarded the win for Cleveland, his first of spring training. Scott Barnes earned the save for the Indians.
Travis Wood also made his debut on Thursday, looking strong en route to striking out three and surrendering just one hit in three innings pitched.
Travis Wood cruises through a 1-2-3 1st with a little defensive help from @albertalmora. #Cubs and Indians are scoreless.

— Chicago Cubs (@Cubs) March 6, 2014
Travis Wood freezes a pair of Indians to keep it scoreless through 3 innings. He has 3 Ks on the day. #Cubs

— Chicago Cubs (@Cubs) March 6, 2014
The gut-wrenching shutout loss is Chicago's second in a row and drops them to 2-5 in the Cactus League. The Cubs will look to rebound on Friday against the Los Angeles Angels, who haven't fared much better thus far.
March 5: Cubs Spring Troubles Continue, Lose 7-5 to Rockies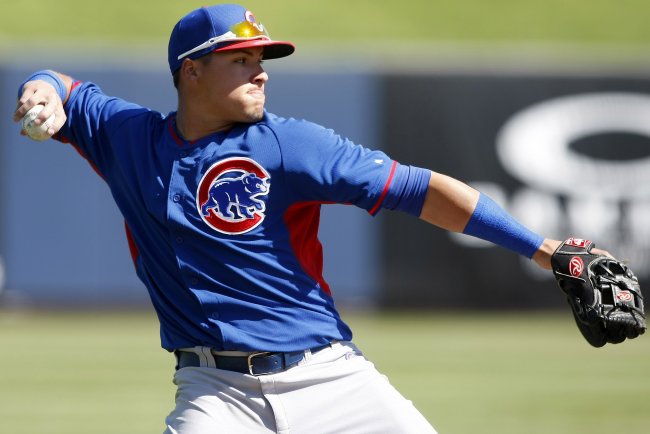 Rick Scuteri-USA TODAY Sports
Back-to-back home runs from Javier Baez and George Kottaras weren't enough for the Cubs on Wednesday, as the Rockies' bats got off to a hot start early and buoyed a 7-5 win. Chicago drops to 2-4 in an up-and-down spring that's seen the Cubbies struggle in nearly every facet of the game at certain points.
Pitching was the culprit against Colorado. A close game early, the two sides traded off runs to go into the seventh inning tied 3-3. Both sides opened with a run in the first, Carlos Gonzalez led a two-run Rockies inning in the third and the Cubs answered to tie it up in the sixth.
In the seventh, though, things fell apart for the Chicago staff and defense. Chris Rusin continued his spring troubles, loading the bases up with two outs and setting the stage for a four-run seventh. Rosell Herrera knocked two runners in against reliever Ryan Searle, and then a wild throwing error from Christian Villanueva allowed two more runners to cross the plate.
The Cubs managed to scrape together two runs in the bottom half of the frame, but it was to no avail. Colorado got out of that inning and then kept the game scoreless the rest of the way, giving the upstart Chicago roster more reason to head back to the drawing board.
Wednesday's game was also concerning on the injury front. Starting pitcher Jeff Samardzija was hit in the leg by a line drive in the first inning, and in the third Baez fouled a pitch off his leg. Baez's solo homer in the sixth certainly laid to rest any concerns over his status, and Samardzija seemed in good spirits after the game.
"I'm pretty used to these comebacker, get drilled kind of things," Samardzija said, per MLB.com's Carrie Muskat. "It happened a few times last year. It's part of pitching. Protect the vital organs and hopefully [the ball] stops close to you and you can get the guy out."
With the Cubs certainly not expecting a playoff berth in 2014, losing games isn't much of a concern. But losing players is something all teams hope to avoid, so Chicago has to be thankful it got out of Wednesday unscathed.
March 4: Cubs Win Second Straight Game Versus A's, 6-4
The winning ways continued for the Cubs Tuesday. With the game knotted at three entering the bottom of the eighth, Chicago broke it open with a three-run burst, then dismissed the Oakland Athletics' ninth-inning rally that netted just one run to win 6-4.
Mike Olt stepped to the plate with two outs and swatted a two-run homer in the eighth, adding insurance to Albert Almora's RBI single that initially put the Cubs on top in the inning. It must have pleased Chicago to see two younger prospects step up and keep the positive momentum going in spring training.
The win was also a nice way to honor a landmark day for the Windy City, per the Cubs' official Twitter account:
Happy 177th birthday, Chicago! pic.twitter.com/gB5Bzyu4AQ

— Chicago Cubs (@Cubs) March 4, 2014
Highly touted minor league pitcher Kyle Hendricks took the mound for Chicago and struggled with location and command, walking three batters in two innings of work but giving up just one earned run and striking out two.
"It's not what you're looking for, but it was one of those days," said Hendricks, per MLB.com's Carrie Muskat. "My mechanics were off, even in the bullpen warming up. I couldn't get a fastball where I wanted to today to save my life."
Justin Ruggiano added three RBI of his own, including a two-run shot in the third inning off Tommy Milone to give Chicago an early advantage. That was a big hit in a clutch situation, and he also had an RBI double to add to his impressive outing.
Thankfully there was plenty of offensive firepower to back Kendricks up, and the bullpen held up well enough in the end for Brian Schlitter to finish things off and register the save.
Although the 2014 forecast doesn't look all that great for the Cubs, this recent stretch shows some early signs of promise, and it should also serve as a learning experience for Kendricks as he continues his development.
March 3: Cubs Pull Out First Win Over Brewers, 4-2
Javier Baez has already been putting together good numbers in Arizona and has shown a lot of power during the early going, but hadn't shown his home run power.
That changed on Monday as he jacked an outside pitch over the opposite wall in right center field. The homer and single later on in the game helped Baez move to .444 on the spring so far at the plate with a 2-for-3 day against the Milwaukee Brewers.
Baez's production is being thrust into the spotlight now after Starlin Castro right hamstring injury, according to Patrick Mooney of CSN Chicago. But even with Castro out for now, Baez said he doesn't expect to be temporary:
No, he's not down. I know he's not down. He's just taking it easy because it's only spring training. He's just trying to get ready for the season, and he's going to take care of his body. [...] We need Castro. I'm trying to learn from him.
After being compared to Gary Sheffield, Miguel Cabrera and Giancarlo Stanton, Baez has certainly made an impression this spring. As for any weaknesses in his game, Matthew Pouloit of Rotoworld jokes that his patience in the box needs some work:
Along with Baez, Walter Ibarra took over at the shortstop position and promptly hit a two-RBI single in the seventh inning to give the Cubbies the lead, which they would hold.
On the mound, another non-roster invitee in Eric Jokisch pitched three scoreless innings. The 24-year-old didn't allow a hit, but walked two batters during the start.
Last season, Jokisch pitched for the Double-A Tennessee Smokies and navigated his way through a complete game no-hitter thanks to the play of Baez in the infield.
The Cubs finally came away with a win over the Brewers and have two emerging stars to thank for their success. With Castro still on the pine while he heals, the North Siders could be seeing a lot of Baez's laser show this spring.
March 2: Cubs Lose Third Straight against Royals, 5-3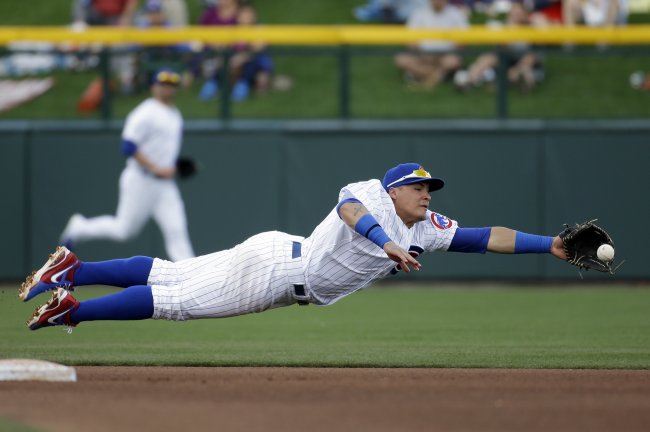 Morry Gash/Associated Press
The Chicago Cubs got back on the diamond on Sunday, but their luck hasn't changed yet. They moved to 0-3 on the spring following a 5-3 defeat to the Kansas City Royals.
Chicago dug itself into an early hole, and it couldn't climb out later in the game. After the top of the fifth inning, the Cubs were down 5-0. The offense tried sparking a late rally, but it wasn't enough.
Edwin Jackson earned the loss. He started the game and pitched two innings, giving up one run on three hits. After the game, Cubs manager Rick Renteria said that if Jackson can improve his command on the mound, he can be a dominating pitcher, per Carrie Muskat of MLB.com.
"Edwin has a fantastic arm, and when he commands the zone, he's an excellent pitcher," Renteria said. "The thing is to take a guy who is very durable, and hopefully as he continues to pitch, [get him to] command the zone a little better."
Carlos Villanueva came on in relief and really struggled. He gave up a two-run home to Mike Moustakas in the third inning and an RBI sacrifice fly from Norichika Aoki in the fourth inning.
Moustakas killed Cubs pitching on the day, as he had homered off Jackson in the fourth inning.
Javier Baez looked good in the loss, going 2-for-3 and scoring one run. Jason Parks of Baseball Prospectus made the argument that watching him bat is better than anything the Oscars can put on:
I watched Javier Baez hit today. Who needs the Oscars? I'd rather draw a bath, pour some wine, and listen to the sound of his bat speed.

— Jason Parks (@ProfessorParks) March 3, 2014
Anthony Rizzo went 1-for-2, driving in Baez with a double in the bottom of the sixth.
All in all, it wasn't a great game for the Cubs. But this is what spring is for—work out the kinks and make your mistakes now.
If there was one good thing to come out of this game, it's that the Cubs broke the record for highest attendance at a Cactus League game:
Today's attendance of 14,680 is a single-game Cactus League record, surpassing Thursday's total of 14,486 at Cubs Park vs. Arizona.

— Chicago Cubs (@Cubs) March 2, 2014
Feb. 28: Angels Smash the Cubs
Spring training hasn't begun the way the Cubs would have hoped. On Friday, the Los Angeles Angels put a hurting on the North Siders behind a dominant performance from Mike Trout. He hit a grand slam and drove in five runs to spur on the rout.
The Cubs' pitching failed on almost every level in this game.
Chris Rusin got the start and gave up four earned runs and five hits in two innings of work. He took the loss. The bullpen didn't offer the Cubs any relief.
James McDonald was hammered for six earned runs and three hits in just one inning. Jonathan Sanchez only retired two hitters and three earned runs. All in all, it was a messy day in Tempe, Ariz.
Mark Gonzales of The Chicago Tribune says Cubs' pitching coach Chris Bosio is bound to shed even more pounds making trips to the mound:
Bosio lost a lot of weight this winter, and he's getting a workout today with another trip to the mound.

— Mark Gonzales (@MDGonzales) February 28, 2014
If there was a bright spot, it was the play of 2013 first-round pick Kris Bryant. The 22-year-old hit a two-run home run to center field off the Angels' Jarrett Grube in the seventh inning.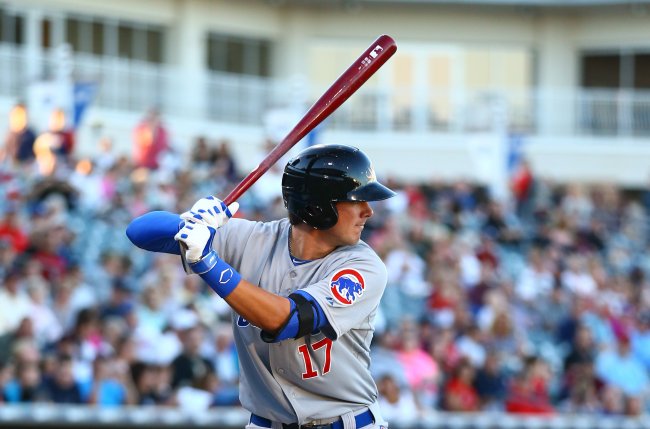 Mark J. Rebilas-USA TODAY Sports
Per Gonzales, Bryant took advantage of a slider from Grube.
Bryant on HR (on a slider): ""It was a good one. I felt good up there. I wasn't nervous at all."

— Mark Gonzales (@MDGonzales) February 28, 2014
The game was out of hand at that point, but it was still a positive sign for a player the Cubs have high hopes for.
Feb. 27: Diamondbacks Cruise Over Cubs, 5-2
Samardzija got the spring slate off to a great start with his 2014 debut.
The Cubs' ace surrendered a walk to the first batter that he faced, but he quickly regained control in two scoreless innings before handing it over to the bullpen.
The big right-hander gave up just two hits and struck out two while throwing a total of 15 pitches—11 of which were strikes after not throwing a ball to the final five batters.
Samardzija spoke about the impact of the trade rumors coming in and how that has affected his pitching, per Carrie Muskat of MLB.com:
If anything [the rumors] just put a chip on your shoulder and make you want to go out and prove even more. That's the thing about this game is that you're constantly going out to prove yourself.

It doesn't matter what your contract situation is or anything like that. The only thing that matters is proving yourself that day against the team you're playing against.
While the pitchers' allowed five runs throughout the game after Samardzija's departure, the bats showed they are slowly heating up.

At the plate, Emilio Bonifacio finished the game 1-for-2 with a triple and a run while Castro drove in a run while going 2-for-2 with a single and a double.
Muskat added a note on Bonifacio, who accomplished a historic feat with his first run scored at the new Cubs Park in Mesa, Ariz.:
The Cubs will look to get their first win of the spring season when they face the Los Angeles Angels on Friday at 3:05 p.m. ET.
Pre-Spring Training Prediction for 2014 Season
After finishing 30 games below .500 in 2013, the outlook isn't exactly bright for the Cubbies.
New manager Renteria is hoping to help the team turn the corner, and it starts with the young players. Renteria believes he can see change from one of the brightest young stars that hasn't yet materialized in Rizzo, according to Mike Tulumello of the Associated Press, via The Republic:
The biggest thing is to continue to improve his approach at the plate, stay within himself, hit pitches he can handle more consistently over an extended period of time. When he does that, I think he has a chance to hit for a higher average and more productivity.
In a division with three postseason teams from last year, including the NL champion Cardinals, Renteria isn't coming into the brightest of situations in Chicago.
Samardzija returns, but the rumors are clearly already swirling that he could be out before the trade deadline if the Cubs aren't in contention. The same goes for Rizzo and others if they are putting together solid individual seasons.
After a rough year in 2013, Edwin Jackson returns to the rotation with hopes of turning it around on the mound. Travis Wood is also eyeing a successful campaign after finishing with a 3.11 ERA last year despite an underwhelming 9-12 record overall.
Wood was so successful last season that Jesse Rogers of ESPN.com made a case as to why he should be named the starter on Opening Day:
Wood was the Cubs' lone All-Star last season. His ERA (3.11) was more than a run better than Samardzija's (4.34) and Wood's batting average against hitters was .222, good for ninth in the National League. Samardzija's was .255. If statistics don't tell enough of the story, the eye test certainly does. Wood was in more command of more games than Samardzija last year.
Though the regular season is still over a month away, the Cubs have reason for optimism with bats in the infield and a one-two punch in Wood and Samardzija. If any of those bats can materialize for the Cubs, there's a chance they can be competitive in the division.
The likelihood of making the playoffs in 2014 is slim for the Cubs, but the team has a chance to compete and will look to come out of the National League Central with a winning record and continue to work toward the future. They'll improve upon their record but finish last in the division once again in 2014.
Follow R. Cory Smith on Twitter: