The NFL Scouting Combine is just around the corner, and that means that it is time to update the old mock draft. This time it's a quick one-round update that reflects current positional rankings and possible best fits for each franchise.
A mock draft needs to be a balance. Ideally, it is purely a predictive tool. However, things are never quite that simple. In many cases, the personal biases of the analyst spill over into the draft. This creates a sort of mishmash of predictions and respective best-case scenarios.
With that being said, the positions of strength in this draft class remain constant. It still appears that quarterbacks will rule the top of the draft. And positions like cornerback, wide receiver and offensive tackle will be well-represented.
The very top of the round continues to be completely up in the air. The Houston Texans are sitting at No. 1 with some serious decisions to make.
Do they go for a fresh start at the quarterback position? If so, they would have their choice of several, but Louisville's Teddy Bridgewater makes a lot of sense.
Or would it be better to give quarterbacks Matt Schaub and Case Keenum another season and instead draft South Carolina defensive end Jadeveon Clowney? This will be a storyline to watch from now until May.
Here is a tweet from the official ESPN account that illustrates the divide among experts about the top pick.
NFL Mock Draft: Johnny Manziel or Jadeveon Clowney? @MelKiperESPN and @McShay13 disagree on the #1 pick. pic.twitter.com/IXW1tpzNMw

— SportsCenter (@SportsCenter) February 6, 2014
There are so many permutations once that first pick drops that it boggles the mind. If the Texans go chalk and select a quarterback, this would put the St. Louis Rams in a spot where they could select Clowney to pair up with defensive end Robert Quinn.
However, the phones in the Rams' war room would be ringing off the hook if Clowney is available, and they could consider trading down to stockpile picks.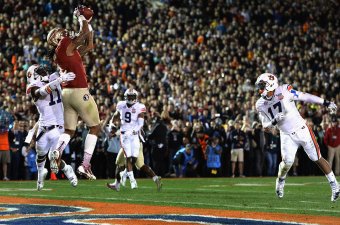 Harry How/Getty Images
Moving down in the first round, you see other positions of strength appear. Wide receiver is a crowded class with as many as six or seven going in the round. This group comes in all shapes and sizes, so finding the right wide receiver shouldn't be hard.
There are no real surprises in this latest update. However, once the combine is in the books and individual workouts begin, you can expect information, both real and imaginary, to start to seep out. Once that happens, it's up to everyone to do his best to sort out what is real and what is simply a diversion.
Enjoy this quick mock draft update and be sure to keep an eye out for coverage of the NFL Scouting Combine and everything leading up to the NFL draft.
One-Round Mock Draft

| | | | | |
| --- | --- | --- | --- | --- |
| Pick | Team | Player | Position | School |
| 1 | Houston Texans | Teddy Bridgewater | Quarterback | Louisville |
| 2 | St. Louis Rams (from Washington) | Jadeveon Clowney | Defensive End | South Carolina |
| 3 | Jacksonville Jaguars | Blake Bortles | Quarterback | Central Florida |
| 4 | Cleveland Browns | Johnny Manziel | Quarterback | Texas A&M |
| 5 | Oakland Raiders | Khalil Mack | Linebacker | Buffalo |
| 6 | Atlanta Falcons | Jake Matthews | Offensive Tackle | Texas A&M |
| 7 | Tampa Bay Buccaneers | Sammy Watkins | Wide Receiver | Clemson |
| 8 | Minnesota Vikings | Derek Carr | Quarterback | Fresno State |
| 9 | Buffalo Bills | C.J. Mosley | Linebacker | Alabama |
| 10 | Detroit Lions | Mike Evans | Wide Receiver | Texas A&M |
| 11 | Tennessee Titans | Dee Ford | Defensive End | Auburn |
| 12 | New York Giants | Greg Robinson | Offensive Tackle | Auburn |
| 13 | St. Louis Rams | Taylor Lewan | Offensive Tackle | Michigan |
| 14 | Chicago Bears | Ra'Shede Hageman | Defensive Tackle | Minnesota |
| 15 | Pittsburgh Steelers | Justin Gilbert | Cornerback | Oklahoma State |
| 16 | Baltimore Ravens | Cyrus Kouandjio | Offensive Tackle | Alabama |
| 17 | Dallas Cowboys | Aaron Donald | Defensive Tackle | Pittsburgh |
| 18 | New York Jets | Marqise Lee | Wide Receiver | USC |
| 19 | Miami Dolphins | Zack Martin | Offensive Tackle | Notre Dame |
| 20 | Arizona Cardinals | Anthony Barr | Linebacker | UCLA |
| 21 | Green Bay Packers | Eric Ebron | Tight End | North Carolina |
| 22 | Philadelphia Eagles | Darqueze Dennard | Cornerback | Michigan State |
| 23 | Kansas City Chiefs | Kelvin Benjamin | Wide Receiver | FSU |
| 24 | Cincinnati Bengals | Jason Verrett | Cornerback | TCU |
| 25 | San Diego Chargers | Kyle Van Noy | Linebacker | BYU |
| 26 | Cleveland Browns (from Indianapolis) | Odell Beckham Jr. | Wide Receiver | LSU |
| 27 | New Orleans Saints | Bradley Roby | Cornerback | Ohio State |
| 28 | Carolina Panthers | Jace Amaro | Tight End | Texas Tech |
| 29 | New England Patriots | Timmy Jernigan | Defensive Tackle | Florida State |
| 30 | San Francisco 49ers | Jarvis Landry | Wide Receiver | LSU |
| 31 | Denver Broncos | Ryan Shazier | Linebacker | Ohio State |
| 32 | Seattle Seahawks | Austin Seferian-Jenkins | Tight End | Washington |
NFL