WWE Power Rankings for 2/10/2014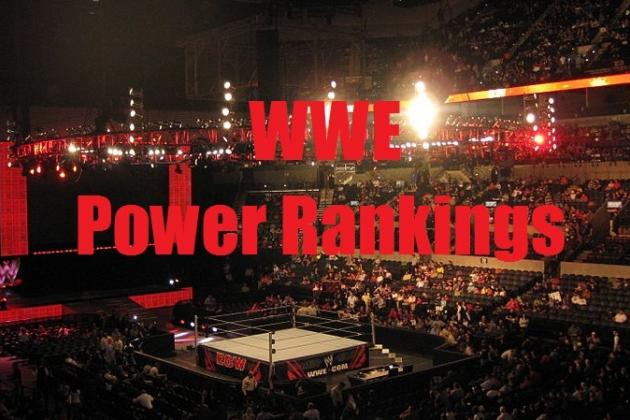 Credit: Alex Musso

Another week has come and gone in WWE, and as we drive headlong down the Road to WrestleMania, the final pit-stop is coming into view. WWE Elimination Chamber 2014 is just around the corner. In just two weeks, we'll know which Superstar Batista will face at WrestleMania XXX for the WWE World Heavyweight Championship.
With the card for Elimination Chamber coming into view, there's a lot to look forward to. The Shield and The Wyatts are gearing up for war. Six men, including fan-favorite Daniel Bryan, will do battle inside the Elimination Chamber for WWE's top prize. And soon, we should find out who will challenge for the Tag Team Championships, the Intercontinental Championship and the Divas Championship.
We'll get into some scenarios in a bit. Before we get into the rankings, here's how they work.
Holding a championship, being No. 1 Contender or having a Money in the Bank briefcase counts for much of a wrestler's ranking. Wins and losses account for much of the week-to-week movement. "Getting the better" of someone—like beating someone down—as well as "getting got" counts as well, though not as much as wins and losses. Being "over" with the fans is considered but not heavily weighted in the ranking decisions.
Only the top 10 wrestlers are ranked, and every other wrestler is unranked. Wrestlers on the "Watch List" were considered for top-10 status but ultimately were nixed. They too are unranked, and their listing is in no particular order.
Generally speaking, these rankings do not break kayfabe, though any major non-storyline information (serious injury, WWE Wellness Policy violations, legitimate hirings, firings and contract information, etc.) may be included. No spoilers are included unless WWE acknowledges them.
Remember to check out last weeks' rankings here.
Now, on to this week's rankings.
Begin Slideshow

»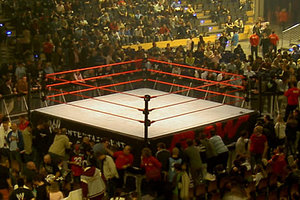 Credit: Totalero

The Rhodes Brothers
The Rhodes Brothers could not capitalize on their second rematch against The New Age Outlaws inside a steel cage on Raw, and Goldust lost to Bray Wyatt on SmackDown. Now, their fate is uncertain. Will they get yet another tag team title shot at Elimination Chamber, or will they have to go to the back of the line?
The Real Americans
The only reason The Real Americans are on this list is because Antonio Cesaro is in the Elimination Chamber match and is a No. 1 contender for the WWE World Heavyweight Championship. Jack Swagger lost to Christian on Raw, and Cesaro lost to Daniel Bryan on SmackDown. Not a great week. Zeb Colter may need to slap both wrestlers to get them out of their funk.
Christian
Christian, one of the six competitors in the WWE World Heavyweight Championship Elimination Chamber match, turned in a fairly good week, getting a solid win over Jack Swagger on Raw but dropping a match to Randy Orton on SmackDown. Christian had chances to defeat Orton but couldn't quite put him away. While not devastating or surprising, the loss to Orton didn't help Christian as he looks to build momentum heading into the Chamber.
AJ Lee
AJ Lee, the longest-reigning WWE Divas champion in history, got back into the running for a top-10 spot with a solid win over Nikki Bella via submission. What AJ really needs is competition. The two Divas that appear most capable to unseat her as champion are Natalya and Tamina Snuka. But Tamina is AJ's ally, and Natalya has been spending more time on NXT than she has any other show.
AJ has no credible threats to her reign at the moment. Perhaps Emma can give her a run for her money, though Emma is still due an NXT Women's Championship shot against Paige, so she may not be challenging AJ for quite some time.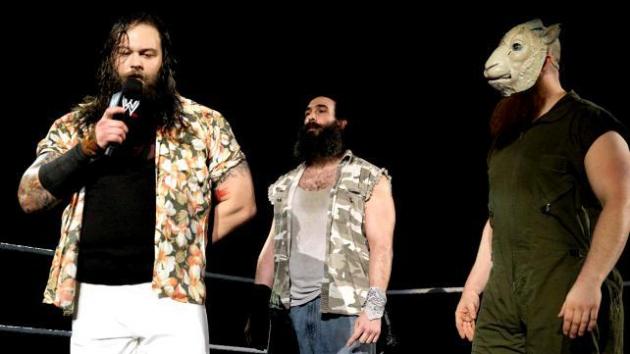 Credit: WWE

Previous Rank: Watch List
Movement: into top 10
With two solid victories and two great promos, The Wyatt Family gets back into the top 10. On Raw, Bray Wyatt, Luke Harper and Eric Rowan defeated Dolph Ziggler, R-Truth and Xavier Woods in a six-man tag team match. They also cut a promo after The Shield had won its match, a promo which may well have been Bray Wyatt's best yet.
The story was much the same on SmackDown, when Bray Wyatt took care of business against Goldust. They cut another great promo on The Shield after Dean Ambrose and Roman Reigns dispatched Dolph Ziggler and Kofi Kingston.
They are gearing up for a war with the members of The Shield and have as good a chance as anyone to defeat them. Can they? And will they have a traditional six-man tag match, or will we be treated to a War Games-style brawl inside the Elimination Chamber structure?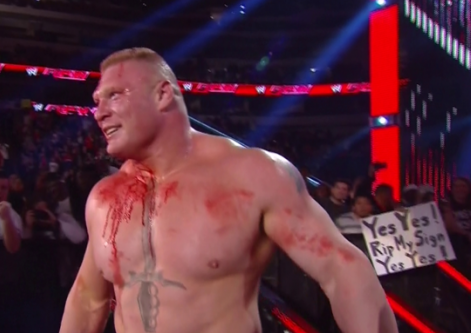 Credit: WWE

Previous Rank: 4
Movement: Down 5
Brock Lesnar has picked a bad time to not show up. A few weeks ago, he was the self-proclaimed No. 1 Contender for Randy Orton's WWE World Heavyweight Championship. Now, he's net even involved in the Elimination Chamber match for the title and is not even booked in a match for the upcoming pay-per-view.
This week, we didn't see Lesnar at all. Others are making their push to build momentum heading into WWE Elimination Chamber 2014 and have surpassed Lesnar in the rankings. If Lesnar doesn't show up again this week, he'll be out of the top 10.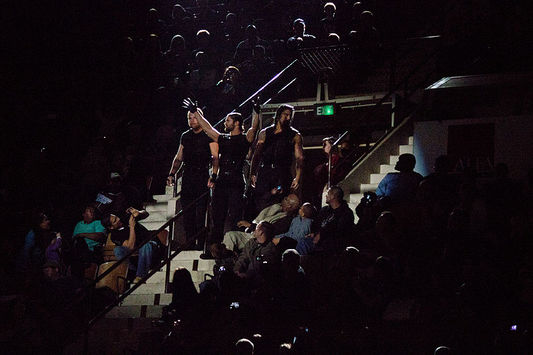 Credit: Anton Jackson

Previous Rank: 9
Movement: Up 1
The Shield may be showing signs of discord, but that hasn't negatively impacted the trio's in-ring performance. On Raw, they defeated Kofi Kingston, Rey Mysterio and reigning Intercontinental champion Big E Langston in a six-man tag match. Then on SmackDown, Dean Ambrose and Roman Reigns defeated Dolph Ziggler and Kofi Kingston.
They also cut promos on The Wyatt Family, both on Raw and SmackDown. They may have a bit of jockeying going on between members, but The Shield looks primed and ready to do battle with They Wyatts at Elimination Chamber. Can all three wrestlers keep their egos in check and remain a united front against The Wyatts in the coming weeks?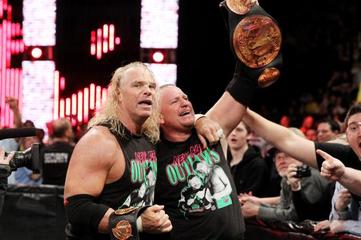 Credit: WWE

Previous Rank: 8
Movement: Up 1
The New Age Outlaws made one appearance this week, but they made the most of it. On Raw, they faced The Rhodes Brothers inside a steel cage for the WWE Tag Team Championships, and they retained after a hard-fought battle.
The Rhodes Brothers gave Road Dogg and Billy Gunn all they could handle, but in the end, they emerged from the cage victorious. Who will their next challengers be? Will we find out this week?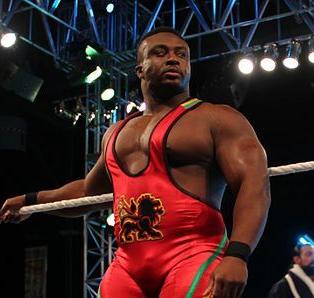 Credit: godiseven

Previous Rank: 6
Movement: N/A
Big E Langston had a mixed week. On Raw, he teamed with Rey Mysterio and Kofi Kingston in a losing effort against The Shield. But Big E made up for the loss with a solid win over Curtis Axel on Main Event.
At one point, Big E Langston looked like he was building a head of steam that would lead him straight up to main event level. Recently, though, the reigning Intercontinental champion has become mired in midcard feuds and has lost to better competition.
Big E needs to make a statement, one that says he's still a force to be reckoned with. Can he make that statement at Elimination Chamber?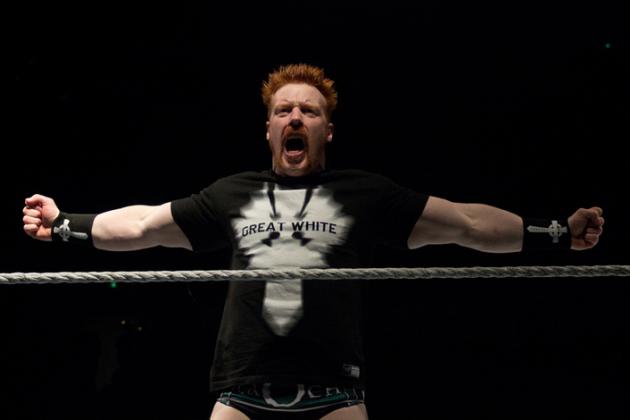 Credit: Anton Jackson

Previous Rank: 7
Movement: Up 2
Sheamus is making the case that he's a real threat to win the WWE World Heavyweight Championship at Elimination Chamber. Over the past several weeks, he's returned to main event form, and this week he showed no signs of slowing down.
On Raw, he dispatched Curtis Axel. Then on SmackDown, he traded blows with Ryback in a hard-fought match before sending Ryback packing with a Brogue Kick.
Sheamus could be peaking at the right time. Even though all the spotlight will be on Randy Orton and Daniel Bryan in the Elimination Chamber, both the Chamber competitors and fans can overlook Sheamus at their peril.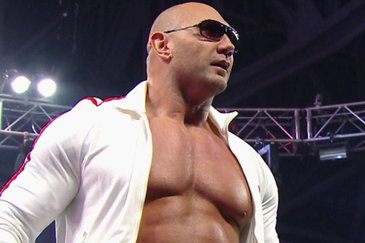 Credit: WWE

Previous Rank: 3
Movement: Down 1
Batista may be in line to main event WrestleMania and get a crack at the WWE World Heavyweight Championship, but since he re-debuted in, and won, the Royal Rumble, Batista hasn't done much to speak of.
Sure, he's traded blows with Alberto Del Rio a few times and cut a few promos, but Batista needs to do more. Will we see him in a match before Elimination Chamber? If we don't, he risks falling even further in the rankings.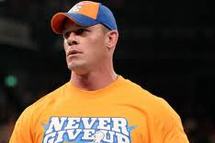 Credit: Archit Champion

Previous Rank: 2
Movement: Down 1
John Cena did not appear on WWE TV this past week, and that was apparently due to an eye injury suffered at a live event. Whatever the reason, Cena's absence caused him to drop in the rankings one spot.
There's not much else to say about Cena this week, other than he still has to be considered an odds-on favorite to win the WWE World Heavyweight Championship at Elimination Chamber. Cena has been in four Elimination Chamber matches and has won three of them.
The only wrestler with more wins in the Elimination Chamber is Triple H, with four wins in six appearances. John Cena can tie that record in less than two weeks and gain his 15th world championship in what would be his fifth Elimination Chamber appearance.
Can Cena add to his long and growing list of accomplishments in WWE with another win? And can he build momentum heading into that match this week and next?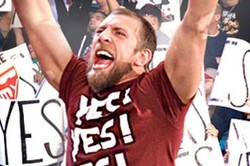 Credit: WWE

Previous Rank: 5
Movement: Up 3
The Yes! Movement is strong and growing stronger. After taking a strange detour during his feud with The Wyatts, Daniel Bryan got back on track in his pursuit to win the WWE World Heavyweight Championship and, more importantly, hold it for more than 24 hours.
In just under two weeks, Bryan will have his chance. If he can win in the Elimination Chamber, he'll take that title into WrestleMania XXX in New Orleans, La. and headline the event against Batista. If he can't win, though, he may be hard-pressed to find another opportunity at the title before Extreme Rules.
But Bryan took two a major steps in his push for the title. On Raw, he defeated Randy Orton, despite attempted interference by Kane. It was perhaps Bryan's biggest win in months. He was attacked by Orton and Kane after the match, but the win was already recorded.
Then on SmackDown, he followed up his big Raw win with a strong win over another No. 1 Contender, Antonio Cesaro. In just five days (OK, technically two since SmackDown is taped on Tuesdays), Bryan defeated the WWE World Heavyweight champion and a No. 1 contender for the WWE World Heavyweight Championship.
That's a great week. But can he follow it up?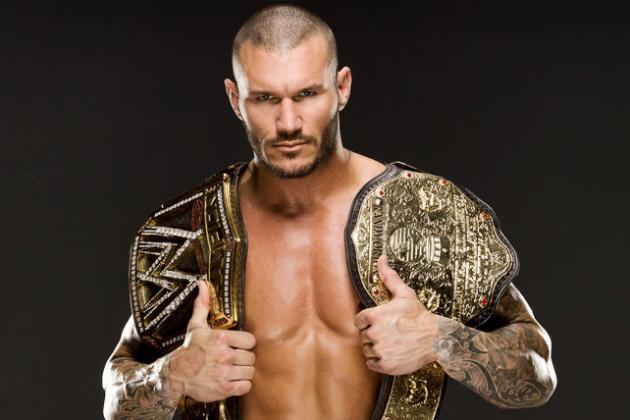 Credit: WWE

Previous Rank: 1
Movement: N/A
Randy Orton salvaged what started out as a bad week with a strong win on SmackDown. As you just saw in the previous slide, Daniel Bryan defeated Randy Orton on Raw via pinfall, even though Kane tried to interfere on Orton's behalf. That was the bad.
The good came on SmackDown, where Randy Orton battled Christian in a tough match. Orton took Christian's best but was still able to come away with a good win.
Orton, per The Authority, must compete in matches against each of his five opponents in the Elimination Chamber match. So far, he's earned one win and suffered one loss, both this past week. These aren't must-win matches, since he is the WWE World Heavyweight champion and none of the matches are for the title, but Orton already seems to lack confidence, and another loss in this gauntlet could deal a serious blow to his already fragile psyche.
Orton needs these confidence-building wins heading into the Elimination Chamber. Can he notch two more wins against his opponents this week?