Is Sebastian Vettel and His Red Bull in Crisis After 2014 Jerez Pre-Season Test?
Use your ← → (arrow) keys to browse more stories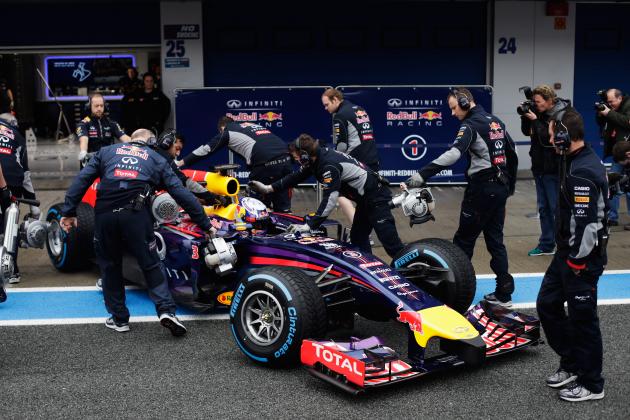 Andrew Hone/Getty Images
Red Bull were forced to pack up and go home early.
The opening test session of the 2014 Formula One season has been nothing short of an unmitigated disaster for Red Bull Racing.
Having completed only 14 laps over the previous three days of testing, the team that had swept all before them in the previous four seasons was forced to concede defeat and pack up with Daniel Ricciardo managing only seven laps on the final day.
Ricciardo insists no need to panic: #F1 - Daniel Ricciardo believes there is time for Red Bull to make the cha... http://t.co/AFdTtwAWVl

— AUTOSPORT (@autosport) January 31, 2014
So where did it all go wrong and is this now a major crisis for Red Bull with only two more test sessions to get things right before the first race of the season?
Much of the problems relate to the new engine regulations in place for the 2014 season which sees 1.6-litre turbocharged V6 units replace the normally-aspirated 2.4-litre V8 engines.
Will Red Bull resolve their issues before the start of the season?
The move, designed to promote greater fuel efficiency and energy reduction, puts a huge onus on cooling the large Energy Reduction Unit (ERS) and turbocharger units that throw out an extra 160 bhp. Reliability was expected to be a major concern, and so it has played out with Renault-powered cars suffering the most.
Autosport reported on the second day at Jerez that Sebastian Vettel's running had been curtailed by a battery problem related to the ERS unit. The team worked hard overnight to fix the problem, but it persisted on Thursday before an as yet unspecified problem put an end to the test.
Team boss Christian Horner was stating the obvious when he said, as quoted on Autosport, that it had been a difficult test for the team, but remained optimistic that a fix would be found in time for the next test in Bahrain:
It's been a very difficult test. We have had numerous Renault issues as well as chassis cooling issues, which have affected our progress. However, despite the lack of mileage, what we have managed to learn shows that the problems should be solvable for the next test in Bahrain. Part of the purpose of this early test was to learn about any issues ahead of the start of the season and there will now be a lot of focus on the dyno over the next few weeks.
Red Bull was not the only Renault-powered team to be affected by technical issues with the new power train, with both Toro Rosso and Caterham also experiencing problems that affected their running.
But it is the highest profile team on the grid that has come under the microscope as it looks to defend its constructors' and drivers' crowns for the fifth year on the bounce.
Red Bull now has two weeks to analyse what little data it gathered over the course of the Jerez test before its next outing in Bahrain. And whilst Vettel has remained relatively tight-lipped, his new teammate Ricciardo is confident that design genius Adrian Newey can find a fix to the problems before the season proper begins, as he is quoted on BBC Sport:
Adrian [engineer Newey] has gone back to the drawing board. There is only so much they can do here at the track. Adrian is pretty happy working in his office back at Milton Keynes and he'll definitely be getting involved in trying to sort out the next step.

Time is still on our side. Even if we go to Melbourne [first grand prix 16 March] still a bit whatever, it's a long season. These guys know how to win and I'm sure sooner rather than later we are going to get it together. It's still early days.
It's certainly not crisis time for Red Bull just yet, but if the same problems persist in Bahrain and through to the start of the season, Vettel may not be so critical of the double points system introduced for the final race of the season.