In recent weeks, Mesut Ozil's form has taken a little bit of a dip. His performances have slipped marginally below the impeccable standards he generally sets for himself. However, Arsenal fans should not be concerned: class is permanent, and Ozil is undoubtedly one of European football's classiest operators. 2014 could well be his year. Arsenal may have a potential Ballon d'Or winner on their hands.
Will Mesut Ozil win the 2014 Ballon d'Or?
The criticism of Ozil ranges from the reactionary to the risible. In his Daily Mail column, Adrian Durham suggested that Arsenal were "carrying" Ozil and that Arsene Wenger would have been more wise to sign Dane Christian Eriksen, who joined Tottenham. Durham argues:
Ozil showed tiny glimpses of the quality he obviously has, but in the main the game passed him by. At one point in the first half he couldn't control a simple pass from Bacary Sagna and Arsenal lost possession. For £42million I expect better.

Ozil has done some very good things since joining Arsenal but you wouldn't say he is the player who's had the biggest impact to take them to the top.
On the contrary, Mr. Durham: Ozil's arrival has transformed the club. His signing shifted the entire narrative that previously existed around Arsenal.
For years, the Gunners had been written off as nearly-men and also-rans. Their stars had fled and they'd rightly been branded a "selling club." In acquiring Ozil, Arsenal catapulted themselves back into competition with the big boys. Fans and players alike were infused with confidence.
The results have been spectacular: Arsenal sit at the top of the Premier League, and the likes of Aaron Ramsey are playing the best football of their career.
Ozil's performances haven't been bad either. According to Squawka, he has created 51 goalscoring opportunities this season. The next most creative player at Arsenal is Santi Cazorla, with 30. No other Premier League player contributes such a large proportion of creativity to their team.
If you fold in Ozil's appearances for Real Madrid at the start of the season, Ozil's tally rises to 61. According to stats guru OptaJoe, that means he has created more chances than any player in Europe's top five leagues.
61 – Mesut Ozil has created more chances (inc. assists) than any other player in the top five European leagues this season. Schemer.

— OptaJoe (@OptaJoe) January 20, 2014
Worryingly for opposition defences, and for any other prospective Ballon d'Or candidates, he could be about to improve. Speaking to Arsenal.com, Wenger said:
Sometimes people expect him to make the difference alone. Sometimes when it doesn't work you expect him to take the ball and put it in the net. He is more a passer than a finisher.

[Goalscoring] is one of the things he can add to his game for sure. It doesn't need to be criticised, it needs to be encouraged.

I think as well that the consistency of the quality of his passing slowly drains the opponent as he passes always the ball when you do not want him to do it. That slowly [allows] us to take over.

He is 25, he can only get better. The best years are coming for him now.
It's not just Ozil's age that suggests the best is yet to come. He has also been through a six-month adaptation period to the English game. It's a very different competition to La Liga or even the Bundesliga. It's worth remembering that the likes of Robert Pires took a full season before showing their best in the Premier League. Ozil is settled now and ready to shine.
Playing beautiful football, however, is not always enough to win the big individual prizes. You generally have to put some medals on the table too. Franck Ribery recently stated his displeasure at missing out on the Ballon d'Or in a year in which Bayern Munich won the treble.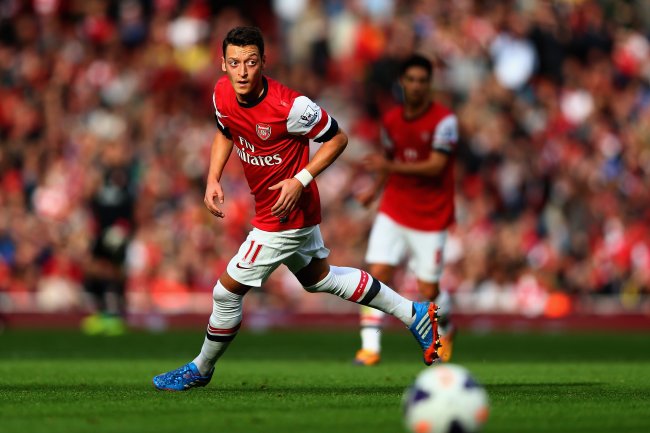 Paul Gilham/Getty Images
Ozil is on course to win silverware in his first year at Arsenal. The Gunners lead the Premier League and are in good shape in the FA Cup. If he can end Arsenal's 10-year wait for a championship victory in his first season with the club, it will certainly help his chances of being crowned the world's best player.
Then we come to the World Cup. Contribution at international level is always important when deciding the Ballon d'Or. Arguably, it was Cristiano Ronaldo's heroics in dragging Portugal to the World Cup that saw him pip Ribery and Lionel Messi the post.
If Ozil's form for Arsenal has occasionally dipped, his performances for Germany have always been excellent. In the qualification campaign for Brazil 2014, Ozil was Germany's top scorer, notching nine goals in Group C.
Germany are rightly one of the favourites to lift the trophy in Brazil. If they are to do so, Ozil will undoubtedly be at the heart of it. If Ozil can lead Germany to victory in a South American World Cup, that will top even the achievement of taking Arsenal to the title. Individual accolades would surely beckon.
There is one final hurdle: In order to win the Ballon d'Or, you need the respect of your colleagues. Fortunately, Ozil has that in abundance. He was recently voted as German Player of the Year for the third time in succession and also made the starting XI of the UEFA Team of the Year. Speaking to the club website, Wenger said:
He is very much appreciated by his team-mates. That's a real compliment you can get when you are a football player.

For me it is a bit like Zidane when he played for Madrid, all the other players said he was the best.

You want first to be recognised by people who do the same job as you, and I think that is the biggest compliment that you can get.

You would speak with everybody who plays in this team, they always rate him very highly.
Ozil's standing in the game is underlined by the fact that the 2013 Ballon d'Or winner, Ronaldo, nominated him to win the award in his stead. Ronaldo is not alone in admiring Ozil. If he improves as anticipated, the votes will flood in.
In 2013, Ozil was one of five Premier League players to make the prestigious 23-man shortlist for football's top individual award. In 2014, he could fare even better.
James McNicholas is Bleacher Report's lead Arsenal correspondent and will be following the club from a London base throughout the 2013-14 season. Follow him on Twitter here.