Manny Machado Injury: Updates on Orioles Star's Recovery from Knee Surgery
Use your ← → (arrow) keys to browse more stories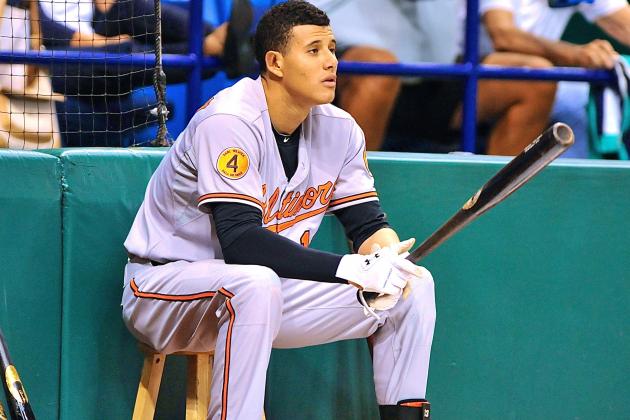 Getty Images

Updates from Sunday, Mar. 9
Brittany Ghiroli of Orioles.com reports when Manny Machado expects to attempt to conquer the next hurdle in his rehab:
#Orioles Manny Machado expects to start sliding next week before he sees the doctor. Biggest test will be that and base running he said.

— Brittany Ghiroli (@Britt_Ghiroli) March 9, 2014
Updates from Friday, Mar. 7
MASN's Roch Kubatko has the latest on Machado's progress:
Machado stepped on the bag with both feet yesterday in running drills, considered a significant, yes, step in his progression #orioles

— Roch Kubatko (@masnRoch) March 7, 2014
Buck on Machado: "Everything that he's supposed to be able to do at this point, he's doing." #orioles

— Roch Kubatko (@masnRoch) March 7, 2014
Manager Buck Showalter added more, according to Eduardo Encina of The Baltimore Sun:
"Everything that he's supposed to be doing at this point he's doing," Showalter said. "He's not ahead of schedule, he's not behind schedule. He's on schedule. What that is, whether it's the day after Opening Day, whether it's a month after Opening Day or it's a month after Opening Day, we just don't want any setbacks and we have now had any setbacks yet."

[...]

"You can't tell a runner, 'OK I want you to hit the bag with this foot," Showalter said. "You run and whichever one [lands] comes up. In the course of it, he hit it with both feet and that's another hurdle. Taking turns, he's done that. He's moving side to side now, so he's right where he needs to be. Where that leads us, I'm OK with wherever it is.

"Both [head trainer] Richie [Bancells] and I were talking about it this morning," Showalter added. "We both thought that hitting the bag was a mental hurdle. You feel real comfortable that physically it's going to hold up. But then to come in today and not have any residuals from it – there's some scar tissue there that guys are going to break down – knowing what is normal and what might be alarming, we haven't had any of the alarming stuff."
Updates from Wednesday, March 5
Baltimore Sun reporter Dan Connolly reports Machado is making progress:
Manny Machado had a mole removed from his back 2day.No concern. He took side to side soft toss grounders from Dickerson today for 1st time

— Dan Connolly (@danconnollysun) March 5, 2014
Updates from Sunday, Feb. 16
Britt Ghiroli of Orioles.com posted a video on Instagram of Manny Machado participating in batting practice:
Updates from Friday, Jan. 31
Stephania Bell of ESPN reports that Manny Machado has been cleared to resume baseball activities:
Machado cleared for some baseball activities http://t.co/YulOVit3FD via @bbtn

— Stephania Bell (@Stephania_ESPN) February 1, 2014
Updates from Wednesday, Jan. 29
Brittany Ghiroli of MLB.com reports when Manny Machado will next have his knee evaluated by a doctor:
Orioles third baseman Manny Machado has a doctor's appointment later this week, and it is expected that the 21-year-old will be cleared to begin baseball activities.

[...]

Getting the green light this weekend would certainly bode well for Machado being ready by then, as he is already rehabbing in Miami with light weights, running and pool work.
---Original Text---
Baltimore Orioles burgeoning superstar Manny Machado, who is on the road to recovery after tearing his medial patellar ligament in his left knee during September 2013, is reportedly six-to-eight weeks ahead of schedule.
The Baltimore Sun's Dan Connolly provides the encouraging news:
No official word from Os on Manny Machado's left knee checkup 2day, but source tells me it went well & he's 6-8 weeks ahead of recovery norm

— Dan Connolly (@danconnollysun) January 16, 2014
On Jan. 9, manager Buck Showalter, via MASNsports.com's Roch Kubatko, said he expects Machado back by Opening Day, and this news should only strengthen that belief:
More importantly, Buck still expects Manny to be ready on opening day. Said Chen has been "a little slow" in recovery from knee surgery

— Roch Kubatko (@masnRoch) January 10, 2014
That noise you hear is Orioles fans collectively rejoicing—there is perhaps no player more important to this organization than the 21-year-old third baseman.
Machado, the No. 3 overall pick in the 2010 MLB draft, appeared in 51 games as a teenager in 2012, flashing some of his sky-high promise. But in 2013, he was incredible.
In 156 games, he led the league in at-bats (667) and led the AL in doubles (51) on his way to an impressive .283/314/.432 line with 14 home runs, 71 RBI and 88 runs scored.

Where Machado was truly breathtaking, though, was in the field. Often making plays like the one below, he showed why he was repeatedly mentioned in the same sentence as Orioles Hall of Famer Brooks Robinson.
Where do you rank Machado among 3B in MLB?
Machado's range and cannon-like right arm make him unlike any other player in the league, and it wasn't all that surprising when he beat out defensive stud Adrian Beltre for a Gold Glove in 2013.
According to Fan Graphs, Machado finished the year fourth in WAR for third basemen behind Josh Donaldson, Miguel Cabrera and Evan Longoria.

In other words, Machado is one of the brightest young stars and most enjoyable players to watch in the league. A healthy rehab and speedy return—which is exactly what now seems to be on the horizon—wouldn't only be great news for the Orioles. It would be great news for all of Major League Baseball.