The final score at Oracle Arena was 104-93, but that was far from indicative of the Golden State Warriors' dominance over the New Orleans Pelicans on Tuesday night.
Stephen Curry (28 points, 12 assists) and David Lee (21 points, 17 rebounds) led the way for Golden State, who used 31-point outbursts in the second and third quarters to take an 88-65 lead heading into the fourth quarter.
It was an unfair matchup from the beginning, as Lee and center Andrew Bogut dominated inside against a Pelicans team that was without Anthony Davis.
The win improved the Warriors' record to 14-12, but it does not mean that everything is golden just yet. Here are three things to take away from Tuesday's game.
The Bench MUST Improve
Should the Warriors trade a starter in order to improve their dismal bench?
The plus-minus ratings tell the story. Every Golden State starter had a plus-minus rating in double digits, combining for a total of plus-90. In sharp contrast, every bench player had a negative rating, combining for a total of minus-35.
In fact, the bench played so poorly that at one point, the Pelicans trimmed the Warriors' lead to 13 with 5:54 remaining in the game. This came after Golden State led by as many as 26 points.
The collapse prompted Mark Jackson to call a timeout and enter all five of his starters back into the game. It has been said before and hardly needs to be repeated: The Warriors' lack of depth is a problem, and it could hurt them badly if another starter goes down like Iguodala.
Andre Iguodala's Presence Really Does Matter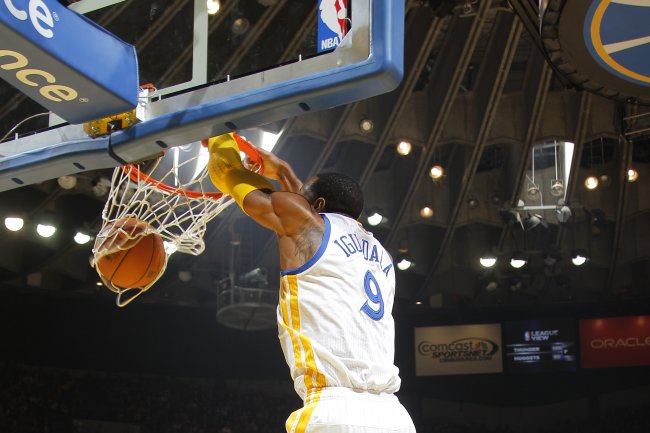 Rocky Widner/Getty Images
It seems obvious, but it's a point that is worth emphasizing. Iguodala played for only 17 minutes and hardly made an impact on the stat sheet. Yet, his effect on the Warriors was intangible.
Jackson spoke on behalf of his star defender's return to the lineup, per AP's Antonio Gonzalez. ''He's a guy that makes life so much easier for everybody on the floor,'' Jackson said. ''His ability to make plays, his ability to read and react, we missed him. Glad to have him back. And then there was a carryover effect.''
Iguodala went 1-of-4 from the field, but he made his only field goal count. It came on an alley-oop slam via a Stephen Curry pass near the end of the second quarter, and it sent the crowd into a frenzy.
It was a perfect night for Iggy to make his return, as the Warriors could afford to sit him for the majority of the game due to their substantial lead throughout. As they ease him back into the lineup, Golden State should only improve from here on out.
Three-Point Shooting Is Still Off
The Warriors made 11 of their 22 three-pointers in Sunday's loss to the Suns, a huge improvement from recent performances, only to take a step backwards against the Pelicans.
Golden State shot 5-of-20 from beyond the arc in the game. During their past seven games, including Tuesday night, they have shot just 33.7 percent from three-point range, well below their season mark of 41.6 percent. It's no coincidence they have won only three of those seven games.
For a team that relies heavily on the three-pointer, improving their success in that department is crucial. Stephen Curry has especially struggled this year, but his history indicates he is too good to maintain his underperformance.
Yet Curry is converting just 41.7 percent of his three-point attempts this year, by far a career low. While that is still a respectable number, the Warriors point guard must regain his stroke for his team to be successful; his three-pointers are too important to be clanking off the rim as often as they currently are.
All statistics in this article are courtesy of ESPN.