Scouting Borussia Dortmund Transfer Target Kevin Volland
Use your ← → (arrow) keys to browse more stories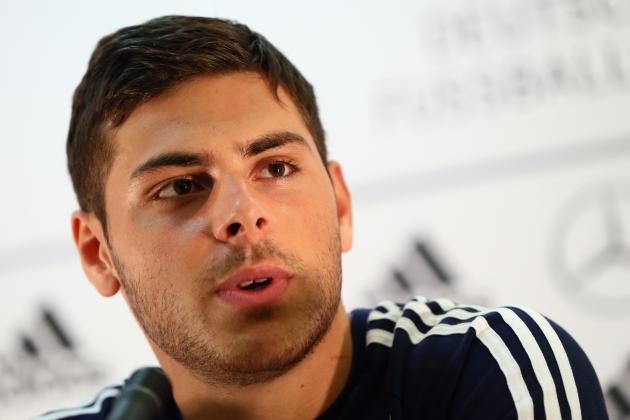 Alex Grimm/Getty Images

Rumours of Kevin Volland's potential transfer to Borussia Dortmund resurfaced on Monday, two days after the Hoffenheim man scored against Jurgen Klopp's side in the Bundesliga.
BVB were reported to be interested in signing the 21-year-old in May (according to TZ), and that desire has not since faded according to a Sunday report from Bild.
Dortmund have been woefully inefficient in front of goal this season: The Bild report identified a 36 percent conversion rate by the Ruhr side when given "big chances" in the Champions League. In general terms in Bundesliga play, BVB have scored once for every eight shots.
Given their poor conversion rate and with main striker Robert Lewandowski set to leave the club at the end of June, Dortmund are in the market for new attacking options.
Although they face stiff competition from England (the Mirror claims Arsenal, Chelsea and Manchester United are, among others, also keen on the versatile attacker), if the Signal Iduna Park outfit manage to sign Volland, they will have captured one of Germany's finest striker talents.
STRENGTHS
What makes Volland stand out is his completeness as an attacking player. The Marktoberdorf native played as a striker in his youth and accordingly has refined scoring instincts: He knows how to finish and where to make his runs with and without the ball.
In addition to his striker qualities, Volland also has the technique, creativity and dribbling ability of an attacking midfielder. Although he in many ways looks a finisher, in last season's Bundesliga campaign he in fact assisted twice as many goals (12) as he scored (6).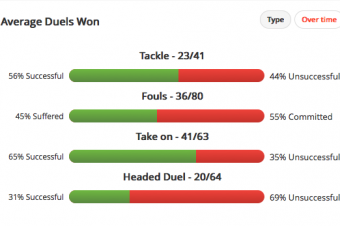 Source: Squawka
Volland has great pace and agility; these physical attributes coupled with his close control make him a monster on the counterattack. He is a great dribbler and an even better judge of when to take on his marker: In the Bundesliga he's won 65 percent of his dribbling duels, having successfully taken on his marker 41 out of 63 attempts. For comparison, Cristiano Ronaldo has only won 27 out of 51 dribbling duels in La Liga, a rate of 53 percent.
Arguably Volland's greatest strength is his ability to affect big games and to make his goals count. Only three of his 13 Bundesliga goals since joining Hoffenheim have come while his team led.
And this season he's found the net in nearly half (seven) of the 15 games in which he's played. He's scored or assisted in each of his three Bundesliga appearances against Dortmund (most recently last weekend) and in two of three matches against Schalke.
WEAKNESSES
Volland may be exceptionally versatile but there are areas of his game that are either not yet reined or are naturally lacking.
To begin with, the ex-1860 Munich man is not particularly strong in the upper body. He isn't the type of outlet man Lewandowski is, the type who can chase down a clearance and hold off defenders until his teammates race upfield.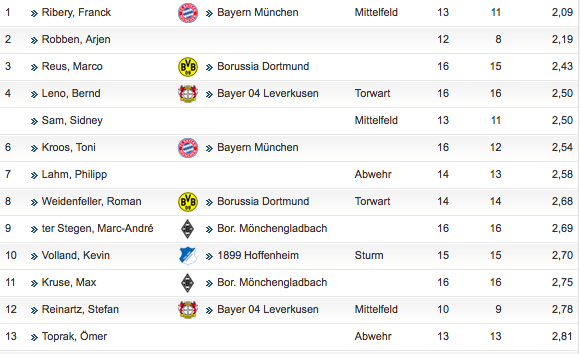 Source: Kicker
Volland is at 5'10" not exactly small but not noticeably tall, which limits his aerial ability. He's only scored twice with his head in all competitions during his professional career, although this will not be a huge concern for a Dortmund side that relies on Lewandowski—who also is not particularly strong in the air—as the primary goal source.
Finally, and perhaps most disconcerting for any team that might want to sign him to play as a striker, Volland is not yet reliable with his weaker, right foot.
He's a great finisher with his left foot, having used it to score 22 goals at 1860 Munich and Hoffenheim. But he has only found the net seven times with his right. As such his actions can be somewhat predictable to defenders.
WHERE HE CAN FIT

As great a talent as Volland may be, his potential role in the Dortmund team is uncertain. Although he can play as a striker and perhaps is best in that position, he is a different type of player from Lewandowski and thus cannot be considered a direct replacement for the Pole.
Much like Pierre-Emerick Aubameyang, he is a fast, left-footed player who lacks the upper-body strength typical of traditional strikers and instead is more commonly used on the right wing.
Volland would be part of a four-man competition for a starting spot on the right at BVB, along with Aubameyang, Jakub Blaszczykowski and Jonas Hofmann. The latter two are more traditional "crossing" wingers, while Aubameyang and Volland are opposite-footed, striker-like wingers. So Volland would therefore not fill any immediate need in the Dortmund team.
Volland can of course play in the centre behind the main striker and on the left, but will have substantial competition for those spots as well. Henrikh Mkhitaryan will have had a full season at Dortmund under his belt by the time Volland arrives, and having cost the club a record €27.5 million, BVB will not be in a hurry to relegate the Armenian to the bench.
On the left, Marco Reus is one of Dortmund's few world-class players; he certainly is not going to lose his spot anytime soon.
It's possible that Volland may be added as a versatile option for depth, but it would be a shame to see him suffer on the bench for any prolonged period of time. Still just 21 and with enormous potential waiting to be tapped, the best is yet to come.