Grading the New NASCAR Paint Schemes Revealed for 2014 Season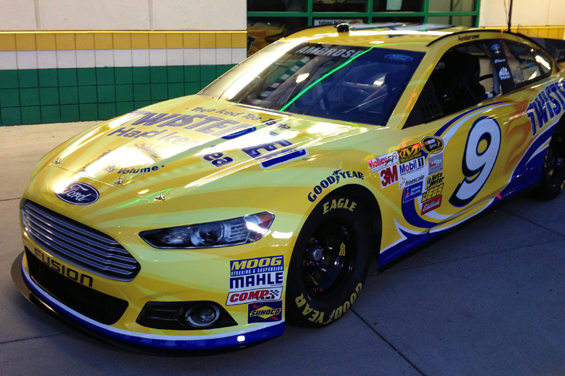 Photo courtesy of Motor Racing Network

NASCAR has already started to unveil several of their paint schemes for the 2014 season.
You can find them across the internet, but most are appearing online at Lionel Racing, which makes die cast versions of Sprint Cup stock cars.
Are the models for the 2014 season better than last season's paint schemes though?
Certain drivers have managed to gain new sponsors and we'll be seeing them drive in new colors and designs next season.
Other drivers are switching teams and, along with getting a new number, are also getting a new paint scheme.
Then there are other drivers who have managed to keep the same colors, but have tried to improve on the design from last season.
Has it worked?
Or have they taken a step backwards with their new style?
Here are the grades for some of NASCAR's new paint schemes set to debut in 2014.
(Want to view even more paint schemes? Head over to Jayski.com to see several more teams and what they plan to unveil in 2014.)
Begin Slideshow

»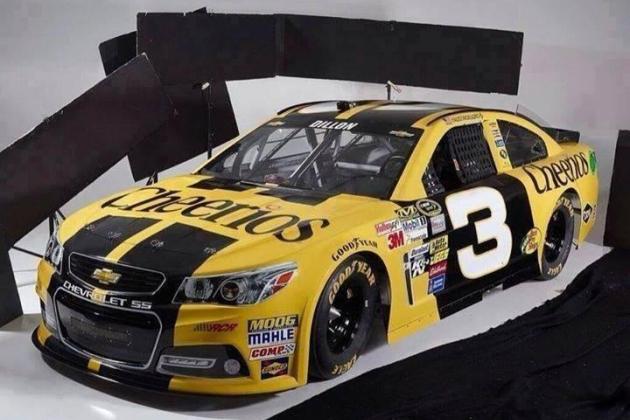 Photo Courtesy of the Orange Cone (@TheOrangeCone)

This paint scheme of the 3 car for Austin Dillon didn't quite make the list, because there's no real truth behind it.
It hasn't been announced that Dillon will be using the 3 in the Sprint Cup Series (though most NASCAR fans assume he will), and this picture was from a tweet by the Orange Cone, which Richard Childress Racing denied.
If it's true, it would seem as though RCR is trying to mimic Bumble Bee from Transformers.
And with Dillon possibly having his hands full living up to the legend of the 3 car, why would RCR want to make the car look like a Transformer too?
There is no solid proof behind this photo, and we can only hope the paint scheme for Dillon ends up a little better than this in 2014.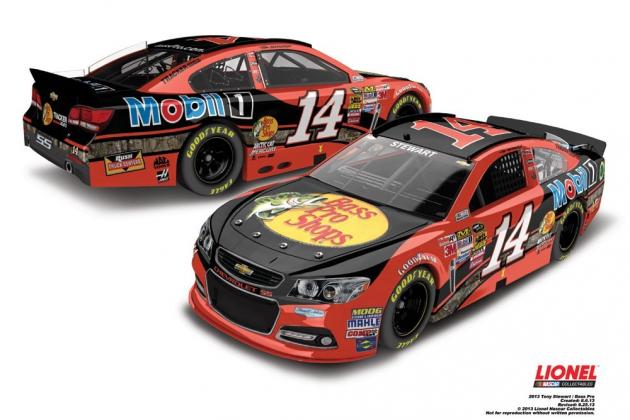 Photo courtesy of Lionel Racing

Tony Stewart is set to return to action next year after he broke his leg toward the end of the regular 2013 season.
With his return, Smoke is getting a bit of a paint job done to the 14 car.
The same colors will return, the black, red and white numbers, but how the car is painted is a bit different from what we've seen on the 14 car.
This is just one of Smoke's cars, as he will probably use different colors for different sponsors.
It's not really an improvement, but the color placement is better overall.
Final grade: B-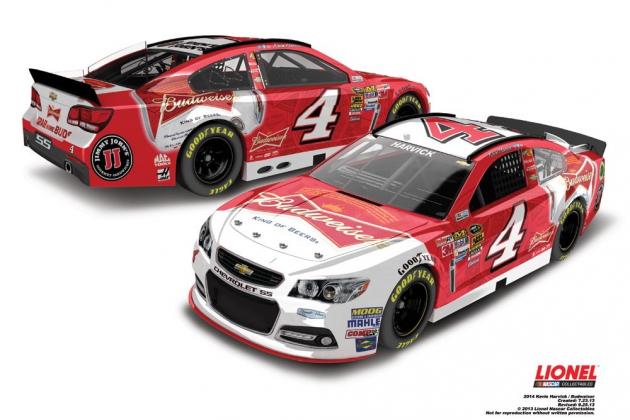 Photo courtesy of Lionel Racing

Kevin Harvick is moving to Stewart-Haas Racing in 2014, and with it, he's taking one of his major sponsors, Budweiser.
Harvick will also be sporting the number four instead of 29, and the above picture is just one of the paint schemes we can expect to see Harvick riding around in.
It's basically the same design we saw from the 29 last year, as the Budweiser car continues to move away from the all red color scheme.
While there's nothing different about the 2014 paint scheme, it was a solid look anyway last year.
Final Grade: C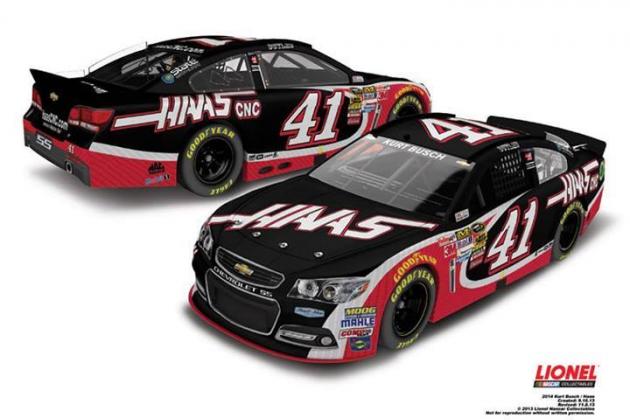 Photo courtesy of Stewart-Haas Racing

Kurt Busch is also moving over to Stewart-Haas Racing, and besides his new number, Busch is getting all new sponsorship.
This is what racing fans can expect from the new 41 of Kurt Busch next season, and color wise, it's the trend at Stewart-Haas Racing.
The black, red and white color combination is solid, especially since we got used to seeing Busch drive around in a mostly black car with Furniture Row Racing.
As of right now, Haas is his only major sponsor, and this might be the only color theme Busch uses next season.
It's a major improvement over what he drove last year, and hopefully being on a new team will be a major improvement as well.
Final grade: A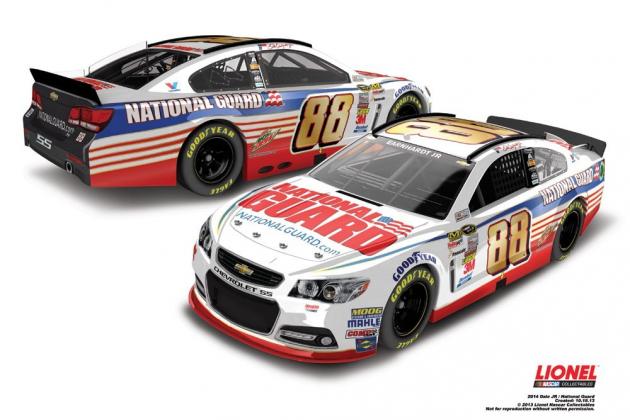 Photo courtesy of Lionel Racing

Dale Earnhardt Jr. will be competing next year in his famous National Guard stock car.
In 2014 though, it's getting a bit of a makeover.
The colors basically stayed the same, but the design on the side of the car has changed. The red and white stripes add to the scheme, but the biggest change has to be the color of the number 88.
Color wise, fans might be split on the gold coloring, but it does add a nice touch to the National Guard car, and Jr. will be sure to stand out during race day when he competes in this.
Final Grade: B+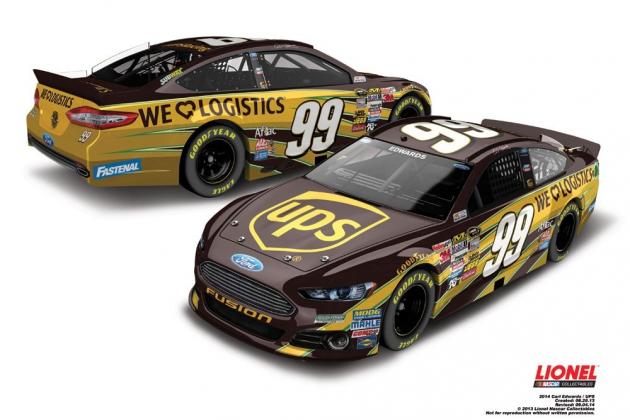 Photo courtesy of Lionel Racing

UPS will return as a sponsor for the 99 car, and while they only ran one race last season with the UPS paint scheme, we could see more of the UPS brown in 2014.
It's the usual style of the UPS colors, with only a slight change in design on the side of the car.
Overall it's a solid paint scheme for the 99, and one of the more original paint schemes (color wise) in the sport.
UPS could be slowly getting back into sponsoring a driver, like how it was a major sponsor of David Ragan when he was part of Roush Fenway Racing, and seeing more of the UPS paint scheme is a start.
Final Grade: B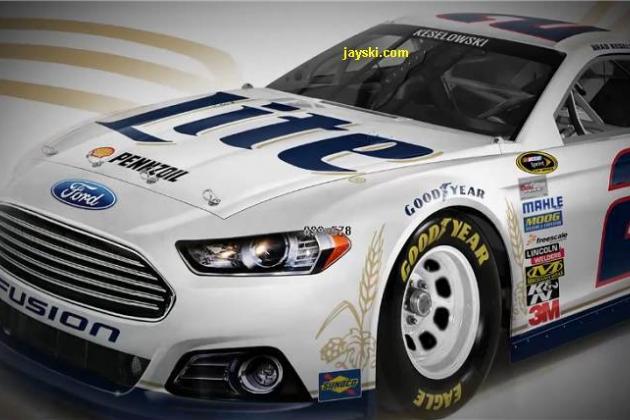 Photo courtesy of Jayski.com

This paint scheme for the two car of Brad Keselowski comes from an anonymous source and was posted on Jayski.com.
Apparently this is a retro scheme for the Blue Deuce, and could be used during the Sprint Unlimited at Daytona next season.
As far as a retro feel, unless you remember the older style of Miller Lite, there is nothing retro about this car.
The white though, is a nice alternative to the usual blue color of the No. 2 car.
There is no official word yet on how many races will be run using this white paint scheme, but this coloring is something Penske Racing should consider for several races.
Final grade: B+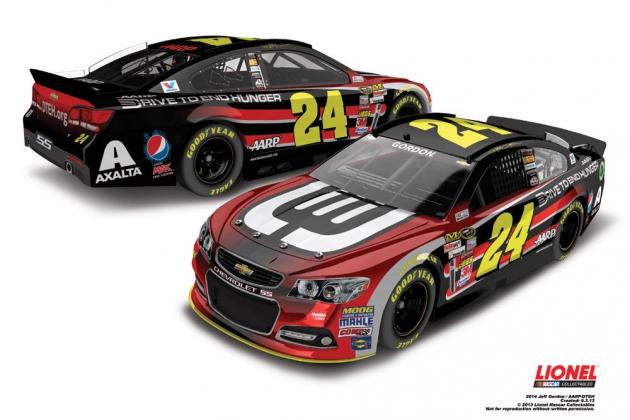 Photo courtesy of Lionel Racing

Jeff Gordon will return for another year at Hendrick Motorsports, and another year driving the 24 car.
As far as a paint scheme is concerned, his colors are the same, as well as the sponsorship that goes on the 24.
The drive to End Hunger logo is now sported on the entire hood of the car, and is probably the only bad part about the paint scheme.
It doesn't seem to fit the rest of the sleek style the 24 is going far, but it's a huge sponsor of the Gordon's and should be displayed somewhere on the car.
Outside of that mismatch, the overall color scheme is solid.
Final grade: B-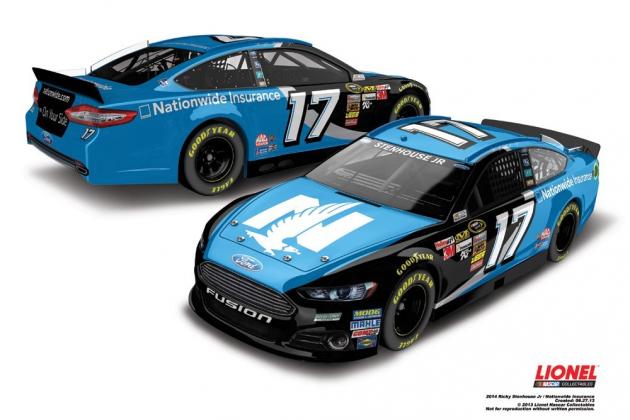 Photo courtesy of Lionel Racing

Ricky Stenhouse Jr. is set to return for his second full season of the Sprint Cup Series, and is bringing along a new paint scheme with him.
With Nationwide set to stop sponsoring its current NASCAR series, the company is still set on being part of NASCAR, and will be sponsoring Stenhouse Jr. next season.
The car itself has a nice paint scheme, as the blue, black and silver colors go together well.
The hood also has a good design on it, as the bird (which could be an eagle) goes well with the N for Nationwide.
Nationwide isn't sponsoring a NASCAR series anymore, but they clearly want to stand out with Stenhouse Jr. and this paint scheme.
Final Grade: A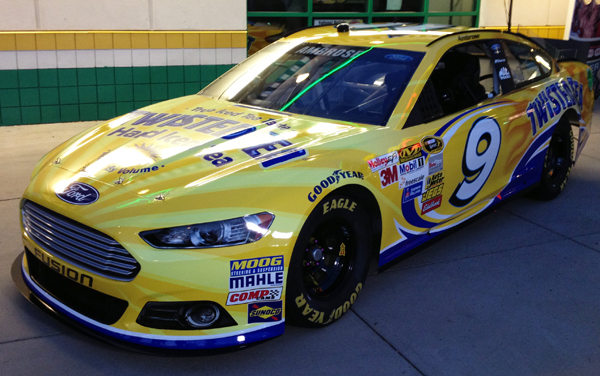 Photo courtesy of Motor Racing Network

Marcos Ambrose and the 9 team managed to pick up a new sponsor in Twisted Tea for the 2014 season.
As far as a paint scheme goes, this one lacks originality.
It looks like the put a giant Twisted Tea label on the car, and from a advertising perspective, that's probably what you want to do (resemble the product your trying to sell) but from a originality perspective it's ugly, unless of course, you love Twisted Tea.
Ambrose will stick out as he drives this yellow car around the track.
Final grade: D