Mike Tomlin's Punishment Is Fair—Now Let's Get Back to Football
December 4, 2013

Mitch Stringer-USA TODAY Sports
As expected, Pittsburgh Steelers head coach Mike Tomlin was levied a fine by the NFL for his interference with Jacoby Jones' kickoff return in the team's Week 13 loss to the Baltimore Ravens. He'll have to cough up $100,000 for his actions, and the league may opt to dock the Steelers a 2014 draft pick once the order is set.
Tomlin said on Tuesday that his actions were "embarrassing, inexcusable, illegal, a blunder," adding, "I acknowledge that my actions unfortunately became part of the play," and "I embrace the responsibilities that come with my position, and understand the repercussions from a blunder of that nature."
Tomlin also made it clear that he did not intend to interfere with Jones' kickoff return, which went 73 yards before Jones was tackled by Pittsburgh's Cortez Allen.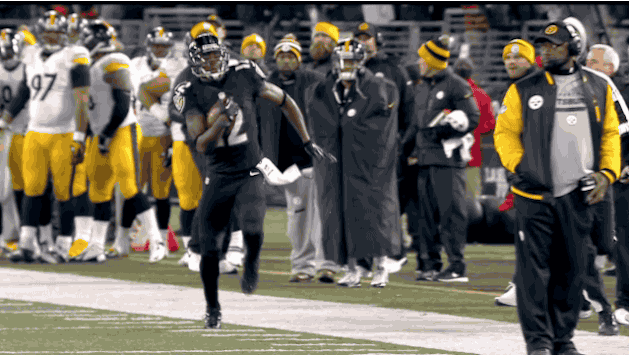 via Bleacher Report
Until and unless the NFL chooses to take away one of the Steelers' upcoming draft picks, this case is closed. There will be no way for the league to establish whether or not Tomlin truly intended to interfere, and Tomlin himself is ready to move on.
On Wednesday, Tomlin commented, "As I stated yesterday, I take full responsibility for my actions, and I apologize for causing negative attention to the Pittsburgh Steelers organization. I accept the penalty that I received. I will no longer address this issue as I am preparing for an important game this Sunday against the Miami Dolphins."
As much as we may want to parse what happened last Thursday to infinity, Tomlin has a good point—it's time to get back to football. The punishment has come down, Tomlin has accepted it, and there's no reason for him, or for us, to discuss this matter further.
While the offense happened on the football field, the discussion and speculation surround Tomlin's actions and his intent can end with his fine. Even if the Steelers lose a draft pick, it won't likely be in the first few rounds.
It must be noted they are already without their third-round pick, having traded it to the Cleveland Browns last year. A loss of a draft pick, even a compensatory one, could be a blow to the Steelers, but it's neither significant nor needs to—or can be—dealt with presently.
Right now, the Steelers need to move on, concern themselves with the Dolphins this Sunday, their fight for the sixth AFC playoff spot and finishing 2013 with a better record than 2012's 8-8.

Doug Benc/Getty Images
This controversy was warranted, as Tomlin did violate the league's rules—and should have been flagged by the officials when it happened—but the attendant circus can now end.
Tomlin is rightfully ready to move on.
The Steelers are a 5-7 football team that started the season 0-4 but are still part of the conference's playoff picture—as are their Week 14 opponents, the Dolphins. Any chance to reach the postseason begins with winning this Sunday's game, and distractions must be minimized. With Tomlin's statement, Week 13 is behind us; only the rest of the NFL season should matter now.
The league was right to fine Tomlin for his actions, intentional or accidental. Now, Tomlin, the Steelers and all of us can get back to what we're here for—football.