Los Angeles Lakers vs. Denver Nuggets: Postgame Grades and Analysis for LA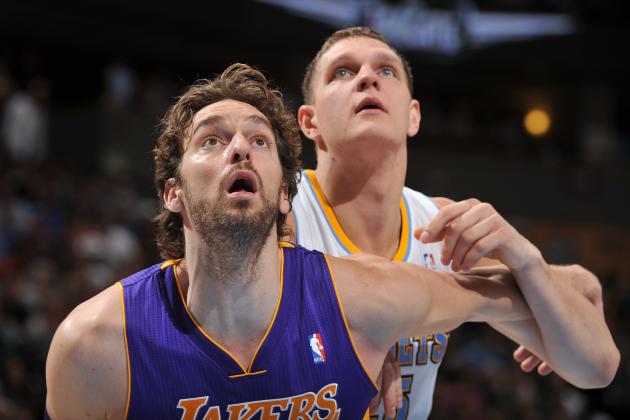 Garrett Ellwood/Getty Images

Timofey Mozgov tied a career high with 23 points and grabbed nine rebounds, Kenneth Faried put up 21 and 13, and the Denver Nuggets defeated the Los Angeles Lakers 111-99 on Wednesday night at the Pepsi Center.
Neither team shot the ball particularly well in this one, with the Nuggets shooting 40 percent and the Lakers hitting on 39 percent of their shots. However, Denver hit 25 free throws compared to 17 for Los Angeles, and that ended up being the biggest difference in the contest.
The Nuggets also out-rebounded L.A. 58-51.
Pau Gasol tallied 25 points and 12 rebounds for the Lakers, who fell to 4-6 with the loss.
Meanwhile, Denver improved to 3-4.
Note: Grades are based off of stats, efficiency, overall impact on both ends of the court and how the players performed when it mattered most.
Begin Slideshow

»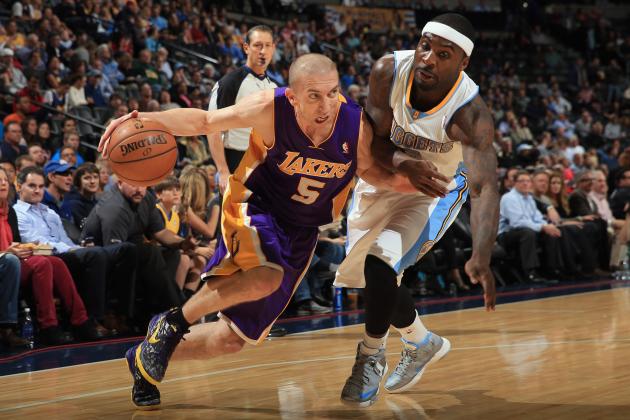 Doug Pensinger/Getty Images

Steve Blake continued his stretch of impressive play on Wednesday night.
He got off to a great start right off the bat, recording seven points and five assists in the first quarter alone.
Blake would proceed to maintain his high level of performance throughout the rest of the contest, and in 34 minutes of burn, the veteran floor general posted a double-double with 15 points and 11 dimes. As an added bonus, the little guy hauled in six rebounds. How often will you find yourself saying that Steve Blake was four boards away from a triple-double? Not very.
The Maryland product shot 5-of-11 from the floor and went 2-of-4 from beyond the arc.
He has really stepped it up this season. Kudos, Steve.
Grade: A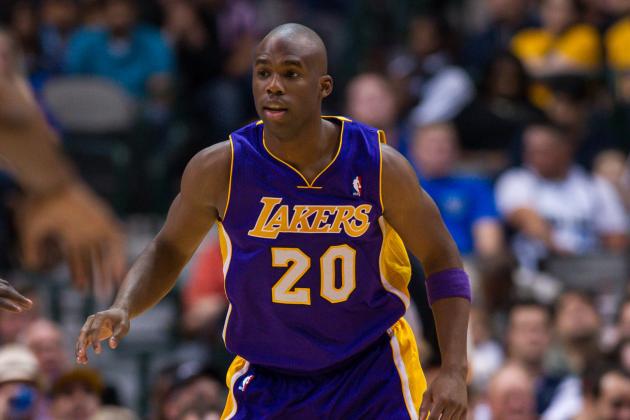 Jerome Miron-USA TODAY Sports

This game won't exactly be on Jodie Meeks' highlight reel.
Meeks struggled mightily against Denver, scoring three points off 1-of-5 shooting. The three-point specialist even air-balled a triple attempt in the third period.
To make matters worse, he missed two free throws in the fourth quarter that essentially did the Lakers in.
Meeks also didn't register a single rebound, assist or steal in 27 minutes. The only other area of the stat sheet that he did "contribute" to was personal fouls with two.
Meeks has never been a regularly dependable source of offense, but his performance on Wednesday night was especially poor.
Grade: D-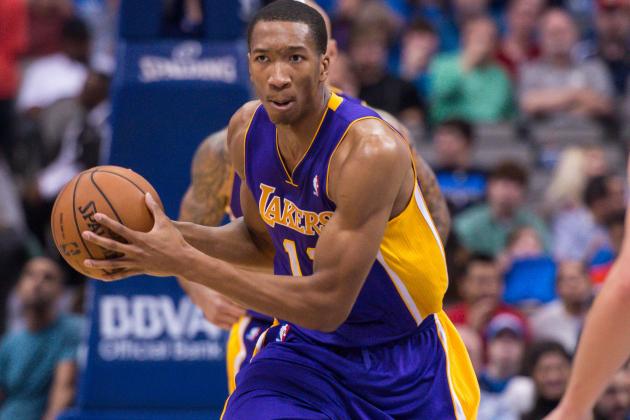 Jerome Miron-USA TODAY Sports

You really have to appreciate the effort Wesley Johnson brought against Denver.
The wing posted 10 points, five rebounds, five blocks and three steals, using his athleticism to challenge shots at the rim and come up with some rather vicious swats, particularly a two-handed block on Ty Lawson in the second half.
There were times when Johnson was a little too overzealous, as evidenced by his five fouls, but you have to like the effort regardless.
To put the cherry on top, Johnson was the only Laker to register a positive plus/minus with a plus-seven. Think about that. His team lost by 12, and he still managed to record a plus-seven.
Now that is impressive.
Johnson shot 3-of-6 from the floor, hitting on two of his three long-distance attempts.
Grade: A-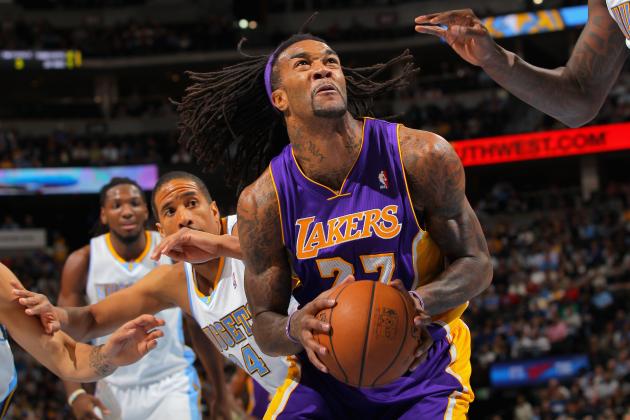 Doug Pensinger/Getty Images

Jordan Hill was the best player on the floor for the Lakers in this one.
The rebounding machine posted 18 points and 15 boards, eight of those boards coming on the offensive end. He also had eight second-chance points in the second period alone.
Hill's 15 rebounds still don't fully illuminate just how active the Arizona product was on the glass.
He was in on every available rebound, and if he wasn't hauling it in himself, he was at least getting a hand on it and keeping it alive for a teammate to potentially corral.
Hill also hustled after loose balls left and right, and on top of that, he blocked three shots.
Remember when people questioned Hill's toughness when he first came into the league? Well, I think it's safe to say that that is no longer a thing.
Hill shot 6-of-11 from the floor and hit all six of his free throws in 30 minutes of floor time.
Grade: A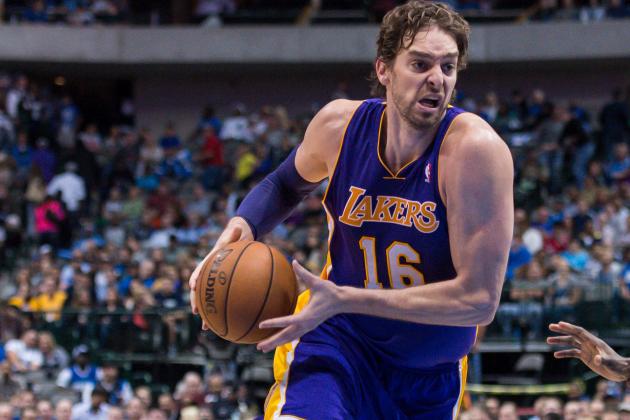 Jerome Miron-USA TODAY Sports

Pau Gasol looked solid against the Nuggets, enjoying one of his best and most active games of the young season. Still, he is not where you want him to be, and the foot strain he is playing through is obviously playing a significant part in that.
Gasol did tally 25 points and 12 rebounds, and he did get off to a good start, recording six points and five rebounds in the first period and going 3-of-3, but it doesn't take too deep of a look to see that his performance left something to be desired.
Gasol ended up shooting 12-of-27, meaning he went nine for his last 24. He also played horribly in the fourth period, getting swatted by Timofey Mozgov a couple of times and never truly asserting himself.
Plus, Gasol shot only 1-of-5 from the charity stripe overall.
It's sad to say, but the Pau Gasol we all came to know during his years with the Lakers seems to be gone.
Grade: B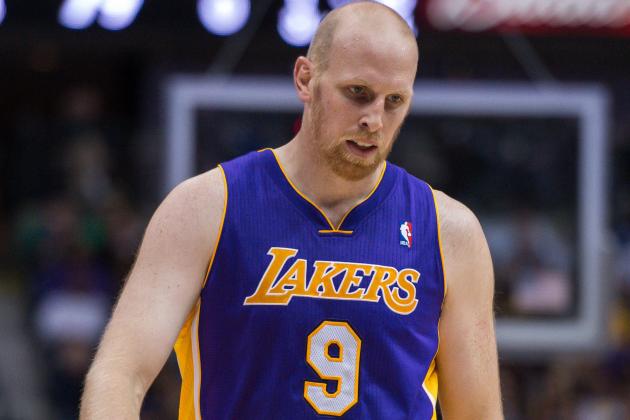 Jerome Miron-USA TODAY Sports

Chris Kaman scored eight points off the bench in this one, but he didn't really do it in the most efficient way possible, as he shot only 3-of-9 from the floor.
Plus, Kaman was frequently a liability on the defensive end, as he allowed Timofey Mozgov to use him quite a bit during this contest. No disrespect to Mozgov, but when you're continuously being taken advantage of by him defensively, you're not having the best of nights.
The fact that he also committed four fouls in 18.5 minutes only adds to that notion.
At the very least, Kaman contributed on the offensive glass, grabbing three offensive rebounds (he hauled in four boards total).
Grade: C-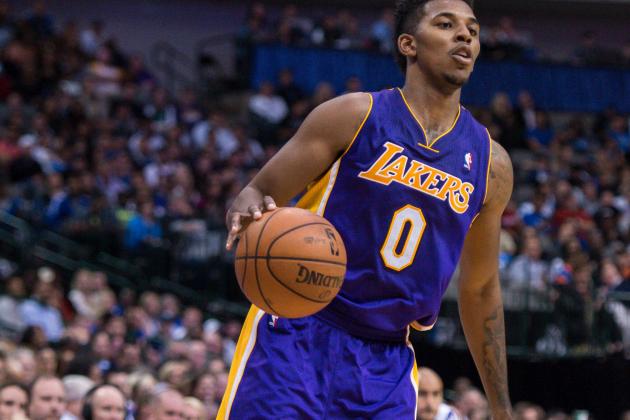 Jerome Miron-USA TODAY Sports

Nick Young scored 11 points in this one, but he looked much more like the Nick Young of old in doing so, and no that is not a good thing.
Young took several poor shots throughout the night, including a fall-away three from the left wing that was perfectly contested by Ty Lawson.
He shot 4-of-12 from the floor and registered a minus-13.
The rest of the bench wasn't too impressive, either.
Xavier Henry scored six points off of 2-of-5 shooting, and Jordan Farmar missed all four of his field-goal attempts while logging only one assist.
Then there's foul machine Shawne Williams, who committed three fouls in nine minutes of action.
So, yeah. This wasn't a shining moment for L.A.'s reserves.
Grade: D+