NBA 2K14: 2K Sports Releases Opening-Night Roster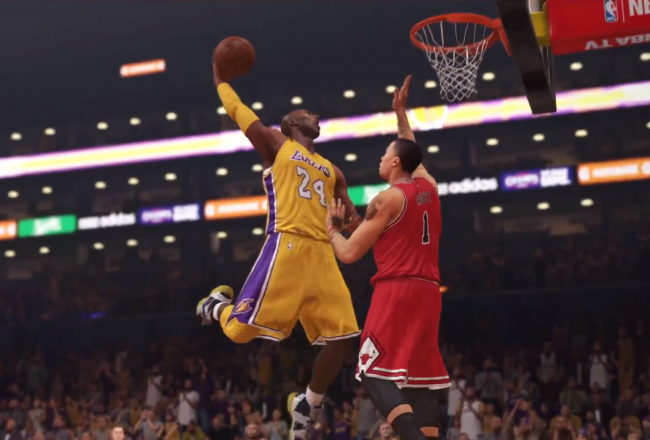 Photo Credit: 2K Sports
With the 2013-14 NBA season tipping off in earnest Tuesday night, it's only proper that the folks at 2K Sports allowed fans to begin their virtual journey as well.
Thus comes the latest of what should be many updates to this year's iteration, NBA 2K14. Ronnie Singh, 2K Sports' digital marketing director, better known as Ronnie 2K to sports gamers, encouraged fans to download the latest update on 2K Share:
#NBA2K14 roster update just went live in time for #NBATipOff #NBAOpeningNight. Boot up those consoles and get it! Who wins it all this year?

— Ronnie 2K 2K14 (@Ronnie2K) October 29, 2013
2K Insider's Twitter feed also noted that an Online Association roster update should be coming down the pipeline, though no confirmed release date has been given:
An Online Association roster update is in the pipeline. Will send more info as it becomes available.

— NBA 2K Insider (@NBA2KInsider) October 29, 2013
Until then, this latest update serves as perhaps the biggest since NBA 2K14 was released on Oct. 1. The update, which features many of the transactions that have happened throughout the preseason, attempts to recreate the rosters that each NBA team will bring to the court on their respective opening nights.
The most obvious change here is Marcin Gortat moving to the Washington Wizards. Gortat was traded along with Shannon Brown, Malcolm Lee and Kendall Marshall from the Phoenix Suns in exchange for the injured Emeka Okafor and a first-round pick. While the NBA 2K franchise is yet to adopt Madden's ability to represent traded draft picks—likely due to the NBA's strange protections for teams' picks—that can easily be recreated within Association Mode with a trade.
It's also promising that the developers reflected Washington's subsequent release of Brown, Lee and Marshall, which did not officially take place until Monday afternoon. Perhaps related to his likely increase in responsibility post-trade, Suns center Alex Len was the recipient of a major ratings boost. Players like Golden State Warriors guard Klay Thompson also got a bump.
There are certainly some problems with the update. Many players are yet to be added to the 2K system, leaving some rosters missing players who could be real contributors for their respective teams. Detroit Pistons forward Luigi Datome and Boston Celtics big man Vitor Faverani are the two most noticeable absences.
While it's likely disappointing to fans to not have a 100-percent perfect roster, NBA 2K14 shouldn't be too far behind in rectifying whatever errors exist. Another roster update will be available within the next couple of days, at which point Pistons and Celtics fans can start their journey.
Operation Sports posted a video that highlights NBA 2K14's opening-night roster, cycling through each team and the free agents.
More than anything, this update should prove a nice test start for NBA 2K14's Dynamic Living Rosters feature on the injury front. Hyped as a major addition during the initial marketing, 2K Sports and STATS, Inc. have linked up for a partnership to create the most realistic day-to-day gaming experience possible.
With STATS' backing, individual player ratings will wax and wane throughout the season—depending wholly on their on-court trends. Dynamic Living Rosters also attempts to accurately log injuries during the season, which is a highlight of this opening update. Kobe Bryant, Russell Westbrook, Andrew Bynum and numerous others show up accurately represented.
If the coming update works to add players and allows for injury updates, fans could be days away from the most accurate NBA 2K experience in recent memory. As 2K Sports prepares to launch another iteration of NBA 2K14 next month on the Xbox One and PS4 consoles, their post-release support in these areas could go a long way toward creating positive word of mouth.
Either way, the opening-night rosters are here, and the developers are off to a solid start.
Follow Tyler Conway on Twitter:
This article is
What is the duplicate article?
Why is this article offensive?
Where is this article plagiarized from?
Why is this article poorly edited?