Michigan Wolverines vs. Michigan State Spartans: Complete Game Preview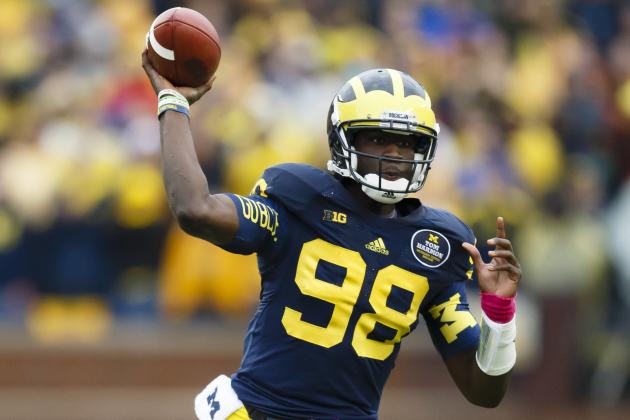 The No. 24 Michigan Wolverines (6-1, 2-1 Big Ten Conference, 1-0 Legends Division) visit No. 23 Michigan State (7-1, 4-0 Big Ten Conference, 1-0 Legends Division) on Saturday after beating Indiana, 63-47, a week ago.
Whichever team prevails will have a stranglehold on the Big Ten Legends Division and take possession of the Paul Bunyan trophy.
Michigan State is coming off a 42-3 rout of Illinois.
Date: Saturday, Nov. 2
Time: 3:30 p.m. ET
Place: Spartan Stadium, East Lansing, Mich.
Series vs. Michigan State: U-M leads, 68-32-5
Television: ABC
Radio: Michigan IMG Sports Network
Spread: Michigan State by 5, via TheSpread.com
Live Stats: MGoBlue.com
Last Meeting vs. Michigan State: Michigan 12, Michigan State 10 (Oct. 20, 2012)
Senior/junior kicker Brendan Gibbons converted his third field goal of the game from 38 yards out with five seconds left to give the University of Michigan its first win over rival Michigan State in five years at Michigan Stadium. The victory marked the 900th in Michigan football history.
* Information according to University of Michigan Wolverine game notes
Begin Slideshow

»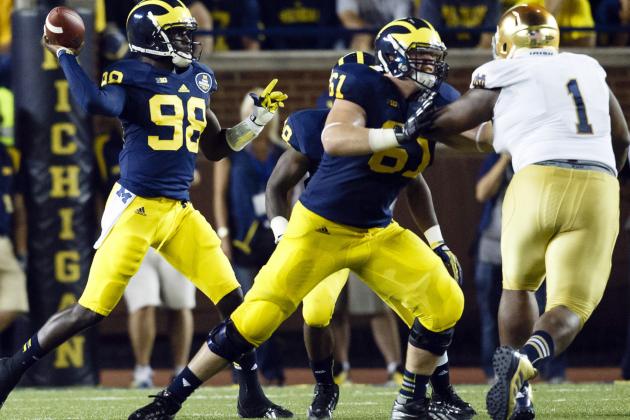 Coach Brady Hoke has talked about winning the Big Ten title ever since replacing Rich Rodriguez. Now in his third season at Michigan, Hoke has in-state rival Michigan State blocking the Wolverines' path in achieving that goal.

The Spartans enter the game with the top-ranked defense in the country while the Wolverines offense has struggled to block consistently all season. Add to the mix that Michigan has struggled on the road under Hoke and it's obvious that this game represents a major challenge.
The Wolverines, who enter the game as an underdog, will need to find consistency on both offense and defense, something that has eluded them all season.
Control the offensive line of scrimmage
Michigan's offensive line has struggled all season with players being replaced and shuffled due to performance issues and injuries. Last week, Michigan exploded for 751 yards against Indiana, thanks in part to good protection up front. The offensive line will need another good showing against Michigan State or this could be a rout.

Run the ball (from the tailback position)

When the Wolverines offense has stalled this season, quarterback Devin Gardner has reignited it by running the ball. That is a recipe for disaster against a Michigan State defense that is both tough and nasty. The Wolverines need to protect Gardner by keeping him in the pocket and letting their tailbacks run the ball.


Stifle the Spartans' running attack

The Michigan defensive line has been unimpressive so far and if they fail again in this game, the Spartans will run the ball and control the clock. Spartans quarterback Connor Cook has been inconsistent, so Michigan needs to force him to make plays.
Michigan State enters Saturday's game as Michigan's little brother no more with the Spartans having won four of the last five games against the Wolverines.
Michigan have garnered the bulk of national attention since Hoke took over in Ann Arbor, but the Spartans can take control of the Big Ten Legends Division with a victory.
Keep an eye out for some Spartan trickery on offense. Coach Mark Dantonio loves to dig deep into his playbook in big games.
Crash the middle
The middle of Michigan's offensive line has been ineffective in protecting Devin Gardner this season. Expect the Spartans to send the house early and often to put the pressure on him. When he gets flustered, the Wolverines offense completely breaks down.
Run the ball
The last thing the Spartans want is a shootout. Michigan has shown that it can score points in bunches. Look for Michigan State to run the ball while draining the clock and forcing Michigan to play from behind.
Punish Devin Gardner
Gardner is the heart of Michigan's offense. Expect the Spartans to hammer him at every turn.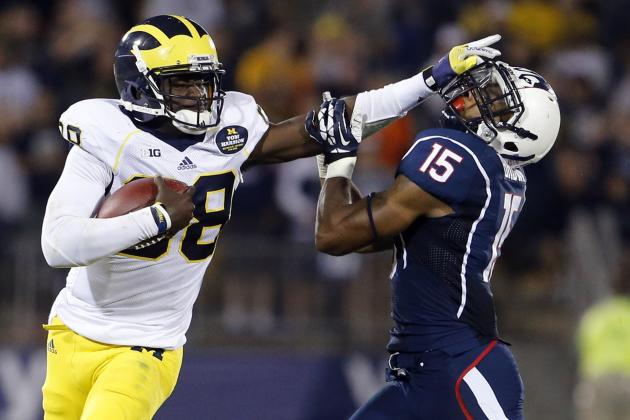 Devin Gardner
Quarterback Devin Gardner

The Spartans will be gunning for Gardner and this game will hinge on how he handles the pressure. A victory would be the biggest of Gardner's career and keep the Wolverines on the path to the Rose Bowl.


Center Graham Glasgow

Glasgow needs to secure the middle of the offensive line and give Gardner time to make plays. It's a tall order, but if he fails, Michigan's offense will struggle to move the ball.
Kicker Brendan Gibbons

Gibbons has not been the same since failing to secure a victory in overtime against Penn State. Can he bounce back from his disappointment? A Wolverines' victory might depend on it.
Here is Michigan's depth chart.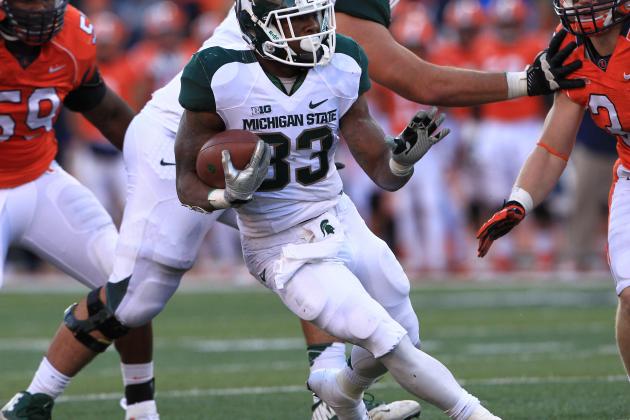 Jeremy Langford
Linebackers Denicos Allen and Max Bullough

Look for Allen and Bullough to attack the Michigan offense up the middle, where it has been its weakest.

Tailback Jeremy Langford

The Spartans will run Langford, to control the clock and set up the pass. In the past, whichever team that has won the rushing battle usually has won this game. The Wolverines need to contain Langford to win.

Nose tackle Micajah Reynolds

With Michigan's offensive line having struggled to protect Devin Gardner all season, this could be Reynolds' opportunity for a career day. Expect him to spend a lot of time in the Michigan backfield.
Here is Michigan State's depth chart.
#77 Taylor Lewan
Offensive tackle Taylor Lewan, via The Detroit News:
Nobody likes to get bullied, and that's what they did two years ago — they bullied us. … We're not going to get bullied this year.


Running back Fitzgerald Toussaint, via The Detroit Free Press:

We labeled them as a little brother. And, you know the little brother always want to prove themselves and try to beat up the big brother one day. I think they really take offense to that.

Michigan head coach Brady Hoke, via The Detroit News:
We don't necessarily like them...This isn't an admiration society. It's a great rivalry. You've got two teams, 45 miles apart, that might be not enough, but that's what it is.


Offensive offensive coordinator Al Borges, via The Detroit News:
This is a figurative street fight, and you want to go out there and match and exceed the intensity of your opponent. That's the only way you can play games like this.


Michigan State head coach Mark Dantonio, via CBS Detroit:
We compete with the University of Michigan every single day, every single week, whether it's on recruiting, whether it's fundraising, in a lot of different things.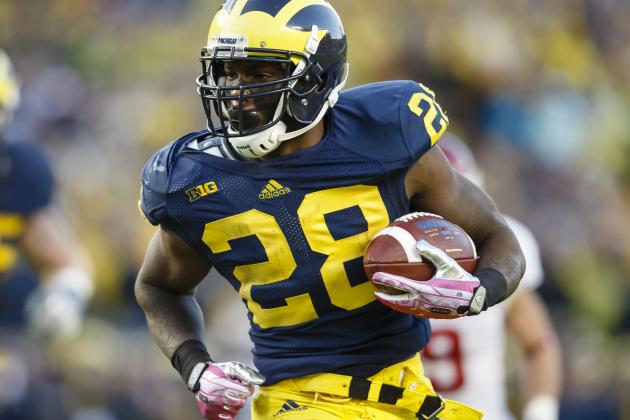 This game will be a gut check for the Wolverines in Brady Hoke's third season, but Michigan will prevail to take control of the Big Ten Legends Division.
Final Score: Michigan 27, Michigan State 24