College Football Rankings Week 10: Bleacher Report's Official Top 25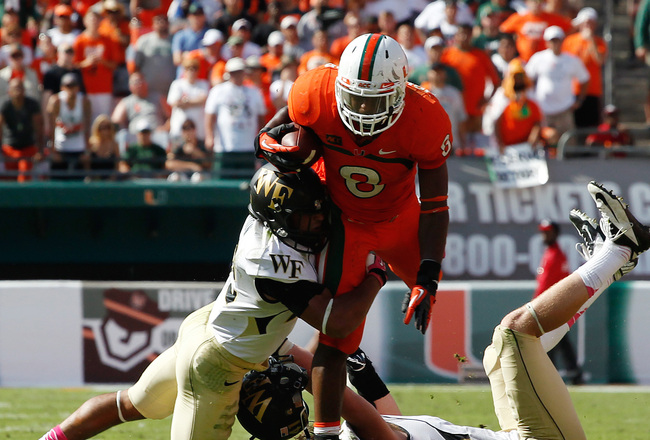 Miami (Fla.) RB Duke Johnson

With Texas Tech and Missouri falling from the ranks of the unbeaten, there was certainly some major shifts in the Bleacher Report poll this week.
In addition to an array of upsets, teams like Clemson, Miami and even LSU had to shake off bad starts to avoid losses as well.
With that, check out the Week 10 edition of B/R's Top 25 college football poll.

Poll voters: Chris Bello, Eric Bowman, Carter Bryant, Phil Callihan, Andrew Coppens, Bill Eichenberger, Michael Felder, Sean Frye, Kyle Kensing, Ben Kercheval, Sanjay Kirpalani, Marc Kohn, Adam Kramer, David Luther, Jonathan McDanal, Max Rausch, David Regimbal, Patrick Runge, Barrett Sallee, Alex Sims, Erin Sorensen and Marc Torrence.
Each voter submitted an individual Top 25, and every first-place team was given 25 points. The second-place team received 24, and so on, with the 25th-place team earning one point. The teams are ranked in order according to total points.
*All times are EST
Others Receiving Votes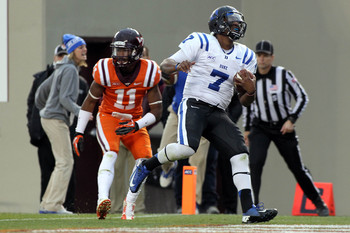 Arizona State: 37
Texas: 31
Oregon State: 16
Virginia Tech: 7
Ole Miss: 5
Georgia: 4
Ball State: 4
BYU: 4
Duke: 1
25. Notre Dame Fighting Irish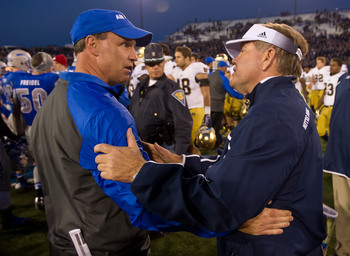 Previous Rank: Unranked

Week 9 Result: Win, 45-10 over Air Force
Week 10: Nov. 2, vs. Navy, 3:30 p.m.
Overall Record: 6-2
Poll Points: 46
The Notre Dame Fighting Irish cracked this week's poll with a big win over the Air Force Academy. Tommy Rees returned from injury and hurled five touchdown passes while passing for 284 yards.
Notre Dame has rattled off three straight wins since losing to Oklahoma and has won five of its last six games, making the Irish one of the hottest teams in the country.
Notre Dame continues its play against Academy teams when it faces Navy next week.
24. Michigan Wolverines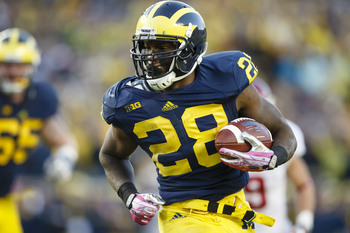 Previous Rank: 24

Week 9 Result: Bye
Week 10: Nov. 2, at Michigan State, 3:30 p.m.
Overall Record: 6-1
Poll Points: 56
The Michigan Wolverines had the week off after winning a 63-47 shootout with the Indiana Hoosiers on Oct. 19. Michigan's only loss of the year came one week earlier when it fell 43-40 to Penn State in four overtimes.
Because UCF had such a dominating performance over UConn in Week 9—a team Michigan struggled with earlier in the season—the Wolverines remained stagnant in the poll.
Nevertheless, the Wolverines can reclaim the top spot in the Big Ten Legends division standings with a win over the Michigan State Spartans in Week 10.
23. Michigan State Spartans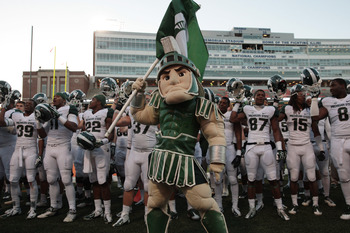 Previous Rank: Unranked

Week 9 Result: Win, 42-3 over Illinois
Week 10: Nov. 2, vs. Michigan, 3:30 p.m.
Overall Record: 7-1
Poll Points: 88
The Michigan State Spartans have quietly become one of the best teams in the Big Ten this season. With their win over Illinois this weekend, the Spartans are set for a showdown with in-state rival Michigan in Week 10 in a game with big-time conference implications.
Quarterback Connor Cook had an efficient game against the Illini, racking up three touchdowns on 208 yards passing while completing 15 of his 16 attempts.
If the Spartans can take down the Wolverines in Week 10, they'll control their own destiny to a berth in the Rose Bowl.
22. UCF Knights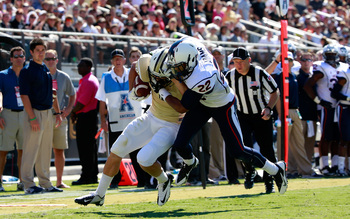 Previous Rank: 25

Week 9 Result: Win, 62-17 over UConn
Week 10: Bye
Overall Record: 6-1
Poll Points: 98
The UCF Knights continued to run through the AAC conference with a 62-17 slaughter of UConn. Quarterback Blake Bortles had another great showing with 286 yards and four touchdowns through the air.
What was more impressive, though, was that UCF avoided the hangover effect from its upset of Louisville just one week ago.
Now the Knights are looking like the AAC favorites as they head into a bye week. UCF jumps back into action against the Houston Cougars, who are 6-1 overall and 3-0 in the AAC, on Nov. 9. That game will decide who has control of the conference for the rest of the season.
21. Wisconsin Badgers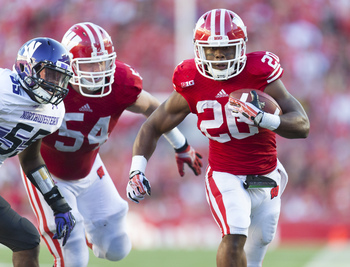 Previous Rank: 20

Week 9 Result: Bye
Week 10: Nov. 2, at Iowa, noon
Overall Record: 5-2
Poll Points: 105
The Badgers caught a breather this week after beating Illinois 56-32 in Week 8.
Wisconsin has been one of the more impressive Big Ten teams this season, with its only losses coming to Arizona State (in controversial fashion) and Ohio State.
Wisconsin hits the road in Week 10 to face the Iowa Hawkeyes, where running back Melvin Gordon will try for his third straight game of over 100 rushing yards and his seventh of the season.
20. Northern Illinois Huskies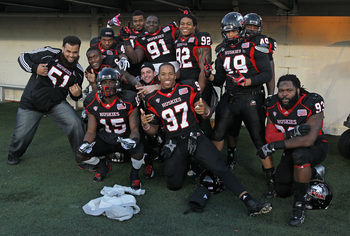 Previous Rank: 22

Week 9 Result: Win, 59-20 over Eastern Michigan
Week 10: Nov. 2, at UMass, noon
Overall Record: 8-0
Poll Points: 113
Jordan Lynch had a great game on Saturday against Eastern Michigan. The Heisman Trophy candidate caught, threw and ran for a touchdown against EMU.
Now the Huskies get to face the UMass Minutemen next week, one of the weakest FBS teams in the country. UMass is 1-7 this season, and its only win came against Miami of Ohio (0-8).
Northern Illinois doesn't face a single ranked team this season, so it should coast to an undefeated regular season. And with teams dropping like flies in the BCS conferences, the Huskies are on track to appear in a BCS bowl for the second straight season.
19. Louisville Cardinals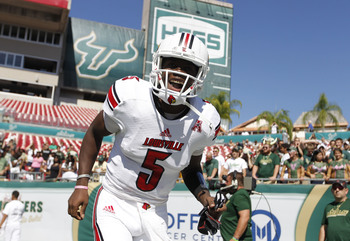 Previous Rank: 18

Week 9 Result: Win, 34-3 over South Florida
Week 10: Bye
Overall Record: 7-1
Poll Points: 120
The Louisville Cardinals let the South Florida Bulls know just exactly how angry they were that their perfect season ended last week against UCF.
In their game against the Bulls, the Cardinals racked up 485 yards of total offense, including 344 passing yards from Teddy Bridgewater, as they annihilated USF 34-3.
Louisville's chances at a national title are over, but it is still in the hunt for a berth into a BCS bowl game. The Cardinals' next game is against UConn on Nov. 8.
18. UCLA Bruins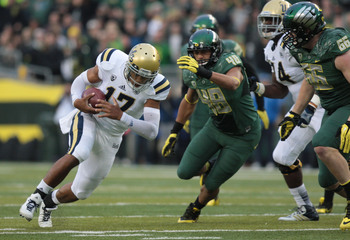 Previous Rank: 11

Week 9 Result: Loss, 42-14 to Oregon
Week 10: Nov. 2, vs. Colorado, 7:30 p.m.
Overall Record: 5-2
Poll Points: 135
For the first half against the Oregon Ducks, UCLA had Marcus Mariota and Co. on the ropes. But quarterback Brett Hundley's failure to score in the second half allowed the Ducks to run away with the game 42-14 and likely knocked UCLA out of contention for a Pac-12 title.
Hundley had a rough game against the Ducks, throwing for 64 yards, one touchdown and two interceptions.
The Bruins will look to get back on track next week against the Colorado Buffaloes, who are 3-4 overall this season and haven't won a Pac-12 game.
17. Fresno State Bulldogs
Previous Rank: 14

Week 9 Result: Win, 35-28 over San Diego State
Week 10: Nov. 2, vs. Nevada, 10:30 p.m.
Overall Record: 7-0
Poll Points: 159
Fresno State's dream of a BCS berth nearly came to an end against San Diego State on Saturday. But a blocked field goal at the end of regulation kept the Bulldogs alive, and they put the game away in overtime to escape the Aztecs' upset bid.
Derek Carr, a dark-horse Heisman Trophy candidate, was held to under 300 yards for just the second time this season. He racked up 298 yards and two touchdowns.
The Bulldogs went into the game ranked No. 17 in the BCS standings, just outside of where they need to be for an automatic berth. They'll look to continue their journey to a BCS bowl against Nevada next week at home.
16. South Carolina Gamecocks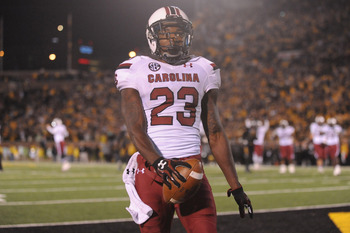 Previous Rank: 21

Week 9 Result: Win, 27-24 over Missouri
Week 10: Nov. 2, vs. Mississippi State, 12:21 p.m.
Overall Record: 6-2
Poll Points: 176
The South Carolina Gamecocks finally got their statement win of 2013 with their 27-24 upset of Missouri, handing the Tigers their first loss of the season. From an upset loss to Tennessee to Jadeveon Clowney not suiting up against Kentucky, South Carolina's season has been a shaky one so far. But with Saturday night's win, the Gamecocks are riding high.
Connor Shaw replaced Dylan Thompson at quarterback in the third quarter, and he led a 17-point fourth-quarter comeback. Wide receiver Bruce Ellington, who also plays on the school's basketball team, had a big night with 136 yards and two touchdowns
The Gamecocks face the Mississippi State Bulldogs next week as they look to make a run at an SEC East title.
15. Oklahoma State Cowboys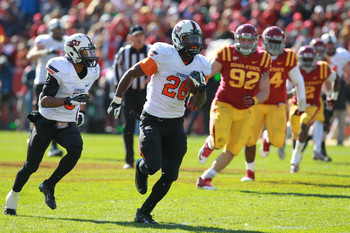 Previous Rank: 16

Week 9 Result: Win, 58-27 over Iowa State
Week 10: Nov. 2, at Texas Tech, 7 p.m.
Overall Record: 6-1
Poll Points: 179
The Oklahoma State Cowboys may have found an answer at running back in Saturday's 58-27 win over Iowa State. Junior Desmond Roland totaled 219 yards, more than doubling his season output, and also scored four touchdowns.
Clint Chelf didn't look good throwing the ball in his second straight start, though, completing 10 of 26 passes for 78 yards.
The Cowboys will look to add to Texas Tech's woes next week as they travel to Lubbock on Saturday.
14. Texas A&M Aggies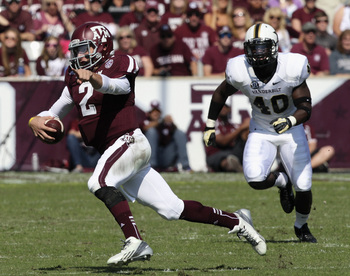 Previous Rank: 15

Week 9 Result: Win, 56-24 over Vanderbilt
Week 10: Nov. 2, vs. UTEP, 9 p.m.
Overall Record: 6-2
Poll Points: 199
Johnny Manziel and the Texas A&M Aggies took out their anger from losing to Auburn last week on the Vanderbilt Commodores.
Manziel had four touchdown passes and 316 total yards en route to a 56-24 throttling of Vandy, which upset Georgia last week.
The Aggies get a break from SEC play next week as they face the UTEP Miners in College Station.
13. Texas Tech Red Raiders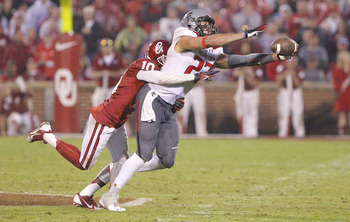 Previous Rank: 10

Week 9 Result: Loss, 38-30 to Oklahoma
Week 10: Nov. 2, vs. Oklahoma State, 7 p.m.
Overall Record: 7-1
Poll Points: 202
Kliff Kingsbury is the first coach to start 7-0 in his first season in the Big 12.
He didn't become the first to go 8-0, though, as the Red Raiders fell on the road to Oklahoma 38-30 on Saturday. Quarterback Davis Webb had 385 yards through the air but threw two key interceptions.
Texas Tech's magical season isn't over. It has games against Baylor and Texas, the two leaders in the Big 12, remaining. Next week the Red Raiders face off against the Oklahoma State Cowboys at home.
12. Missouri Tigers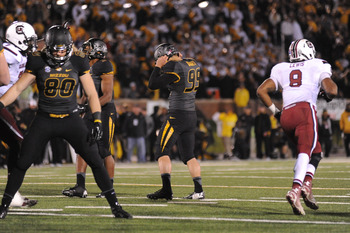 Previous Rank: 8

Week 9 Result: Loss, 27-24 to South Carolina
Week 10: Nov. 2, vs. Tennessee, TBD
Overall Record: 7-1
Poll Points: 239
The Missouri Tigers watched their perfect season wash away when Andrew Baggett's game-tying 24-yard field-goal attempt hit the left upright in double overtime.
While it was surely heartbreaking for the Tigers to suffer their first loss of the season, they still control their own destiny to the SEC title game since South Carolina has two losses in SEC play.
Still, it's disconcerting that the Tigers allowed a 17-point lead to slip away in the fourth quarter to a team that lost to Tennessee just a week ago. The Tigers face Tennessee next week at home as they look to bounce back from a tough loss.
11. LSU Tigers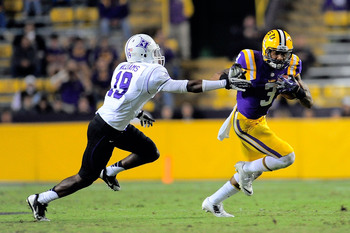 Previous Rank: 13

Week 9 Result: Win, 48-16 over Furman
Week 10: Bye
Overall Record: 7-2
Poll Points: 240
With 3:57 left in the first quarter, Furman actually led the LSU Tigers 10-7. At halftime, the Tigers had a slim 20-16. But 28 unanswered second-half points ended Furman's upset bid and moved LSU to 7-2 overall.
The Tigers were fresh off their upset loss to Ole Miss, so Saturday's slow start against Furman just added to their woes.
Maybe their bye is coming at the perfect time. The Tigers will have two weeks to prepare before facing Alabama, the No. 1 team in the country, on Nov. 9.
10. Auburn Tigers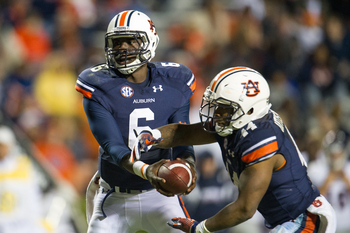 Previous Rank: 12
Week 9 Result: Win, 45-10 over Florida Atlantic
Week 10: Nov. 2, at Arkansas, TBD
Overall Record: 7-1
Poll Points: 252
The Auburn Tigers followed up their upset of Texas A&M with an easy 45-10 win over Florida Atlantic. However, the big story is that quarterback Nick Marshall left the game with a shoulder injury, and his status for next week against Arkansas is uncertain, according to the Associated Press (via ESPN).
Marshall's backup, Jeremy Johnson, completed 10 of 16 passes for 192 yards and two touchdowns, and he said after the game, "If my number is called next week, then I'll be ready."
Expect the health of Marshall to dominate the headlines for Auburn as it prepares for the Arkansas Razorbacks next weekend.
9. Oklahoma Sooners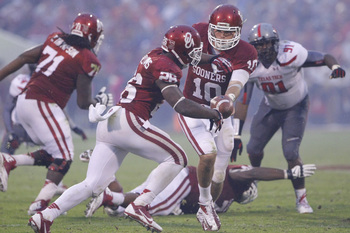 Previous Rank: 17

Week 9 Result: Win, 38-30 over Texas Tech
Week 10: Bye
Overall Record: 7-1
Poll Points: 269
The Oklahoma Sooners knocked Texas Tech from the ranks of the unbeaten with a 38-30 win on Saturday. Blake Bell had arguably his best game as a Sooner with two touchdown passes and 293 total yards.
Now the Sooners trail just Baylor and Texas in the Big 12. Those two teams face off against each other in the last week of the season, while Oklahoma faces Baylor after its bye in Week 10.
Although Texas holds a head-to-head advantage for the conference title with its win over the Sooners, Oklahoma's conference and BCS chances are very much still alive.
8. Miami Hurricanes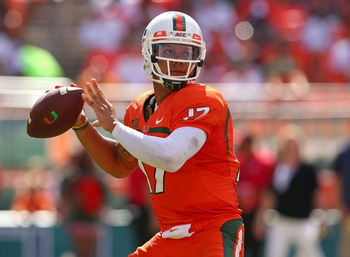 Previous Rank: 7

Week 9 Result: Win, 24-21 over Wake Forest
Week 10: Nov. 2, at Florida State, 8 p.m.
Overall Record: 7-0
Poll Points: 314
If it wasn't for a 168-yard performance on the ground from Duke Johnson, the Miami Hurricanes might have been upset by Wake Forest.
Instead, a one-yard touchdown run by Johnson in the game's last minute helped the Hurricanes avoid the upset bug that's been going around lately.
Now Miami heads into its highly anticipated matchup next week against Florida State undefeated as the Hurricanes look to take full control of the ACC.
7. Clemson Tigers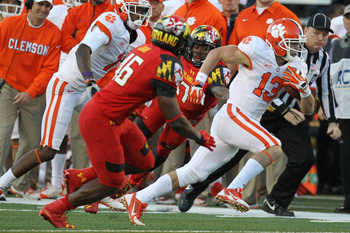 Previous Rank: 9

Week 9 Result: Win, 40-27 over Maryland
Week 10: Nov. 2, at Virginia, 3:30 p.m.
Overall Record: 7-1
Poll Points: 335
Although the Clemson Tigers were slow to get going against Maryland, Tajh Boyd and Co. bounced back from their blowout loss to Florida State with a 40-27 win over the Terrapins.
Two straight Maryland field goals to start the second half cut Clemson's lead to 16-13. But 540 total yards of offense by the Tigers, including 304 passing yards by Boyd, were too much for the Terps to handle.
Clemson hits the road for the second straight week as it faces the Virginia Cavaliers on Nov. 2 in Charlottesville, Va. The Tigers are holding on to slim chances at an ACC title and are still vying for an at-large berth into a BCS game.
6. Stanford Cardinal
Previous Rank: 6

Week 9 Result: Win, 20-12 over Oregon State
Week 10: Bye
Overall Record: 7-1
Poll Points: 342
The Stanford Cardinal survived a late rally from the Oregon State Beavers and put away one of the nation's most prolific offenses, 20-12.
Running back Tyler Gaffney was the star, rushing for 145 yards and all three Stanford touchdowns.
Saturday's win keeps Stanford's slim national title hopes alive heading into its bye in Week 10. The Cardinal return to action on Nov. 7 with a prime-time matchup against the Oregon Ducks.
5. Baylor Bears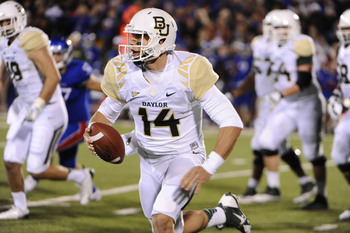 Previous Rank: 5

Week 9 Result: Win, 59-14 over Kansas
Week 10: Bye
Overall Record: 7-0
Poll Points: 383
The Baylor Bears kept rolling on Saturday, blowing out the lowly Kansas Jayhawks 59-14. Bryce Petty had 430 yards and three scores through the air, while running back Lache Seastrunk added 109 yards and a score on the ground.
Baylor's prolific offense has rolled through teams this season, and it'll head into a bye week undefeated. Thursday, Nov. 7, kicks off a streak of three straight games against ranked opponents as the Bears face Oklahoma, Texas Tech and Oklahoma State.
The nation will find out what Baylor is truly made of in the next month. But for now, it is one of the few remaining undefeated teams in college football.
4. Ohio State Buckeyes
Previous Rank: 4

Week 9 Result: Win, 63-14 over Penn State
Week 10: Nov. 2, at Purdue, noon
Overall Record: 8-0
Poll Points: 401 (1)
The Buckeyes throttled the Penn State Nittany Lions on Saturday 63-14. That 49-point loss for Penn State was its largest in 114 years.
Braxton Miller had 252 passing yards, 68 rushing yards and five total touchdowns, which gave his Heisman candidacy a breath of life.
The Buckeyes face Purdue next week in what will kick off two straight road contests for the team with the nation's longest winning streak.
3. Florida State Seminoles
Previous Rank: 3

Week 9 Result: Win, 49-17 over NC State
Week 10: Nov. 2, vs. Miami, 8 p.m.
Overall Record: 7-0
Poll Points: 421 (1)
If you were a Florida State fan who went to Saturday's game against NC State and left your seat in the first quarter, you didn't miss much.
In the Seminoles' rout of the Wolfpack, Jameis Winston and the FSU offense hung 35 points on the board in the first quarter and scored 42 before NC State even found the scoreboard. Winston added another positive mark to his Heisman resume with 292 yards and three scores through the air.
Florida State, which is in serious contention for a national title bid, has a huge ACC matchup next week against the Miami Hurricanes at home. Should the Seminoles win that game, they'll be the only remaining undefeated team in the ACC.
2. Oregon Ducks
Previous Rank: 2
Week 9 Result: Win, 42-14 over UCLA
Week 10: Bye
Overall Record: 8-0
Poll Points: 425 (2)
It looked like the Ducks were in trouble in the first half, as they were tied with the UCLA Bruins 14-14 at halftime. But Oregon's defense shut out Brett Hundley and the offense in the second half, and the Ducks blew out UCLA 42-14.
Quarterback Marcus Mariota continued to look like a Heisman Trophy candidate with 230 yards and a touchdown through the air in what proved to be his toughest game of the year.
Now the Ducks have a bye week coming up, their first week off since Week 4. Oregon bounces right back into the thick of things with a Thursday night matchup scheduled for Nov. 7 against Stanford.
1. Alabama Crimson Tide
Previous Rank: 1

Week 9 Result: Win, 45-10 over Tennessee
Week 10: Bye
Overall Record: 8-0
Poll Points: 445 (14)
The Tennessee Volunteers were one of the hottest teams in the SEC after their win over South Carolina in Week 8.
Well, Nick Saban and the Crimson Tide weren't having any of that on Saturday as they dismantled the Volunteers 45-10. Alabama led 35-0 at halftime before taking its foot off the gas. AJ McCarron threw for 275 yards and two scores, while six different players were credited with at least one carry in the game.
Alabama heads into a bye week before its showdown with LSU on Nov. 9. After that game, Auburn is the last remaining currently ranked team on the Crimson Tide's regular-season slate.
Keep Reading