Former Formula 1 driver Maria de Villota has been found dead in her Seville hotel room.
As reported by Radio Cadena Ser Radio and via Eurosport, the 33-year-old passed away after attempts were made to resuscitate her. De Villota's family confirmed the news with a statement on Facebook, per Autosport:
"She had to go to heaven like all angels. We are thankful to God for the extra year and a half that he left her with us."
Former team Marussia also released a statement:
It is with great sadness that we learned a short time ago of the news that Maria de Villota has passed away.

Our thoughts and prayers are with Maria's family and friends at this very difficult time.

De Villota lost her right eye after a horrific crash during a test run for Marussia. The daughter of former F1 driver Emilio De Villota suffered major head trauma and facial injuries after colliding with a lorry, per BBC Sport.
Despite the life-threatening July 2012 incident, she underwent cranial and ocular reconstruction surgery, per Pablo Elizalde of Autosport, and was given the all-clear to race again in Feb. 2013, as confirmed by BBC Sport.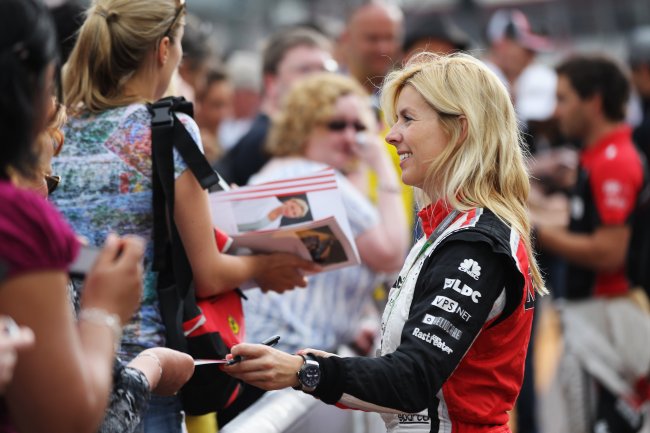 Mark Thompson/Getty Images
De Villota participated in Spanish F3, World Touring Car Championship, the Daytona 24 Hours and was a former Superleague Formula driver. In 2010, De Villota finished fourth in the SF race at the Nurburgring, Germany.
She made her Formula 1 test debut in 2011 when Lotus Renault GP confirmed her appearance in a Renault R29 around the Paul Ricard Circuit, becoming the first women to represent an F1 team in this capacity since Katherine Legge, per Elizalde.
Marussia signed De Villota in March 2012, where she began testing in Abu Dhabi. Aside from racing, De Villota received a degree in sports science from the European University of Madrid, per BBC Sport's report.
Tributes have poured in from across the world of Formula 1:
Tragic news of Maria de Villota passing away, our thoughts are with her family and friends! #Sad

— Scuderia Ferrari (@InsideFerrari) October 11, 2013
Even though we're far away, the whole team's hearts and minds are with the family of Maria de Villota at this terrible, terrible time...

— McLaren (@McLarenF1) October 11, 2013
We are shocked to hear about the death of María de Villota. Our sincerest condolences and sympathy to her family for this tragic loss.

— Sauber F1 Team (@OfficialSF1Team) October 11, 2013
While the cause of death is yet to be officially confirmed, Nick Parrot of BBC News tweeted it appears De Villota passed away of natural causes:
Spanish police say it appears Maria de Villota died of natural causes #F1

— Nick Parrott (@NickParrottTV) October 11, 2013
De Villota was about to launch her autobiography Life is a Gift and will be fondly remembered by those around her.