Top 10 Possible Winners in Korea Grand Prix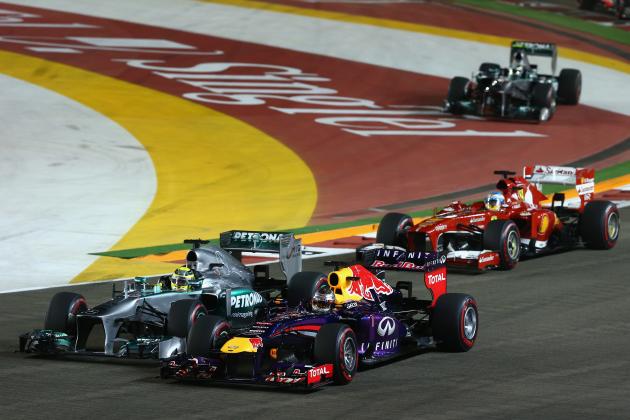 Paul Gilham/Getty Images

The Korean Grand Prix is fast approaching, and so debate over who will take the chequered flag first is beginning to build.
Many say it will obviously be Sebastian Vettel, the championship leader for whom a fourth consecutive title looks inevitable.
Others say his rivals at Mercedes and Ferrari, not to mention Lotus, might get one over on him at Yeongam.
But if you're confident you know the answer, and fancy making the 90-odd-minute race a bit more interesting, you may feel inclined to put your money where your mouth is.
So here is the rundown of the top 10 potential winners of the Korean Grand Prix, as per their odds with the bookmakers*.
*All prices correct at the time of writing, gathered via easyodds.com.
Begin Slideshow

»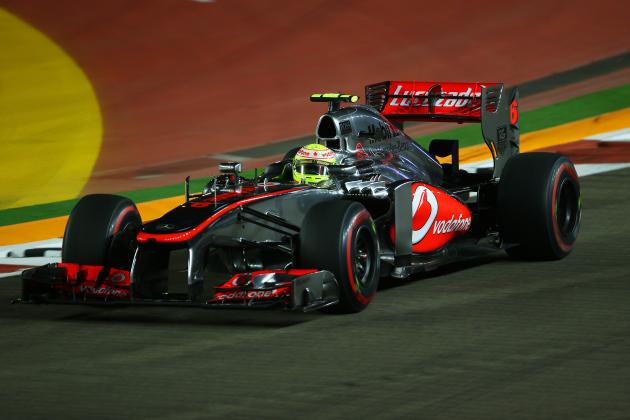 Paul Gilham/Getty Images
Perez is almost certainly not going to win in Korea
Sadly for Sergio Perez, 2013 has not worked out as hoped.
The Mexican's big move to McLaren was supposed to bring better things. Better than fighting for scraps, at least, as that was what he was doing at Sauber anyway.
But things haven't gone to plan, the Mexican is without a podium finish for his new team and any chances of a rostrum look bleak, let alone the victory.
That's why you can find him around the 150-200/1 mark, though he is priced as high as 250/1 with BetFred. Korea's not the most exciting of races, so it's highly unlikely that long shot would come off.
Put into perspective, that's the same price as most places are offering for Scuderia Toro Rosso pair Daniel Ricciardo and Jean-Eric Vergne.
Clive Mason/Getty Images
Korea's not been a happy hunting ground for Button
It's not been a good year the Mexican's teammate Jenson Button either.
While the 2009 champion has fought for bigger points finishes than his young accomplice, he is also yet to climb onto the podium and his chances of victory are equally slim in reality.
However, that hasn't stopped the majority considering him more of a rank outsider than total longshot.
He's not quite a dark horse, the car isn't good enough, but it's enough to have several places mark him up at 80/1. Korea's not been kind in the past, though, so you might be better off saving your pennies.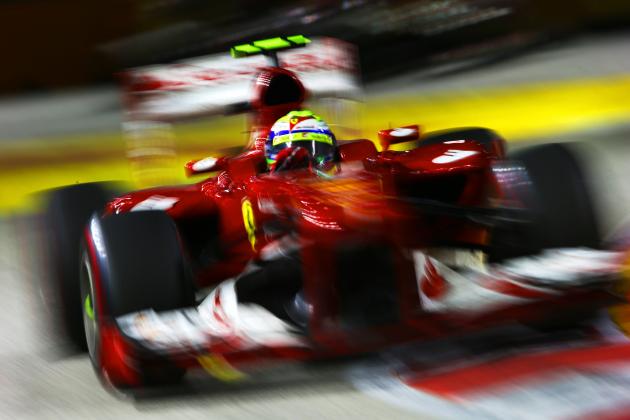 Mark Thompson/Getty Images
Korea isn't going the be the place Massa finally returns to the top step of the podium
What has Felipe Massa's dismissal from Ferrari (for 2014) done for his victory chances? Not a thing, according to the bookies.
The Brazilian's still occupying that middle-ground between the McLarens behind him and the lead cars in front. It seems 80/1 is as good a deal as you'll find, with all but Stan James, sportingBet and 188 Bet considering Felipe not worth even a second look for victory in Korea.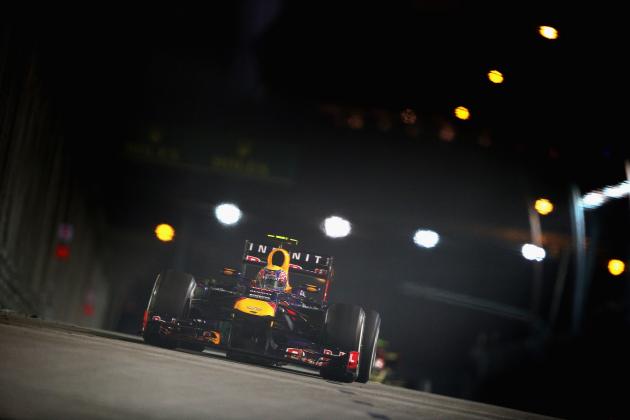 Clive Mason/Getty Images
Webber might be a good shout for an outside victory
This is a sad state of affairs.
The man who could have been 2010 world champion, is teammate to the runaway points leader. Although he's driving the best car on the grid, he is considered as much as seventh-likely to win this weekend.
33/1 matches Mark Webber to sixth, but only a handful of bookies are offering that price. Several see him as a 40/1 shot but your best offering comes via a quartet of bookies. SkyBet, WilliamHill, Coral and BetFred see the Aussie as worth no more than 50/1.
That's not a bad price at all given the machinery he has underneath him.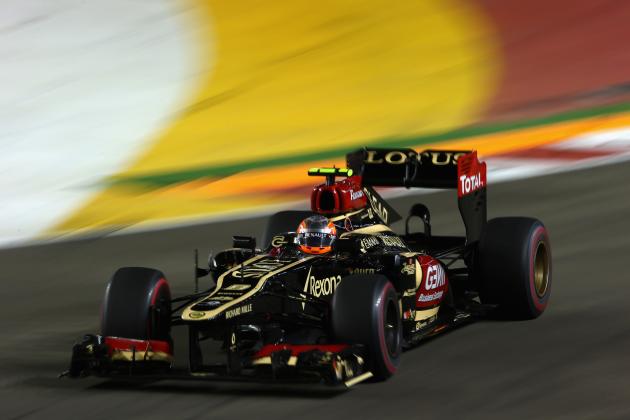 Paul Gilham/Getty Images
Grosjean could fight for the win with Lotus
Romain Grosjean looks like a man reborn this year, but it's only the second half of the campaign in which he's really started to fulfil his promise.
The Frenchman would have challenged for a podium place in Singapore if not for a problematic engine valve, and he looks good value to be a dark horse this weekend at 40/1.
It says a lot about the efforts the Lotus driver has put in when you see that he's hauled himself above one of the Red Bull's in the betting market.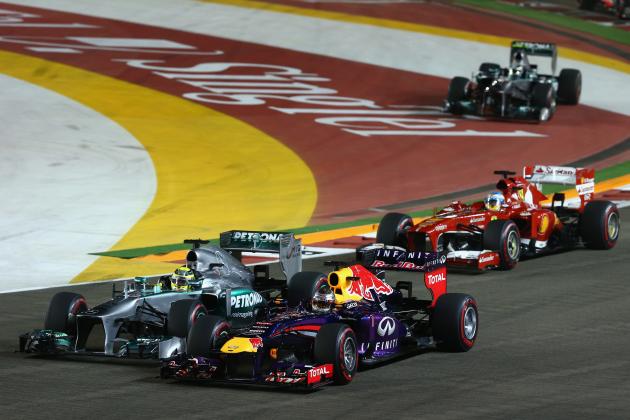 Paul Gilham/Getty Images
Did Vettel's Turn 3 pass decide Singapore Grand Prix?
Despite winning twice this season, the Mercedes team's fluctuating form and Rosberg's own lack of consistency at the sharp end means he has struggled to embed himself as a threat for victory on a regular basis.
Certainly his cause was not aided in Singapore, when rubber was lodged in his front wing and compromised his middle stint. All of this came after he had done a sterling job in qualifying to start ahead of team-mate Lewis Hamilton.
And might he have won, if Vettel hadn't re-passed him immediately after Rosberg jumped him at the start?
Can Rosberg challenge in Korea? Possibly, especially if Mercedes hooks its car up and Red Bull's advantage is not as great as it was at Marina Bay.
He's comfortably fifth-favourite with the bookies, though avoid Boylesports and Coral who see him as potentially a 10/1 favourite. Across the board you can find odds as high as 12/1, including at places like WilliamHill and SkyBet.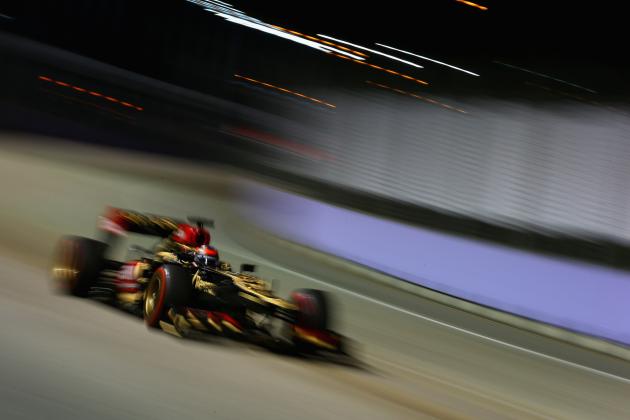 Paul Gilham/Getty Images
Might Raikkonen challenge for the win despite his back problem?
Bad back or no bad back, Kimi Raikkonen's got a good chance for a win in Korea if you believe the bookies. Well, by good chance we mean he's considered more of a threat than one Mercedes and a Red Bull. And that's not bad going at all.
The board's split between 9/1 and 10/1, and you can find the latter with bookies such as Bet365 and Paddy Power. The Finn charged from 13th to third at Marina Bay, a street circuit, so that's not an awful price to be looking at.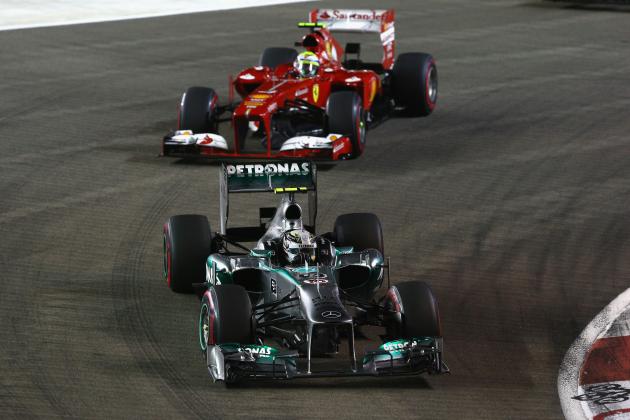 Paul Gilham/Getty Images
Hamilton wants a stronger Korean weekend
Some see Lewis Hamilton as on a par for second-favourite to win in Korea, varying between 4/1 and 11/2. However, you can find him as high as 6/1 with William Hill and that's not to be sniffed at, particularly when the Brit's fired up to beat Ferrari in the constructors' standings.
He's got some stiff opposition to overcome if he is to take the flag first this weekend but that price is as good as you'll find for someone who will be driving the second fastest car.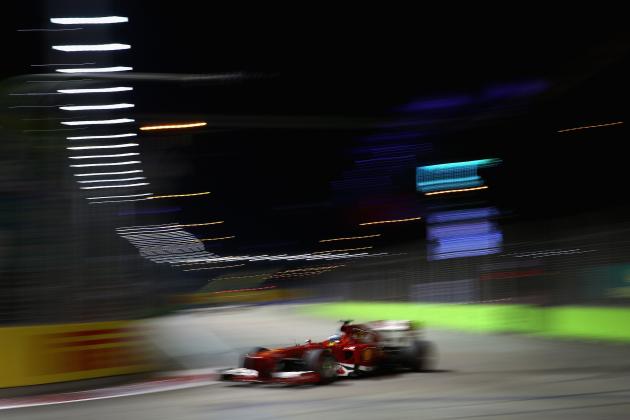 Clive Mason/Getty Images
Alonso is tired of being the bridesmaid
Nipping in ahead of Hamilton to the No. 2 spot on this list is Fernando Alonso, probably by virtue of three consecutive second-placed finishes.
The Spaniard's not happy though, because Ferrari is slipping back. Progress has not been as significant as required and now his title ambitions are little more than a pipe dream. However, the double world champion is F1's most tenacious racer, and that's reflected in his 4/1-5/1 offering to win this weekend.
Look a bit harder, though, and you'll find a fraction more from Stan James at 11/2. Snap it up, because if anyone's going to deny the No.1 favourite, it could well be this man.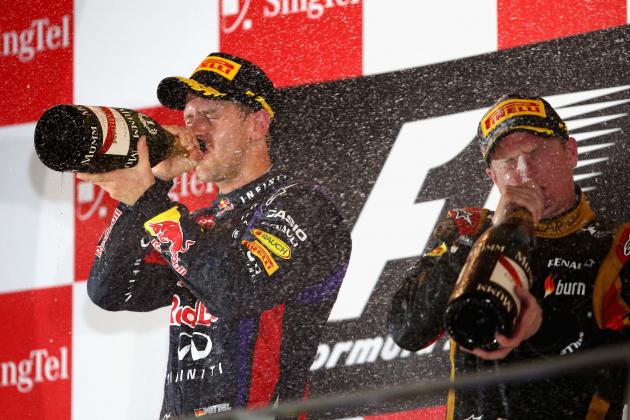 Paul Gilham/Getty Images
Can Vettel make it four on the spin?
However, Alonso will probably need misfortune to befall Sebastian Vettel, who rightly holds the slot as favourite to win the Korean Grand Prix.
The points leader is progressing relentlessly to a fourth consecutive world title and has now won three Grands Prix in a row. That means, unfortunately, your return for predicting a fourth triumph in succession will be rather small indeed.
Odds of 4/6 and 7/10 and par for the course, with the best prices to be found at SkyBet and Paddy Power, among a couple of others. They'll offer you 8/11 for a Vettel triumph, and you can't say fairer than that given his track record this season.