Oracle Team USA pulled off one of the most impressive comebacks in sailing history, as skipper James Spithill and his crew flew across the San Francisco Bay and secured the America's Cup in a winner-take-all race in the best-of-17 series.
#OracleTeamUSA win 34th America's Cup. Great effort by both teams. Absolutely epic #cupbattle on San Francisco Bay! pic.twitter.com/1K2d4I0yN0

— America's Cup (@americascup) September 25, 2013
Just a week ago, Emirates Team New Zealand led this competition 8-1 and needed just one more win to take the cup.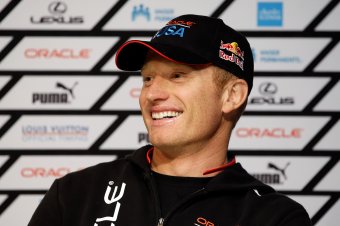 Ezra Shaw/Getty Images
At that point, it was unfathomable that the Cup would advance this far, especially considering the stiff penalties that Oracle faced. However, Spithill put his crew to work, and the determined group ran off a long string of victories.
A good number of those wins came after Team USA opened up big leads against Team New Zealand. However, that trend did not hold over the last two races. Emirates had a slight edge after a fast start during the last race—one that increased as Oracle hit a wave and took a plunge in the water:
TIM At mark 1, max spd NZL 44.4 kts = 51.1 mph = 82.2 kph; USA 44.3 kts

— America's Cup Racing (@americascupLIVE) September 25, 2013
Shortly thereafter, USA split the race in a near mirror-image of Tuesday's second contest.
New Zealand had a slight edge as the two boats crossed the first time, but it was clear that Oracle had more speed than the Emirates catamaran. By the time these two crossed the second time, USA had pulled ahead by a small margin.
Almost dead even!! #OracleTeamUSA has the right of way on the cross and take back the lead!!!!! Fly, boys FLY!! #cupbattle

— ORACLE TEAM USA (@OracleTeamUSA) September 25, 2013
At that point, Oracle began to pull away.
Emirates desperately tried tacking in an effort to pull closer to the Americans, with little success. USA's speed was simply too much for them to handle.
Big smile on @JSpithill #OracleTeamUSA around Mark 4 flying towards the finish #americascup pic.twitter.com/mrBF4XfK89

— America's Cup (@americascup) September 25, 2013
Something clicked with Oracle midway through this competition, as the team had its catamaran up on the foils more and more as the race progressed. While strategy and skills played a big role in the eventual outcome, the fact that USA had the faster boat proved to be the difference.
This all came to the dismay of New Zealand Prime Minister John Key:
Bugger. #AmericasCup

— John Key (@johnkeypm) September 25, 2013
Understandably, things were a little more jovial on the other side.
At the conclusion of the race, team owner and Oracle CEO Larry Ellison quickly boarded the boat to celebrate with his crew. And, according to Forbes, he skipped an Oracle conference to do so.
Not only did his team complete an amazing comeback, but it did so in a thrilling America's Cup. It was Ellison's vision that helped bring these catamarans to the competition, providing great entertainment that will surely be a boon to the sport.