Separating Contenders from Pretenders in 2013 NASCAR Chase for the Sprint Cup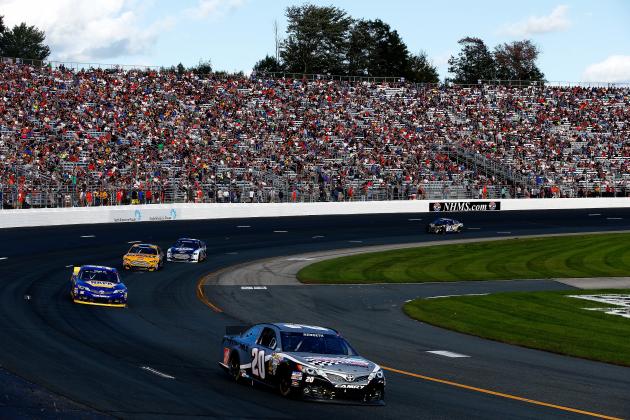 Jared Wickerham/Getty Images
Matt Kenseth is already getting some separation on the Chase field.
Two races in to the 2013 Chase for the Sprint Cup, one thing is clear: Matt Kenseth isn't intimidated by Jimmie Johnson. He has two chequered flags to prove it.
Kenseth's wins—plus his teammate Kyle Busch's two consecutive runner-up finishes—have produced some sizeable spacing in the Chase point standings with eight races left. Last week, we wrote that comebacks aren't just hard, they're also nearly impossible in NASCAR's points format.
Find out who is seeing that the hard way with still eight races left in NASCAR's championship fight, and find who is still knocking at Kenseth's door in the battle for the title.
Begin Slideshow

»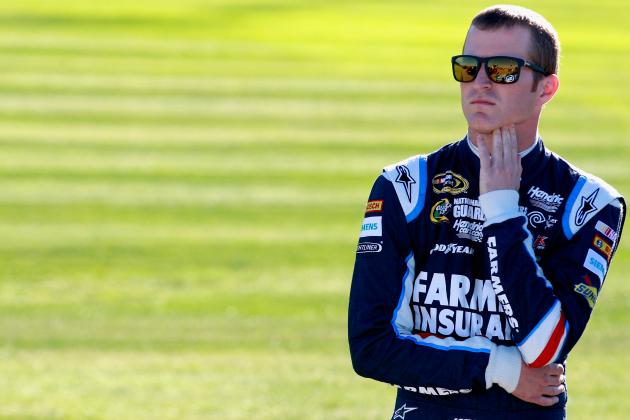 Sean Gardner/Getty Images
Kasey Kahne's title hopes ended in a crash at New Hampshire.
Position: 13th, -71 points

After Two Races: Kahne had to be disappointed that he started the Chase with a 12th at Chicagoland Speedway after such strong efforts at other 1.5-mile tracks this year. He was flatly despondent after wrecking late at New Hampshire.

Prediction: Much like his teammate Dale Earnhardt Jr., there's just no way that Kahne has enough time to come back through the Chase field. He's nearly two full races behind leader Matt Kenseth and a healthy dose behind Kyle Busch and Jimmie Johnson.
Serial bad luck could strike one driver, but for that to happen to multiple drivers is a pipe dream. Kahne can start preparing for 2014.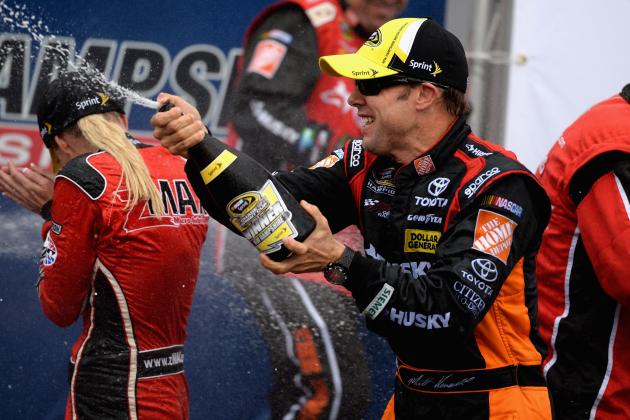 Patrick Smith/Getty Images
Matt Kenseth is getting well-versed in the Chase champagne sprays.
Position: 1st, 14-point lead

After Two Races: With two wins and a 14-point lead after two races, Matt Kenseth is undoubtedly feeling good.

Prediction: The most impressive part of Matt Kenseth's success in the first two races of the Chase for the Sprint Cup has been that it hasn't counted on luck.
Instead, he's just been that good late in each race to grab and hold the lead all the way to the end.
Kenseth's biggest fear has to be the reliability of his Toyota engine (it knocked him from the lead of the Dover race in June), but if he can get past that without a hitch, it's hard to think even Jimmie Johnson could overcome the performance of the No. 20.
Jared Wickerham/Getty Images
Kyle Busch has to be satisfied with his Chase start.
Position: 2nd, -14 points

After Two Races: Busch's start to his sixth career Chase has easily been the best of his career (two runner-up finishes) and serves as a good omen for a guy who's biggest fault has been performing in NASCAR's crunch time.

Prediction: Kyle Busch is a better restart (Chicago) and a few more laps (New Hampshire) from swapping roles with his Joe Gibbs Racing teammate to start the Chase.
That's a good omen going forward, as we all know that Busch has the potential to knock in multiple wins over a short period.
His biggest hurdle will be a Kansas Speedway track where he struggled mightily in April and the same reliability concerns as Kenseth. With consistency, Busch can be there at the end.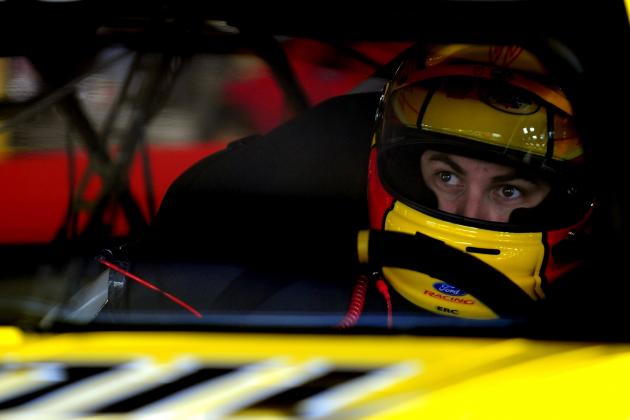 Will Schneekloth/Getty Images
A blown engine and a mediocre finish was enough to slash Logano's Chase hopes.
Position: 12th, -69 points

After Two Races: The Chicagoland blown engine—an especially cruel fate after Logano looked so dominant early—was exaggerated when Logano rolled to a 14th-place finish at New Hampshire.
Prediction: Logano was the first Chase driver to suffer a substantial issue and was in desperate need of a turnaround at his home track last weekend. He didn't get it, and instead watched his old car go to Victory Lane.
Logano's deficit is just too large and the number of drivers he'd had have to pass is too numerous for the Connecticut driver to be considered a Chase contender at this point.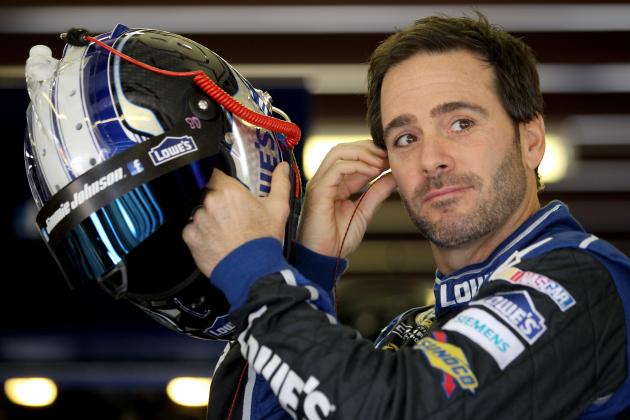 Todd Warshaw/Getty Images
Jimmie Johnson is lurking just behind Matt Kenseth and Kyle Busch.
Position: 3rd, -18 points

After Two Races: With Joe Gibbs Racing's two drivers stealing all of the headlines, it's hard to believe the five-time champion is a part of the title fight with a pair of top-5 finishes of his own.
Maybe he likes it that way.

Prediction: It's Jimmie Johnson, so expecting him to be out of Chase contention before the chequered flag at Homestead-Miami Speedway is a fool's errand.
Johnson heads to Dover out of the spotlight but fully in contention to make a run at championship No. 6. Don't forget the only thing that kept him out of Victory Lane at Dover in June was a NASCAR penalty for jumping the final restart.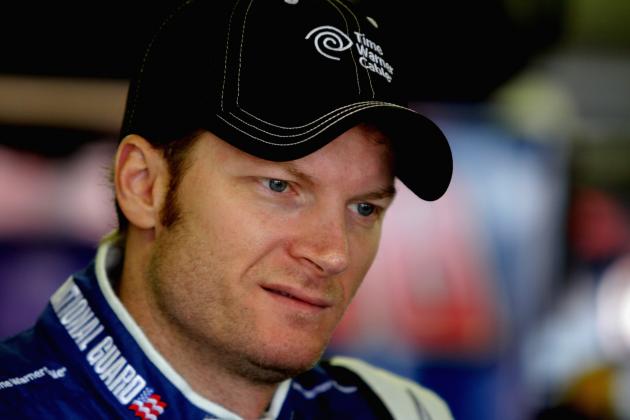 Jerry Markland/Getty Images
Dale Earnhardt Jr. hasn't shown the ability to win—a requirement for any comeback.
Position: 11th, -62 points

After Two Races: A victim of the Chicago engine detonation, Earnhardt needed a home run of sorts at New Hampshire to earn the right back into the Chase conversation.
Instead, he hit a single with a sixth-place finish.

Prediction: Earnhardt's chances of a Chase recovery in the final eight races seem especially unlikely if only because he's not ever returned to the role of a regular winner in the Sprint Cup Series.
Without wins and a whole bunch of bad luck for the 10 drivers in front of him, there's no way he can recover from that Chicago blown engine.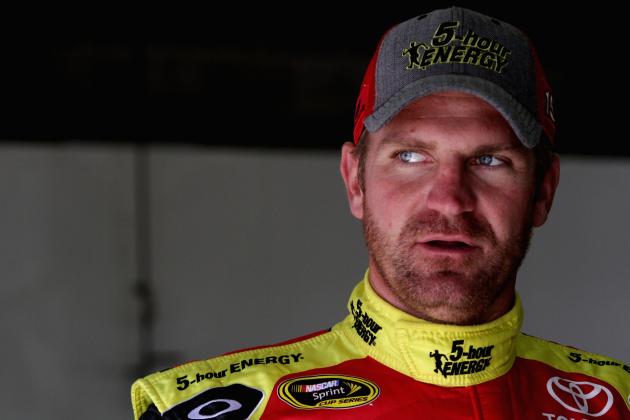 Jerry Markland/Getty Images
Clint Bowyer has to pick up his performance now to become a contender.
Position: 10th, -48 points

After Two Races: Bowyer hasn't been a factor up front with finishes of 9th and 16th to start the Chase. It's legitimate to wonder how much the external stress of the Richmond "spin gate" situation has affected his team's performance.

Prediction: Clint Bowyer ran second in points to Jimmie Johnson for the final eight races of the regular season. Not by some odd calculation, but because he was consistently good enough to rank that high even without race wins.
His 48-point gap is one mediocre finish from being impossible to recover from, but should he maintain, Bowyer may have an advantage at the wild card that is Talladega—a track where he's won twice and scored five top-10 finishes in the last seven races.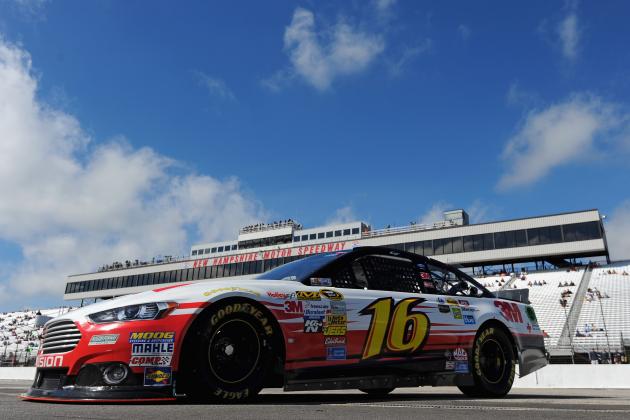 Will Schneekloth/Getty Images
Greg Biffle's regular season doesn't show a potential for championship-level performance.
Position: 5th, -38 points

After Two Races: Biffle made up for his disappointing Chicago Chase debut (16th) with a third-place run at New Hampshire.

Prediction: It's only a two point difference in the standings between Biffle and teammate Carl Edwards.
But Biffle's performance over the course of the season is most telling as to whether he has the ability to make up ground on the championship leaders.
A winner only once, Biffle's number of top-five finishes in the first 26 races (3) was the lowest among Chase-qualified drivers. That's not a great omen.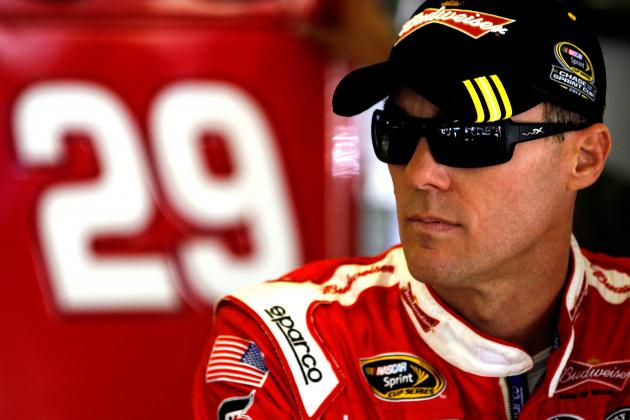 Jeff Zelevansky/Getty Images
Can Kevin Harvick return to midseason form?
Position: 6th, -39 points

After Two Races: Harvick started strong in the Chase with his third-place finish at Chicagoland, but ceded all of that gained momentum back with a disappointing 20th at New Hampshire.

Prediction: Harvick remains in the contender category if only because of the midseason flash of front-running consistency his team showed. A win at Richmond in May springboarded the No. 29 team to top-10 finishes in nine of the next 10 races.
A return to that consistency—and a win along the way—could pull Harvick back up.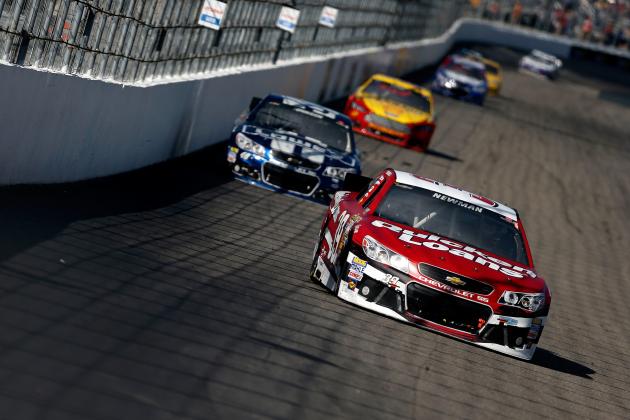 Jeff Zelevansky/Getty Images
We're still waiting for Ryan Newman to shine in the Chase.
Position: 9th, -47 points

After Two Races: Ryan Newman has led both races in the Chase so far, but it's not exactly impressive. His laps led total stands at three and accompanies finishes of 10th (Chicago) and 16th (New Hampshire).

Prediction: With a single win (gift-wrapped by Jimmie Johnson, nonetheless) and just five top-5 finishes in 26 races, it's hard to see a reason why Ryan Newman could claw back in to contention.
He's not run well at Dover in recent years and questions still remain if his Stewart-Haas Racing team has actually caught up to the rest of the pack with Gen-6 car development.
Finishing no better than 10th in the first two Chase races isn't exactly a statement of change.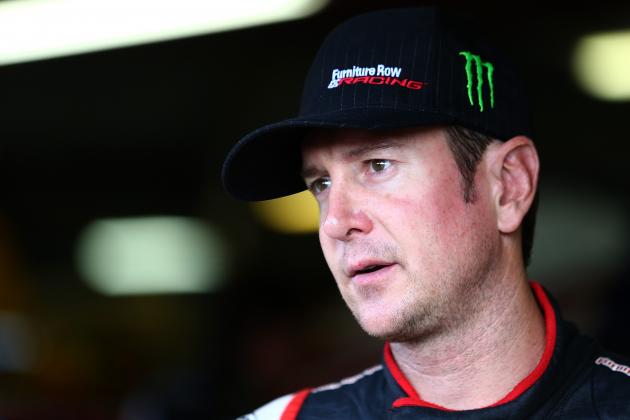 Todd Warshaw/Getty Images
Kurt Busch is a nice story in the Chase, but he's not a title contender.
Position: 7th, -40 points

After Two Races: Busch's upstart Furniture Row Racing team surprised most by actually sticking the top-5 finish at Chicago to open the Chase, but came back to reality with a mediocre 13th-place finish at New Hampshire.

Prediction: There's little doubt that Busch is the best story of the 2013 Chase to this point thanks to his unpredictable run to contention. But just as we saw in New Hampshire, the car and team just aren't put together good enough to actually make a legitimate run at the title.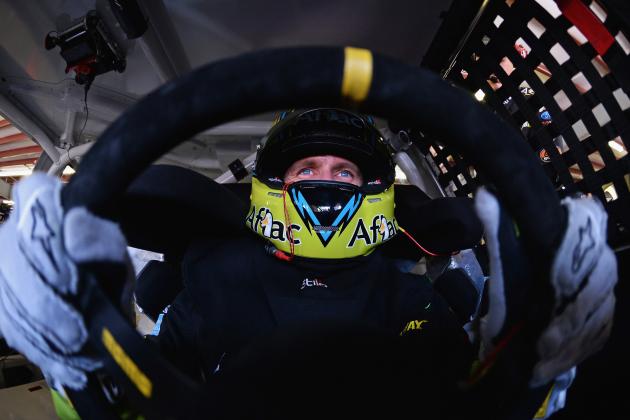 Patrick Smith/Getty Images
Carl Edwards may have the only Ford that can contend for the title.
Position: 4th, -36 points

After Two Races: Edwards is the first driver officially nearing the edge of contention after just two races thanks to Matt Kenseth's two-race sweep. He was 11th at Chicago and 9th at New Hampshire.

Prediction: Edwards' run to the Chase, including the hefty numbers of laps he led at Atlanta and Bristol plus the win at Richmond, qualifies him as a driver who still may have more solid late-season performance in him as the Chase winds down.
At 36 points out, his deficit is about three-quarters of the maximum gain in one race. That means he'll need help from those ahead of him.
But with eight races left, that seems possible.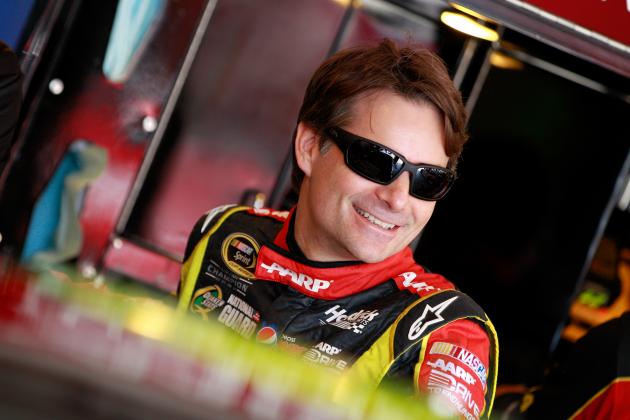 Sean Gardner/Getty Images
Mistakes and bad luck have almost been predictable for Jeff Gordon this season.
Position: 8th, -42 points

After Two Races: Gordon has been fast both times out in the Chase, but he has just one top-10 finish to show for it (6th at Chicago, 15th at New Hampshire).

Prediction: Worries about Jeff Gordon somehow winning the championship in a postseason that Brian France personally invited him to are unfounded.
Gordon and his No. 24 team have shown us all we need to know in the first two races of the Chase.
First, he's still snake-bitten by bad luck (flat tire at Chicago) and second, Gordon continues to have trouble performing in pressure situations (blown pit stop at New Hampshire).