EJ Manuel. Geno Smith. Josh Freeman.
The New England Patriots defense hasn't exactly been as outmatched as Arnold Schwarzenegger up against Subzero, Dynamo, Buzzsaw and Fireball in Running Man, but the results have been similarly gory in the Patriots' first three games against the Buffalo Bills, New York Jets and Tampa Bay Buccaneers.
These are not your father's Patriots. Heck, they're not even your older brother's Patriots at this point. The defense, not the offense, has been the hallmark of this team through the first three games.
Patriots points per game

| | | |
| --- | --- | --- |
| Year | Offense | Defense |
| 2010 | 32.4 | 19.6 |
| 2011 | 32.1 | 21.4 |
| 2012 | 34.8 | 20.7 |
| 2013 | 19.7 | 11.3 |
Pro-Football-Reference.com
In truth, the Patriots defense has always been good on the scoreboard. Other stats, according to Patriots head coach Bill Belichick, are for losers, but this year's group is dominating the critical situations.
Patriots Pass Defense on 3rd Down 17-37 for 45.9%, 181 yards, 0 TD, 2 INT, 2 Sacks, 4.9 YPA, 38.2 passer rating

— Deep Threat (@DeeepThreat) September 23, 2013
The Patriots have allowed three touchdowns through the first three games of the season. That's tied for fewest in the NFL with the Seattle Seahawks and the Carolina Panthers.
Opponents are converting just one-third of their third-down attempts, and on the rare occasions when the opponent makes it inside the red zone (an average of twice per game), the Patriots are allowing opponents to score on just half of their tries.
And there's no one unit that can take the credit for the improved defense.
The secondary has improved in many areas, including its defense of the long pass. When you're giving up just four pass plays of 20 yards or more through three games, tied for the sixth-lowest rate in the league, the defense as a whole is going to look a lot better.
The thing is, this isn't even an overreaction to just a three-game stretch.
Patriots pass defense, 2012

| | | | | | | | | | |
| --- | --- | --- | --- | --- | --- | --- | --- | --- | --- |
| Games | Cmp | Att | Cmp % | Yds | YPA | TD | INT | Rate | +20 |
| First 9 games, 2012 | 220 | 333 | 66.1 | 2690 | 8.1 | 19 | 10 | 97.3 | 47 |
| Final 7 games, 2012 | 150 | 262 | 57.3 | 1867 | 7.1 | 8 | 10 | 73.8 | 25 |
| First 3 games, 2013 | 52 | 103 | 50.5 | 565 | 5.5 | 2 | 4 | 57.3 | 8 |
Pro-Football-Reference.com
The Patriots pass defense has been much improved since last season, when it was markedly better in nearly every defensive category in the final seven games of the season.
Those improvements were thanks, in large part, to the reorganization of the jigsaw puzzle in the secondary. Injuries to safeties Steve Gregory and Patrick Chung forced the Patriots to move Devin McCourty from cornerback to safety.
At the same time, Kyle Arrington moved from the outside to the slot, Alfonzo Dennard moved from the bench to a starting role, and a couple weeks later, Aqib Talib moved from Tampa Bay to New England.
Once all the new pieces settled into their new spots, things started to click and the picture of a defense on the rise became clearer.
Given their progress last season, a large reason for the continued success could be the continuity in the starting lineup. The only key players to depart this offseason were Chung and defensive tackle Kyle Love.
With strong performances in the final seven games of the 2012 season and the first three games this year, the sample size of a solid Patriots defense continues to grow.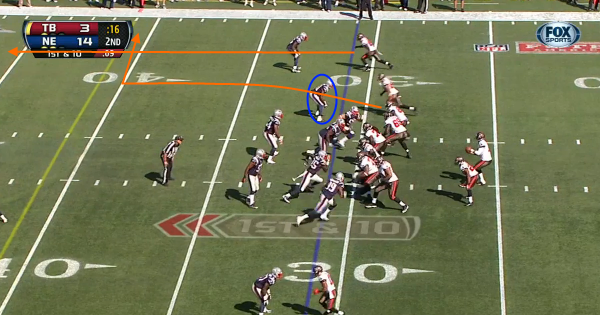 The coverage has been a lot stickier, as evidenced by Talib's interception of Freeman at the end of the first half.
As expected, Talib shadowed Buccaneers wide receiver Vincent Jackson the entire time he was on the field, even when Jackson went into the slot. It's unusual for Talib to be found anywhere other than the perimeter, and the Patriots typically lock their corners into a spot on one side of the field, but Talib's abilities as a shutdown cornerback have allowed the Patriots to do different things in the secondary.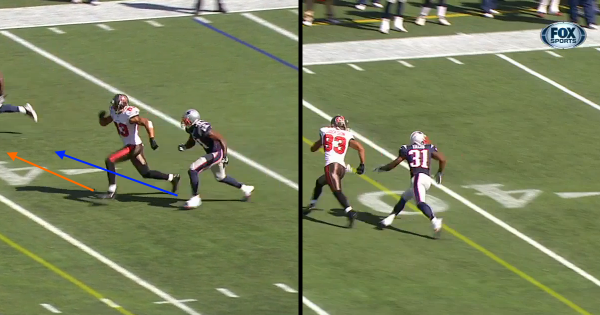 He followed Jackson's every step, and the two broke toward the sideline in unison. Talib was able to get inside position and made the grab for the interception.
Talib gave up just three catches on six targets for 34 yards. In addition to this interception, he had a pass-defensed.
As a whole, the Patriots defense is allowing just 50.5 percent completions on the season.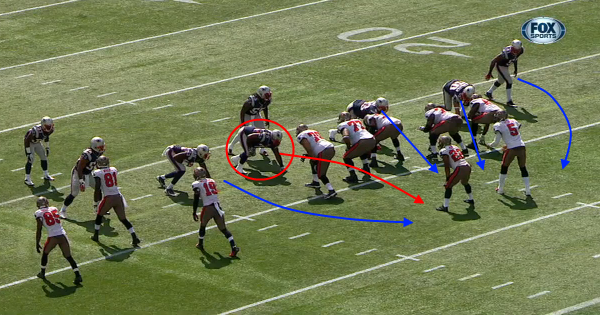 Don't just hand all the credit to the secondary, though. The pass rush, while not fierce, has been serviceable behind defensive ends Chandler Jones and Rob Ninkovich, who shared the first sack of the day.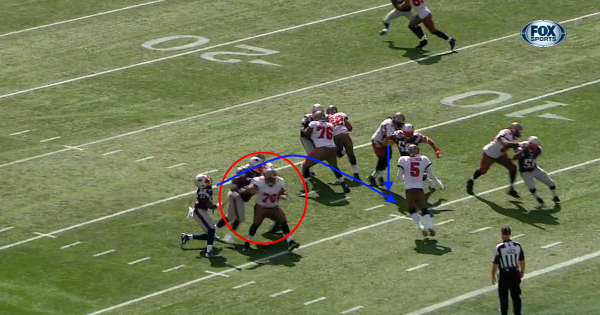 They owe a tip of the helmet to nose tackle Vince Wilfork, whose quick upfield rush against Buccaneers All-Pro guard Carl Nicks created some disruption in the pocket and forced Freeman to step up. When Jones looped around the other side and Ninkovich continued to charge hard, Freeman was quickly brought down.
Jones has been a solid pass-rusher when healthy, and his 2013 season is off to a fine start. He ranks eighth in pass-rushing productivity among 4-3 defensive ends, according to Pro Football Focus (subscription required). He was on fire again on Sunday with three pressures and his takedown of Freeman.
As mentioned, however, it's been a team effort, and all this talk about the pass defense feels empty without mentioning the run defense.
It's easy to forget that the Patriots ranked ninth against the run last year and sixth in defensive yards per rush attempt—probably because we've been too focused on their woes in the secondary.
This year, however, the tables have turned a bit. They've allowed 4.1 YPA, which ranks 19th in the NFL, and their total of 362 rushing yards allowed is the eighth-worst. They turned it up a notch against Buccaneers running back Doug Martin, who finished with 88 yards on 20 carries and a long of just 11 yards.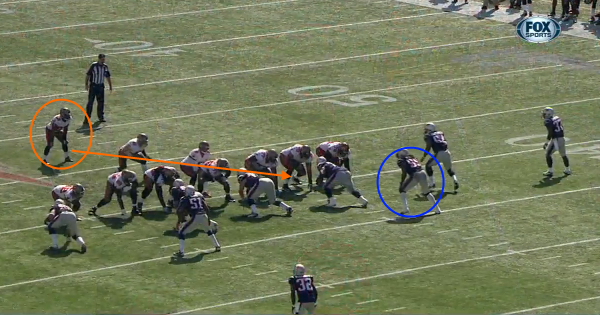 The turnaround—and the overall strong defensive performance—was thanks in large part to clutch plays like this one from linebacker Brandon Spikes, who really upped his game this week overall.
The Buccaneers went for it on 4th-and-1 from the Patriots' 38-yard line. They ran Martin off blocks from Nicks and left tackle Donald Penn. It's hard to blame Buccaneers head coach Greg Schiano for having faith in those three, all former Pro Bowl players, to convert for a fresh set of downs.
Spikes, however, had different plans.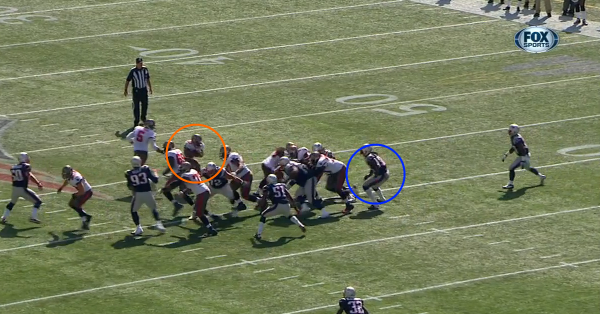 He did a great job of staying off blocks, which allowed him to read which hole Martin was going to hit.
Once Martin lunged forward, Spikes allowed himself to reintroduce...himself.
Plays like that have the offense feeding off the defense.
"I know I was fired up over there on that fourth-and-one when the stuffed them," left guard Logan Mankins said, via CSNNE.com. "So that only picks up the team even more."
The offense has begun to find its groove. If the Patriots continue to perform as they did down the stretch on Sunday against the Buccaneers, they won't need the defense to keep up this stifling pace.
Patriots upcoming opponents

| | | | | |
| --- | --- | --- | --- | --- |
| Week | Team | Quarterback | Passer rating | NFL rank |
| 4 | @ Atlanta Falcons | Matt Ryan | 100.4 | 6 |
| 5 | @ Cincinnati Bengals | Andy Dalton | 93.2 | 11 |
| 6 | New Orleans Saints | Drew Brees | 91.4 | 15 |
| 7 | @ New York Jets | Geno Smith | 65.0 | 31 |
| 8 | Miami Dolphins | Ryan Tannehill | 94.3 | 9 |
| 9 | Pittsburgh Steelers | Ben Roethlisberger | 81.2 | 21 |
Pro-Football-Reference.com
All three of their upcoming games come against high-powered offenses. Two of those are on the road, and one is in a dome.
The Patriots also have yet to face the Dolphins. Their offense is off to a hot start behind second-year quarterback Ryan Tannehill, who currently ranks ninth in the NFL in passer rating (94.3).

There are difficult challenges ahead, but for once, the Patriots don't have to look back too far to find some semblance of defensive success.
Erik Frenz is also a Patriots/AFC East writer for Boston.com. Unless otherwise noted, all quotes obtained firsthand or via team news releases.