Alexander Semin was warned and subsequently penalized for having his jersey tucked in during a preseason game Wednesday night, but it was the creativeness of his efforts to avoid another penalty that made headlines on Twitter.
FYI, #SashaCares about the rules. Semin's jersey was sewn to his pants in the 3rd period. pic.twitter.com/JIAwKBao3X

— Jamie Kellner (@jbk_ltd) September 19, 2013
The Carolina Hurricanes' sniper came out with two stitches attaching his jersey to his pants to avoid it coming up again when he shot the puck. Semin, along with other NHL players, frequently has the jersey come up over his hip and accidentally violate this new rule.
Rule 9.5: All protective equipment, except gloves, headgear & goaltenders' leg guards must be worn under the uniform. http://t.co/CAcrXmXmEh

— NHL Public Relations (@PR_NHL) September 17, 2013
For those that haven't been following along, the NHL recently changed up its stance on uniforms so as to try and reduce preventable injuries from exposed skin. Freak accidents have occurred where players have been cut by skate blades, so it makes sense that the NHL is obviously trying to make a statement as far as cutting down—no pun intended—on these types of injuries.
This rule, however, seems like a dumb idea. Some players and fans would likely argue that this "jersey tuck" rule is giving the "puck-over-glass" penalty a run for its money as far as dumbest penalty in the NHL.
Alex Semin actually got a penalty for tucking his jersey in? This is one of the most ridiculous rules I've ever heard of.

— Shaun Bisson (@ObserverShaun) September 19, 2013
Who's gonna be the first ref to tell Jagr to un-tuck his jersey? C'mon

— Joffrey Lupul (@JLupul) September 19, 2013
Ultimately, player safety is the ultimatum, but it shouldn't come at the price of normality. While the NHL may be on to something as far as rolling down jersey sleeves to prevent players from easily cutting their arms with skate blades, this jersey tuck rule seems dubious at best.
This jersey tuck rule could end up deciding some games, sort of like the puck-over-glass penalty decided some playoff games last season.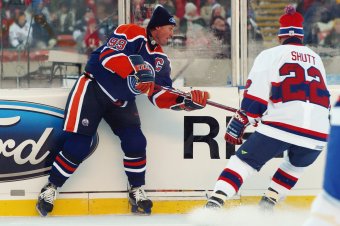 Dave Sandford/Getty Images
Best intentions often go by the wayside when the intention is not carried out properly. In this case, the rule is that players should wear their equipment under their uniform. But although this may be the norm when a player is standing still, a player who is in the follow-through on a motion should not be penalized solely because the equipment moves slightly.
Jersey tucking has been a staple of the game. While the NHL may be trying to modify that staple appropriately, the way in which they are going about it with this rule is only going to bring frustration to the game.
So here's to more trainers stitching players jerseys before they take the ice.
(h/t to Jamie Kellner for the find)