FYI WIRZ: NHRA Countdown Playoff Blasts into Charlotte ZMAX Dragway Turf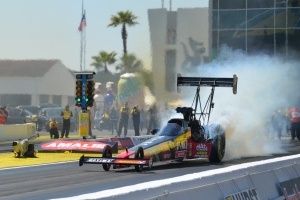 A Top Fuel Dragster warms up the tires for race time. Credit: Gary Larsen

The Charlotte area may be known as NASCAR turf with most team headquarters nearby, but twice a year NHRA Mello Yello Drag Racing invades the oval racing world to compete on the spectacular zMax Dragway in the suburb of Concord, N.C. Racing has come a long way for both sanctions.
Motorsports began not long after the second successful automobile was built at the turn of the 20th century.
Drag racing got popular about 50 years later when cars pulled up to stoplights on U.S. roads and highways and hit the gas on green lights to see who was best and fastest. In 1951, Wally Parks set up the National Hot Rod Association to give eager street racers a safer and more organized way to go head to head. Side-by-side blasts of power have thrilled fans for decades.
Most say to experience a drag race one must go there, smell the burnt fuel and tire wear, feel the man-made thunder from precision motors. One must watch competing cars go down the straight track and get small very fast to appreciate the contest. Speed matters.
Drag racing began with stock street cars, much like NASCAR started. But stock cars raced ovals and drag cars roared straight.
Manufactured cars, in name at least, still prevail in NASCAR and NHRA.
Pro Stock cars have been racing side by side for decades in NHRA. That professional class has remained competitive. In recent years, the rivalrous class has been even more intense as the number of top drivers and teams has increased.
Much can happen.
With NHRA's playoff version, the Countdown to the Championship, set to go at the Carlyle Tools NHRA Carolina Nationals at zMAX Dragway, contending drivers are eager for the rounds to roll.
Mike Edwards, 2009 NHRA Pro Stock champion, has surged this season in his Camaro and holds the No.1 spot, but in the fast PS competitive field, he feels no buffer going into the Countdown.
"It's two series in one year," Edwards said. "It's two seasons. You've got the first part of the season to try to get into the Countdown, and then you've got the second part of the season that determines the championship."
Edwards anticipates a tough competition.
"The Countdown to the Championship," he said, "that is the part that everybody wants to win. Everybody wants to win the championship. Right now there is no dominance in Pro Stock."
Four-time Pro Stock champion Jeg Coughlin Jr., with his JEGS.com Dodge Avenger, is third in points and ready to improve.
"The best way I can describe the Countdown is that every round is like the final round of some high-dollar bracket race," Coughlin said. "Your focus has to be intense, and I'm not just talking driver. I'm including the crew chiefs, the crewmen and the staff back at the shop."
Coughlin summed it up.
"Everyone needs to be on task. It's game time baby."
Matt Hagan, 2011 Funny Car champion, has had another successful season and is eager to keep that momentum running through the playoffs.
"We have a car that can win," Hagan said. "As long as we continue to be as consistent as we have been all year long, there is no reason we shouldn't win. It's the Countdown to the Championship. That puts pressure on you, but you can't allow that to happen."
Hagan defined the edge.
"There is a lot of luck involved with a lot of this racing stuff, but you really make a lot of your own luck," he said.
Ron Capps lacks being a Funny Car champion in the past by only a few points and is in second place behind teammate Hagan, ready to go.
"The Countdown is heightened awareness," Capps said. "Some drivers excel at the pressure and some don't. There's nothing like going right down to the last race of the year at Pomona."
Capps won the first Countdown race last year and likes zMAX Dragway.
"I'm glad we can kick off the Countdown at Charlotte where we are the defending champions," he said. "We found out last year the importance of every single point in the Countdown is heightened. It will be fun."
Shawn Langdon has taken his Alan Johnson Al-Anabi Top Fuel Dragster to the top of the points going into Charlotte after a big win in Indianapolis.
"We have a lot of momentum right now, a lot of good things are happening, a lot of good vibes. Going into the first race of the Countdown, you're on a high note. That is exactly how you want to start it out."
Langdon knows his past.
"Hopefully, we can do a repeat performance last year winning Charlotte, start off on the right foot and hopefully carry this momentum all the way through."
Hector Arana Jr. learns from his dad Hector Sr., the 2009 NHRA Pro Stock Motorcycle champion, in the NHRA Mello Yello pits and on the track as well. Both still race PSM. Arana Jr. is the point leader in 2013.
"Anything you can do to get a jump on those points, any little point that we can get," Arana said. "My goal is to like get as many points as possible in Charlotte and all the races. Because you never know what's going to happen down the road." Arana Jr. likes starting strong.
"The goal (is) to do well as quickly as possible, because I feel like if you're able to do that, hopefully that should help you carry out in the end."
The next six NHRA Mello Yello Series races will take only a few to the very end.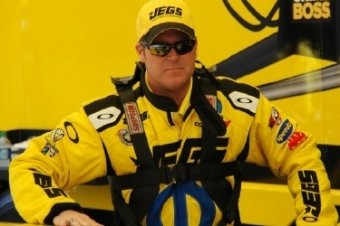 FYI WIRZ is the select presentation of topics by Dwight Drum at Racetake.com. Unless otherwise noted, information and all quotes were obtained firsthand or from official release materials provided by sanction and team representatives.
This article is
What is the duplicate article?
Why is this article offensive?
Where is this article plagiarized from?
Why is this article poorly edited?