Floyd Mayweather's Next Fight Must Be Rematch with Canelo Alvarez After Win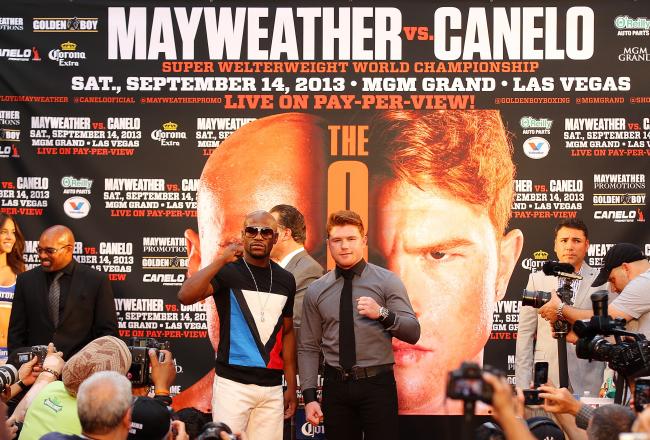 Mike Stobe/Getty Images
The bout between Floyd Mayweather and Canelo Alvarez was a hype machine from the moment it was announced. Fans were eager to see two of boxing's biggest stars battle for supremacy, and that's why they should agree to a rematch.
Mayweather won the fight Saturday night in Las Vegas, though as Dan Wetzel indicates, the matchup was closer than many anticipated:
Mayweather wins majority decision. Closer than fans thought

— Dan

Wetzel

(@DanWetzel) September 15, 2013
During the fight, it was clear that while Mayweather had the edge, Alvarez is staking his claim as the future of boxing. At just 23 years old, he held his own against one of the greatest boxers in history in a fight that went the distance.
As ESPN's Kevin Van Valkenburg indicates, judge CJ Ross even had Alvarez winning six rounds:
CJ Ross believes Alvarez won six rounds. SIX. Boxing.

— Kevin Van

Valkenburg

(@KVanValkenburg) September 15, 2013
While Ross' view is controversial, and the fight wasn't seen as that close by most observers, it goes to show that the disparity between the two boxers isn't as great as the vast majority of people thought it was going into the fight.
One of the biggest problems boxing is forced to deal with in its constant battle for attention is a lack of marquee matchups. There's a lack of depth and star power across the board, which makes it tougher to create fights mainstream fans would watch.
Furthermore, when those opportunities do arise it's seemingly become an uphill battle to schedule them. For example, there was a period of time when Mayweather and Manny Pacquiao was the bout everybody wanted to see.
Should Mayweather and Alvarez have a rematch?
They were two elite boxers in the midst of dominant stretches. A meeting between those two would have provided a huge boost to the sport. Instead, a deal was never reached and Pacquiao proceeded to lose consecutive fights to Timothy Bradley and Juan Manuel Marquez.
In turn, that anticipated fight quickly lost its luster, and an opportunity for boxing to take center stage slipped away.
Although Mayweather and Alvarez didn't reach the heights that would have been possible if "Money" took on "Pacman," it still provided boxing with the big-fight feel it's always searching for at a time when there are no shortage of sports craving headlines and airtime.
In boxing, where the sport isn't talked about on a consistent basis and relies heavily on major moments throughout the year to attract attention, the pre-match hype is almost as important as the fight itself. It's an extended storyline rather than a single event.
Sometimes the storylines work, and other times they don't—that's just the nature of it. Mayweather and Alvarez worked, and the promoters should try to build off of that with a rematch.
It always comes down to a delicate balance between maximizing the appeal of a certain matchup and overdoing it. In this case, there should be enough juice left between them to make a strong case for why the rematch is worth watching.
Even if fans aren't prepared to consider it a true rivalry quite yet, another fight should move it to that level. And from there, perhaps it turns into a trilogy down the line. The possibilities are endless, but only if they have a rematch while the first fight is still on everybody's mind.
Mayweather and his camp should realize that and quickly start pushing for another bout.
This article is
What is the duplicate article?
Why is this article offensive?
Where is this article plagiarized from?
Why is this article poorly edited?